Source
---
What Is esteem
Esteem was build for a good interface and usage of steemit and esteem app provided facilities to steemians which was not in steem original site. Esteem is the steem dApp where good content's authors get rewards. Esteem provided Facebook look and you can say that a very new look and very first time in history of steemit , where you can upvote (what you like), you can comment (where you want) , you can resteem (which post you want) , you can make post , you can turn on notifications of your account ( and get every things notifications, no need to use GIMA bot on discord and no need to use discord for your steem account notifications ) , you can use social features like emojis and etc, you can adjust your voting power weight and i think this feature's help every body in steemit history because steemit reduced it's voting weight feature long ago, and many more things about esteem , those people know many more from me whose are using esteem from its starting.
How eSteem Works ?
First of all you have to Login in eSteem with your steem account and you have to find your private posting key for this purpose on steemitwallet.
After getting your private posting key just open esteem app and then tap on login and after it write your username and paste your private posting key, and tap on login just like this: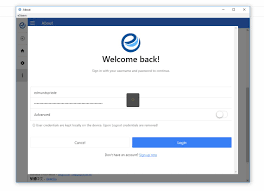 source
Then make good and valuable contents , curate ,track your followers and have fun , then earn rewards in STEEM and SBD.
---
Download the app For:
---
Conclusion
eSteem is different faster very usable with good interface simple smooth and easy mobile and desktop app to use steemit in different experience and get more fun while using steemit , and get fun like other social media i-e Facebook.
Rating
In all i give eSteem a 4.1/5 rating .