Guess what, Hive fam?? IT HAS FINALLY HAPPENED.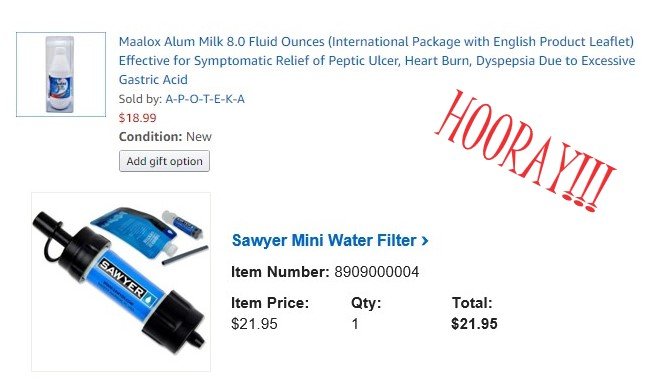 I ordered the last two things I wanted for my first aid kit!!! HOORAY!
After 9 months of crowdfunding here on the blockchain (cough and the old blockchain cough retrospective first post link is to that cough), I finally have my Happy Anarchist Can Do A First Aid kit complete (or I will, when the orders get here, lol)!
I ordered the water filter (which is more for a wilderness first aid situation, or a SHTF and things are broken situation) from REI because I am trying to avoid Amazon and support the striking workers, but I did have to get the alum milk (which is to treat people who have been tear gassed) on there, because that is literally the only place I could find the right kind called for in the guides I was reading in this entire country. It was a bit of an epic search.
Many thanks to all the folks who helped me crowdfund my kit, especially @shanibeer and @ecoinstant, who both contributed a LOT (thanks, y'all!). I consider this a great example of what blockchain can do! <3
I'll update again when the items get here and do a tour of the kit or something just 'cause I gotta show it off now. ;)
Bee well and take care of yourselves, everyone, and buzz on! <3