This week's topic is so extensive that you don't know what to choose for it.
This has been my contribution towards the exciting weekly @qurator foodie contest,Qurator's: Hive Top Chef! | Dough
And it just so happened that she baked buns and decided to use the material for today's topic. Buns "Snails with apples" 🍎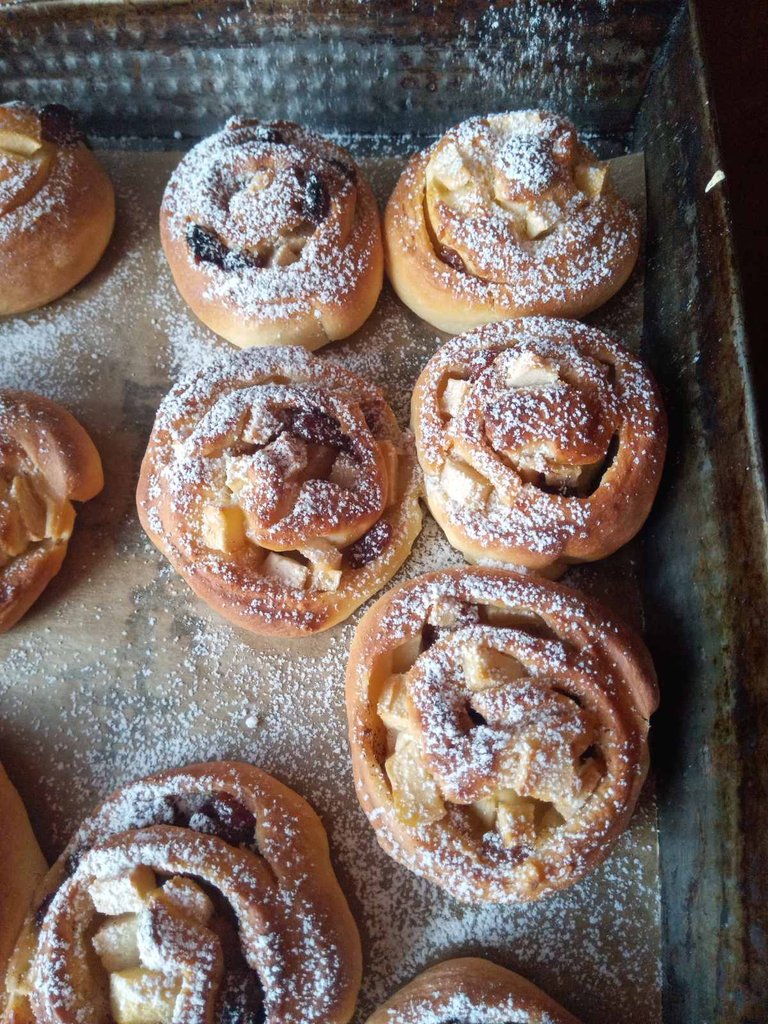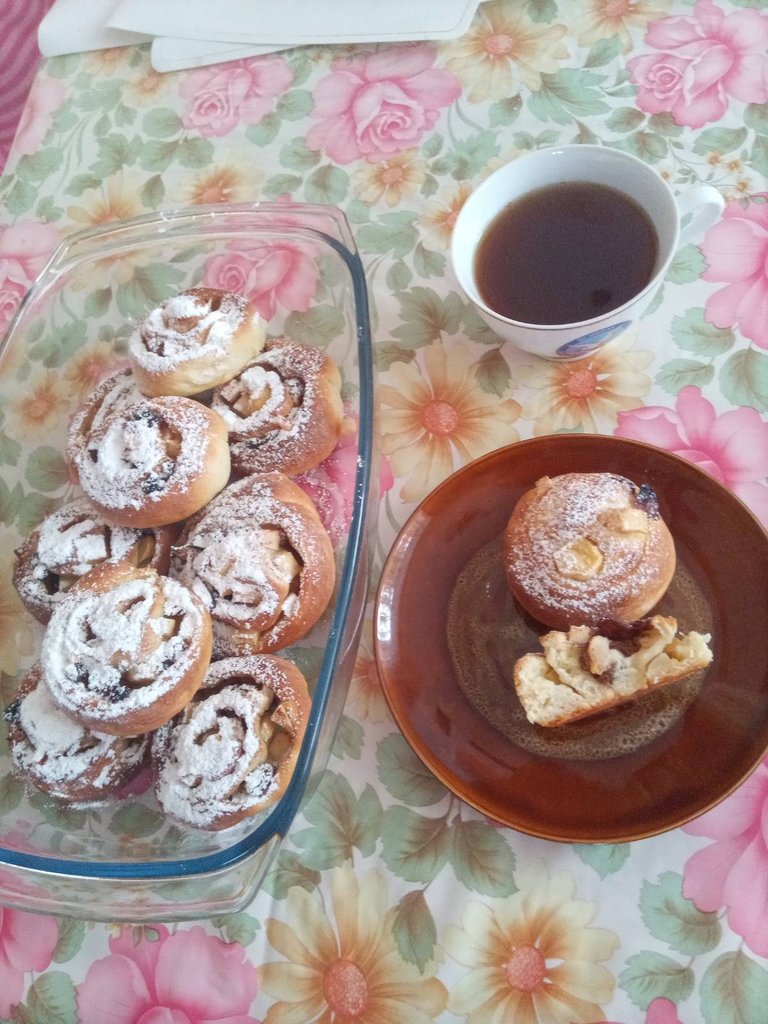 Ukr
Інгредієнти:
Молоко - 200мл
Дріжджі пресовані - 12гр
Цукор - 70 гр
Яйце 1 шт
Сіль - 0.5 ч.л.
Олія - 3 ст.л.
Борошно - 350 гр
Для начинки:
Яблука 2 середніх
Родзинки 200гр
Цукор 1 ст л
Масло для змащування
Пудра для посипання
В посудину наливаємо тепле молоко, додаємо дріжджі, цукор, сіль, яйце, олію і все збиваємо виделкою чи вінчиком в ручну до розчинення цукру (перемішуємо). Додаємо просіяне борошно і замішуємо тісто.
Залишаємо тісто під рушником чи плівкою в теплому місці для піднімання приблизно на 30 хвилин.
Яблука почистити і нарізати на кубики. Роздинки промити і просушити.
4.Тісто присипати борошном і тоненько розкачати. Зверху змастити розтопленим маслом або олією. Зверху посипаємо родзинками і нарізаними яблуками. Посипаємо цукром.
5.Закручуємо тісто в рулет. Нарізаємо на порції за допомогою нитки. (Нитку кладемо під тісто і навхрест охоплюємо рулет, прорізаючи його)
Однією стороною "булочку равлика" вмокнути в борошно і викласти на змащене деко. Повторити так з усіма шматками. Накрити їх пушком і залишити на 15 хв.
Випікати при температурі 180 градусів приблизно 30 хв.
Коли булочки спеклись, змастити їх маслом і посипати цукровою пудрою.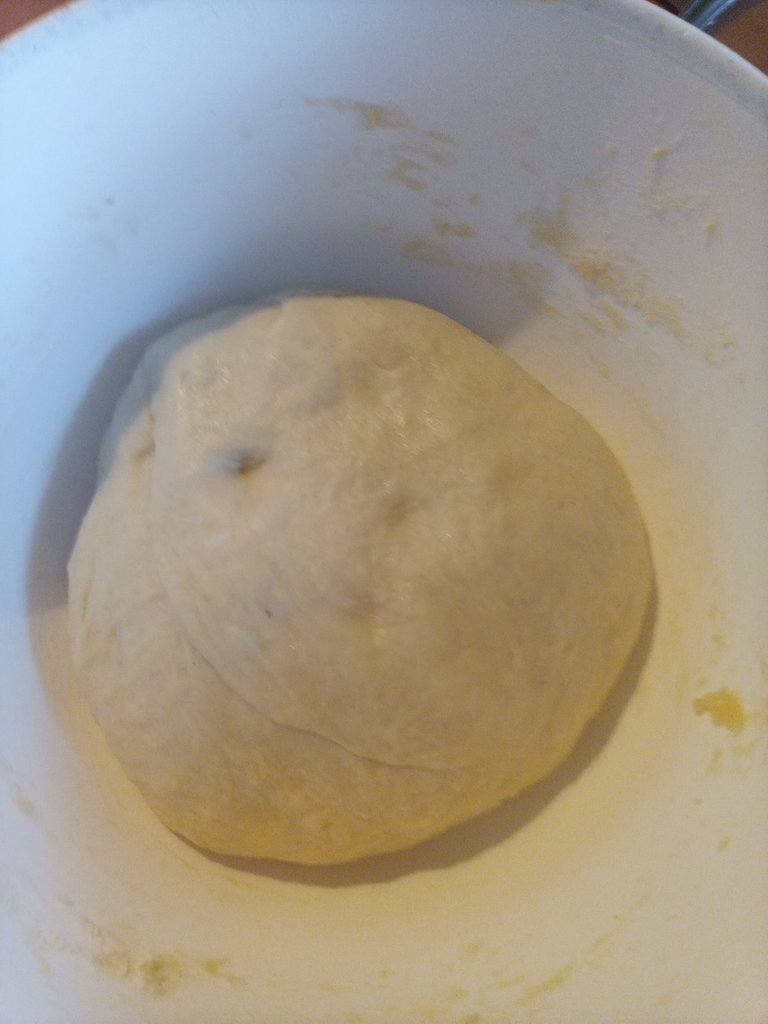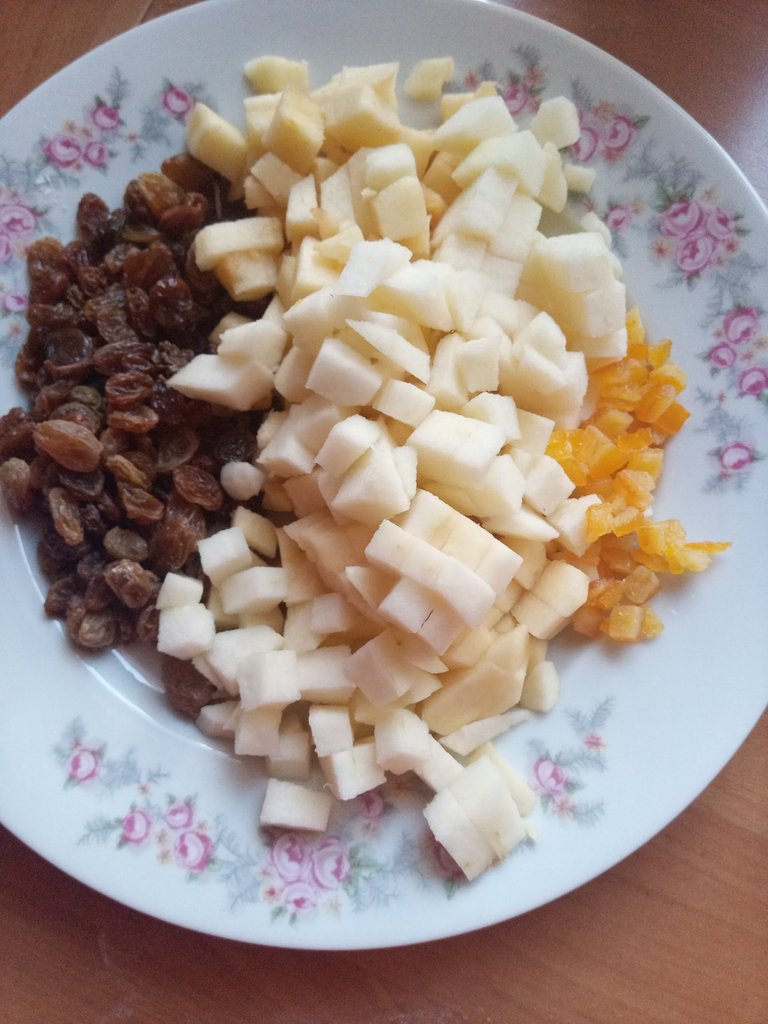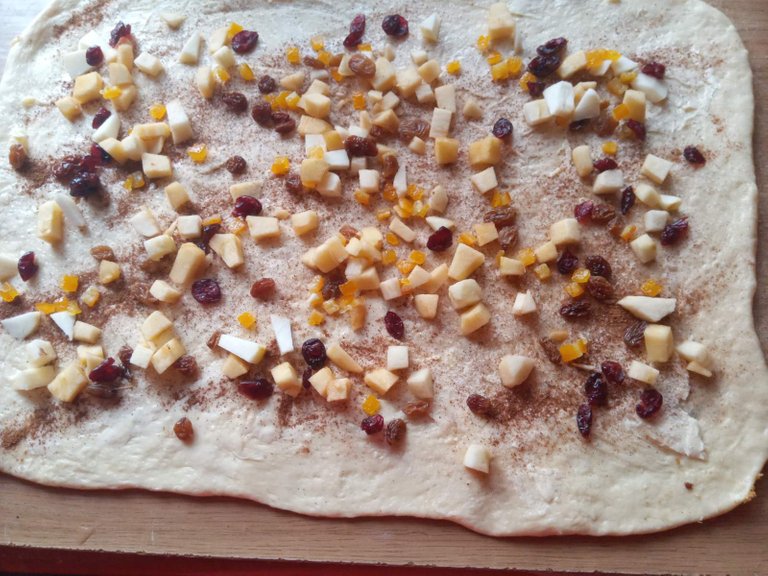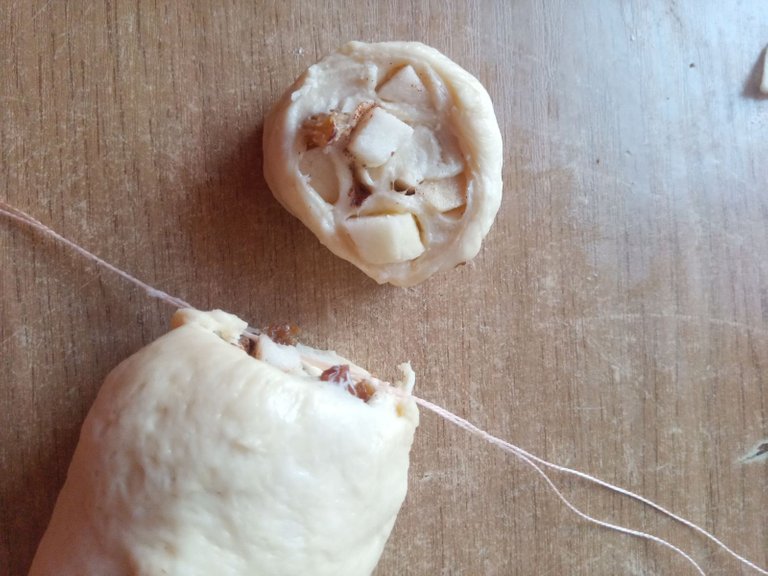 ---
Eng
Ingredients:
Milk - 200ml
Pressed yeast - 12g
Sugar - 70 g
Egg 1 pc
Salt - 0.5 tsp.
Oil - 3 tbsp.
Flour - 350 gr
For the filling:
Apples 2 medium
Raisins 200g
Sugar 1 tbsp Lubricating oil
Powder for sprinkling
Pour warm milk into a bowl, add yeast, sugar, salt, egg, oil and beat everything with a fork or whisk by hand until the sugar dissolves (mix). Add sifted flour and knead the dough.
Leave the dough under a towel or film in a warm place to rise for about 30 minutes.
Peel the apples and cut into cubes. Wash and dry the cuts.
Twist the dough into a roll. Cut into portions with a thread. (We put a thread under the dough and crosswise cover the roll, cutting it)
One side of the "snail bun" soak in flour and place on a greased baking sheet. Repeat with all the pieces. Cover them with fluff and leave for 15 minutes.
7.Bake at 180 degrees for about 30 minutes.
When the buns are baked, grease them with butter and sprinkle with powdered sugar.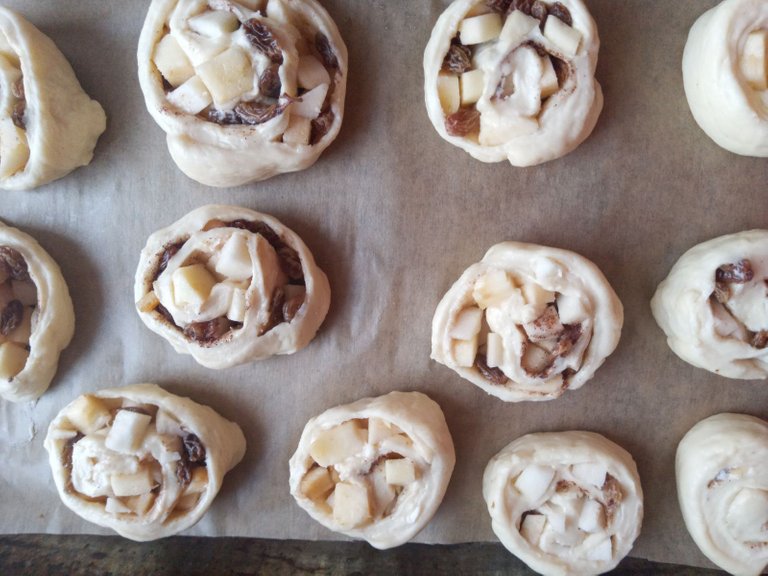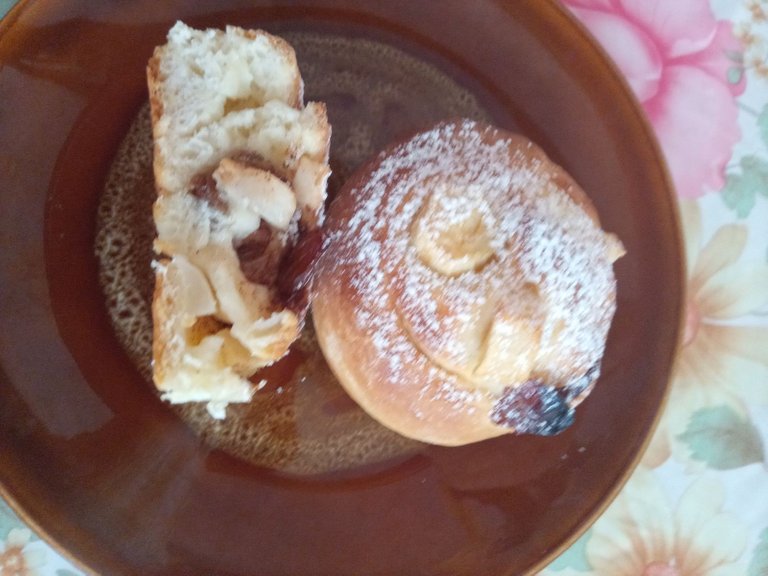 ---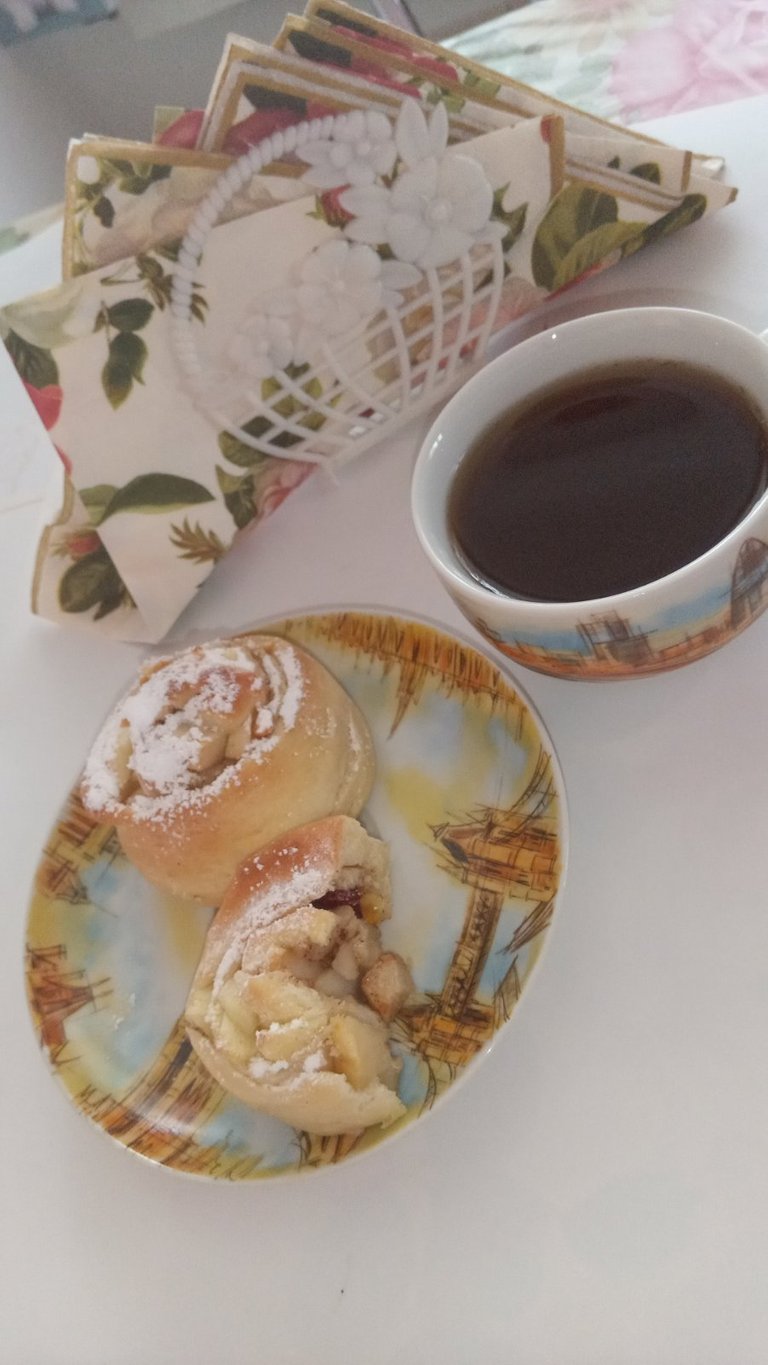 ---
Thank you @qurator for giving the foodies out there the opportunity to participate in your well organized contest.
Good luck to all foodies!