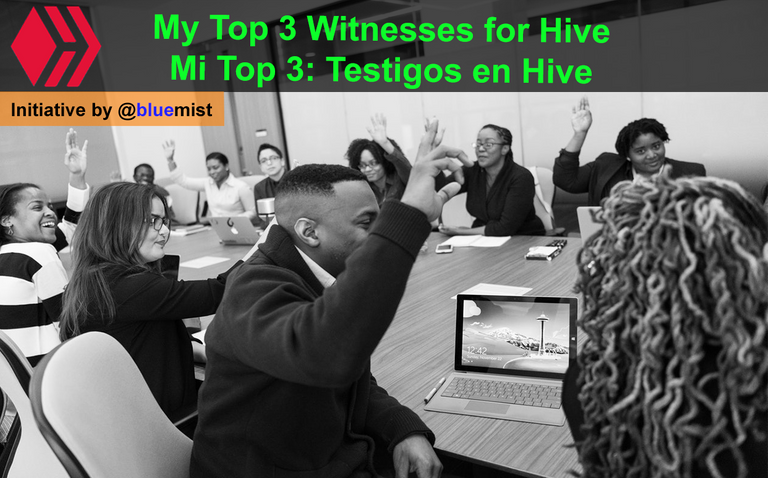 Photo by Christina Morillo from Pexels with modifications.

My basic criteria to vote for any witness is to know if they are contributing to the growing of the Hive community. I would like to mention my top 3 witnesses and the reasons why I upvote for them.
The founder of @curangel summoned up a great team of manual curators to support quality posts on Hive. There is not a discord channel nor a hive community nor a tag to promote the publications. Dedicated curators go through all Hive communities and tags looking for high-quality posts. I'm one of the curators of Curangel since the beginning of the project, so I know that quality is first than curation rewards. I upvoted for the pharesim witness even before I was a curator on curangel because I saw how he was supporting the science community (StemSocial).
Another awesome manual curation project on Hive that bring a lot of support for content creators. I saw how the curie team is using dlease to get HP delegations for increasing its hivepower. In particular, I run a small hispanic curation community named @alebrijes, and I know how difficult is to keep delegators supporting the project for long-term.
I invite you to vote these witnesses who manage manual curation projects that support a lot of content creators on Hive.
---
This witness developed a robust Dapp for creating hive accounts named Hiveonboard. As I have been creating a lot of new accounts I required to claim account tickets. That claiming task is in accordance with the hivepower you hold. The more hivepower you have, the more tickets you will be able to claim for free using resources credits (RC). Hiveonboard is a bridge between new members and hive accounts with high RCs (whales). When a new account is created, the site get tickets from the whales without affecting their hivepower. So, whales keep their hivepower and give their resource credits for creating accounts.
---
If you want to upvote for the witnesses, follow these steps:
1. Visit the https://wallet.hive.blog/~witnesses.
2. Select the witness you want to vote for.
3. Cast your upvote with the active key.
---
Do I regularly change my witness votes?
I usually don't change the witnesses upvotes, so I keep the votes on the selected witnesses. I have a lot of room for more witnesses on my list. I currently upvoting for about 14 witnesses who I think are contributing in the growth of the Hive community.
I'm currently following the @alebrijes community proxy to concentrate the hivepower. As I am the founder of the alebrijes community I can choose and cast the votes for the witnesses.
I only wrote about my 3 main witnesses, however I am supporting other witnesses like @cervantes, @threespeak and @blocktrades for their contribution to the growth of Hive and support to the Hispanic community.
Kindly regards,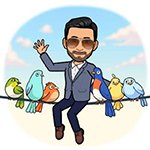 @ritch
Founder of Alebrijes Community and Co-founder of Hive Mexico
---
[Spanish]
---
Mi criterio básico para votar por algún testigo es saber si está contribuyendo al crecimiento de la comunidad de Hive. Me gustaría mencionar a mis tres principales testigos y las razones por las que voto por ellos.
El fundador de Curangel convocó a un gran equipo de curadores para apoyar las publicaciones de calidad en Hive. No hay ningún canal de discord, ninguna comunidad en Hive, y ninguna etiqueta para promover las publicaciones. Los curadores dedicados recorren todas las comunidades y etiquetas de la colmena en busca de publicaciones de alta calidad. He sido uno de los curadores de Curangel desde el principio del proyecto, así que sé que la calidad está por encima de las recompensas por curación. Voté por el testigo Pharesim incluso antes de convertirme en curador de Curangel porque vi cómo apoyaba a la comunidad científica (StemSocial).
---
Otro impresionante proyecto de curación manual en Hive que aporta mucho apoyo a los creadores de contenido. Vi cómo el equipo de Curie está usando dlease para conseguir delegaciones de HP y así dar un mejor apoyo en Hive. En lo personal, administro una pequeña comunidad hispana de curación llamada @alebrijes, y sé lo difícil que es mantener a los delegadores apoyando el proyecto durante un largo plazo.
Los invito a apoyar estos testigos que admintran proyectos de curación manual para apoyar a todos los creadores de contenido en Hive.
---
Este testigo desarrolló una Dapp robusta para crear cuentas de Hive llamada Hiveonboard. Dado que he estado creando muchas cuentas nuevas en Hive, es necesario reclamar los tickets para las cuentas. Esa tarea de reclamar tickets va de acuerdo con el Hivepower efectivo que tienes en la cuenta. Cuanto más Hivepower tengas, más tickets podrás reclamar gratis usando los créditos de recursos (RC). Hiveonboard es un puente entre los nuevos usuarios y las cuentas de Hive con altas cantidades de RCs (ballenas). Cuando se crea una nueva cuenta, la Dapp obtiene tickets de las ballenas sin afectar su Hivepower. Así, las ballenas mantienen su Hivepower y dan sus créditos de recursos para crear las cuentas nuevas.
---
Si quiere votar por esos testigos, siga los sigiuentes pasos:
1. Visite la página https://wallet.hive.blog/~witnesses.
2. Seleccione el testigo por el que quiere votar
3. Registra tu voto con la contraseña Activa.
---
¿Cambio regularmente mis votos de testigo?
Normalmente no cambio los votos de los testigos, así que mantengo los votos a los testigos seleccionados. Tengo mucho espacio para más testigos en mi lista. Actualmente apoyo a unos 14 testigos que creo que contribuyen al crecimiento de la comunidad de Hive.
Actualmente estoy siguiendo el proxy de la comunidad de @alebrijes para concentrar el Hivepower de mi voto. Puesto que soy el fundador de la Comunidad Alebrijes puedo elegir y emitir los votos para los testigos.
Sólo escribí sobre mis 3 testigos principales, sin embargo estoy apoyando a otros testigos como @cervantes, @threespeak y @blocktrades por su contribución al crecimiento de Hive y apoyo a la comunidad hispana.
Saludos cordiales,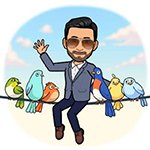 @ritch
Fundador de la Comunidad Alebrijes y Co-fundador de Hive México