Nur ein kurzer Beitrag fast in letzter Minute für diesen #NeedleWorkMonday. Ich hatte einen unerwarteten Arbeitsauftrag, der mich seit gestern sehr viel Zeit gekostet hat. Aber ich habe es geschafft, zwischendurch zu stricken und die erste Socke für den SockMadness-Wettbewerb fertigzustellen. Höchste Zeit, denn die Deadline ist Samstagmittag...
Only a short and rather last minute post for this #NeedleWorkMonday. I had an unexpected work assignment which took a lot of my time since yesterday. But I managed to knit in between and finished the first sock for the Sock Madness contest. High time, because the deadline is in 4 1/2 days...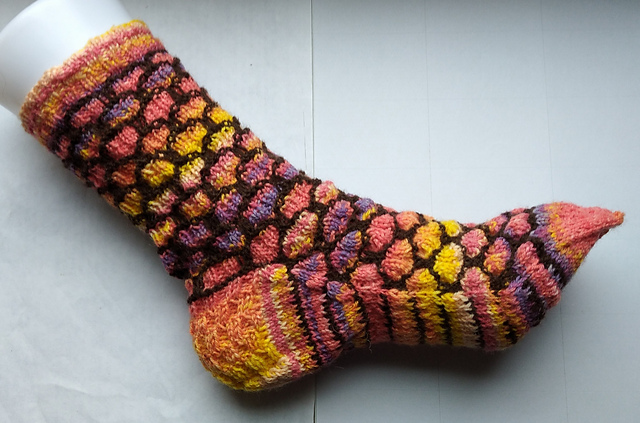 The sock in all its glory - a bit too big for the model foot
Ich habe die zweite Socke begonnen und bin in der fünften Reihe dieser "Waben". Ich hoffe, dass das Stricken jetzt schneller geht, da ich das Muster kenne und nicht mehr austüfteln muss wie es genau zu stricken ist.
I started the second sock and am at the fifth row of these "honeycombs". I hope knitting will go faster now that I know the pattern and don't have to work out all the little things.
Wenn ich die Socken rechtzeitig fertiggestellt habe, komme ich in die erste Runde, in der die Teilnehmer in Gruppen eingeteilt werden und gegeneinander arbeiten. Letztes Jahr begannen die Gruppen mit 36 Personen, und in jeder Runde schieden die letzten fünf, die fertig waren, aus. Ich rechne nicht damit, weiter als vielleicht in die zweite Runde zu kommen - das hängt von der Art der Anleitung ab. Wenn die nächste Runde ein Fair Isle (Jacquard) Muster ist, wird die erste Runde meine letzte sein. Das liegt mir überhaupt nicht. Hoffen wir, dass es Zopfmuster sein wird, das ist einfacher für mich!
If I finish the socks in time I will be allowed to enter the next round where knitters will be sorted in groups and work against each other. Last year groups started with 36 people and in each round the last five that finished were eliminated. I don't expect to come further than maybe the second round - it all depends on the kind of pattern. If the next one is a fair isle pattern, first round will be my last. I'm absolutely pants at stranded knitting. Let's hope it will be cables, these are easier for me!
---
---
5% der Einnahmen dieses Posts gehen automatisch an @needleworkmonday, unseren Gemeinschaftsaccount.
5% of this post's rewards automatically go to @needleworkmonday, our community account.