English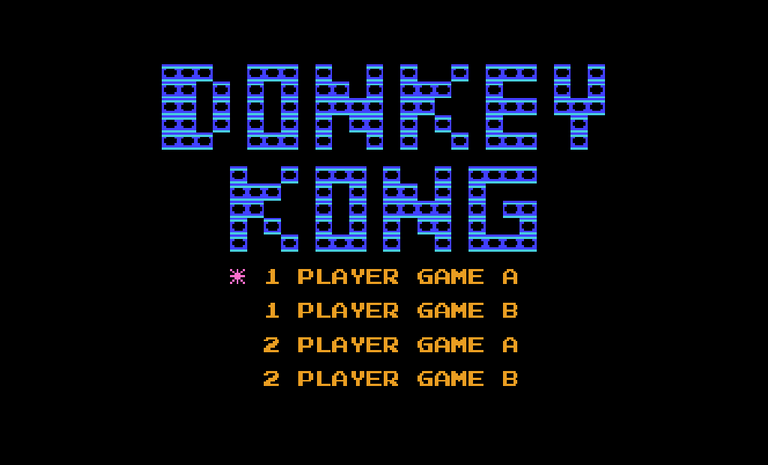 Capture made from the emulator of my game
Initially it was released in the arcade machines for the year 1981, place where it had a great impact among the small gamers who were beginning to know the world of video games, later it was incorporated due to its success in the NES video console two years later (1983), Donkey Kong became a very popular game, The fact of concentrating a great detail of programming based on three levels of play, allowed a progressive sequence quite challenging, with numbers that very few gamers could achieve, and that generated the interest in achieving records that others had implemented, the need and desire to want to be the best arose.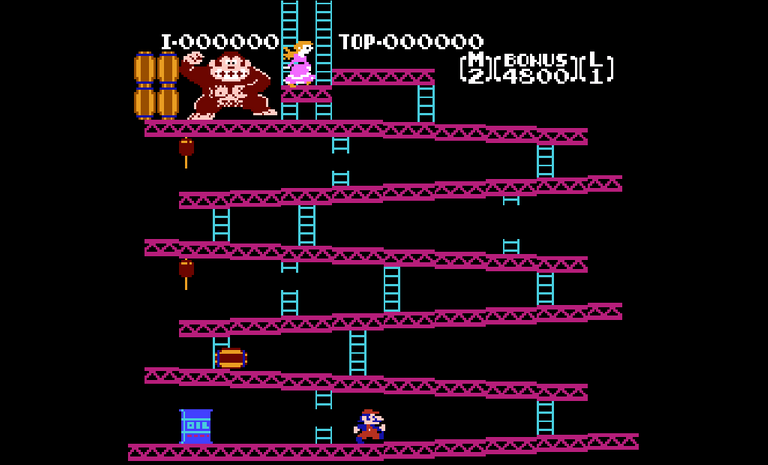 Capture made from the emulator of my game
I had previously told you about DK. Jr., which corresponds to the second part of this great videogame, and where the roles were reversed, being Mario the villain of the videogame. In the original DK, everything started with DK as the main villain and Mario as the hero, whose goal in the game was always to rescue Princess Peach.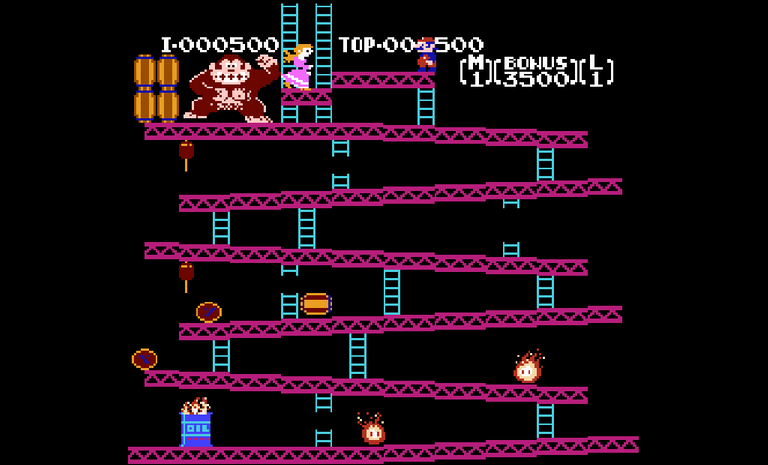 Perhaps the previous image is the one with which the game can be most identified, its bold and unbalanced design, with only two hammers as defense weapons, and an informative menu, located at the top of the screen is the most characteristic of the game, the fact of only having made only 3 worlds with increased difficulty after completing the third level, allowed gamers to memorize each world and find patterns that were of importance and that contributed to advance in the game faster, or at least to improve the level of play.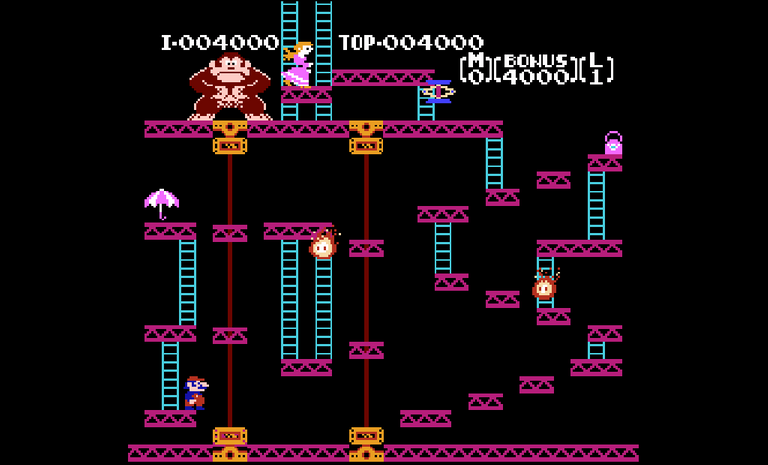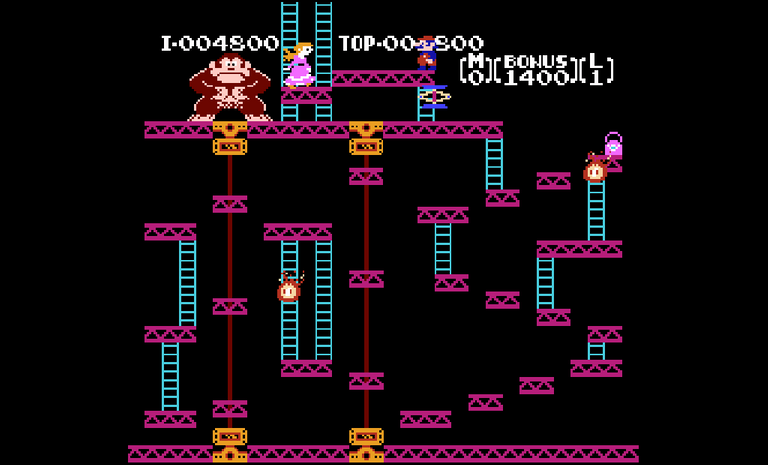 ---
Captures made from the emulator of my game
Things as essential as knowing that in the second world, after climbing the penultimate stairs, on the floor where DK was, we could stop and we would never be touched by the trampoline that shot out all the time, small details that helped to generate various strategies to achieve a more comfortable and safe progress within the game.
The fact of having only two extra lives, added an element of pressure much higher, completing each stage resulted in a merit that we could boast with our friends, the higher the level, the faster we could die, it all came down to our skill and strategy.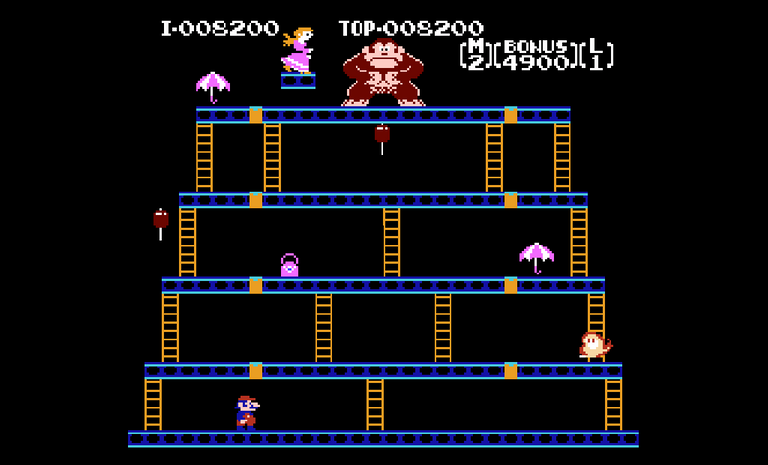 Capture made from the emulator of my game
Each object within the worlds gave us a few extra points that added up and helped our record, so it was important to take some or all of them.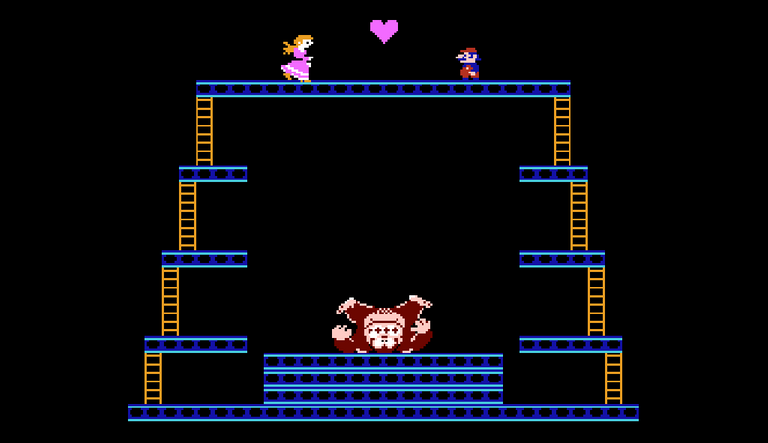 Capture made from the emulator of my game
In the last level, we had to pass over all the yellow dots that were part of the base of each floor on the platform, this allowed DK to fall to finally rescue Peach. Dodging the fireballs that were moving through this stage was not a very good idea, because they used to have random movements and usually, if we tried to jump over them, they would end up touching us and we would lose a valuable life.

Capture made from the emulator of my game
We could take the hammers that were floating on the stage to destroy the barrels that DK threw at us, this was useful, mainly in the advanced levels.
The game reached a point, in which gamers had taken almost as an obsession, the fact of overcoming more and more levels, with the aim of making the best score and also to discover what lay beyond, or at least see if there was any end, and the truth of it all, is that this questioning element allowed a very high interest by all who tried the game, even making world championships to determine the best players of one of the most popular arcade games in the history of video games.

Source of images
---
1 - 2

Español
El gran Donkey Kong arcade - ¿Que lo hizo tan popular?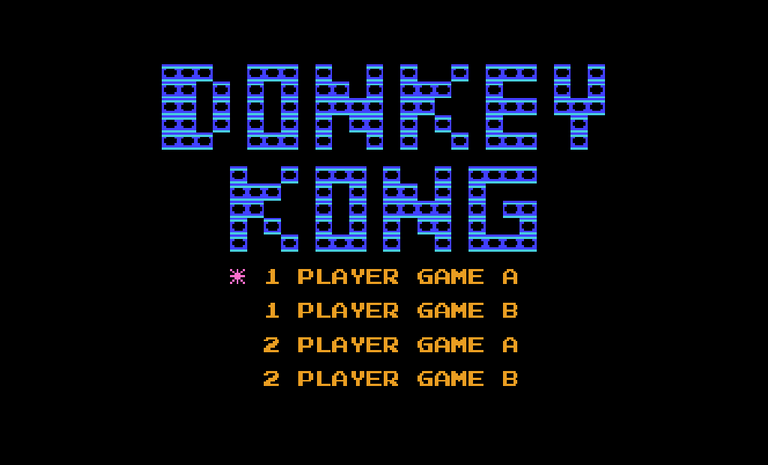 Capture realizado desde el emulador de mi juego
Inicialmente se estrenaba en las máquinas arcade para el año 1981, lugar en donde tuvo un gran impacto entre los pequeños gamers que empezábamos a conocer el mundo de los videojuegos, posteriormente se incorporaba a razón de su éxito en la videoconsola NES dos años más tarde (1983), Donkey Kong se convertía en un juego muy popular, que impulsaba a la generación gamer en un ámbito recreativo y competitivo, el hecho de concentrar un gran detalle de programación basado en tres niveles de juego, permitía una secuencia progresiva bastante retadora, con números que muy pocos gamers podían lograr, y que generaba el interés en alcanzar records que otros habían implantado, surgía la necesidad y el deseo de querer ser los mejores.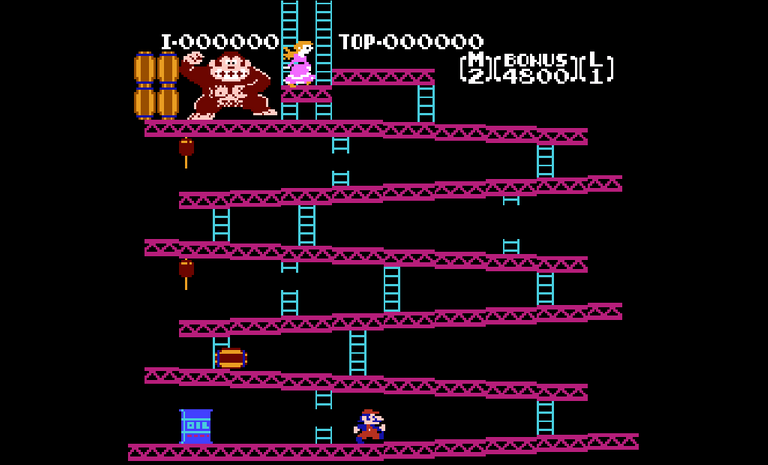 Capture realizado desde el emulador de mi juego
Anteriormente les había hablado sobre DK. Jr., que corresponde a la segunda parte de este gran videojuego, y en donde los papeles se invertían, siendo Mario el villano del videojuego. En DK original, todo partía con DK como villano principal y Mario era el héroe, cuyo objetivo dentro del juego siempre era rescatar a la princesa Peach.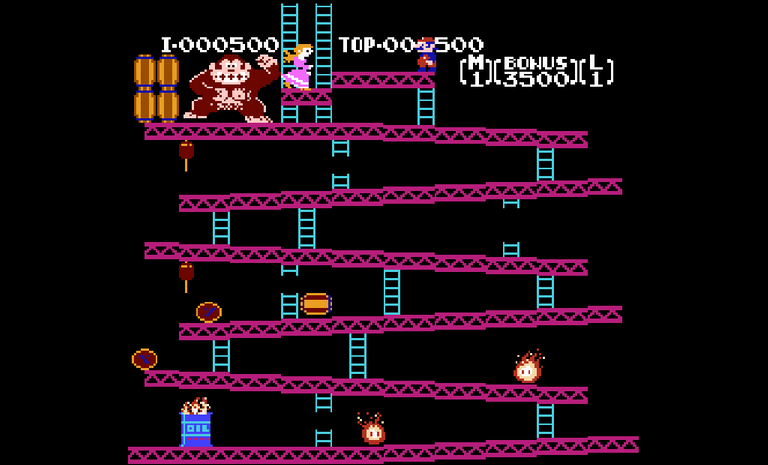 Quizás con la imagen anterior, sea con la que más se puede identificar el juego, su diseño atrevido y desequilibrado, con únicamente dos martillos como armas de defensa, y un menú informativo, ubicado en la parte superior de la pantalla es lo más característico del juego, el hecho de únicamente haber realizado solo 3 mundos con aumento de dificultad luego de completar el tercer nivel, permitía a los gamers memorizar cada mundo y encontrar patrones que resultaran de importancia y que contribuyeran para poder avanzar en el juego de forma más rápida, o al menos ir mejorando el nivel de juego.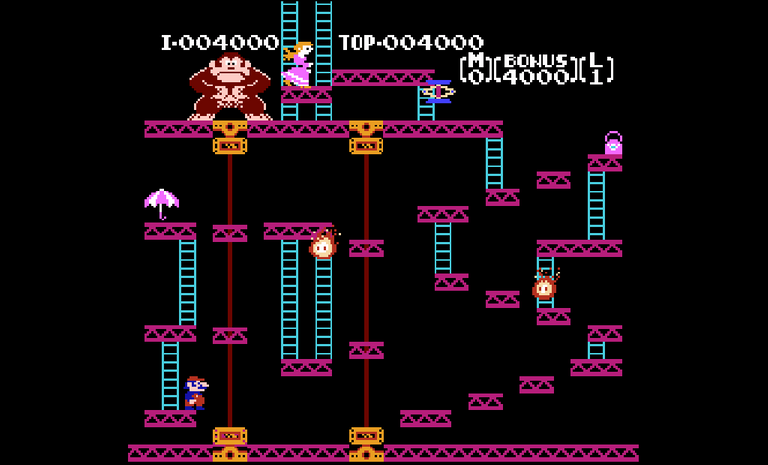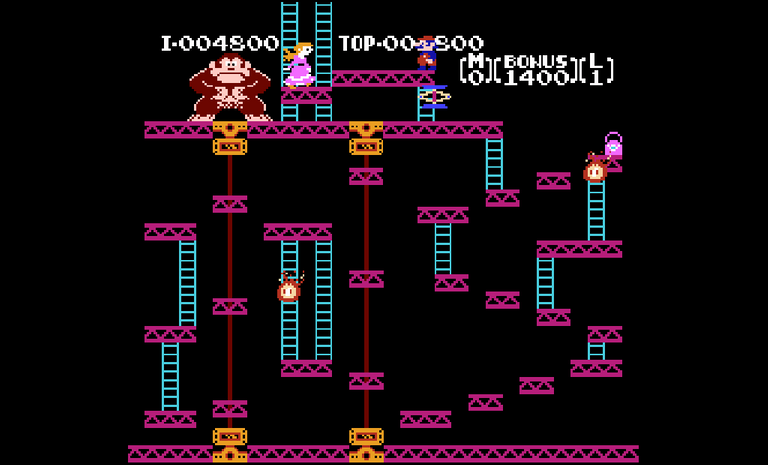 ---
Captures realizados desde el emulador de mi juego
Cosas tan esenciales, como saber que en el segundo mundo, luego de subir las penúltimas escaleras, en el piso en el que se encontraba DK, nos podíamos detener y nunca seriamos tocados por el trampolín que salía disparado todo el tiempo, pequeños detalles que ayudaban a generar diversas estrategias para conseguir un progreso más cómodo y seguro dentro del juego.
El hecho de contar solo con dos vidas extras, le añadía un elemento de presión mucho más alto, completar cada fase resultaba en un merito que podíamos presumir con nuestros amigos, entre más alto era el nivel, más rápido podíamos morir, todo se resumía en nuestra habilidad y estrategia.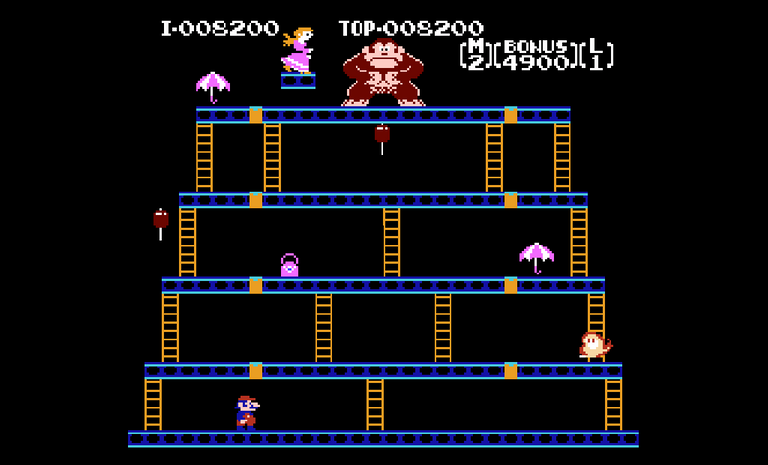 Capture realizado desde el emulador de mi juego
Cada objeto dentro de los mundos nos daba unos cuantos puntos extra que sumaban y ayudaban a nuestro record, por lo que era importante tomar algunos o todos.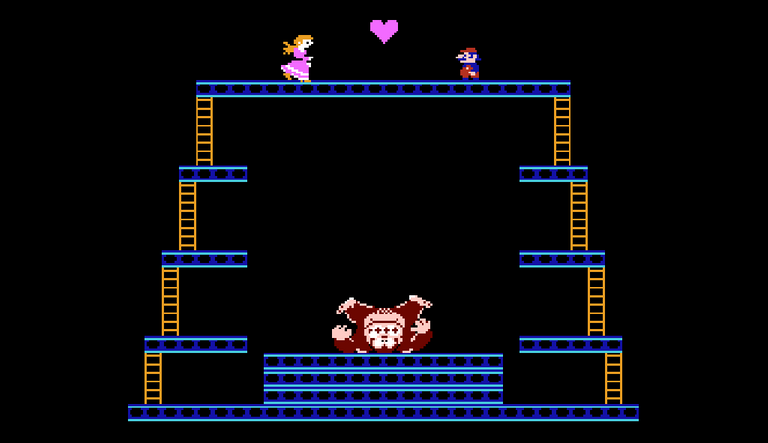 Capture realizado desde el emulador de mi juego
En el último nivel, debíamos pasar por encima de todos los puntos amarillos que hacían parte de la base de cada piso en la plataforma, esto permitía que DK cayera para finalmente rescatar a Peach. Esquivar a las bolas de fuego que se iban desplazando por este escenario, no era una muy buena idea, pues solían tener movimientos aleatorios y por lo general, si intentábamos saltar por encima, terminaba tocándonos y perdíamos una valiosa vida.

Capture realizado desde el emulador de mi juego
Podíamos tomar los martillos que estaban flotando en el escenario para destruir los barriles que DK nos arrojaba, esto era útil, principalmente en los niveles avanzados.
El juego llegó a un punto, en el que los gamers habían tomado casi como obsesión, el hecho de superar más y más niveles, con el objetivo de hacer la mejor puntuación y también para descubrir que había más allá, o al menos ver si existía algún final, y lo cierto de todo, es que ese elemento interrogante permitió un interés muy alto por parte de todos los que probaban el videojuego, llegando incluso a realizar campeonatos mundiales para determinar a los mejores jugadores de uno de los arcade más populares de la historia de los videojuegos.

Fuente de imágenes
---
1 - 2


---