You Think You Can't. But Do It Anyway.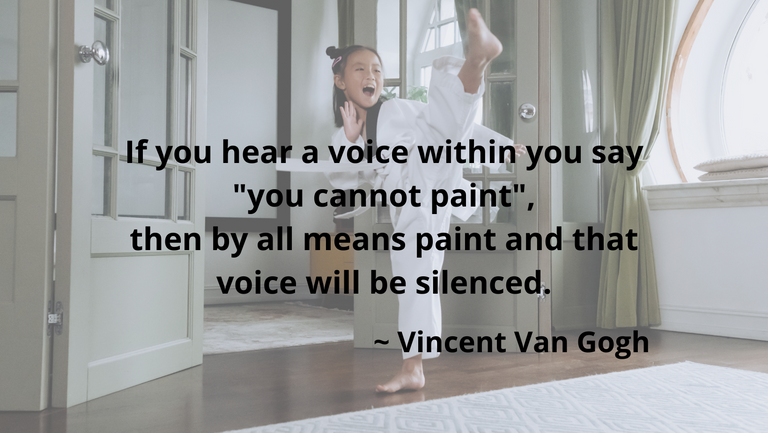 How many times have you known that you had to write something, but you just didn't know what to write? A blog post, an article, or maybe you have decided to start writing a book...but when you sit down, there is just...nothing.
I know, I've had this experience many times (and I suppose I will have it many more times...lol). But this week's thought is exactly about that.
If you hear a voice within you say "you cannot paint", then by all means paint and that voice will be silenced. ~ Vincent Van Gogh
That "voice" you hear, is nothing but your own thoughts. Where your thoughts come from is another topic for another time... For now, let's just focus on that "voice"/thought that tells you you cannot paint...write...create, or whatever it is you want to do.
I can speak from experience (although I'm still battling to do it every time...lol), where I knew I had to write. Yet, I just couldn't come up with any content. But, sometimes I just sat down and started writing down some thoughts...and before I knew it, I have written a full post.
When I say I still battle to do it every time, I mean that that "voice" is so convincing that I don't even make a start. I just get convinced that I have no idea what to write about.
Well, if it's writing that you need/want to do and you are reading this post here on the blockchain, you are at the right place.
Read other people's posts and start engaging by commenting on their posts. Sometimes, just by commenting on someone else's post, the words start flowing and before you know it, you've got inspired to create a whole new post of your own.
So, if I can do some editing to our thought for this week to make it relevant to what we do here on the blockchain, I suppose we can say...
If you think you can't write, then, by all means, write and the words will start flowing.
I know I am personally going to start applying this because one of my goals for this week is to start writing 3 to 5 comments per day on the blockchain.
By engaging more, by writing comments, we not only help ourselves, but we also help and support the authors of the posts we comment on and we contribute to the growth and development of the blockchain as a whole.
I hope this post inspires you to join me in the activity of engaging more with other members of the various communities here on the blockchain.
---
---