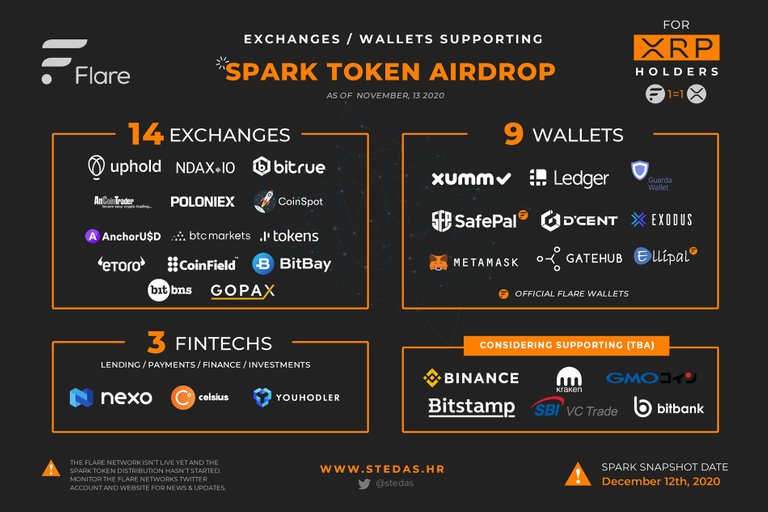 Src - Twitter
I had to take a quite a big decision of selling my liquid hive for XRP in the hope that XRP for one reason would appreciate in value and due to the fact that the Flare Network will Airdrop Spark Tokens to XRP holders in some known exchanges.
The snapshot or the time that the Spark tokens will be airdropped at selected exchanges like Poloniex and possibly Binance in December 12th this year and that is so near to happen and will definitely give every XRP buyers and holders the smile in their faces with the author included because "free money" is really amazing and there is nothing like it but only for the crypto space it is possible to happen.

Src - Binance
I am also thinking of buying more XRP with my other Hive tokens from my powerdown so that I can make use of it rather than sitting on my account and not earning anything.
Then from that point I will have to think what to buy next since with this bullrun on BTC the Alts may invigorate with their price movements as well just like what happened in 2017 when retail investors went to join the hype in cryptocurrencies.
Sell Hive, Buy XRP

Src -Binance
But this time it is different as bigger financial entities like PayPal for example adopted cryptocurrency use and possibly with a transfer of crypto-crypto function in their customers wallets which I think by now is being ironed-out because that is what PayPal customers and people wanted.
Anyway it is certain that XRP buyers and holders will get their free money with the Spark token airdrop, it is just a matter of a few weeks until it happens so better get your XRP tokens now if you have some spare money so you won't miss-out on this airdrop on the 12th of December.
Read about the news with this Spark Token airdrop HERE for more information.

Src