Each year, public health professionals have to be weary of the pesky influenza virus that tends to run rampant during this time of year. Influenza has now become widespread within most of the state of Ohio, with no end in sight. The virus has also spread and become a multi-state outbreak with more than the expected number of cases being reported, which makes sense then for this to be classified as an influenza epidemic. The influenza virus is a very contagious illness that burdens millions of Americans each year. Influenza, unlike the common cold, has a swift onset of severe symptoms beginning with two to seven days of fever, headache, muscle aches, extreme fatigue, and a cough. If flu-like symptoms persist, then more severe implications may arise, especially in immunocompromised individuals.
Health officials in the area are encouraging residents to protect themselves against the flu by getting vaccinated as soon as possible and by following other preventive actions as flu cases and hospitalizations continue to rise. The Centers for Disease Control and Prevention (CDC) recommends that everyone 6 months and older get a flu shot as soon as possible, as this is the time of year when there is usually an increase in the prevalence of cases.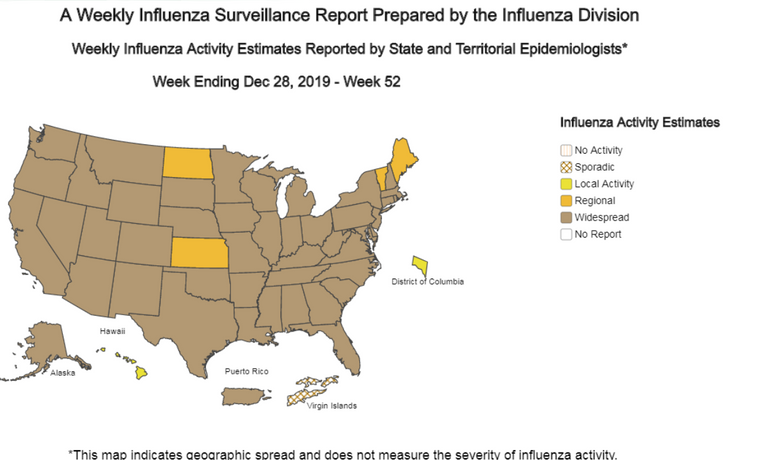 Image Source
Through week 52 of the flu season, which ended on December 28, there have been nearly 500 influenza-associated hospitalizations and more than 2,500 outpatient cases reported in the Western region of Ohio alone (8 total counties). However, health officials know the numbers are higher, since many people who are infected with the flu do not go to the doctor. Disease burden and under reporting of cases is always an issue, and is not something solely attributable to the flu.
Getting the annual flu vaccine is the first and best way to protect yourself and your family against the flu. Flu vaccination can reduce flu illnesses, doctors' visits, missed work and school, as well as prevent flu-related hospitalizations. An annual flu vaccine is recommended to protect against the current strains which are causing the most illnesses to arise. The flu is pesky and has learned to evolve and genetically mutate over time, making old vaccines non-efficacious against new strains.


Graph illustrating confirmed influenza hospitalized cases compared to 5-year avg.
The graph above denotes a severe spike in the number of confirmed hospitalized cases around week 51/52 of the annual flu season. The baseline avg. also has a spike, but the blue line indicates a much greater than expected increase in cases. It will be interesting to track what will happen with this graph as the flu season continues into the "new" flu season weeks in 2020.
After becoming vaccinated, it takes about two weeks for antibodies protecting against the flu to fully develop in the body and immune system. With flu cases on the rise, it is very important to become vaccinated to prevent the spread of this highly contagious airborne and respiratory illness.
Getting vaccinated is especially important for people who are more vulnerable to serious flu complications, including the elderly, young children, pregnant women, and people with chronic health conditions. Many people in vulnerable groups are also visited by friends and relatives. When their visitors are immunized, it makes them less likely to spread the flu through a public health phenomenon known as herd immunity.
In addition to getting a flu shot, the following preventive actions will help you stay healthy this flu season:
Washing hands often with soap and water or use alcohol-based sanitizer when you are unable to wash
Try to avoid touching areas of the face including the eyes, nose or mouth. Germs are often transmitted easily from vehicle to body parts that are a port of entry
Get plenty of rest. Sleep is shown to help your body fight off illness related to the flu
If you are sick, stay home until you are fever-free for at least 24 hours without using fever-reducing medication
Cover coughs and sneezes with a tissue or into the sleeve to prevent airborne transmission to others
Stay safe and healthy this Flu Season! Nobody likes getting sick!