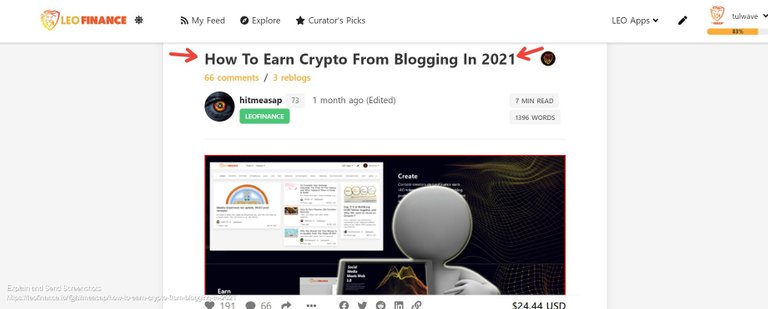 There I said it. I found the best post ever posted on https://leofinance.io/ (didn't even read it all) but it's the best.
My goal here is to help grow the community through SEO and Marketing. Not the hard stuff, but the easy stuff. And from a technical standpoint. I found the perfect post and it is by @hitmeasap
How To Earn Crypto From Blogging In 2021
Let's do a shallow dive into why it's the best post ever and why it should be important to you as a community member and a Leo holder. The technical aspects of the post are not that important here.
The main thing you need to know is that google likes it and people search for the Title. (The Title is a longtail keyword phrase with)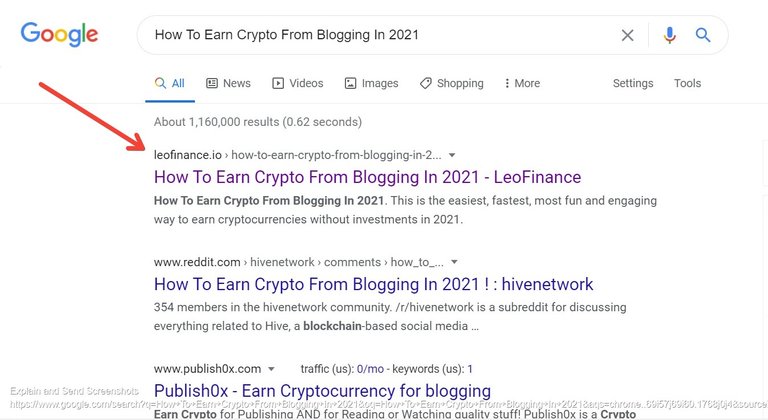 It's tough to see the entire scope of this by my screenshot but when you search "How To Earn Crypto From Blogging In 2021" in google, the first thing you see is @hitmeasap's article and Google is ranking it on the https://leofinance.io/ domain. That is both huge and rare for us!
Leofinance.io is a newish domain and most times Google decides to rank it's articles on other domains first. Mainly Hive, PeakD, Old Steamleo junk, Reddit, Publish0x, etc.
It's really important for google to recognize that the original content actually comes from https://leofinance.io/ itself. But that is SEO stuff that you probably don't really care about too much.
The point is that this is the first post I've seen that ranks #1 on Google from LeoFinance that defines the value proposition of @leofinance.
So What Does This Mean?
It means a lot but only a little really matters for most community members.
First: This is a top quality post that Google Likes. So share it. Even though it is a month old, keep tweeting it. Refer to it in Reddit threads, Put in on Torum, Drop it in blogging forums. It's a good article.
Second. You may have noticed that @hitmeasap published a Brand New Article yesterday and refers back to this in a relevant way in the text. BINGO! He Wins (That's called Internal Linking Strategy and it's part of SEO)
Each time this article is linked back to from either LeoFinance or anywhere else in the internet it serves as a kind of "letter of recommendation" to Google that people find the information both relative and authoritive regarding their search intent. (Google likes that)
One of the best things about the article and it's position in google is that when people look for relative information on Google we, as a community, already know this article is on Google working hard for us as marketing material.
So, when you write about your experiences on LeoFinance or other places and the subject of How To Make Money From Blogging comes up, just link back to @hitmeasap's article instead of trying to rehash the same idea. There are lots of ways to interact with it create your own content with it, just link back to it. It is a win/win for everybody!
Posted Using LeoFinance Beta