[ESP-ING] SET DE MATE PINTADO A MANO INSPIRADO EN STICHT//HAND PAINTED MATE SET INSPIRATED BY STICHT
Hey queridos amigos!!
Espero se encuentren muy bien hoy!
En esta ocasión, me encuentro aquí para compartir con ustedes el proceso de este set de mate pintado a mano, inspirado en este bello y querido personaje alienigena, Sticht. Espero les guste!
Hey dear friends !!

I hope you are very well today!

On this occasion, I am here to share with you the process of this hand-painted matte set, inspired by this beautiful and beloved alien character, Sticht. I hope you like it!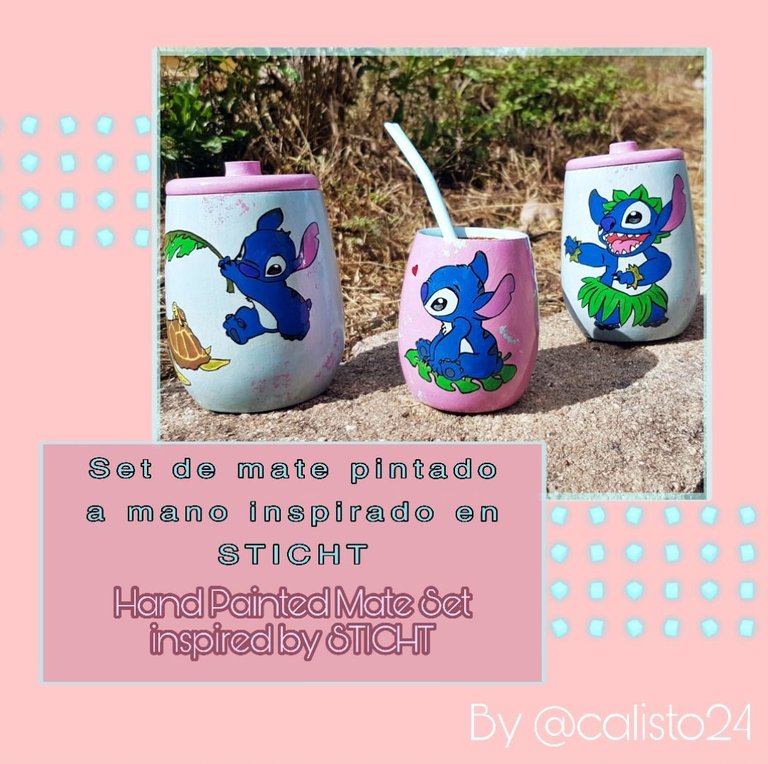 Habrá alguna persona en el planeta que no sepa quién es éste adorable experimento extraterrestre?
Seguro que la hay! Pero debe ser muy poco, ya que una vez que conoces a este pequeño, no podrás olvidarlo fácilmente.
Is there anyone on the planet who doesn't know who this adorable alien experiment is? Sure there is! But it must be very little, since once you meet this little one, you will not be able to forget him easily.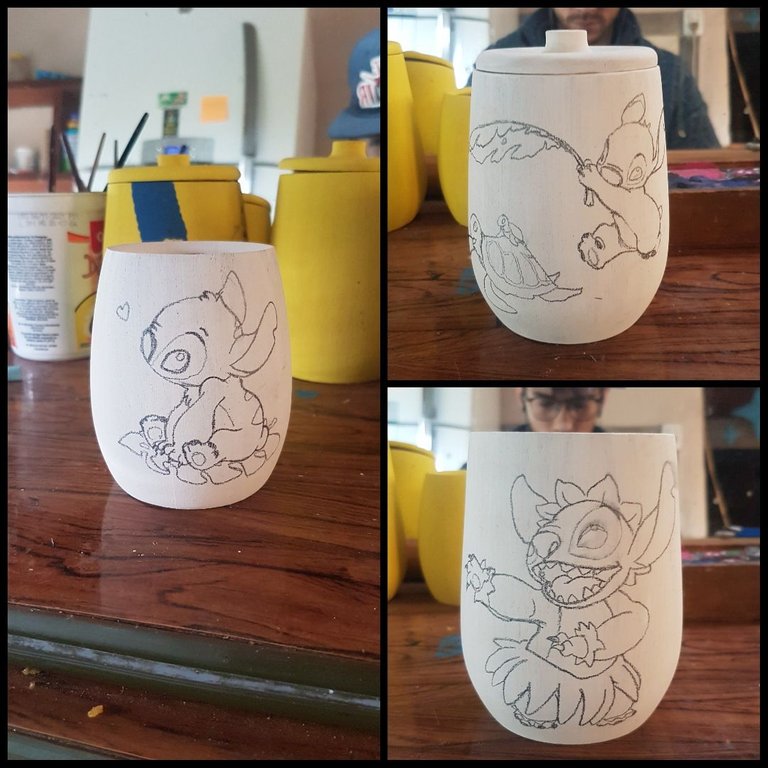 Sticht, o como Su verdadero nombre nos indica, el experimento 626 fue creado a partir del adn de varios alienígenas, para ser el arma que desataria el caos en su galaxia.
Éste logra escaparse y termina en la tierra, donde es atropellado y acaba en un refugio de adopción de mascotas.
Es ahí donde conoce a Lilo, quién lo adopta pensando que es un perrito muy feo.
Sticht, or as its real name indicates, experiment 626 was created from the DNA of several aliens, to be the weapon that would unleash chaos in your galaxy. He manages to escape and ends up on earth, where he is run over and ends up in a pet adoption shelter. It is there where he meets Lilo, who adopts him thinking that he is a very ugly puppy.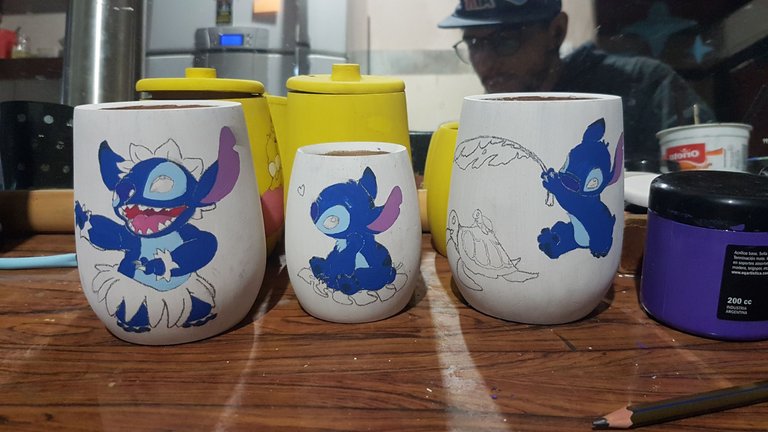 Su personalidad inquieta, caprichosa y de mal genio, nos hizo reír mucho en pantalla, y el drástico cambio que experimenta gracias a su amistad con Lilo, ocasiona que se vuelva el ser mas agradable del universo!
Es de esos personajes que, inevitablemente, te cautivan desde el primer contacto visual.
His restless, whimsical and short-tempered personality made us laugh a lot on screen, and the drastic change he undergoes thanks to his friendship with Lilo, causes him to become the most pleasant being in the universe! It is one of those characters that, inevitably, captivates you from the first eye contact.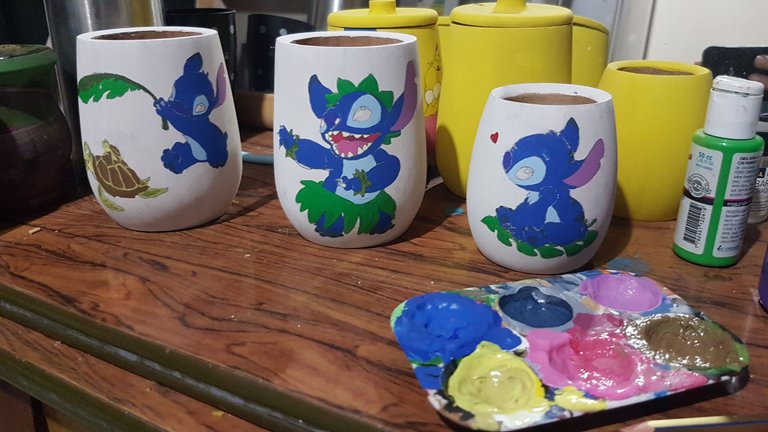 Venía con unos días bastantes desmotivados, para ser honesto, con respecto a pintar. Pero así, de repente, antes de ayer a eso de las 9 de la mañana, empezaron a llegar a mi mente muchísimos diseños e ideas que tuve que desempolvar el block de notas de mi teléfono y hacer una lista para no olvidarme de nada.
Por ésto, podré compartir con ustedes una seguidilla de estos set materos que estoy creando.
I came with quite a few days unmotivated, to be honest, regarding painting. But then, suddenly, the day before yesterday at about 9 in the morning, so many designs and ideas began to come to my mind that I had to dust off the notepad on my phone and make a list so as not to forget anything. For this reason, I will be able to share with you a series of these mother sets that I am creating.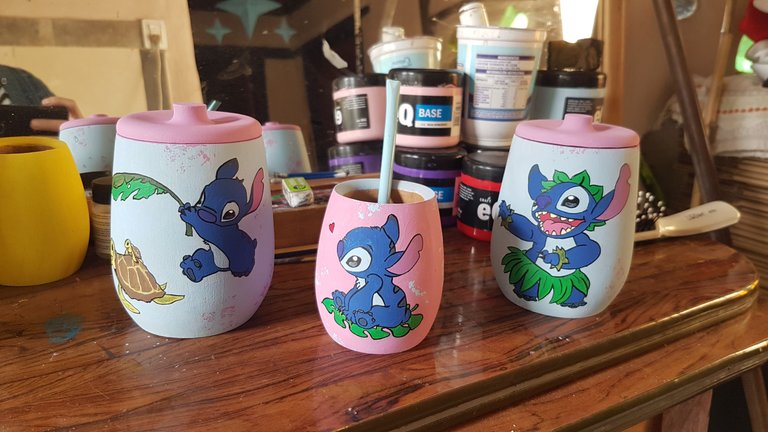 Gracias por leer este post. Todas las fotografías son de mi autoridad.// Thanks for reading this post. All pictures are my authority.
Calisto24.
---
---