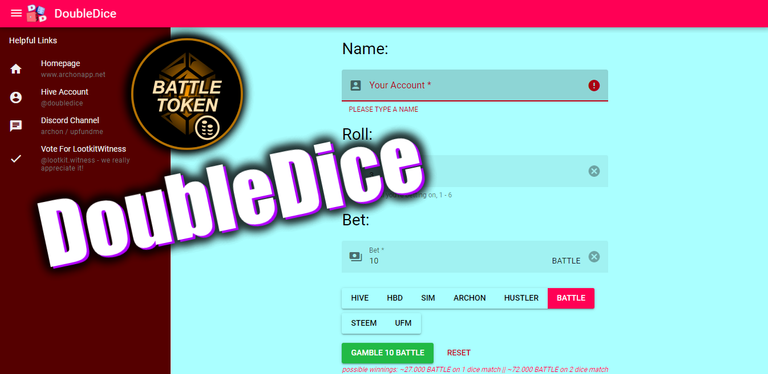 If you're not saving your liquid BATTLE tokens to bid on a ProGamer NFT then head on over to Archonapp.net and wager some BATTLE in a game of DoubleDice! 🔥

How to Play DoubleDice
The concept is pretty simple, start by picking a number between 1-6. Now choose how much BATTLE you wish too wager and click the green GAMBLE button.
Two dice will be rolled, if one dice matches your pick then you've won 2.7x your wager. If BOTH dice rolled match your pick then you've won 7.2x your wager.
DoubleDice features Hive Keychain integration which makes it easy and secure to wager BATTLE tokens directly from your Hive-Engine wallet. You can wager other tokenss too, such as SIM and of course ARCHON 👊

Check your Results
To check the results of your wager head on over to the #doubledice channel in the Archon Discord. We'll work on having a doubledice channel added to the @battlegames Discord as an alternative place to check results 🤘
Please gamble responsibly and according to the legal age in your province.
---
💖 Kindly Vote our Witness Here With Hivesigner, Every Vote Counts!
---
🕹️ Follow @battlegames for Gaming News, Curation, and Community.
---
---