---
I'm not really a beer person, though I have been known to be quite the dabbler, specially back when I lived in Kenya. Tusker Lager and Pilsner Ice on the rocks were my go to poisons.

Kenyans love their beers, it's almost a cultural thing, which is why I find the fact that @elsiekjay(who kind of inspired this post) has never tried even a single beer so surprising.

Anyways, back to Friday.
Belgian Beer Review:


So, Friday, right around when lunch had just hit the spot, a friend in our watsapp group said that a friend of his had recently touched down from Belgium, and that he had a variety of beers for us to try out. Intrigued, I reflected on it.

On one hand, I over indulged last week, getting back home at 11am and these days I only do 1-2 such outings per month sometimes none. On the other I'd just finished a Business Statistics CAT in which I believe I did well so, a celebration wouldn't hurt, I pondered.

Plus, the beers would be free which would significantly lower the evening's costs, I theorized.(Spoiler; it did,... a lot!)

Right around then, I saw Elsie's post showcasing her lunch in which she asked, who is she to say no to the fact she'd just received more coffee than she was anticipating? Yup, that resonated with me, prompting me to politely accepting the beer tasting offer!

I mentioned this and she said I should make a post about it.... In retrospect why I never thought of that baffles me. I do occasionally drink beer, and I've known of the beersaturday tag for the longest time, and yet, smh.

Actually, as I was composing this article last night, a friend called saying they were at crushing a wedding, sipping on beers under the table. Classic! I politely declined but still. Tangents.

Gordon: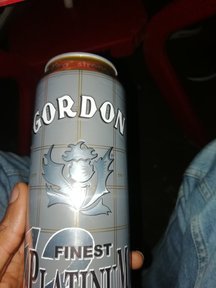 ---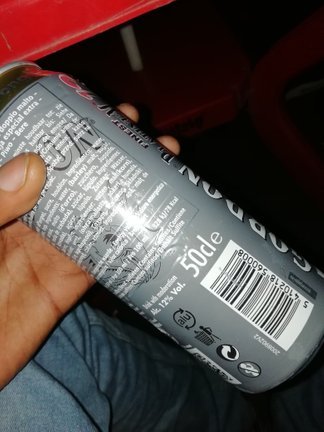 ---
To be honest, I probably shouldn't have chosen this bad boy as my entrée as it's so potent. I definitely wasn't ready for it, the first sip felt like a shot of jager bomb that's mixed with some whiskey. With 12% alcohol, I started zoning rather quickly. I'm glad I only drank one can.

A friend who's in Belgium reacted saying it's not unusual to find 11-14% alcohol beers over there. Seems Belgians don't joke when it comes to their beers.

Even if I had the opportunity, Gordon wouldn't be a drink I regularly get.

Leffe: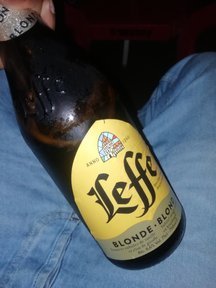 ---
Apparently it's vanilla flavored. I couldn't tell, by the time I got to it, the Gordon had already smashed my taste buds. Not much I can say about the experience, I didn't get to feel much of it's 6.6% alcohol, maybe a second glass would have helped with that.

Tripel Karmeliet Abbey Ale 750ml:


A mouthful right? Told you Belgians no joke when it comes to their beers. It's quite flavored, I actually felt it's sweetness and smoothness, quite the experience it was.

Tripel Karmeliet (Dutch for "Tripel Carmelite") is a golden Belgian beer with 8.4% alcohol by volume brewed by Brouwerij Bosteels in Buggenhout, Belgium. It was first brewed in 1996 and uses three cereals: wheat, oats and barley.
source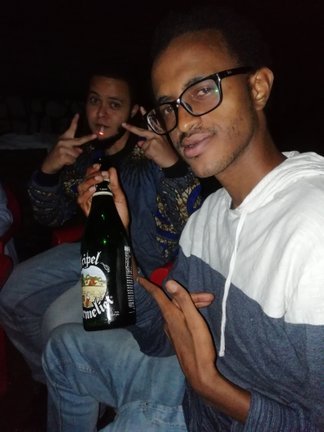 ---
In this particular drink, is mixed in vanilla, orange peel, spices and banana flavors, that effectively make it's 8.4% a slow burner. I took 1 glass, and I wouldn't mind stumbling on this gem every now and then.

Dessert:


Well, that was the end of the experimentation with beers. After that we switched it up and moved to liquors but first things first, some of us couldn't continue on an empty stomach so we munched up.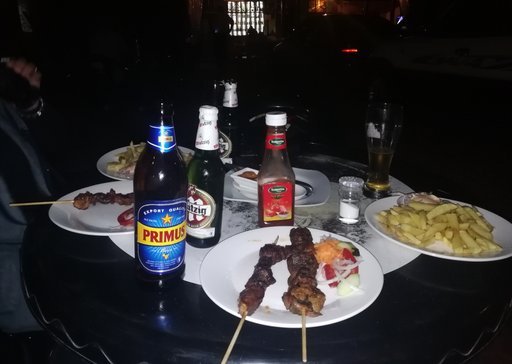 ---
Old pic, zingaro on the right, preferred brew on the left.
---
I ordered 2 brochettes(kebab like dish.) of goat intestines and was ready to go. Yeah I know what you may be thinking, ew... intestines, that doesn't sound appetizing. You're right, when they're boiled. When brochetted though, they're to die for!

If it's offered at any restaurant I just so happen go to, you can bet your bottom dollar at least one will find it's way to my plate!

Conclusion:


Belgians don't joke around when it comes to their beers, and when you take into account how they're so descriptive of them, the passion is unmistakable and you can damn near taste it when you crack one up.

And who knows, maybe one day I'll get to taste more of their beers on the ground, along with their famous fries, another area in which I hold a lot of interest.

Fun Fact:


When I was ten, I won a free round trip ticket to Brussels and my mom decided to hold on to it for me until I get older, wonder if I should go collect now.😂

PEACE!!
---
---
Posted via Marlians.com