Just like yesterday, I got this Al Smith card from that comic shop around my area.
This card happens to be even older than that Chris Sanders one. It's in really good condition and I intend to keep it that way.
Finding these older Oilers cards is so cool for me! Through these cards I get to learn about the history of the Oilers era of the franchise more than I ever knew before. It's actually really fun! Despite my knowledge of the Oilers from over the years, a small part of me felt disconnected or just didn't really see the connection between the Oilers and the Titans. I am a younger guy and so I grew up being only a Titans fan.
But after doing a little bit of research and watching some Youtube clips of these players, I'm starting to get a much better appreciation and pride for the Oilers days. While I may not have been alive for most of that era I can still appreciate that team, because it is the same franchise! The Oilers and Titans have a similar color scheme and when the switch happened, obviously the entire roster switched over to Tennessee. Two GREAT players in the franchise were both Oilers and Titans, in Steve McNair and Eddie George!
I know people think it may be weird or a negative thing that the franchise has two team names and two locations but I think it's kind of cool in a way.
---
Al Smith was an awesome inside linebacker for the Oilers. He played both right inside linebacker and middle linebacker. He spent his entire ten year career as a Houston Oiler! In years he wasn't injured he was a starter every year. He's pretty much an Oilers legend. He was even a part of the Titans front office. From watching this short podcast he seems like a really good person.
He's got a really impressive set of accomplishments as well. In his ten year career he accomplished:
1992 First-Team All Pro
2x Pro Bowler
880 total tackles
8 forced fumbles
5 fumble recoveries
2 interceptions
5.5 sacks
Here's a nice video of Al Smith on the field. Dude was a beast!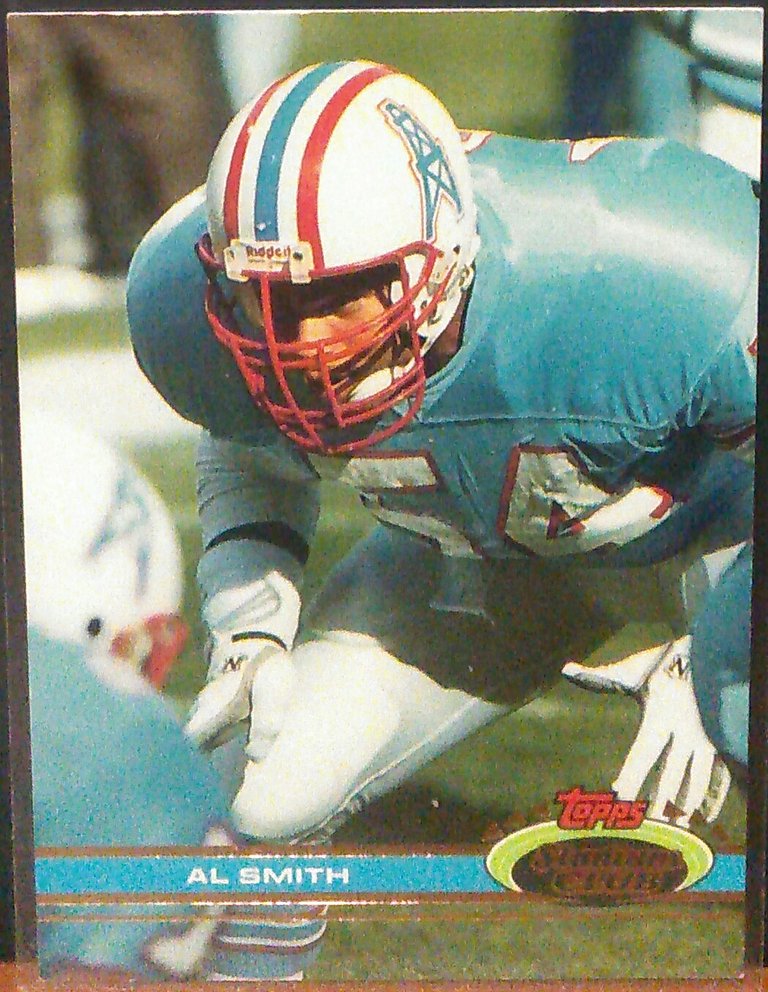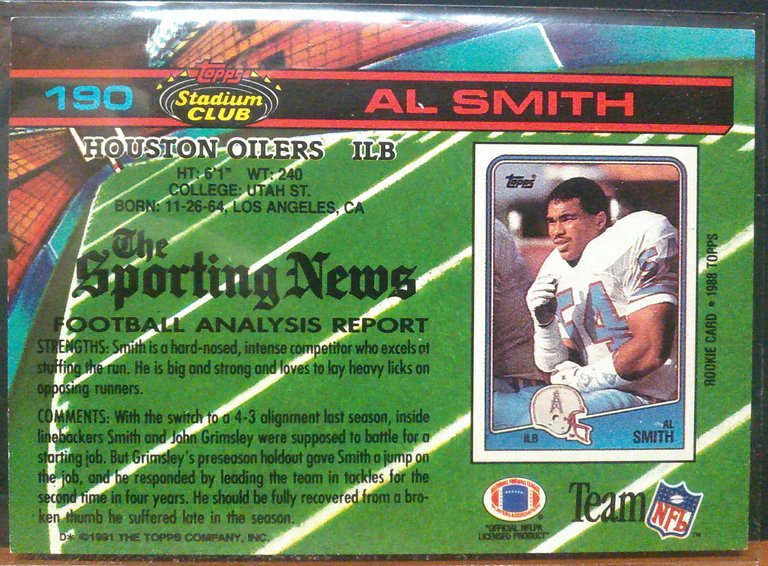 It feels good to show some love to these retired players. Just another reason sports cards are awesome!