The time changed here in Sunny San Diego today, it is now officially winter and as much as I dislike using the word... I HATE it.
Really though. I don't dislike the winter, I dislike the silly rules and laws that change our time and make it DARK at 5:00pm.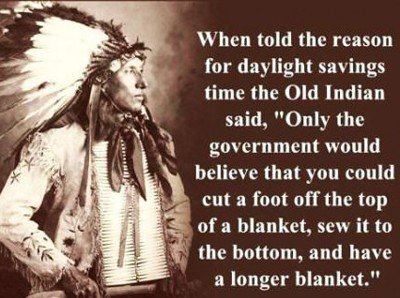 I don't really know where this image came from and I don't trust any images that talk about "old indians" but seriously, it pretty much sums up how I feel about the government messing with my time log.
It is nice that the kids wake up easier in the morning, but now that I have conquered sending them to bed on time, it does not seem like much of a win.
It is the early nighttime that gets me feeling blue.
5:00 PM and it is already dark?
Such a stark different from summer when you can leave the house way past noon and still have 7-9 hours of sunlight.
During this time of year I have to be extra vigilant of my moods and patterns, extra vigilant to get sunshine and fresh fruits and veggies and extra vigilant to get OUTSIDE exercise.
Watching a yoga tape is cool, and good for your body, but walking just one lap around the park during the sunshine does a lot more for your mood.
Good luck to everyone who suffers through SAD - may The Holidays, extra family, and extra sleep time be enough to keep you mentally healthy.
I will be here taking advantage of the fact that I live in Sunny San Diego. I will look forward to the Santa Anna's that make random days in the winter feel like summer, I will go to the beach and sink my toes in the warm sand, and I will make sure to do it all BEFORE 5pm.
I can and I will.

---
Posted via Marlians.com