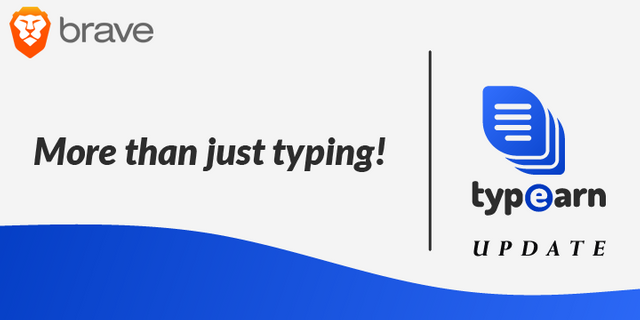 Hello TypeEarners!
We bring to you the daily updates and news on the Typeearn platform.
TypeEarn Airdrop concluded
Today 23rd Aug 2019, makes it exactly two weeks that we launched the Typeearn project, which means the two weeks for the Airdrop ends today. We like to appreciate everyone that has participated in this first Airdrop of the Typeearn project. Plus, we like to inform the community that the Airdrop has been distributed to everyone that participated according to the quality of their posts.
Also, some people could not get the minimum reward because they did not follow the guides provided in the Intro post properly.
As the intended TPC for Airdrop is 30,000, we are still left with a couple of thousands. Therefore, there will be more Airdrops coming in a couple of weeks for further expansion of the project.
Brave Reward Enabled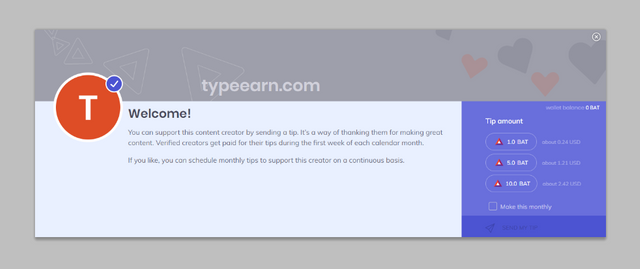 We have verified typeearn.com as a creator on the Brave reward. So if you are a Brave browser user, and you like what we are doing, you can now tip typeearn.com directly from your browser.
---
Growth and number of token (TPC) holders
Today, six new users have joined our discord community and five adopted our utility token. TPC is still maintaining its stability.
| Description | Total |
| --- | --- |
| New users today | 6 |
| Total token (TPC) hodlers | 113 |
| Total discord community members | 72 |
| TPC last bid price | $0.04900 |
| Current market cap | $35,125 |
Remember to always follow the upward trend of the TPC with your sell biddings. Do not be too anxious and bid at lower prices, for this hurts TPC and reduces its market value.
---
Thank you for following our updates and being part of this wonderful family. Continue to type and earn!
---
@typeearn team
Our Wonderful Team
@ckole
@tykee
@sahmmie
@katerinaramm
@anharismail
@teekingtv
Our Influencers
@darewealth
@alvinckc

---
Follow Us On Social Media