What is TypeEarn
---
TypeEarn is a new project on the Steem blockchain with the ability to help people grow their typing ability, by providing a set of words with grammatical symbols to get you moving about the keyboard. Not only will it help you develop your typing speed and accuracy with time and practice, but you can earn/mine the token they have on Steem-Engine. I have already performed 3 sets of typing and seen the results and with some practice, not messing up at times and increasing my words per minute, I can get more than what I have been receiving! The first two times were better, with one getting me around 1.5 TPC, then the other getting around 1.6 TPC.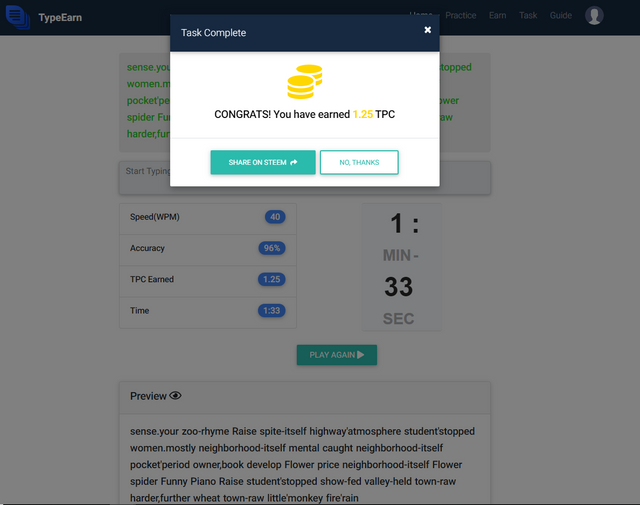 With the results showing in a pop-up after you finish, you will get to see how well you performed through your speed in WPM, your accuracy %, the amount of TPC you earned and the time it took you to complete this set of typing. You have the option to post to Steemit straight from here if you want to track your progress, sharing how well you are doing and the improvements you have achieved since another milestone or key point in your typing journey.
By buying the initial 20 TPC tokens you need to have sitting in your Steem-Engine wallet to start earning for just over 8 Steem, you will get 5 runs at the typing daily, to earn more tokens. You can see incentive by holding onto the TPC you make, in your wallet which will increase the rewards you get against the words per minute you type. Remember though, when you perform the typing and put a space after the words/joined words, there is a slight delay to clear it which you will want to slightly reduce how quick you type after the space.

On the website found at TypeEarn you can view your profile which will show you the current earnings, which is before you withdraw or since you last withdrew to Steem-Engine, the amount of TPC you have sitting on Steem-Engine and your Type-Power based on your current TPC holdings. My advice would be to withdraw the tokens daily and hold as much as you can, or want to, so you increase your daily earnings and you can always buy more if you like the project and token which I feel I will do.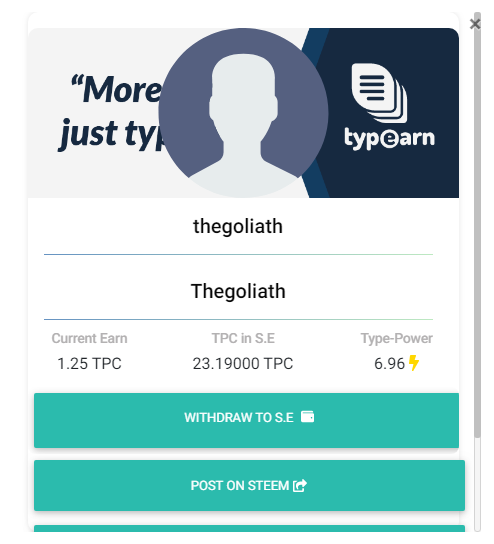 The initial post about the project, which tells you a variety of information including what it is about, what the project brings and hopes to achieve, information about their airdrop to help distribute tokens to people and the requirements to meet it and a bit of a roadmap of things to come for the project which the post is found at https://steemit.com/typeearn/@tykee/introducing-typeearn-com.
I believe that this project is a great initiative that is beneficial in many ways, for many Steemians. Supporting quality projects helps to bring more services and growth to Steemit and seeing this post thanks to the resteem of @acidyo, made me jump on the TypeEarn train early and hope for continual growth of the project.
So remember, if you like the look of the project and want to spend the small amount of 8 Steem to start supporting the project yourself, buy those 20 TPC on Steem-Engine, get typing and start earning today!