It's not looking like it, dear supporter.
Nobody, but me, is talking about this, and if you have been following along, you know how much I get listened to.
You have to decide for you.

In order to overcome the tax you have to have 400,000hp.
If we had a whale experiment at 1000mv, that only affects the first 39.
Those of you here for the first whale experiment remember the excitement of our vote values 4x'ing.
We also recall that this insurrection caused the kneecappening with linear rewards, the two year walkabout without any developments out of stinc, and the subsequent selling us down the river to the chinese.
https://peakd.com/hf21/@steemitblog/hardfork-21-survival-guide

https://peakd.com/steem/@vandeberg/reward-curve-deep-dive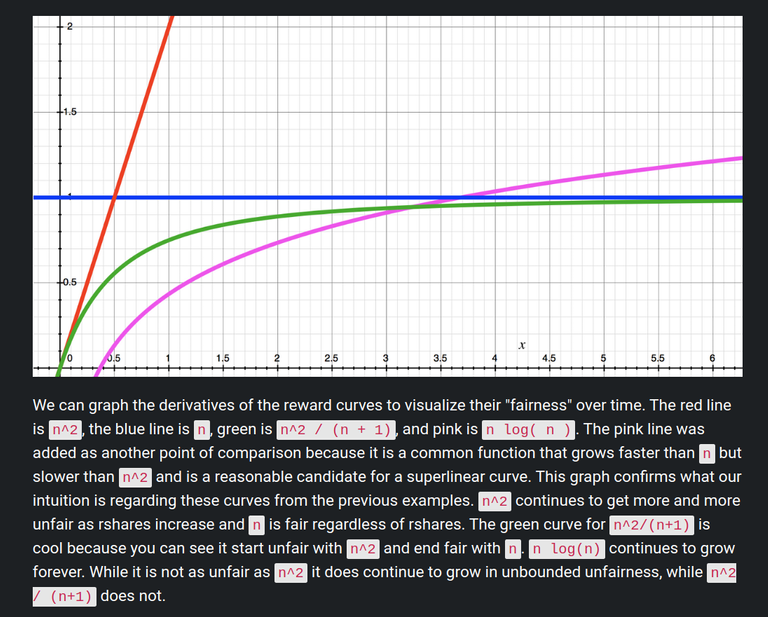 What you won't see featured prominently anywhere but right here on this page is that if you have 200k hp, your rewards are reduced by 25%.
The stake that would have had a value of 1, is now worth .75, and that only if you have 200k hp.
If you have less than 200k hp your reward are reduced between 25 and 50% in an exponential curve, the less you have the more you pay.
That is you on the green line.
Now I don't know about you, but I don't want the value of my stake reduced in excess of 40% from the time of that fork until we plebes can overthrow its tyranny.
This is the lot of the majority of us.
You'd think they might have mentioned that in the 'community' discussions, eh?
How do you like not being in the club now?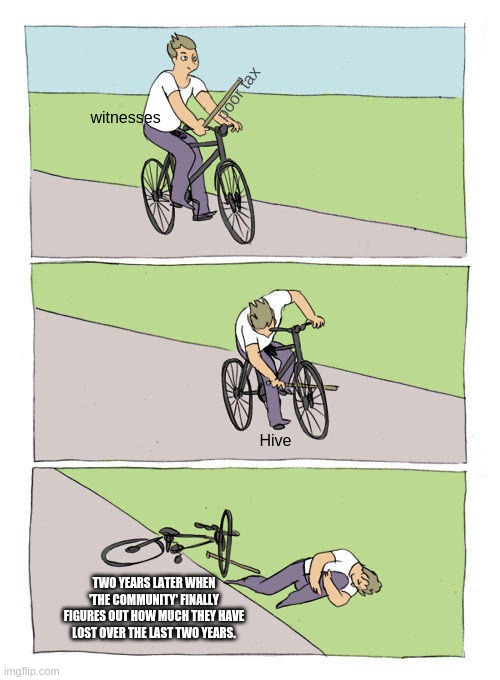 I'm sure if this fact had been picked up on at the time of the fork, it would never have met with 'community' approval.
Yet, the top twenty witnesses are largely exempt from paying this tax, and knew full well what they were accepting.
If you are voting one of them, thanks for selling us out, eh?
You've cut your own throat and don't math enough to even know.
---
We are having a membership drive in these discords, tell your friends.
If you want a voice in the consensus join them, and be one.
HiveDownvoteRewards: https://discord.gg/yfd95Sy
Do your part to combat abuse.
hivewatchers: https://discord.gg/QqyrCCf
Appeal blacklist flags here.
FreezePeach: https://discord.gg/TXPkMRXYuG
Get your flag reviewed for redemption.
Hive General: https://discord.gg/SUwJ2s2
Dlux.io: https://discord.gg/mdJRstcFWg
Building the holodeck in 3d VR.
MemeHub.lol: https://discord.gg/UpYJ8Hsu4J
Home to the dankest memes on the planet.
The Pulse: https://discord.gg/3M2gRr5
Alternatives to the groupthinc.
These are public rooms managed by private people for the benefit of everybody using this blockchain.
What they do is voluntary, but openly public.
Don't abuse their willingness to work for the collective for what little we give them, eh?
Without them, none of this exists.
When you go through these rooms catching up on 'the community', be sure to look for the detective, and add your detective, too!