FIRST TRIVIA WINNERS ANNOUNCEMENT
Hello Steemians!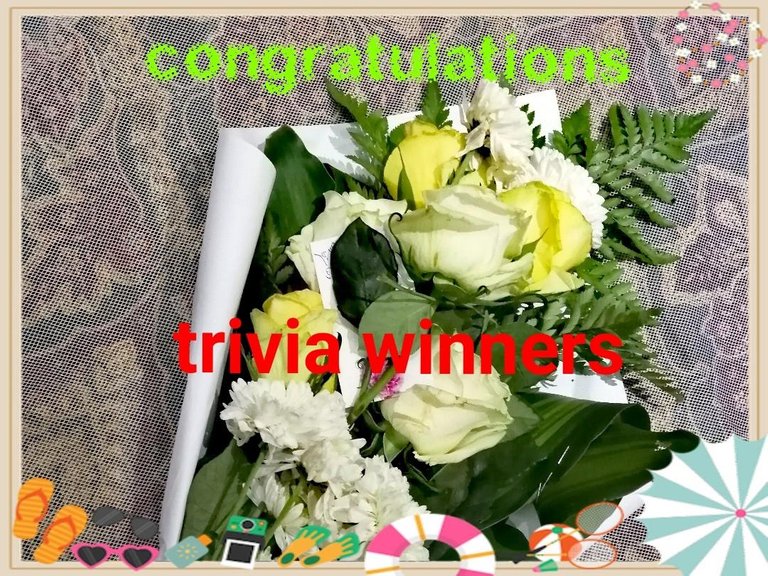 Last Tuesday was my first trivia contest, We have the following 13 entrants:
@muhammad007
@kendra19
@n1hal
@benedict08
@sarimanok
@mini-zephalexia
@kendra19
@jurich60
@katrin-lux
@otom
@deantonio
@strongwoman
@bliss11
I'm so sorry for the rules, I have to change it for the next round for additional specific that will be announced later on
Recap:
https://esteem.app/trivia/@olivia08/trivia-just-for-fun-contest-6-steem-prize-plus-plankton-token-neozag
QUESTION:
Who invented the telephone?
Which nail grows fastest?
What temperature does water boil at?
Who was the last King in Saudi Arabia before the present one now?
Who was the last President of USA before the new one?
Answers:
Alexander Graham Bell
Middle finger nails
100°c
King Abdullah Abdullaliz
Barrack Obama
The winner:
First prize: @otom
Fifth prize: @n1hal and
Since it is my first trivia contest, I am so confused on how to deal when everybody got a correct answers. So I decided to break my rule today and make a new rule for today's new round.
I decided giving 3 steem to the one who got the correct answers. Specifically exactly right spelling.
I will give 0.400steem to another set of correct 5 answers,
There are three who got 4 correct answers, I will give 0.300 steem
Three of them got 3 correct answers,i will give 0.200steem
One of them got 2 correct answers, I will give 0.100steem
I will send your prizes today and please wait for a while.
Additional prizes will be added in your Steem.engine wallet for more blessing and sharing. Let us color the life of steemit/steem during this time of low value.
Thank you for your support until the next round.
I would like to invite everyone to join mhttps://steemit.com/@team-ccce in @team-ccc, @atongis contest @zephalexia's upgaged, @ecotrain @mrnightmare89's riddle, @tggr's snapfeed @travelcontest by @lightcaptured, @axeman @worldcapture 's peoplephotography and @melinda010100 shadowphoto
It's me,
@olivia08


Gif credit to @gerber and @plankton.token
---
---