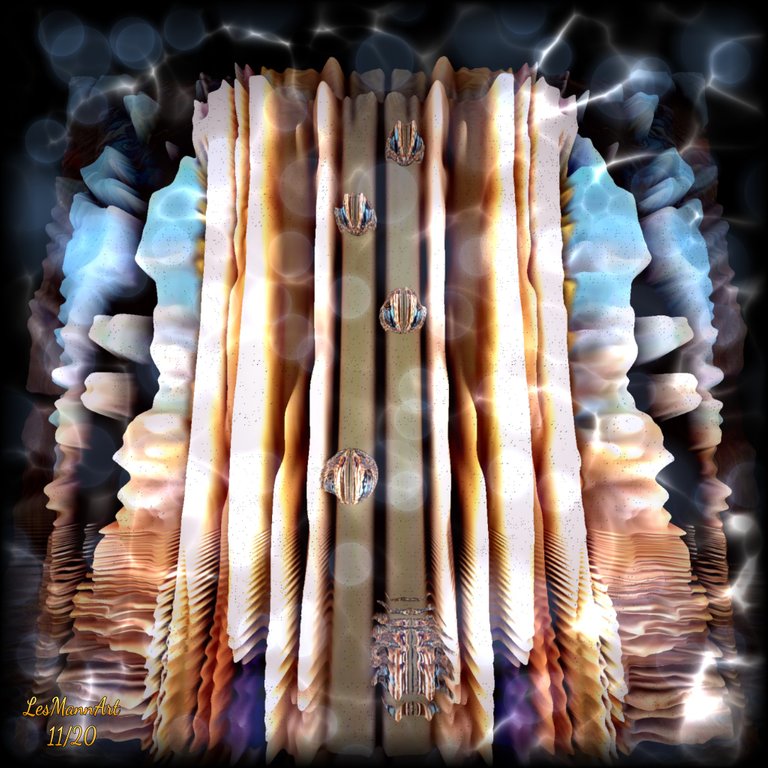 Hello There!
Happy Trippy Thursday!
Once Again!
And Always, "Always"
Many Blessings To Everyone!
👍🏼🙏🏼🙏🏼🙏🏼👍🏼
I want to "Thank You" for viewing My Thirty Ninith entry in #trippythursday, initiated by
@blacklux -
"I want to Thank You Again for running this,
And all the reblogs"! Very Much Appreciated!
😊😊😊
It is "Absolutely My Favorite" 👍🏼😁👍🏼
"It has become a weekly post for Me",
And..
That's why I "WILL" keep coming "BACK"!!!
👍🏼😁👍🏼
Thank You Once Again!
The image I Created for this week I call,
"A Dripping Stalagmite"
This image started as a photo of the Marina, where I work - close to My house.
I noticed in the corner of the image some cabling, which became this image. "If you look hard you can still make it out"!
So to get this, I used a Torus Mirror over the whole image, and then cut out the cabling.
Next I enlarged it, and added color. And Smoothed the image. After this I added the lighting effects and adjusted the color. I added the small Spheres at this point so that they show this and not later (or earlier) reflections.
I then used a 3D Mirror to pull out the texture, adjusted Lighting, Vignette and done!
I Liked the Monochrome and decided to post it as well so here it is!
Here is the Line Art! This is pretty straight forward and should actually be fun!
👍🏼😊😁😊👍🏼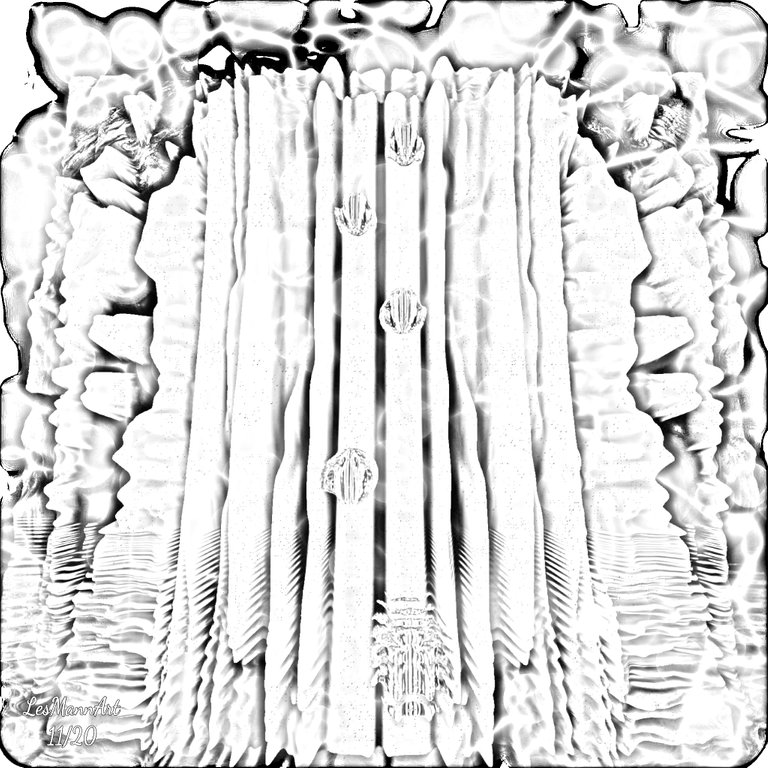 ---
I have started a "online store" to sell Photography. Currently it is small - "just getting started"…
However stop by and take a look the URL is:
https://lesmannart.picfair.com
I Appreciate It!
😌😊😌
---
If Your new here and seeking a way to turn
Hive into Fiat,
"ionomy" seems to be a very fast and straightforward way to do it!
Used it a few times and am impressed!!!
👍🏼😁👍🏼
My affiliate link for anyone seeking a new place to trade:
https://ionomy.com/en/aff/e6ba051b08868c9787f2cf491c9f8dfe
---
If "Anyone" is looking for artwork - album cover, book cover, whatever - "Let's Talk"!
Leave Me a comment below!
Thanks! 👍🏼😁😅
---
"Now it's, did You make 2020 count? It's 2/3rds over"…🤔🤔🤔
EVERYONE STAY SAFE!!!
"Time is what You make of it, So make it Your BEST"!!! 👍🏼😁👍🏼
Thank You Again for Viewing!!!
Les
I Wish You,
"Very Blessed Rest Of Your Week"!
🙏🙏🙏
---
"Walk with The Father, and He will Walk With You"!!!
Please be "Centered", whenever possible!
🙏👍🏼🙏👍🏼🙏👍🏼🙏
Remember "The Father" in ALL THINGS!
He "Remembers You"!
---
All images property of "LesMannArt"
"No Commercial Reproduction Of Any Kind Without Written Permission".
---