This is my entry for #treetuesday created by @old-guy-photos. These photos were taken during my walking trip around the old Chinese quarter while I was searching for the oldest Chinese merchant's mansion in Bangkok. I did find that ancient mansion but it was closed from public due to COVID lockdown. I would have to find spare time to visit that mansion soon. But on my way along the narrow lane, I stumbled upon the old mini car which was widely published in travel magazines and on the web several years ago. I was quite shocked to see that this car has become rusted and was looking well battered after a few years. This gave a pause to my perception of reality; I tend to freeze reality into photographic memory. In fact, nothing stays the same so I have to make haste with all my tasks and responsibilities.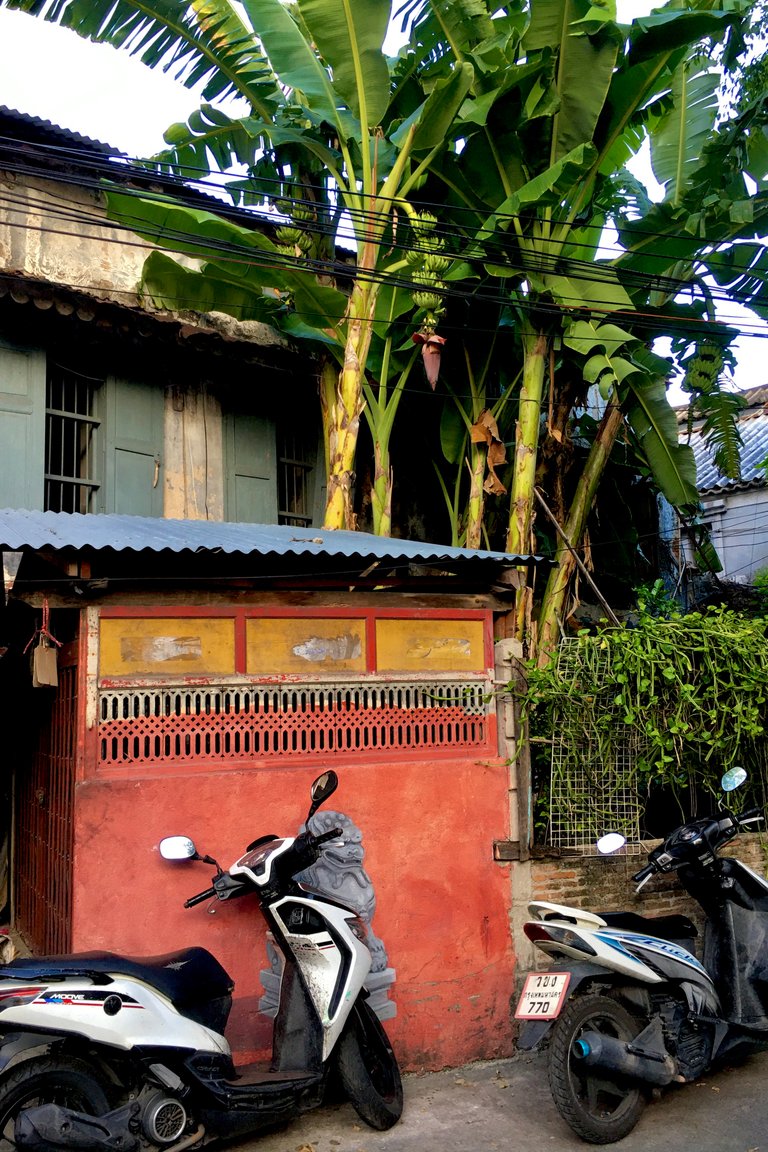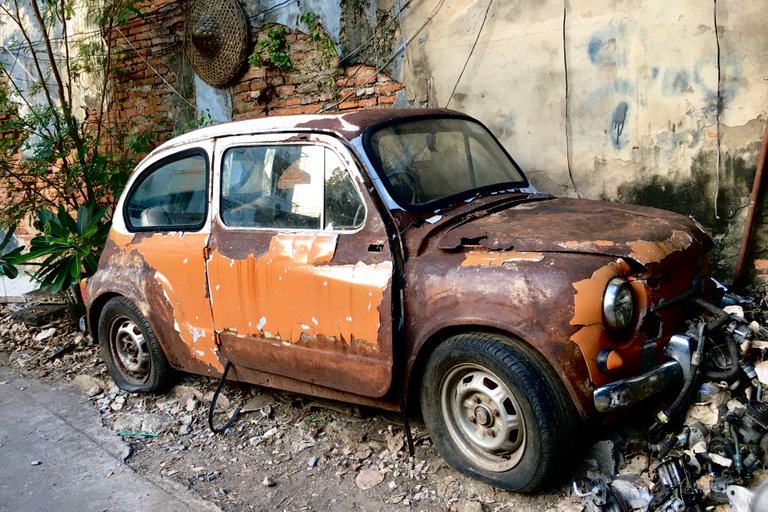 (This old car is opposite the big old banyan tree).
How my mind has been conditioned by education, mass media, customs and tradition! There are conflicting values and belief systems which have been accumulated inside my head for years. Luckily, my knowledge of Buddhism and direct experience in meditation have grounded me in healthy skepticism and investigative mind. So, I have gone from ridiculing people who believe that there were some kinds or spirits or guardians in old banyan and Bodhi trees to trying to find out for myself if they could really be living in these trees.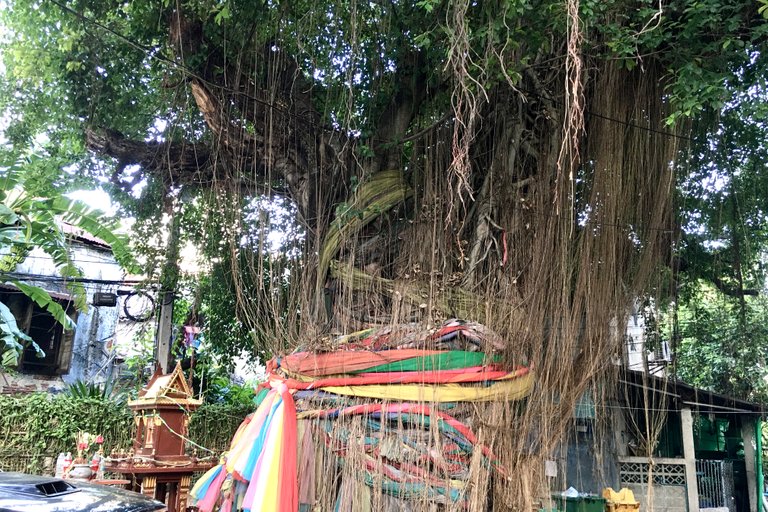 Since this area is the oldest settlement of Chinese immigrants to Siam so this banyan tree must have been witnessing lots of changes around here. It could be a few hundred years old, judging that you would need about three people with arms around this banyan tree. Local people had set up traditional shrine or spirit-house for all the invisible beings living in this tree. So, people would bring their offerings of sweets, fruits and water to the shrine. They would use what we all 'pa-jet-si' or seven colour cloth to wrap around the tree as a gesture of respect and for telling others this tree is sacred to them.
เราไปเดินเล่นแถวตลาดน้อยช่วงที่ยังมีการล็อกดาวน์ เพื่อตามหาบ้านของพ่อค้าชาวจีนที่เก่าแก่ที่สุดในกรุงเทพฯ เราหลงทางนิดหน่อย แต่ก็ตามเจอบ้านนั้นจนได้ ช่วงนั้นเขาปิดบ้าน เราเลยอดเข้าไปถ่ายรูป ก็เดินต่อไปเรื่อยจนไปเจอรถมินิเก่าๆที่เราเคยเห็นคนชอบมาถ่ายรูปลงในสื่อหลายปีก่อน เราตกใจที่เห็นรถสีสดใสในภาพกลายเป็นรถเก่าสภาพแย่มากไปแล้ว นี่เป็นการเตือนสติในเรื่องความเป็นอนิจจังของสรรพสิ่งทั้งหลายในโลก เราจึงต้องหันมาดูตัวเอง เวลาผ่านไปทุกวันแต่เรายังพะวงกับเรื่องไร้สาระอยู่เลย เราต้องรีบกันมาจัดการเรื่องสำคัญแล้วนะ รถคันนี้มีคนมาจอดทิ้งไว้หลายปีแล้ว เราคิดว่าคงมีแต่โครงรถ ส่วนตัวเครื่องและอะหลั่ยข้างในคงมีการถอดออกไปขายหมดแล้ว ตรงข้ามรถคันนี้ มีต้นไทรขนาดใหญ่มาก อายุหลายร้อยปี ต้นไม้นี้คงอยู่มาตั้งแต่สมัยก่อนที่คนจีนเริ่มเข้ามา ตั้งรกรากบ้านเรือนแถวนี้ ต้นไทรนี้คงรู้เรื่องราวต่างๆมากมายในอดีต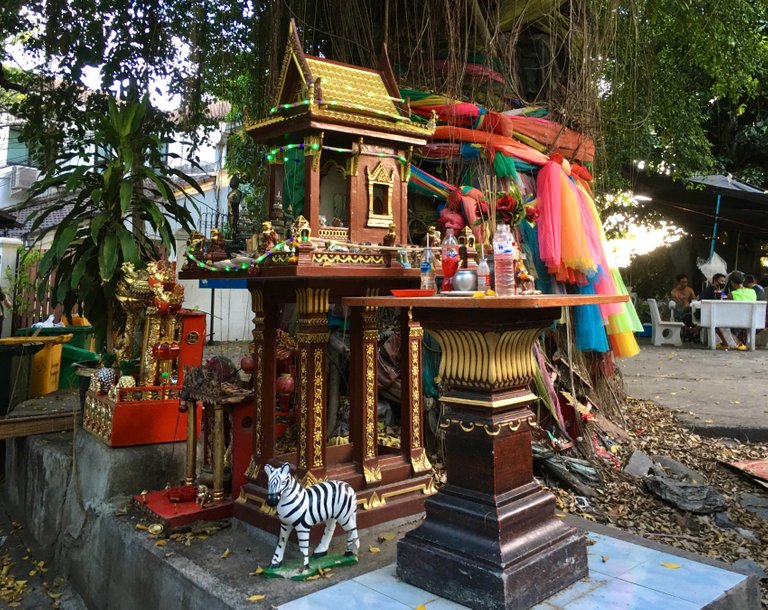 Since people believe that angels, tree spirits and other high level guardians may be living in the old banyan tree, they could perhaps ask them to help with their problems or grant them blessings. So, nice offerings are brought to please them and persuade them to be more inclined to interfere with human dimension. Once the wishes had been granted, people would bring more offerings of dancing and musician dolls to entertain them and some horses models so they could ride these around just for fun. It's funny how people assume that these intangible beings would live and entertain the same way humans do. But, there often are something or invisible beings in these old trees. I don't know how they get there or why they were there or for how long. But my investigative phase had ended up with solid feeling or experience of tree spirits and others in old banyan trees. I have formed friendships with two old banyan trees along my usual path; they are always looking after me along my night journey along the road. It was very generous and kind of them to overlook my aggressive and disrespectful investigations at the beginning. They showed me there was another dimension of reality.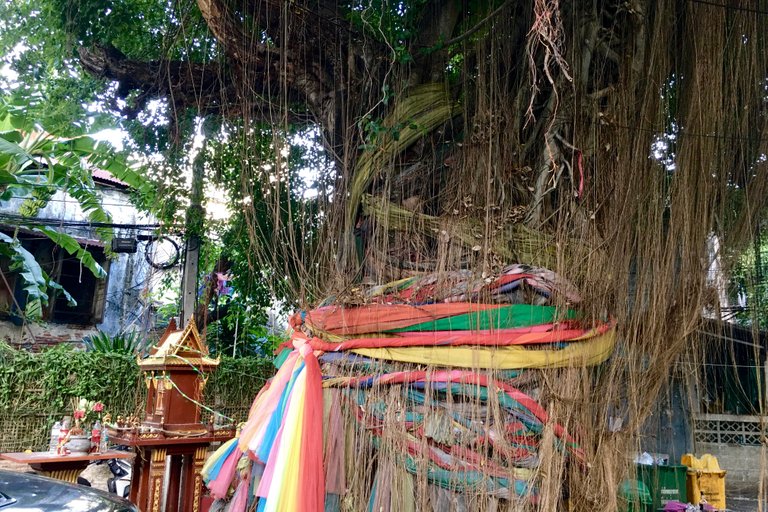 เราเคยท้าทายและตั้งคำถามเรื่องความงมงาย ของคนที่ไปไหว้ต้นไม้ ตอนนั้นเราพึ่งกลับมาจากเมืองนอก เราพยายาม พิสูจน์ว่าสิ่งเหล่านี้มีจริงหรือ จนในที่สุดเราได้ศึกษาเรื่องการนั่งสมาธิและเรียนรู้อีกหลายอย่างจากคนต่างชาติที่มีความสามารถก็พิเศษ เราก็พัฒนาตนเองจนเราสามารถรับรู้เรื่องที่เหลือเชื่อได้ เราจึงสัมผัสได้ว่าต้นไม้ที่มีรุกขเทวดาอยู่นั้นเป็นอย่างไร เราก็ต้องขอโทษเขาที่เคยล่วงเกินด้วยความคึกคะนองและความไม่รู้ของเราเอง เราก็ดีใจที่เขาไม่โกรธเรา และกลับให้ความเป็นมิตรและความเมตตาต่อเราด้วย ในโลกนี้ยังมีสิ่งที่เราไม่เข้าใจอีกมากมาย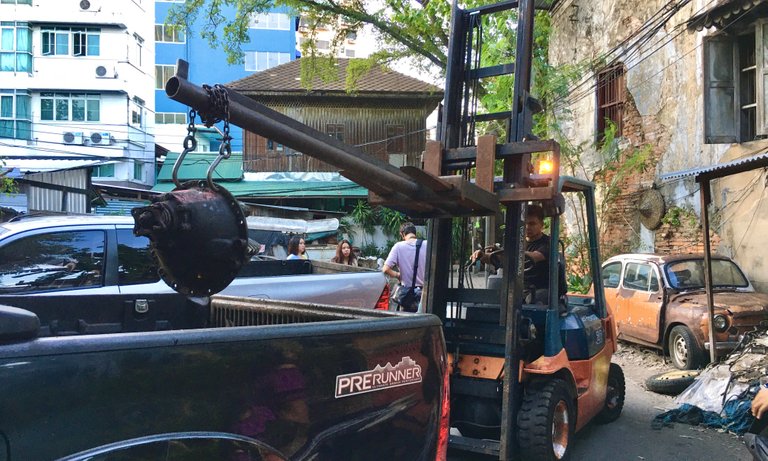 Local people were working around the old banyan tree. This is where you could find all kinds of car parts; it's where they take dead old cars apart for all the spare parts. What a world of completely different lifestyle!
Wishing you all a very nice and bright day.
Cheers.