Dear Steemians / Trendo'ians,
We are happy to announce that
TRENDOTOKEN.INFO
our first
Basic UI
web template just launched.
---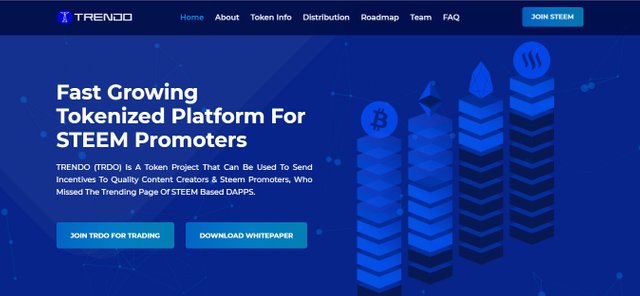 ---
Special Thanks
We are using this space to share our gratitude to @harvhat who highlighted about this issue few weeks ago.
Moreover, @yabapmatt (with direction) and @harpagon (with his amazing smart contract tools) also supported us so well. Therefore, we will use this space to share our gratitude to them as well.
Finally, it's @whatsup. From the beginning of TRDO Token Project her guidance and support helps a lot and for this time also.
---
What will be Next?
We will start work on TRDO Delegation Bot script in the next week.
We have encountered few bugs at TRDO Comment-Bot Version 1.2 and will fix those issues with TRDO Comment-Bot Version 1.3.
Stake based Comment Bot distribution project will initiate soon.
---
We hope to bring you many more projects which works with
TRDO
token projects and with other special requirements as well.
The key person behind all these developments are @ali-h
.
---
Our Ultimate Goal?
TRDO
not only a token project, it also a concept. Based on NodeJs, Python, Angular and few other well known scripting languages we are ready to build more attractive programs top of STEEM and it's side chains. We have a special attention to work with
AI (Artificial Intelligence)
and
Gaming Technologies
and combined them with STEEM blockchain as well. Therefore, the token you hold today, can be more valuable in near future.
---
"Call TRDO, Your Comment Worth Something!"