Dear Steemians / Trendo'ians,
We are happy to announce that
TRENDO TOKEN [TRDO] Comment Bot Version 1.2
successfully released and bug fixed that we encountered in the
version 1.1
.
"Special thank goes to @ali-h who did his best to release this update as we scheduled in the last week"
.
---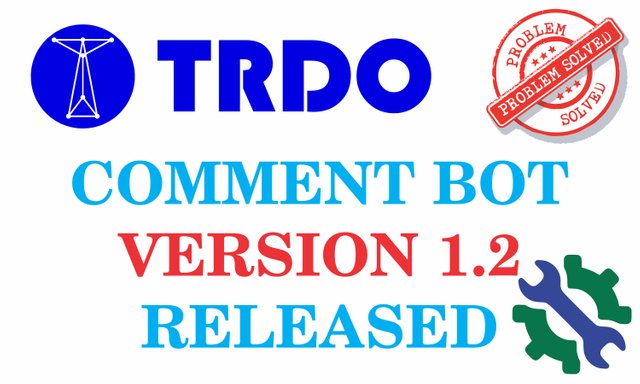 ---
Features of Comment Bot Version 1.2
You can use any of below symbol at the comment section to call the bot to reward original posts only:

$trendotoken
!trendotoken
$trdo
!trdo

Unlike the previous version of the TRDO Token Comment Bot, with this release you should STAKE atleast 1,000 TRDO Tokens to distribute TRDO Tokens daily.
Reward pool reset in the given time period feature added with this release.
Rewards distribute as follows:

Original Content Creator (Author) : 6 TRDO
Reward Sender (Caller) : 4 TRDO

Maximum token rewards distribute per day : 3,000 TRDO
You can do 10 Successful TRDO Bot Calls per day.
Reward Comments : No
Multiple Steemians / Trendo'ians can reward a post. (This feature was not available with Comment Bot 1.1)
---
What's Next?
A basic UI experience will be added with the TRENDO.CLUB url.
We will start working on our own Stake Based TRDO Token distribution project.
Our next bounty program of Promote STEEM out of STEEM own dapps will launch soon.
TRDO with the gaming on STEEM blockchain - a mass project is at the planning stage.
More projects are about to come, because TRDO project scope has no upper limits.
---
Enjoy & Collect More TRDO Tokens.
---
"Call TRDO, Your Comment Worth Something!"