My wife and I have spent all of 2019 calling Air B&B rentals home, we're currently under rooftop number 15 and that's just this year. I use the term "home" loosely because I once heard a 'homeless' man named Mark say "home is in the intellectual capacity to be happy" and its stuck with me ever since. This article is about the tricks we've learned using the Air B&B app over the years that save time and money and are contoured to your sleeping/living arrangements.
In case someone reading this isn't familiar with Air B&B, it works the same way as Uber only you're not calling for a ride, you're calling for a place to sleep that comes equipped with all most of the living conveniences you're familiar with. In case someone reading this isn't familiar with Air B&B or Uber, the odds of you having a smartphone are unlikely which means you're not reading this article anyway and I'm wasting blockchain time.
Where?
Open the Air B&B app and enter your desired location in the search bar at the top of the homepage.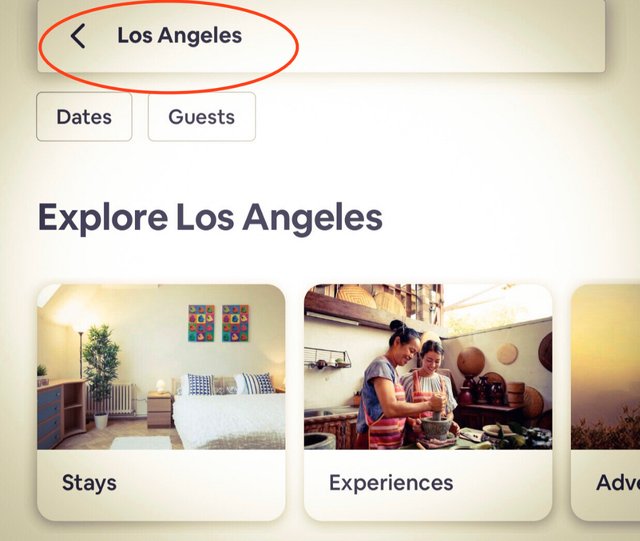 When?
Select your dates. Nightly rates are the most expensive. If you're only staying a night or two, or less than one week, there isn't many options to save money. If you book your stay for a full seven days, you can find units offering a discount, not too common but if you look long enough, you will find some.
The best discounts are offered for 30 day stays or longer. 30-40% off your stay for booking an entire month isn't uncommon, we've received 50% off several times. The most we received during one month, after discounted rent, plus an extra discount for being one of the first three tenants to rent the property was 80%—a $3,000/month apartment for $600. You just have to be diligent and search regularly—the deal is there somewhere.
What this means is, more often than not, if you're looking to rent for two or three weeks, you'll save money by renting the unit for an entire month and you just extended your vacation rent free.
What?
Now that your location and dates have been selected, click Stays and adjust the filters to your preferences—WiFi, kitchen, price range, number of beds, etc. Select your preferred amenities, too, washer/dryer, hair dryer, click each amenity you want. We select Entire Place but you have the option of clicking Shared Room or Private Room with full or partial house privileges.

Availability.
You've set your location, dates, and filters, now click where it says 'Show _ _ _ _ stays' at the bottom of the page. The first page of property listings shows pictures and has titles with dollar values to scroll through. What I like to do is click the location symbol on the bottom right of the page and choose by price and map location.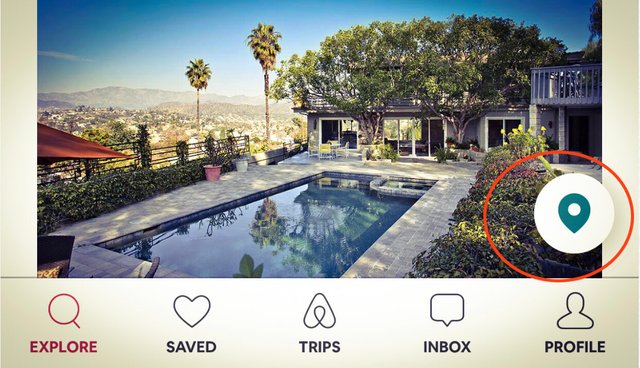 Now I'm looking at Los Angeles on the map with a bunch of little price tags identifying the cost and location of rental properties with filters I've adjusted. For this demonstration, we'll stay near Santa Monica, so I'll zoom in on the coast of LA and click "redo this search area" for listings near and around Santa Monica.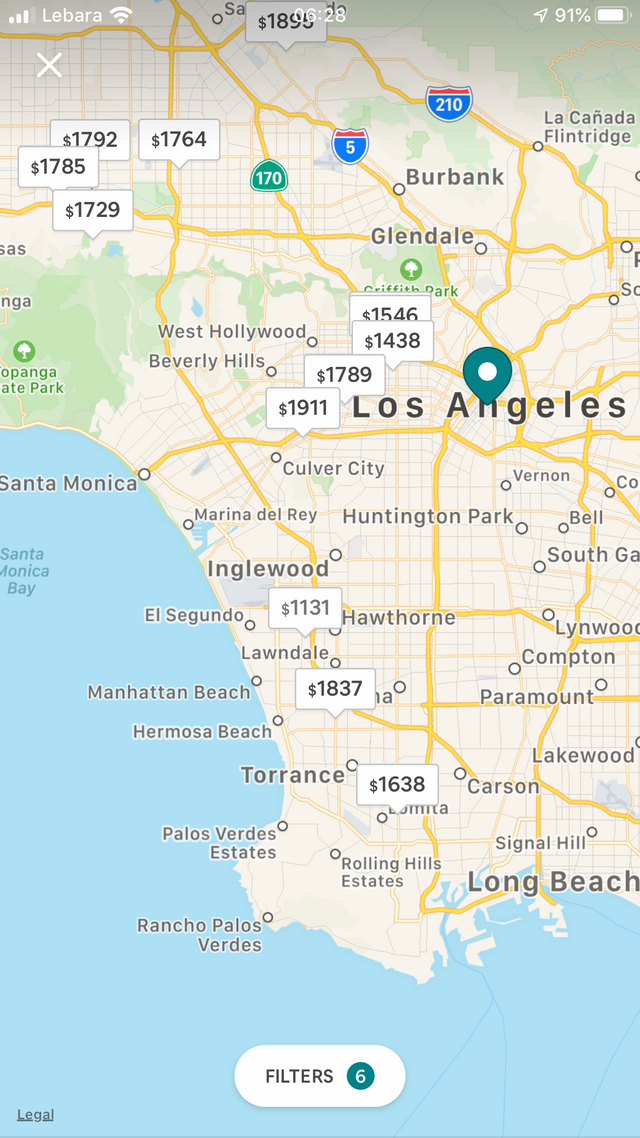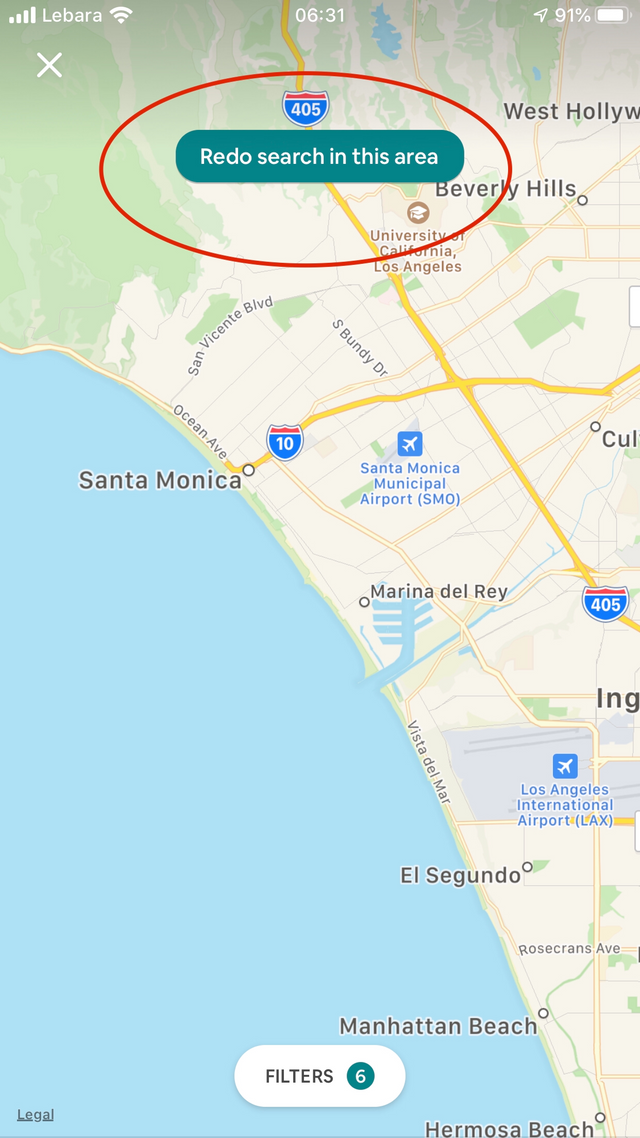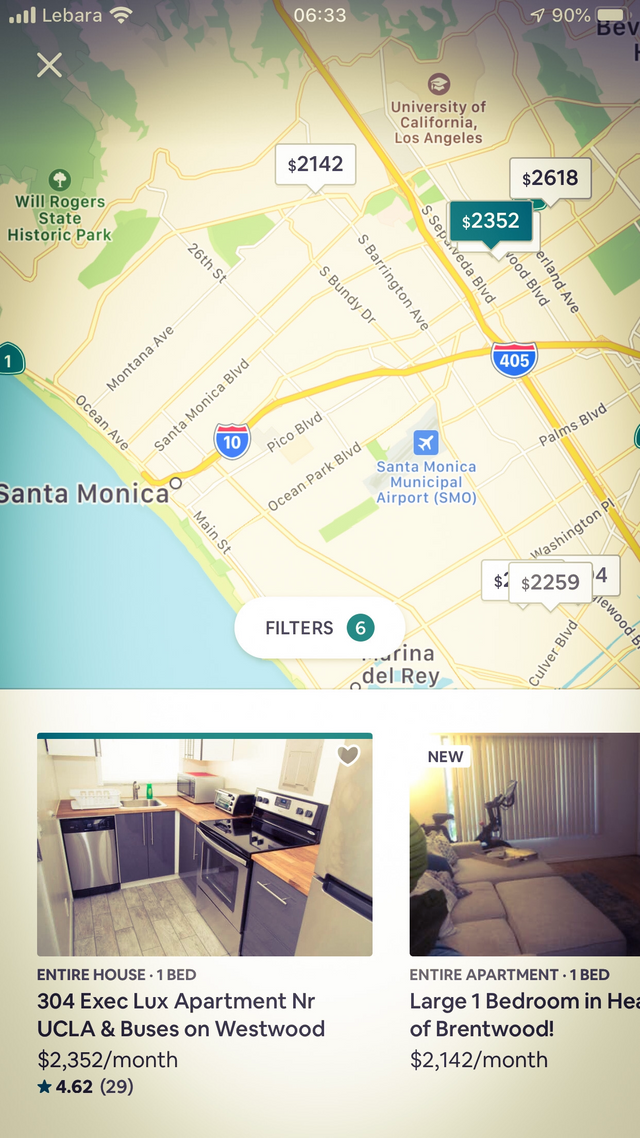 Pricey, huh? Welcome to Los Angeles—notice there isn't anything available along the coast? That's because 3k/month won't cover the costs. Now let's look for a good deal.
Shopping.
I'll search the listed properties and see which one will work the best for us for the best price. The first one I clicked toward the top of the page lists for $2,142/month—I clicked on it and it's already discounted about $400. You can zoom in on the map, 'redo search area,' click on the other available units and you'll find better deals. For this demonstration, we'll continue with our first selection.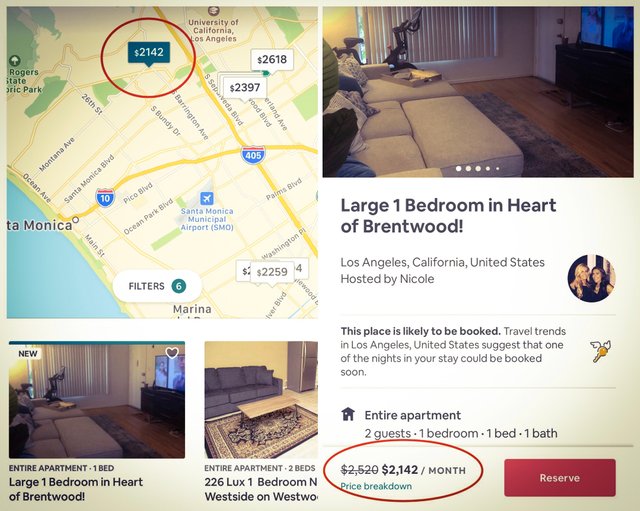 Click 'Reserve' to view your monthly stay total after taxes and cleaning fees. Also, this is important, when you click reserve and are directed to the next page, adjust the number of guests from 1 to however many are with you, the price spikes the majority of the time when you add a second guest—this particular rental did not.
When the price does spike but we're interested in the unit, which happens regularly, we contact the host and explain the situation. We've never paid extra occupancy fees, once we tell the host there's two of us, they explain how the fees are not theirs and they belong to Air B&B only. The host then advizes us to continue the booking at the single guest rate—that's what we do.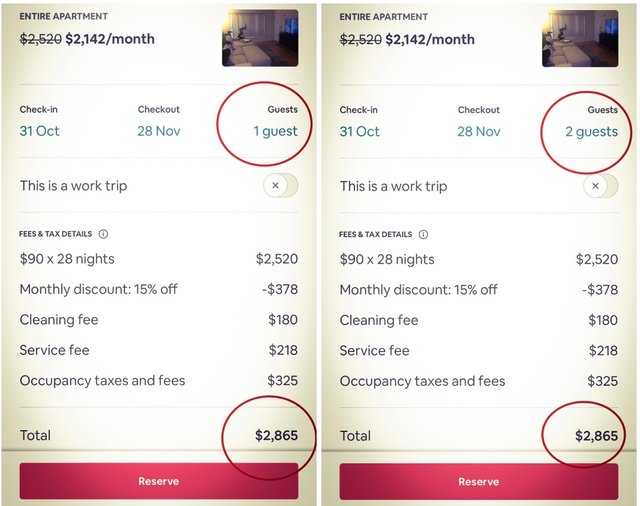 Tricks.
Carefully read each of the reviews written by previous guests and pay close attention to them. We don't typically rent a unit with negative comments—to each their own. It isn't difficult to spot a cry baby review over the real reviews and, if complaints are a legitimate concern such as "couldn't contact host" or "illegal activity next door," "gun shots all night," we'll skip that unit entirely. Making contact with the host, even if you're just asking a simple question like "how close is public transportation" builds a rapport and has always proved beneficial. That's a good one to use actually—works every time:
"Hello, Nicole. I'm @dandays from Los Angeles. My wife and I are interested in your property for the month of November. Is public transportation within walking distance? Thank you."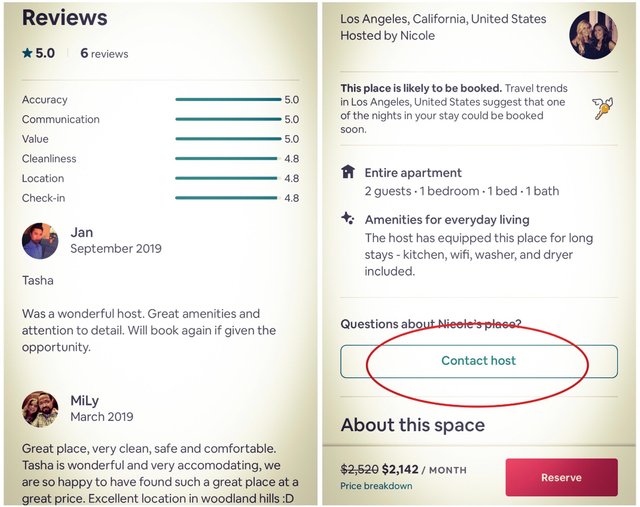 They'll respond back to you and that's a good form of judgment itself—how long the host takes to respond. If they don't respond for a day or two, we're not interested in renting from them. If they respond immediately and are helpful, obviously we're more likely to rent their unit. @puravidaville has been pretty successful getting the hosts on the phone, that's an even easier way to judge character. I don't like obligating myself to a month, in a strange location, if I can't count on the landlord for something as basic as communication.
Now you're building a rapport and you're sharing contact information with the host. This is a good time to get in any extra questions you may have. "How far of a walk is the beach?" "Where's the nearest Mediterranean food?" Etc. More often than not, the host will offer to mark off the dates you've selected just to erase competition from fellow tenants and give you a few day's to make a decision—this happens the majority of the time, "tricks."
Book'em Dan-0.
If you're aware of more tricks and tips I didn't describe, I'm all eyes, do tell.
Lastly—when you stay at one of these Air B&B locations, write a review, tenants after you will appreciate it. The shorter the review is, the worse the rental is, that's what I've experienced. I, personally, have a tough time leaving negative remarks. "Good location" and leave it at that unless, of course, something like "gun shots all night long" really happened—I'll make sure to leave that in the review. No hot water, uncomfortable mattress, etc, information like that needs to be mentioned—the next tenant will appreciate it.