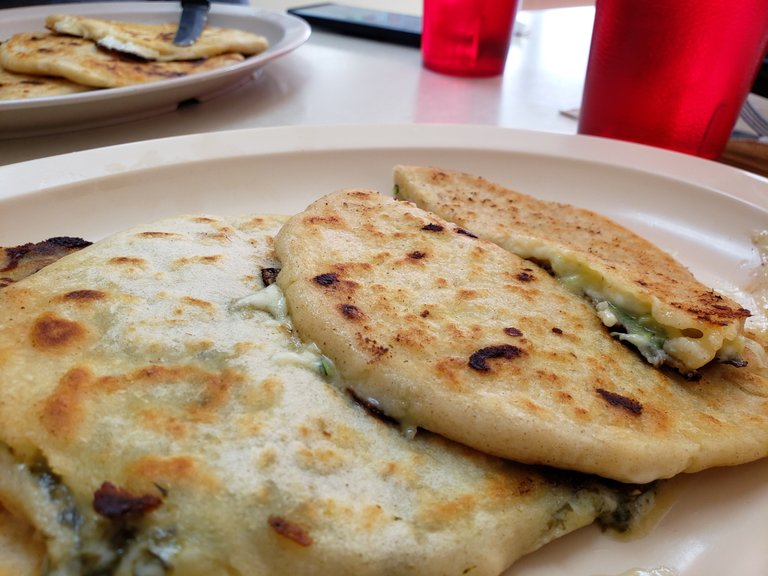 Hot and delicious cakes of melted cheese and other goodness. The image has been taken by myself with my cellphone.
A pupusa is a delicious maseca (masa) pancake with cheese and other tasty treats wrapped inside. It is a Salvadorian delicacy and one of my favorite comfort foods. I have tried to make them, but they never seem to come out correctly. Because of this, I decided to head over to Rogers, Arkansas, and seek out these round, tasty, stuffed bits of goodness. Forget the fact that it would be a 290 mile trip (knowing us it would be twice that), they would be totally worth every bite!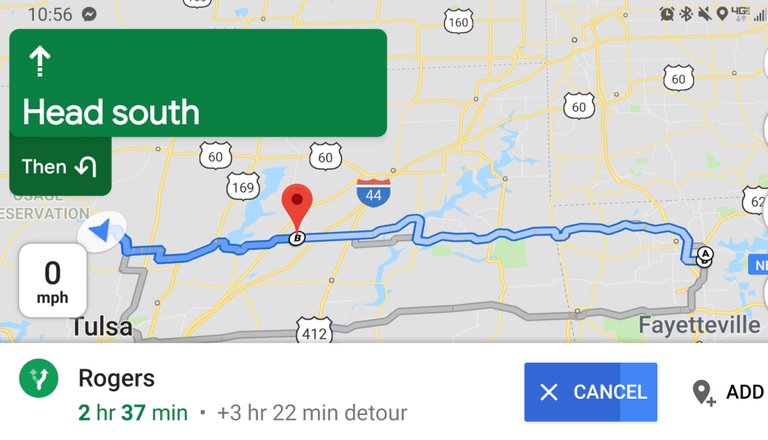 Our travel plans for the day. The image is from Google Maps and has been taken by myself with my cellphone.
As you know, we are rarely in a hurry to arrive someplace; unless we are trying to do a county grab. So we opted for the slower, more scenic trip along what would originally be a portion of Highway 66; the Mother Road, Route 66. This was not what we planned, but it just kind of happened and we had a wonderful surprise in store for us. Let me share what happened to the two of us!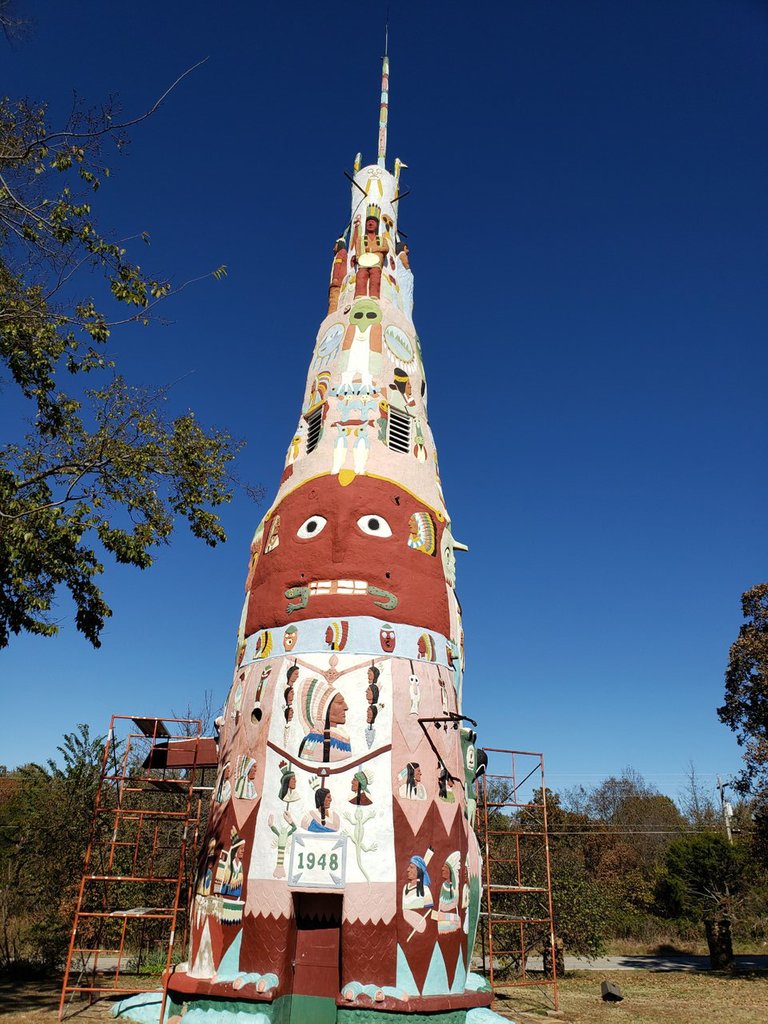 The iconic Totem Pole on Route 66. The image has been taken by myself with my cellphone.


Driving along Highway 28, which is part of the original Route 66, we came across a huge, colorful totem pole. This was the historical
Ed Galloway's Totem Pole Park
It is one of the many touristy stops that many travelers have stopped to picnic and do what tourists use to do when the Mother Road was fresh and new. We are no different. There was a sense of excitement when we saw the historical bit of art and there was a strong need to pull over.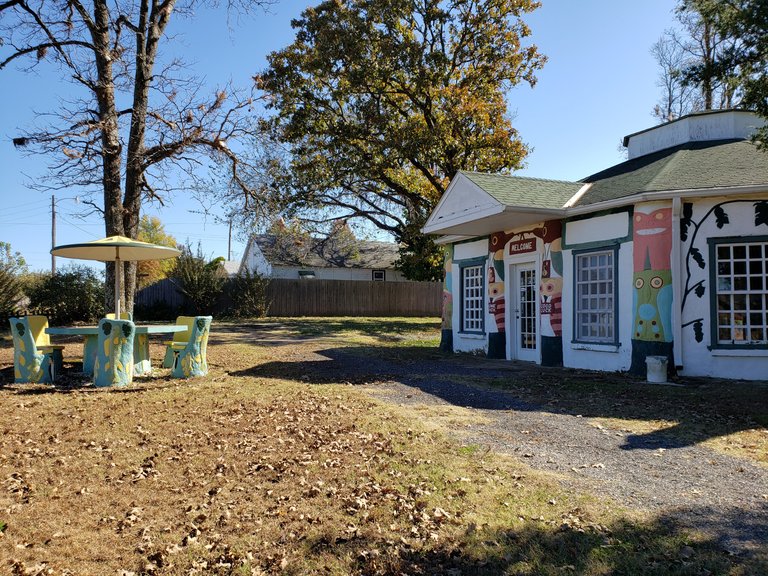 The Fiddle House at the park. The image taken with my cellphone.
Ed Galloway was born in 1880 and served in the military. Upon leaving the military, he started carving amazing bits of folk art out of various dead trees. Eventually, philanthropist Charles Page from the Sand Springs OK area found him and employed him to make furniture and various types of artistic projects for Page's home. Upon retirement, Galloway needed something to occupy his time so he began the build of the tallest totem pole. Here at this park was his home. It is also here you will find the Fiddle House. It holds many of Galloway's artwork, history, and a massive wall of fiddle blanks made out of hundreds of different types of wood. It is just jaw-dropping to see that many fiddle blanks in one place!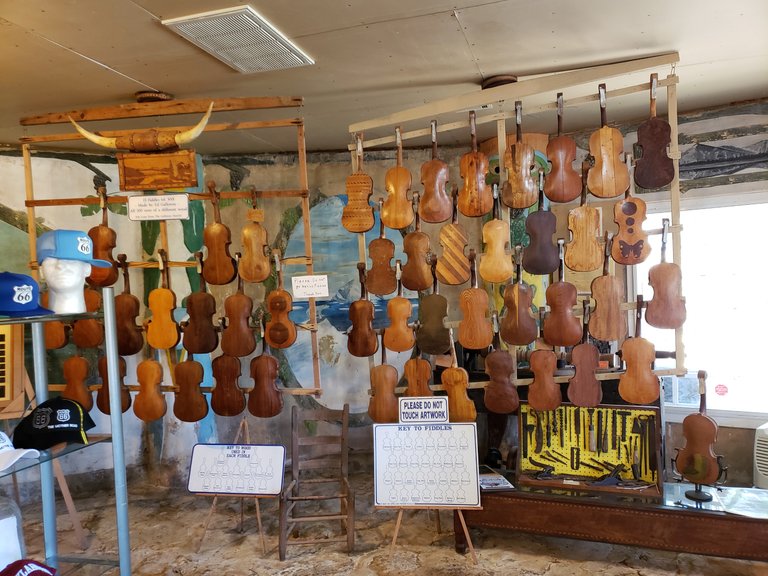 Just a sample of the reason the building is called the "Fiddle House." The image was taken with my cellphone.
One of the reasons I love to take back roads and avoid the main interstates is that I am able to meet other people who are like-minded. It has enabled us to meet some of the most interesting people. I must say, however, the young man we met at Totem Park has got to be one of my favorite meets. What caught my eye first was that he had taken the time to decorate his vehicle much as I had decorated the Tank with our website address. Manouk decided to take a year and travel the 48 lower states to see some of the most unique places. When we met him he was on day 216 and almost back home on the East Coast. We traded sites that we thought the other would enjoy and then moved on our own ways. I am sure you would enjoy getting to see some of the places he has visited, and maybe take a trip to see them for yourself. If you would like to see what all he did, you can visit his website
http://nukeyhov.com
and he is on Instagram.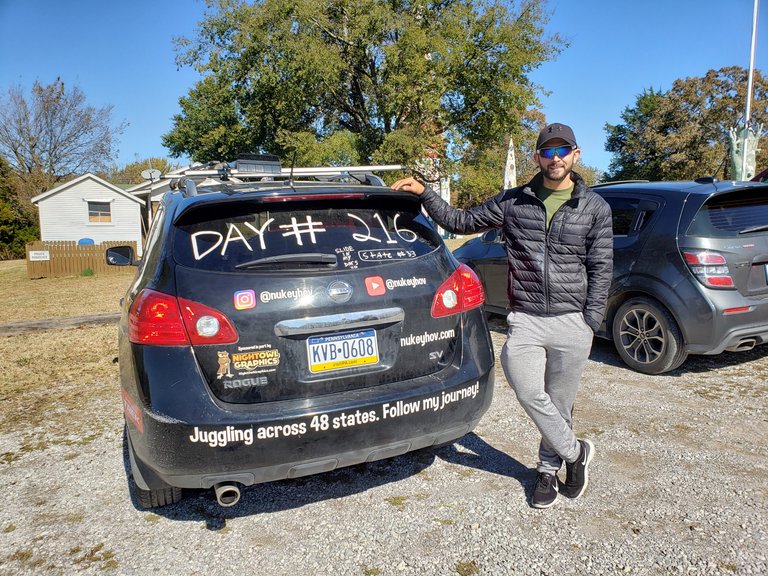 Manouk the Juggling Traveler. The image was taken with my cell phone.
We continued on towards our destination to find the ever tasty pupusas that were waiting for us at Pupuseria Miraflores in Rogers AR. The best thing about this part of the drive from the Foyil OK area and Rogers AR was the road itself. It twisted and turned, went up and down much like a child's roller coaster. Often you would hear me gasp as we went over one of the hills and Scott cry out, "Awesome!" There was so much beauty along the roadside because we had recently had a hard freeze so there were many trees turning into their fall colors. Almost two hours later there it was on the corner of 8th and New Hope Street; wait, it was a gas station, convenience store. We drove around the block only to find that this was the actual place of our destination. What could go wrong? I mean it wasn't sushi.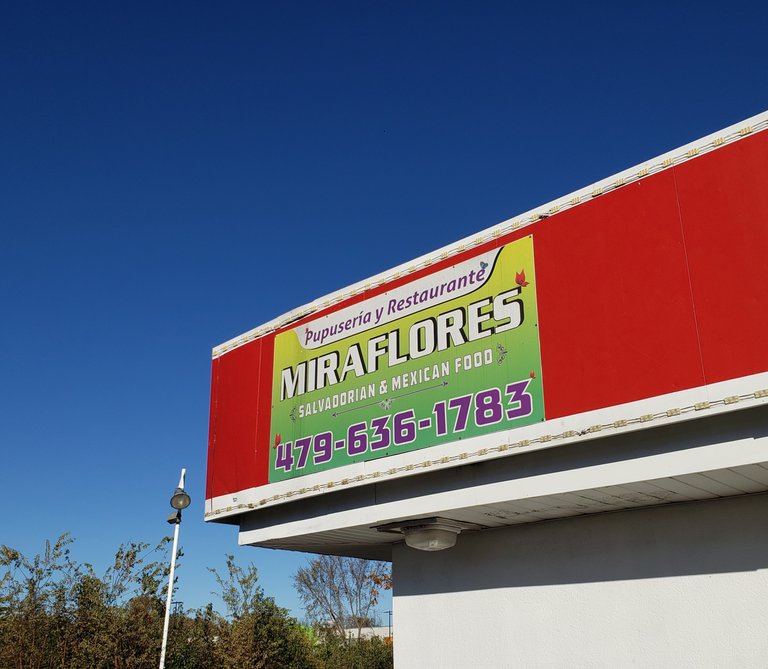 We have arrived at our destination! Wait, it's a gas station! This image was taken with my cellphone.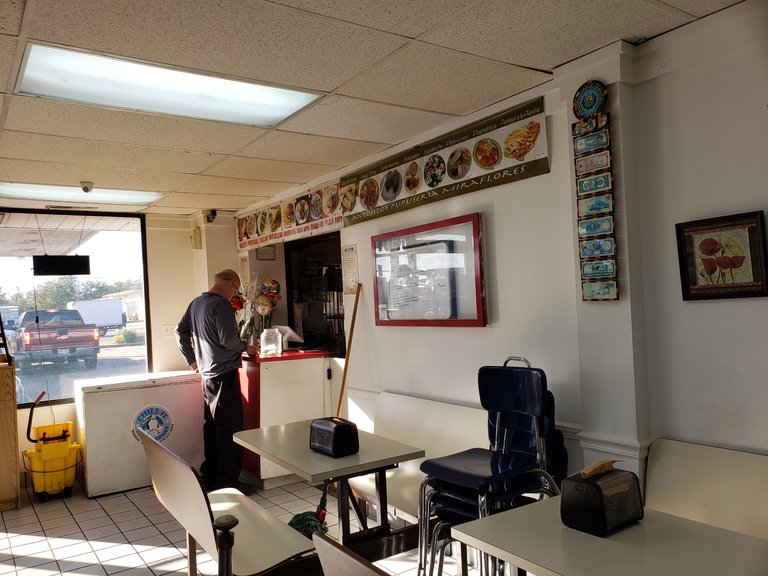 Sure enough, it is on the opposite side of the convenience/gas station, but isn't the where the best food is?
This image was taken with my cellphone.
Pupuseria Miraflores is run by a very sweet Salvadoran woman who dreamed of coming to the US and making food from her home for those who were homesick for the Salvadoran food or interested in trying something new. We discovered pupusas when we were traveling near the Eureka Springs AR area. We were hungry, I wanted pancakes and there was a small place with a large flat top grill and stools in front of a counter. This was my first introduction to them and I have searched for them where ever we go. We found a place in Texas, but nothing in Oklahoma. Fortunately, Northwest Arkansas has a large community of Salvadoran people and they are just wonderful, warm people who love to share their food and culture.
Video by My Table Magazine on Youtube.
You can find the recipe HERE.
While we were eating, Scott was looking at the map and he saw Hobbs State Park just 15 miles from where we sat. He said, "It would be a shame for us to not visit the park with it RIGHT there." How could I not agree! So, once hugs were given and promises to return soon, we dashed out the door and headed a little further east towards Beaver Lake and another Arkansas State Park.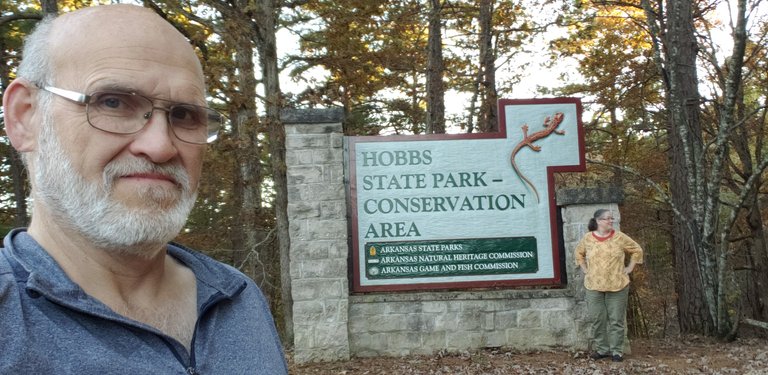 Another State Park Sign photo that we take each time we first visit a new-for-us park. This image was taken with my cellphone.


Hobbs State Park and Conservation Area
is Arkansas' largest park and the only way you can camp there is to do what is called a "hike-in" and it is four miles to the camping site. It might be a while before we are able to camp there. However, there are about 35 miles of trails that people are able to hike and bike through. Everything opens at sunrise and closes at sundown except for the hike-in area. You will find a fantastic visitor's center that has exhibits of the geography, wildlife, and floral life. It is also the only state park in the state that allows hunting on protected dates. During those times, only hunters are allowed on site. It is a wonderful park and I can't wait to take the GrandGerorges.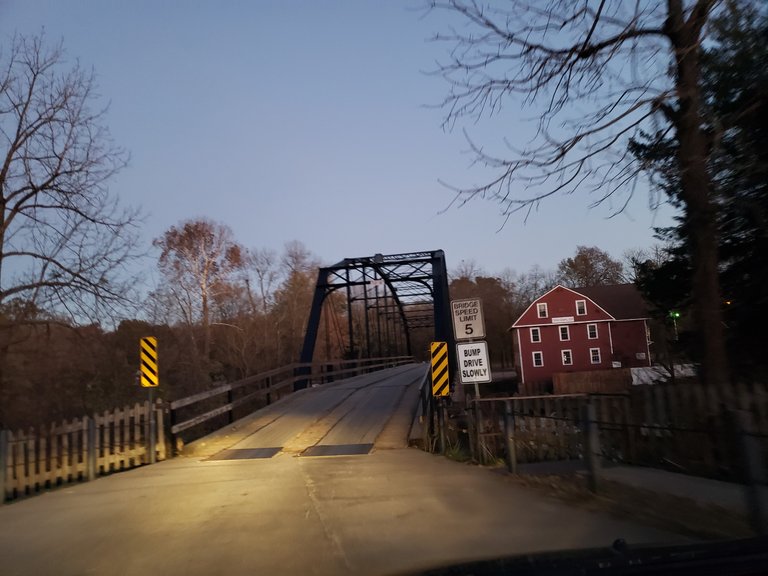 OH MY! What a surprise down in a valley! This is the War Eagle Mill Crossing. This image was taken with my cellphone.


As we were heading home, I was trying to locate the correct road to get us back home when we came across the War Eagle Mill Crossing. I had always wondered what War Eagle was and here we found the prettiest setting with a working, historic mill and waterfall. How many times had I heard my friends talk about visiting the farm and farmhouse while enjoying a drift upon the river during lazy summer days. I had found it, but it was late and the sun would be down all the way leaving us to drive home in the dark. I guess this will need to be another adventure some day in the future.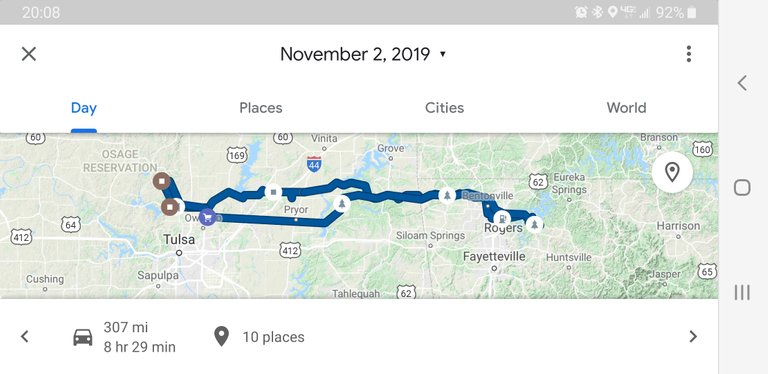 Our total trip and the 12 hours it took. The image is a screenshot from Google Maps.


---

source.


Thank you @medro-martin for this artwork!


Thank you @penderis for this artwork!


Thank you @enginewitty for this artwork!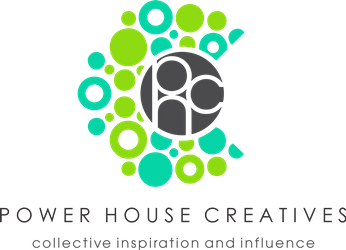 Thank you @medro-martin for this artwork!


Click the banner to to go the Steem Terminal