---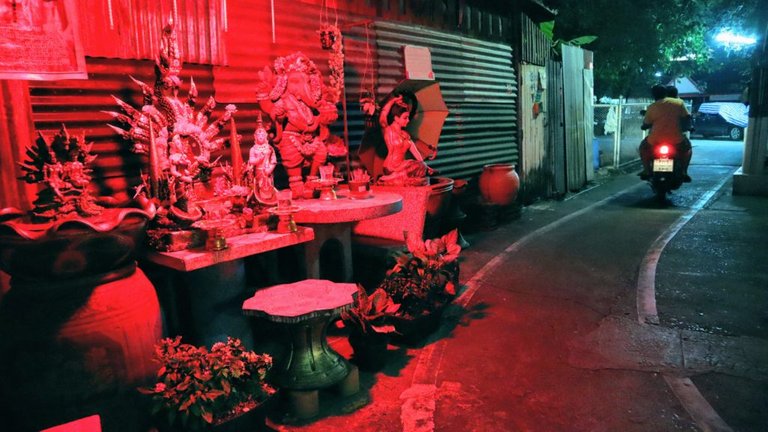 ---
A day before Loi Krathong Day, we had the whole day for ourselves before the Steem Fest Cruise Dinner started. It's been quite a chillax kind of day till I felt like, I really gotta move my butt and do something creative in life. The idea of walking along the river, breathing some fresh air and watching boats passing by came to mind.. Combined with the fact that I was thinking there might be something going on at LHONG1919 since it's during the Loi Krathong Festival here in Thailand.
A bike-boat-wander journey to LHONG1919
To get there, I could basically just grab a Grab Win (Motorbike taxi on an application) straight to the spot. No, I didn't do that. I thought I had enough time to just get dropped off at a pier across the river from the place then take a shuttle boat to the other side where LHONG1919 located.
Unfortunately, the shuttle boats at Sawasdee Pier where it's right across from the place stop running on Sunday so.. Rajchawongse Pier it is.
When you get lost, you tend to find a new hidden street you would be surprised you discover.
There comes the fun walk discovering a new back street. After taking a shuttle boat from Rajchawongse Pier. The sun's already set and it's getting dark. A bit scary walking around there but I quite enjoyed it.
A few local shrines with such a tone of light. A small bridge where people there really cross every so often as they commute.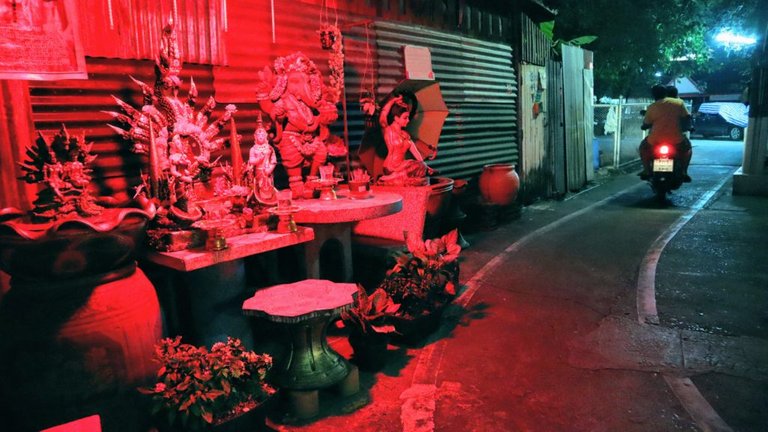 LHONG1919
19th-century Chinese mansion restored as a mixed-use complex with restaurants, stores & a shrine.
I had actually been here before but honestly, not much going on and really, not many things to do. Though, since it happens to be a special occasion, Loi Krathong, going on.. it's a bit different. Livelier with more people and a street food market.
One thing you will always see as it's always there. A gorgeous Chinese shrine, one whole big area of the place. There is also upstairs so no kidding, this could totally be a place for all the serious believers.
Today, we do it a bit fancier. There's a live music playing Loi Krathong Festival vibes kinda songs so again, I quite enjoyed that along with the light colours changing.
Chinese mansion restored as a mixed-use complex
Cultural travellers would sure love the place
There are many things you can wander and smile at. Mostly, it's Chinese influenced as it's located in an old Chinese living area of Bangkok and the place itself as said, it's a Chinese mansion restored as a mixed-use complex. They tend to remain it as Chinese as possible.
A few well preserved Chinese painting on the top floors and Chinese art along the back wall.
A giant Chinese king's cloth just randomly being up there..
Night Market at LHONG1919
This is not something that happens everyday at LHONG1919. A few shops gathered selling food, drinks and handmade goods. We had some snacks. Good thing they didn't raised all the prices so high as for this festival. Check out what we eat in Loi Krathong vlog! on Way Beyond Padthai Youtube Channel.
Loi Krathong Fest!
Since it's during the Loi Krathong Fest, there's no way they didn't have some Krathong for sale. Here, not many of varieties as there's not much of the demand. Instead of the regular banana leaves, flowers basket, here the alternative ones made of bread so the fish could just jump on and have it right away. No waste but hey, hey, the colours!
Brutal honesty, as for the Fest and not how it is in general, compared this one to the famous Loi Krathong Festival at Golden Mount Temple, I almost like this it here at LHONG1919 even more. I found Golden Mount so overwhelming and too crowded. I couldn't even walk and even breathe. It's just the fact that there were more fun stuffs going on there at the temple, I still can't let LHONG1919 win for the Loi Krathong Fest.
Anyways, I think it depends what you prefer. Chill night by the river with hip atmosphere and maybe some nice live music.. Dang, that's actually sounds pretty good. Or you'd be more like, Stick to the basic and all the traditions but you know, millions people all at once, then see you there at the Golden Mount Temple.
Not on Steem yet?? Let the ninja gets you a Steem account and start earning crypto!
㋡ Get $55 off your first adventure on Airbnb
㋡ BEST Boba Tea in town [Bangkok].
---
All copy and photos are original content by me.




TO SUPPORT WITH LOVE 💙 PLEASE SUBSCRIBE!!! TO MY SUPER DUPER AWESOME YOUTUBE CHANNEL :)
---
View this post on TravelFeed for the best experience.