Sand sculptures at Zemplínska šírava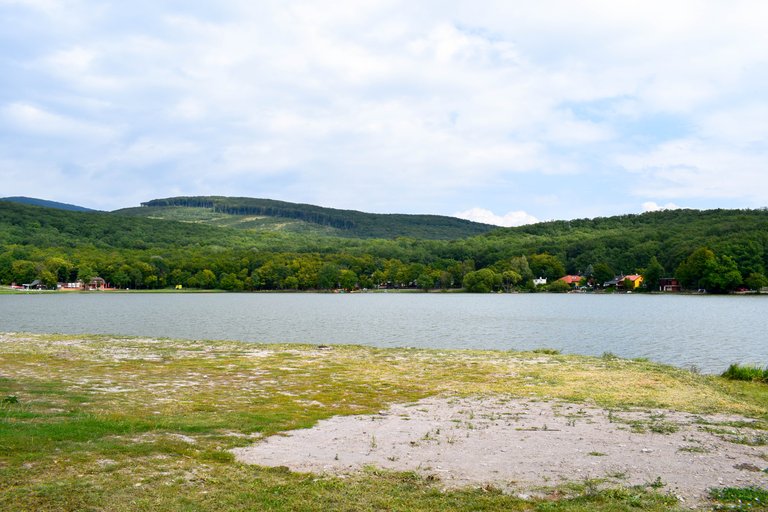 Read "Sand sculptures at Zemplínska šírava" on TravelFeed.io for the best experience
---
Zemplínska šírava is a water reservoir that attracts visitors in summer season. It is located close to the town Michalovce and offers good conditions for swimming, water sports, fishing and entertainment.
It's construction started in 1961 and it was open to public in 1965. It is built in the flat land of Eastern Slovakia which has a great local climate, and therefore this reservoir is widely used for recreation. It's a popular place for families with kids as it's quite shallow considering its size. It's up to 3.5 m deep and the area of its surface is between 22 and 35 square kilometers.
Part of the reservoir became protected Ornithological Reserve as there are more than 100 species of waterfowl including some rare ones. There is also a possibility to encounter rare species of aquatic turtles, which are legally protected.
It is situated in a beautiful environment, close to the lake Morské oko and Vinianské jazero, or the mountain Sninský Kameň. It is a nice spot for a few days while visiting these other places.
There was very little done over the last 30 years and many amenities are obsolete. However, I must say that for the last couple of years we have seen a lot of investment and development of the area. There are new hotels, thermal spa, some swimming pools and restaurants. The area attracts more and more young people which is the result of the recent development.
I remember coming here when I was younger. This was the place where I learned how to swim, that place where we made cool parties with my friends, place where I found my summer love. I have many fond memories of Zemplínska šírava.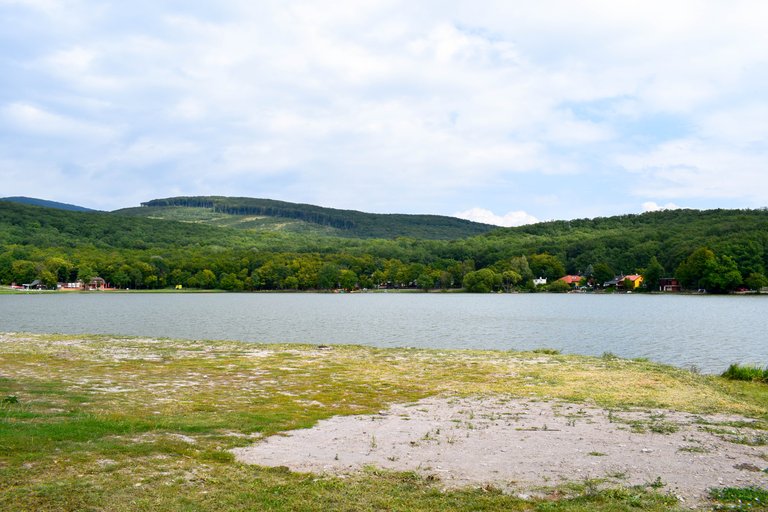 As I mentioned before, there have been a lot of investment and development of the area over the past few years. Part of this development is a project realized by the architect Adam Bakoš. This project is sponsored by the regional tourism organization Košice Region Tourism in the hope of attracting more visitors in the summer. It started in 2017, became a new tradition of Zemplínska Šírava and it is held every year ever since.
The fairy-tale characters were created by artists who built an ice house in the Tatras in the winter. They are famous ice sculptures creatures and the only change that they applied in this project is that they built these sculptures from sand. They used over 420 tons of induced sand for their latest works and the sculptures were modified to withstand the weather. Every year there is a different theme and you can find the sculptures in the center of Kaluža (part of Zemplínska Šírava)
LET'S CHECK THEM OUT!
First sculpture shows us a popular Russian fairy-tale Masha and the Bear. I was surprised to see it but my mom told me that it's the favorite fairy-tale of children nowadays. I've checked it out and noticed that it was created in 2009, so this is why I haven't heard about it before. I'm too old 😊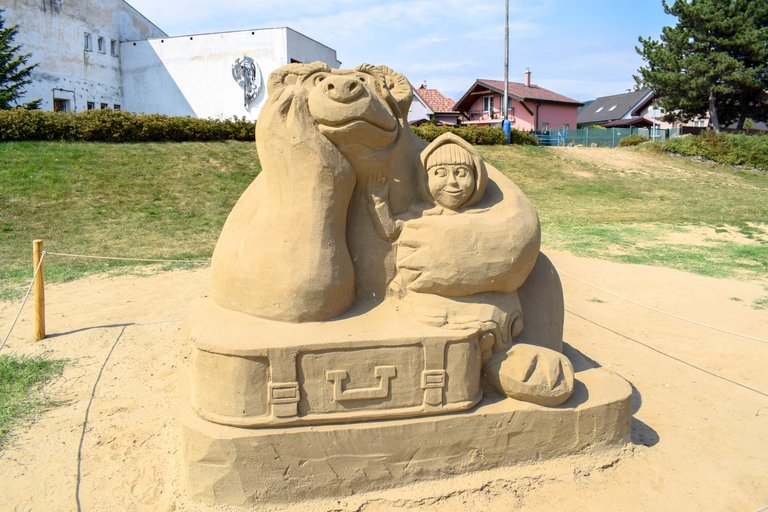 Here we can see the Spiš Castle. This is one of the largest castles in Central Europe and the most precious cultural monuments in the Spiš region. The castle was included in the UNESCO World Heritage List in 1993. Its construction dates back to the beginning of the 12th century. Today, it is partly in ruins, but it can still be visited. If you ever happen to be there, make sure to book at least half a day for your tour as it's really a large complex.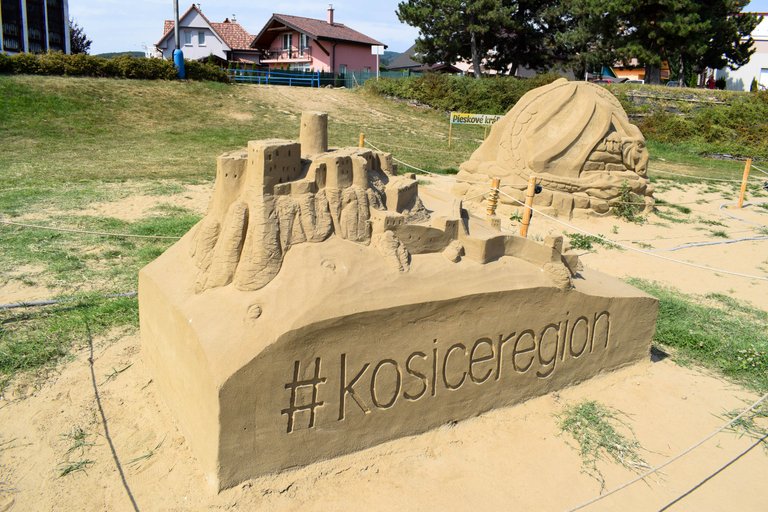 They say that it's a sleeping dragon but in my opinion its eyes are open, and it is either awake or just waking up. We were there for a while and it didn't fly away, so it must have been very tired...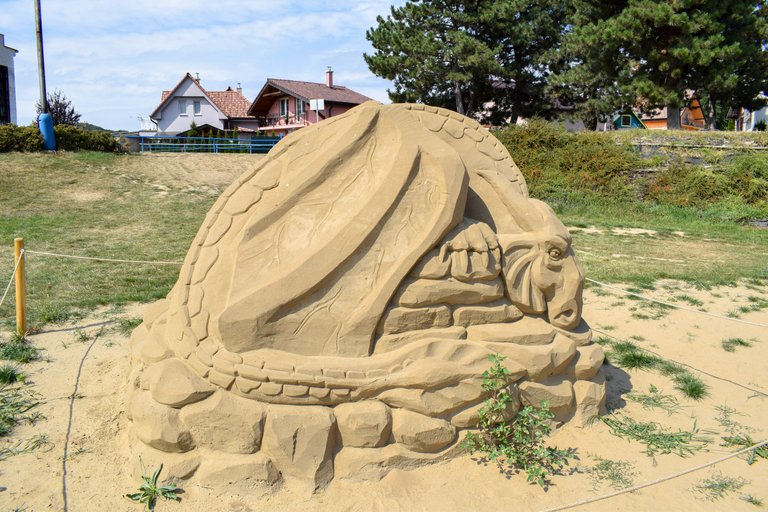 This is from my favorite childhood fairy-tale called Salt Over Gold. The fairy-tale's central lesson is that salt, as it is necessary for life, is more precious than gold and emeralds. After an argument with her father, a princess must find her true love when he is transformed into a pillar of salt. And here we have the King and his jester who tries to cheer him up when there is no salt in his kingdom, people are getting sick and he lost his favorite daughter. Of course it ends very well and everyone lives happily ever after.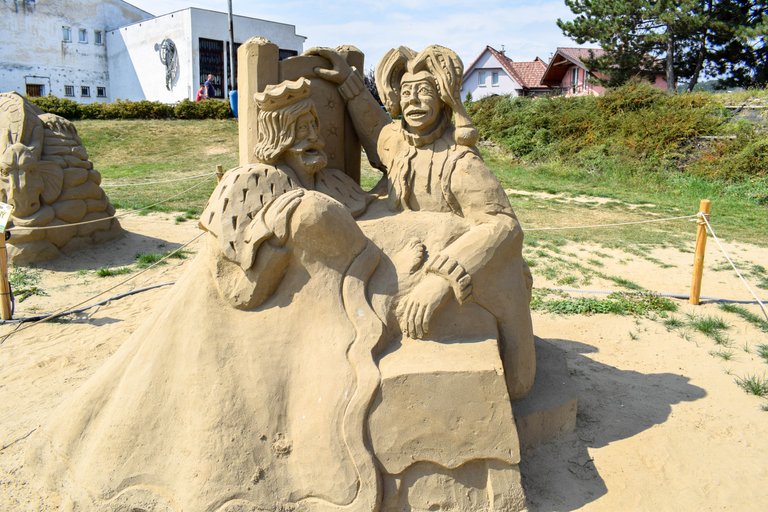 We are at the lake, so we can't miss Poseidon, god of the sea, earthquakes, storms, and horses. I remember from my history lessons over Greek mythologie that he wasn't very nice. He had many disputes with both gods and men, and he was a bad tempered god. He was closely associated with the bull, the horse, the dolphin, fish and many other creatures. I wouldn't like to cross his path but here he was just a harmless sand sculpture.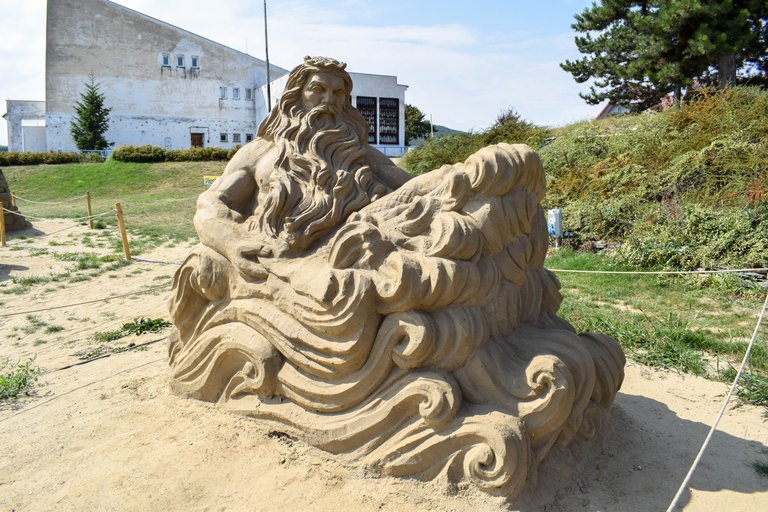 We have seen the collection of the sand sculptures and now it's time to enjoy Zemplínska šírava. Its water is usually calm and peaceful, it is a popular destination for sailors as the area around the reservoir is mainly flat and there is a lot of wind. There are many who enjoy sailing here. I haven't tried it yet but I've heard people saying that they liked it.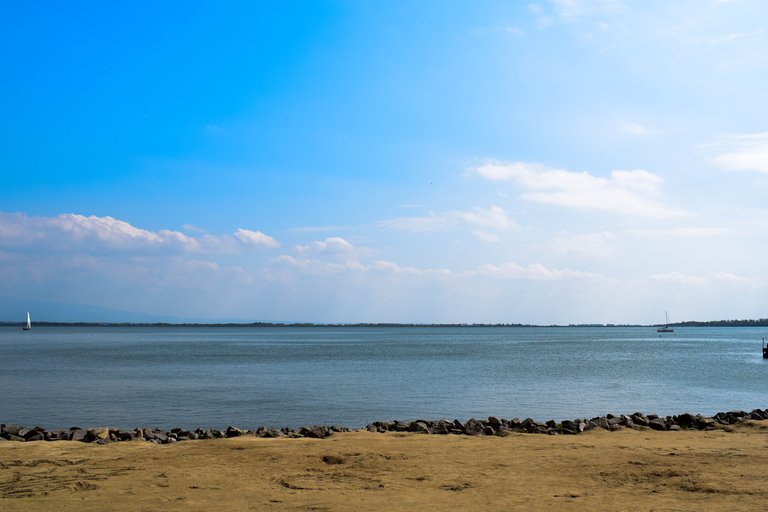 The light was very nice as it was coming through the clouds...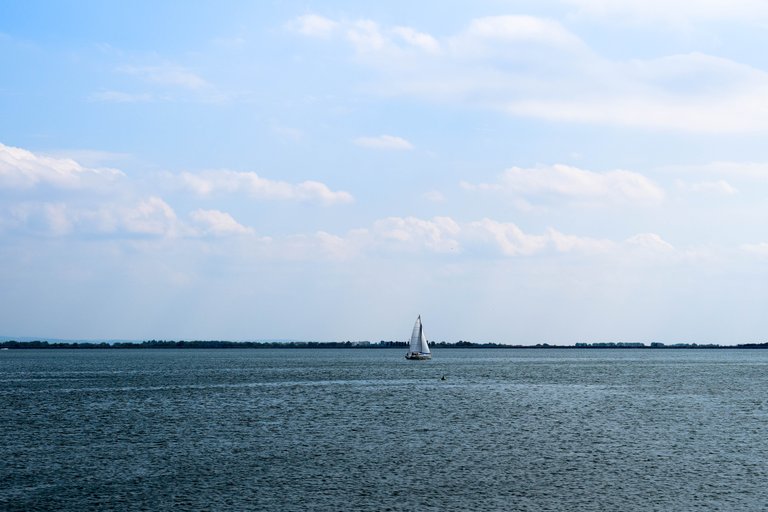 The sandy beaches are spacious and would normally be enjoyed by many people at that time. It wasn't an ideal day for swimming when we were there. It was windy and quite cold and that's why there were no people.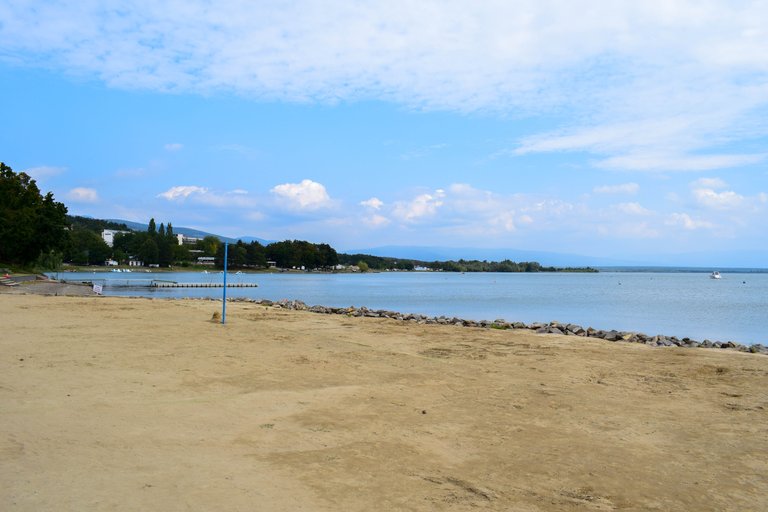 Here you can see how the sand sculptures were places on the beach. It must have been a nice view to enjoy them from the water.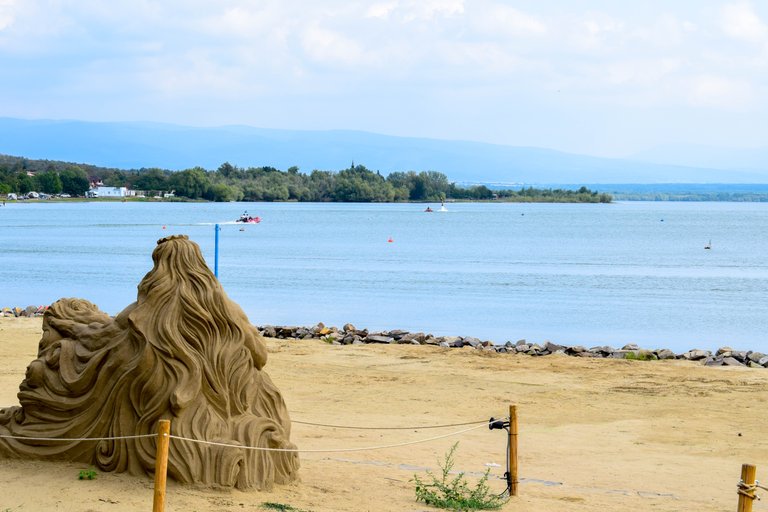 After our tour we went to a cafe and ordered some juices. However, we were not the only ones who were thirsty. This little fellow enjoyed to lick the bottle very much 😊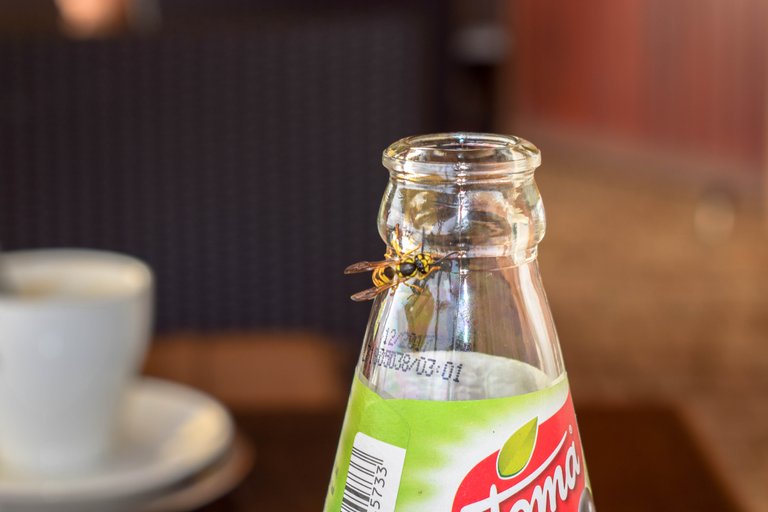 I hope that you have enjoyed our tour.
Thank you for visiting!
Cheers!
---
View this post on TravelFeed for the best experience.
---
---