Travel Story: Hitchhiking to El Chaltén | Trekking | Mount Fitz Roy (Final Part)
Hooray you sexy readers! How are you? Bringing back the continuation of an old forgotten story.
---
Many moons ago I published on this blog the part one of a chapter from my insane trip to Patagônia, a post where I brought you along to El Chaltén in southern Argentina. However, for some misterious causes inside the head of a crazy backpacker (not me) I forgot to write the final part, thus concluding the chapter.
Travel Story: Hitchhiking to El Chaltén | Trekking | Maestri Glacier (Pt. 1)
Keep in mind that the whole journey is big enough to cover a book, so I've decided to release it for free in small parts on this blog. The collection of previous/future posts do not follow an order of events, but It's written in a way that you can read as chapters of a book. Important to note though, is that some chapters do follow a sequence of events and are entitled with "part I" or "part II" and so on - just like this one and the one highlighted above.
Without further ado, let's explore the mountains of El Chaltén, where lays the great Fitz Roy, the smoking peak.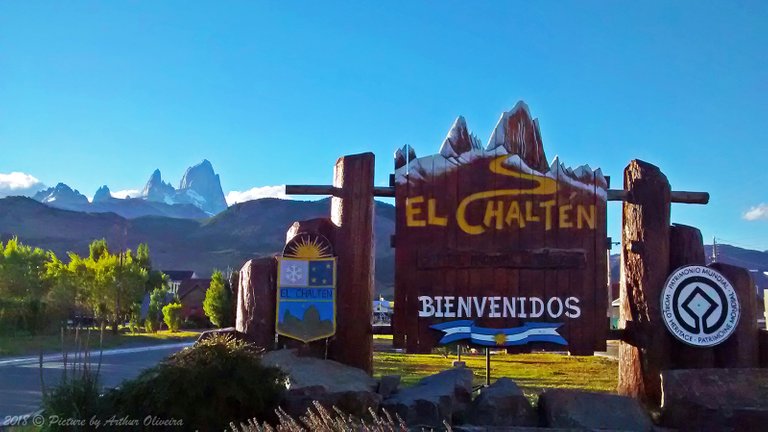 Click any image to enlarge!
---
This happened when I was hitchhiking Argentina and Chile in summer 2017. Carrying only the essentials and little money for the journey. I had left Buenos Aires in early January with the main goal to reach Ushuaia, the southernmost city in the americas. Plan was plain an simple: Work if needed, camp, hitchhike all the way, have loads of fun and let my desire guide the way.
January 22th, 2017 On that morning the incredible ever changing Patagonian weather gifted my friend Cyril and I with a sunny day, an opportunity we didn't want to miss. Left behind, the Campamento de Agostini, at the base of the famous Cerro Torre, would now be part of my memory as the place I fought the strongest wind gusts I've ever encoutered. Dressing our backpacks, loaded up with equipments and food, was not easy and I don't recall what the breakfast was, possibly nothing nutritious enough for the miles to come. But we had to move, and so we did.

The next leg of our exploration would be a stretch of trails going up and down the Andes, in and out of forests and along lakes. Above us, the blue sky. On the horizon, the imponent snowy peaks. You look around and, eventhough tired, feel an immense sense of freedom. I am here, there's no one to stop me. In fact, we stopped. Mostly to rest and chew a snack here and there trying to find the energies to keep on moving with all the weight.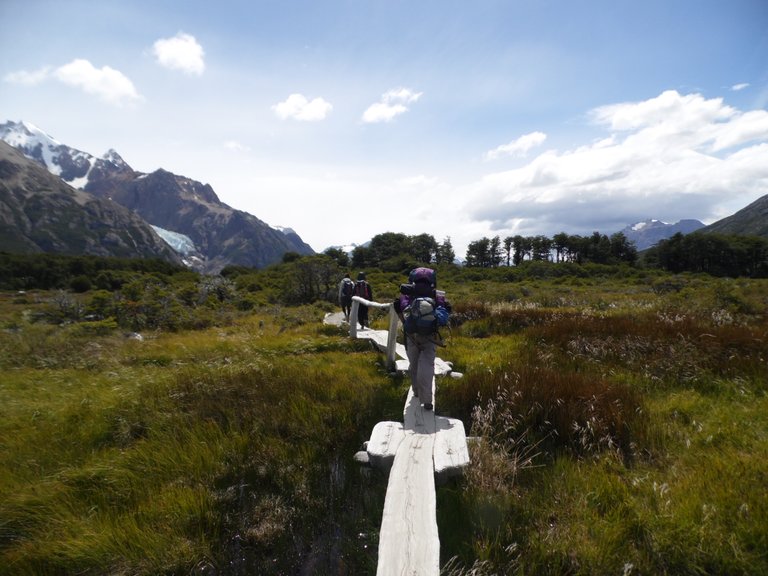 Agostini to Poincenot - Click image to enlarge!
---
Ahead of us, somewhere, was the Campamento Poincenot, our next destination at the base of the great Fitz Roy (3360m) - one of most difficult peaks to climb in the world. That peaceful place would be our over a billion star hotel for the next days; there's no toilet other than a hole on the ground, nor running water other than a crystal clear river. There's no cozy bed but your own tent and sleeping bag.

Campamento Poincenot is also the main base for those exploring the Laguna de los Tres, below Mount Fitz Roy, a one hour trail up the steep hills with loose rocks, which we gladly attacked as soon as setting camp.
Mount Fitz Roy
And there we were, near Mount Fitz Roy, named by Perito Moreto to honour Robert FitzRoy who, as captain of HMS Beagle explored and charted large parts of the Patagonian coast. Mount Fitz Roy was also called Chaltén, which in Tehuelche means "smoking mountain", as the original people from that region believed the mountain was a volcano due to its top being always covered by clouds. Our excitment was not enough to cover our sadness for not being able to see the full mountain, we wanted more!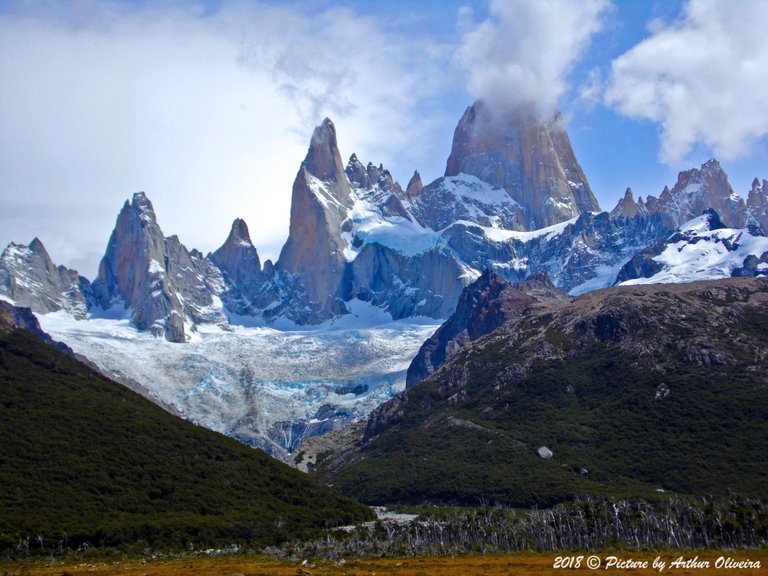 Chaltén (Fitz Roy) The smoking mountain - Click image to enlarge!
---
A Lesson In Patience
It's pretty rare to see Fitz Roy without clouds but for those who are persistent and patiente everything is possible. First day at the Poincenot campsite was cloudy, so we decided to stay there one more day to try again. The clouds turned into rain, many people left the campsite that day to go back to the city, but we were persistent. We spent most of the day doing nothing but drinking wine and waiting. Patience and perseverance are key.

By the end of day the rain had stopped while those brave enough to stay were hanging equipments to dry. The sky had just started to clear when I left the woods to collect water on the river when...

- Wow!!!! - I thought.
- Cyril, come and see something... - I said to my friend.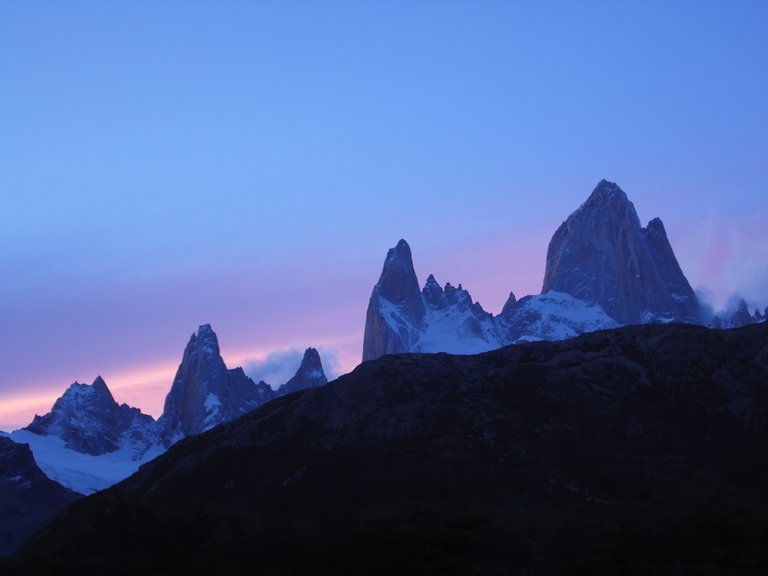 Late afternoon FitzRoy - Click image to enlarge!
---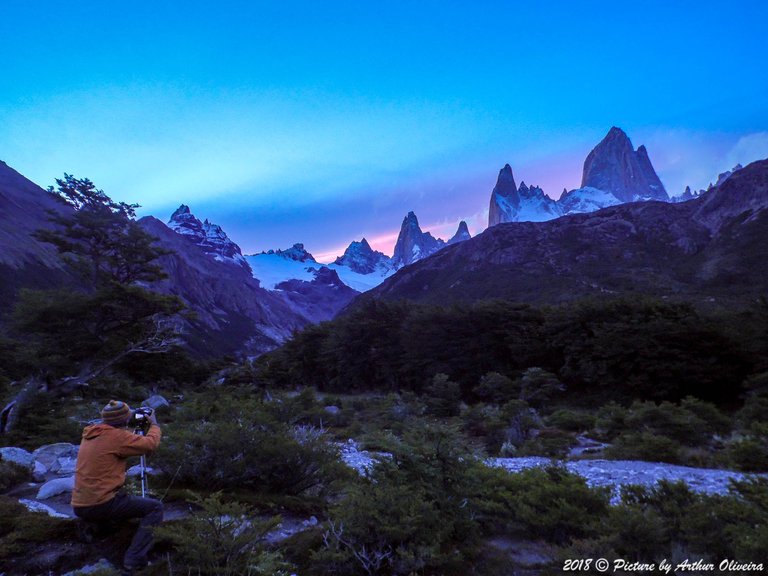 I lack the vocabulary to describre what we were contempating at that moment, so I'll let the images speak for themselves. Slowly the other hikers were getting together, all laughing and sharing wine and meals. Those who were persistent enough to go through the rain and bad weather, just to enjoy the beauties that come after.

Needless to say we spent a few more days there and hiked all the way up again in a freezing and dark morning to catch the sunset on one of the most astonishing places in the world. A place where there's still respect and collectiveness between people. A place where nature dictates what you can and cannot do, what you can and cannot see.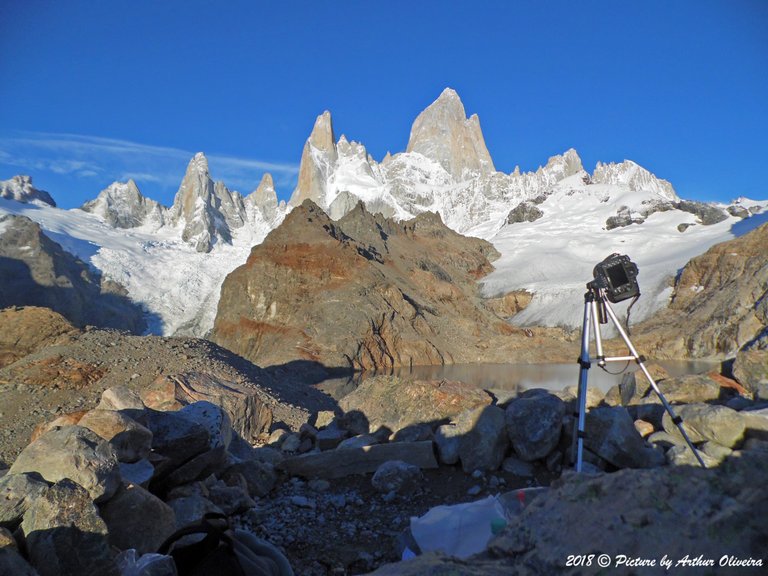 Early morning FitzRoy - Click image to enlarge!
---
Did you like reading this story? Are you a persistent person? Share on the comments!
If you liked this post, please, consider leaving your upvote for a hot coffee.
~Love ya all
---
Disclaimer: The author of this post is a convict broke backpacker, who has travelled more than 10.000 km hitchhiking and more than 3.000 km cycling. Following him may cause severe problems of wanderlust and inquietud. You've been warned.
---
View this post on TravelFeed for the best experience.
---
---