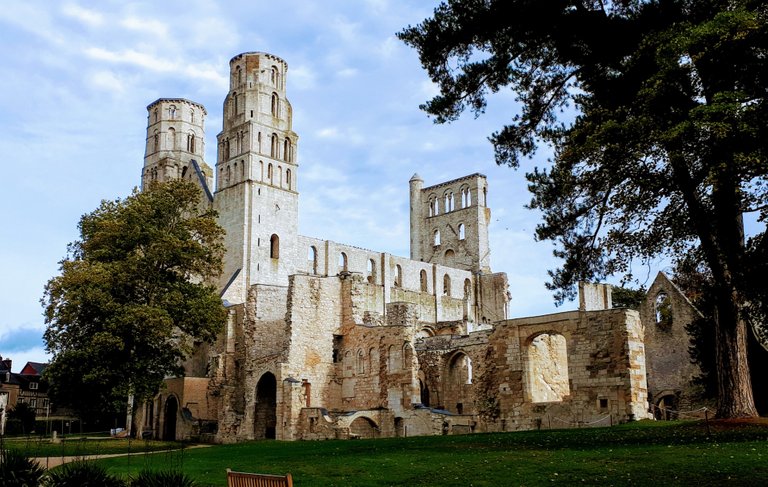 The Abbey of Jumièges is located in a small village in Northern France in the Seine valley. Its about 30 minutes away from the charming city of Rouen, and for me, about 2.5 hours away home.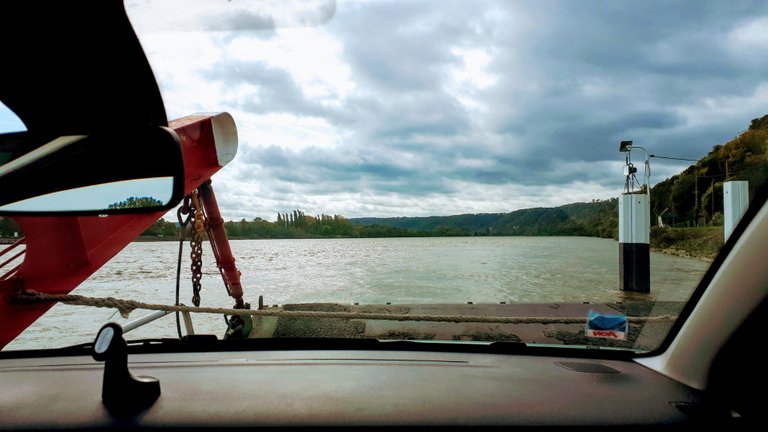 The drive to the site is long but scenic, and depending on which direction you enter the village, may involve driving your car onto a barge to be ferried across the river.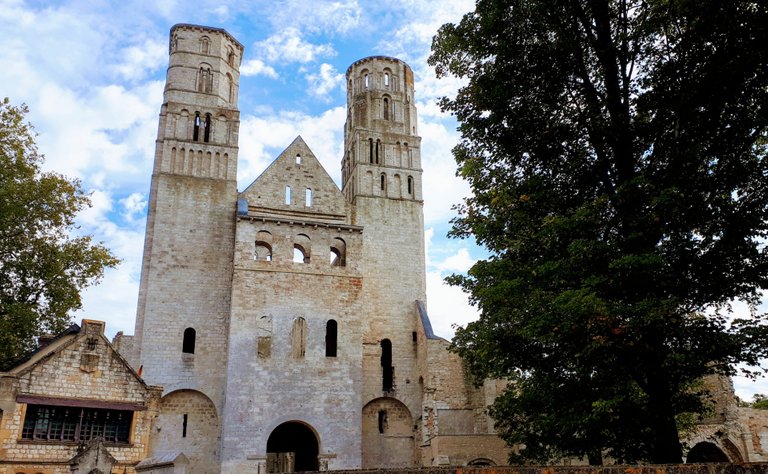 The Western facade of Notre Dame's Church is the first thing that you see on approach. It was built in the Romanesque style and contains two asymmetrical twin towers which stand 46 meters in height.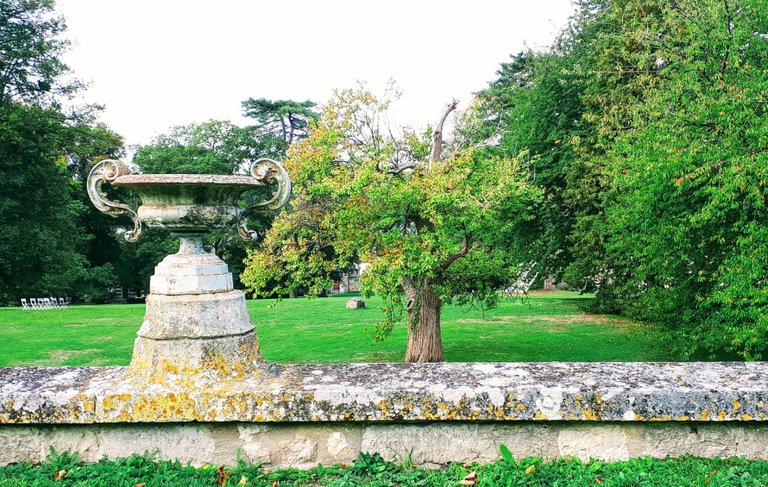 The Abbey sits on a 14 hectare park. A large terrace, which once contained the vegetable garden ghat fed the Abbey's inhabitants, rests behind the ruins. At one point in history the property was essentially a self sustained community of it's own.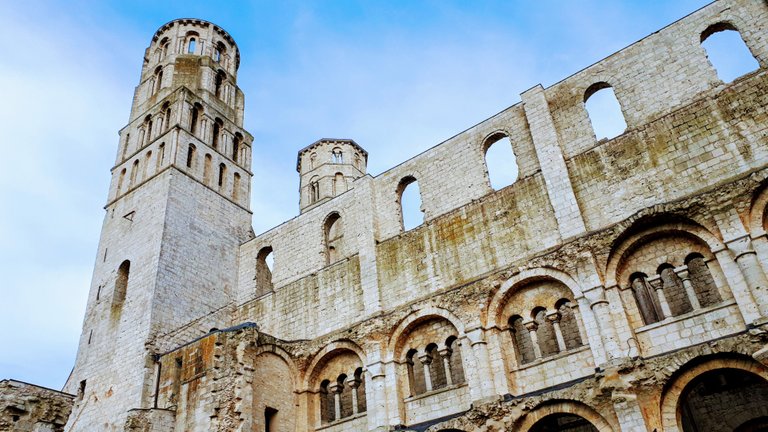 The cloister was once dedicated to meditation but has since all but been destroyed. Nonetheless the countless arched windows and tall remaining columns that remain give you a sense of the grandeur of what once stood on the property.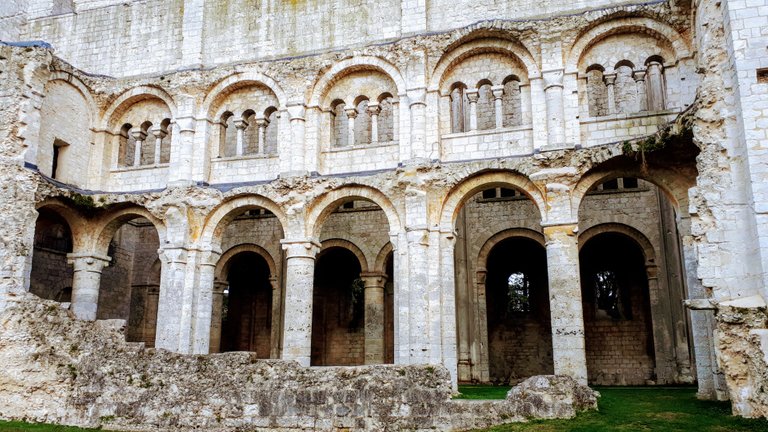 One of the neat things about visiting any ruins is that they require you to use a bit of your imagination.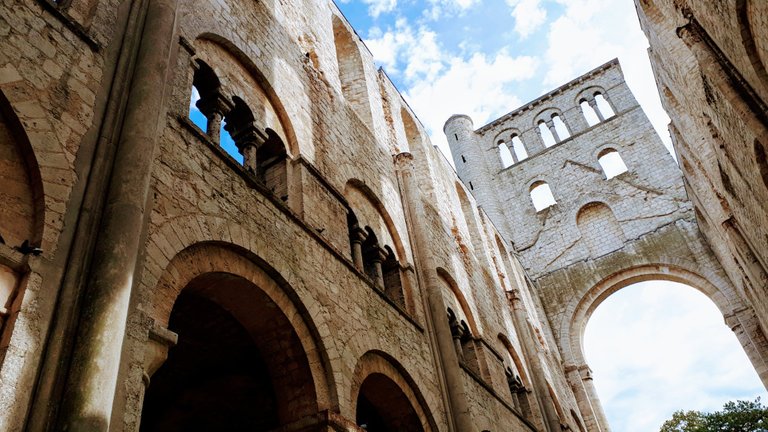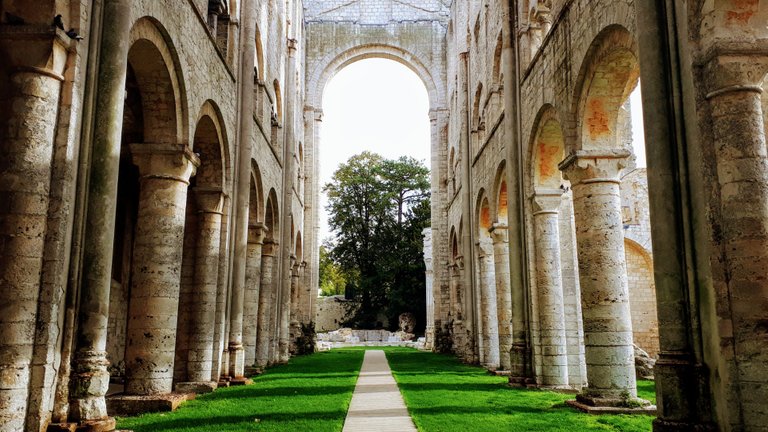 I imagine that the building, in all its glory, must have been quite the site to see. In many ways, it still is.
A Brief History
---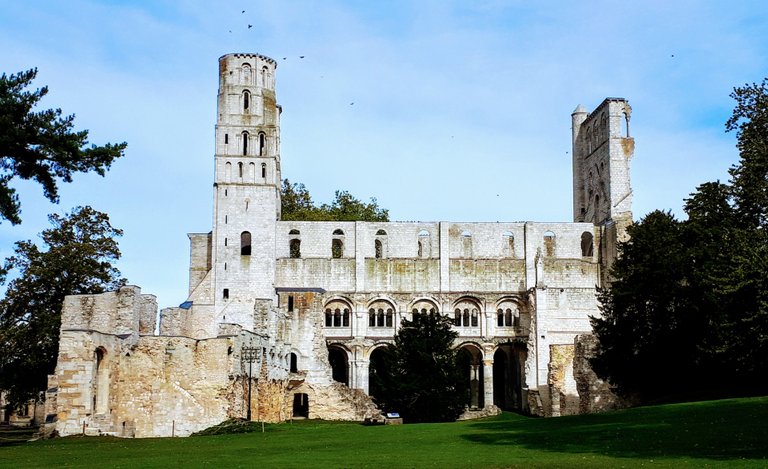 The Abbey of Jumièges is considered one of the oldest and most important monestary's in the West of France. It was originally built in the year 645 and at its peak housed around 900 monks and 1500 servants on the property.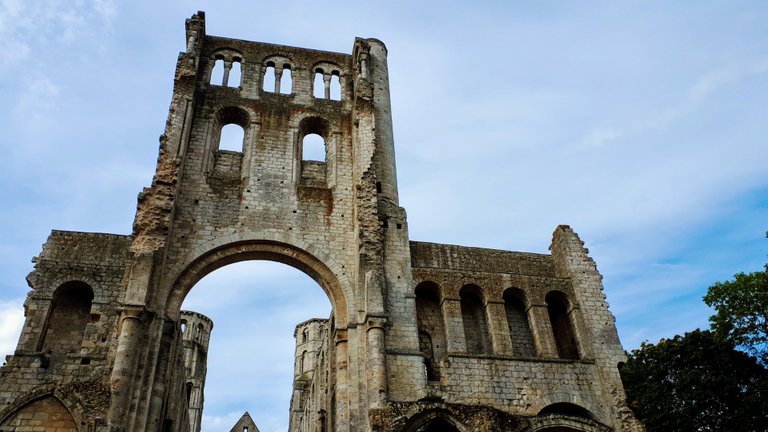 The Abbey wasn't originally built to the grand scale that is depicted today by its ruins today. In the 9th century the Abbey had to be re-built after it was pillaged and burnt to the ground by Vikings. After the destruction the Abbey was built larger then it was before and work and restoration continued on it for many centuries to come.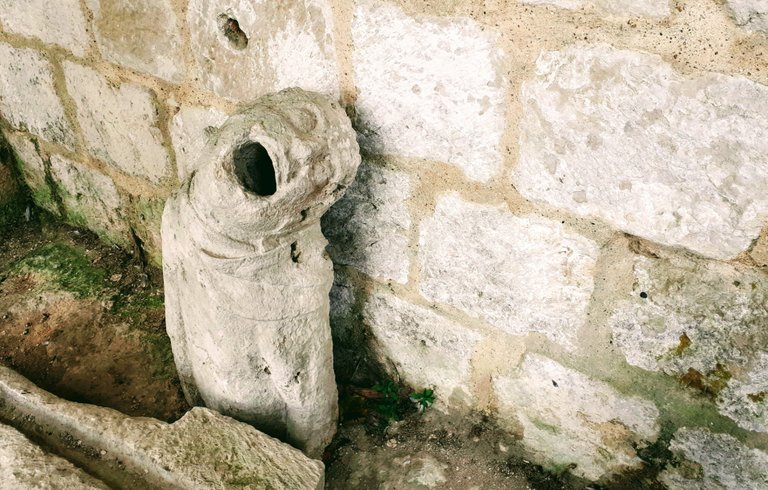 The Abbey was a model for all others in the province of Normandy. Along with being a center of learning and religion, it was known for its charity to the poor.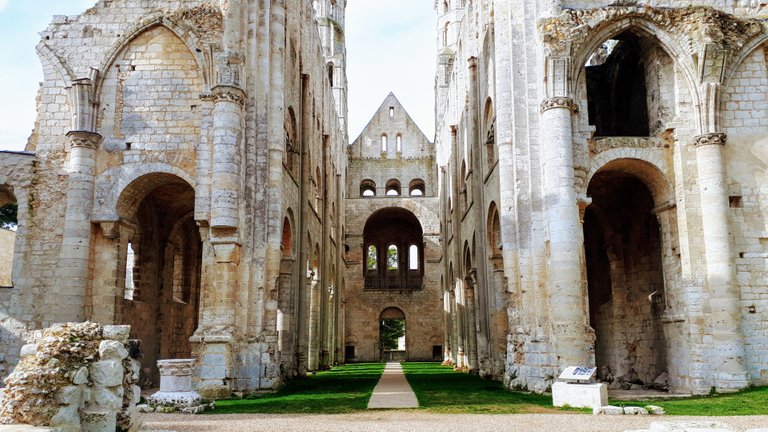 Like many great religious structures in France, the Abbey of Jumièges was largely destroyed during the French Revolution. The site became a quarry and many of its large stones, along with any wood that could be salvaged from the property, were taken for use in other building projects.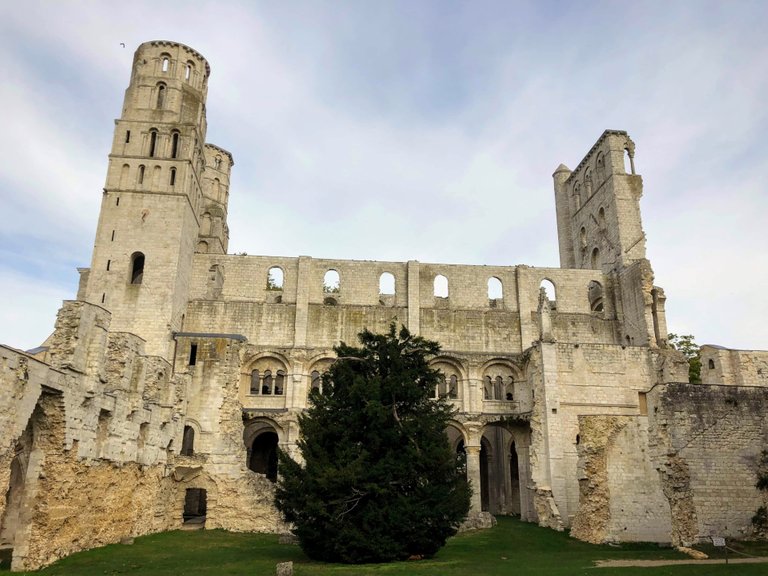 What is left of the Abbey's structure today is an impressive ruins, as you can see.
Now for Some Portrait shots.
---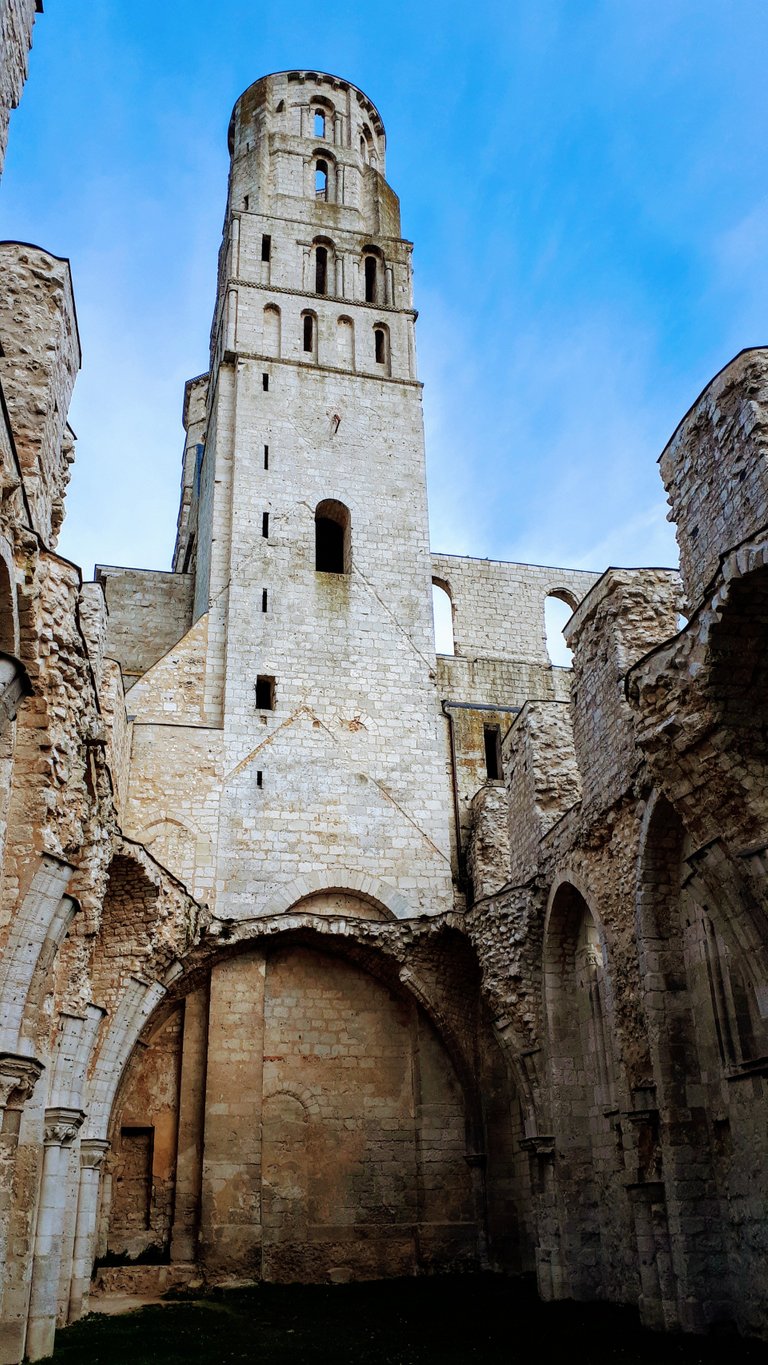 A picture of the cellars with one of the twin towers of the facade overlooking it from above.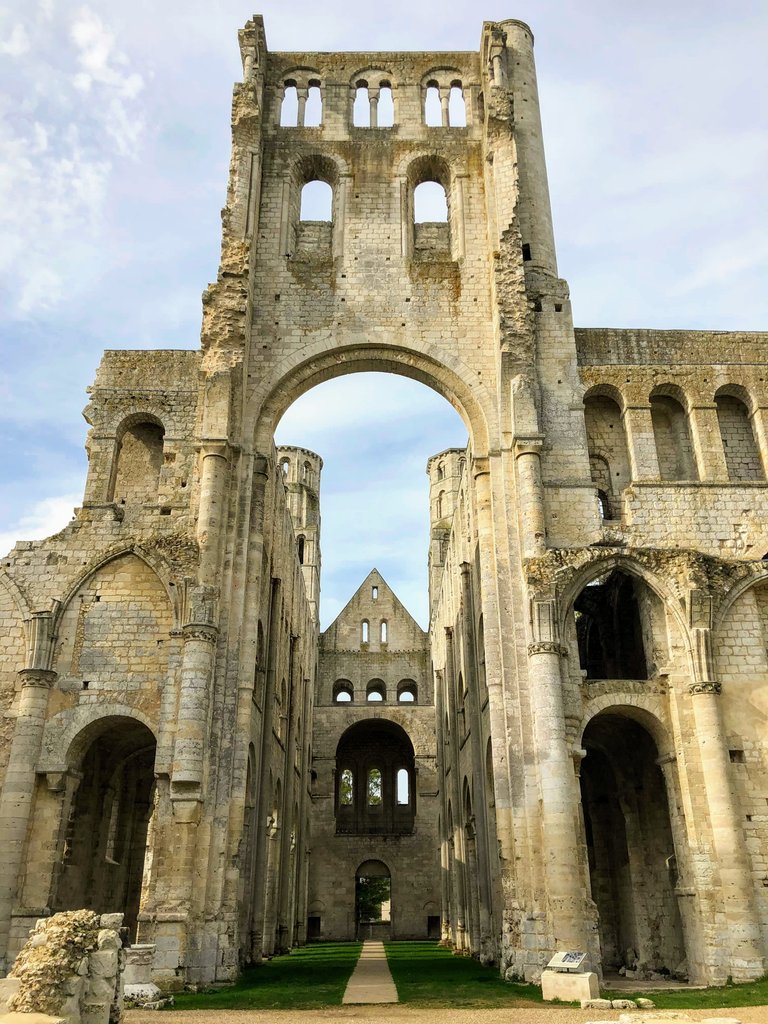 The Nave is built in a Romanesque style. With its 25 meter ceilings it was one of the highest in all of Normandy.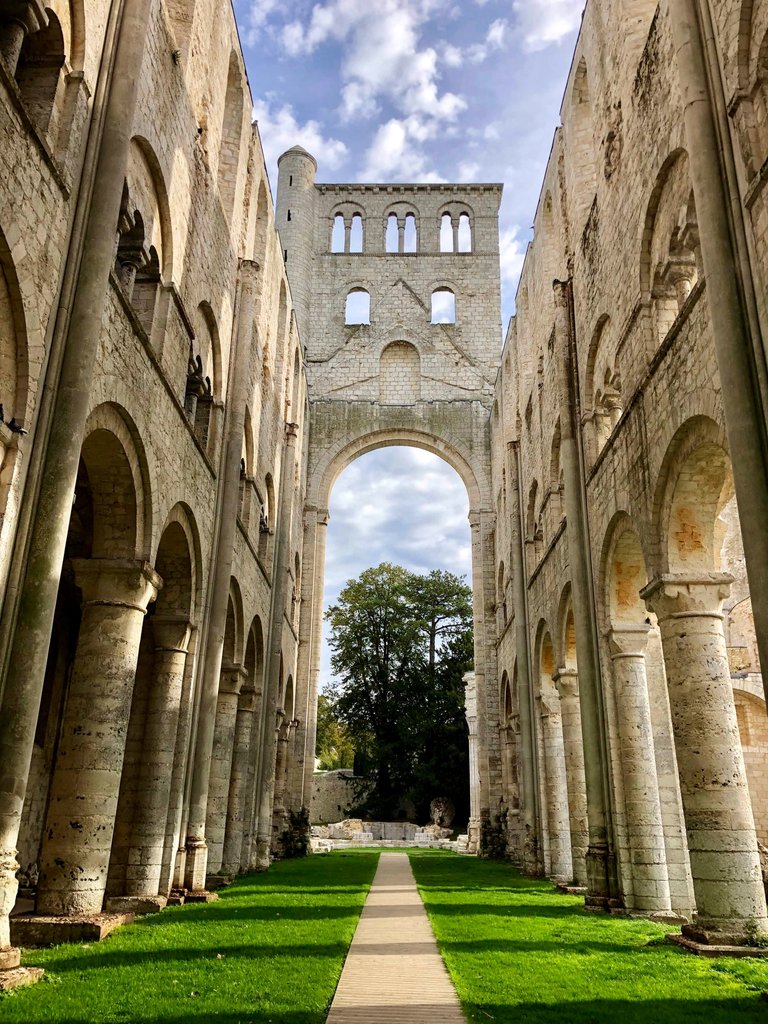 The Nave was divided into 3 levels and originally contained a flat wood ceiling. I imagine that the front would have contained stained glass windows as well, but I don't actually know that for sure.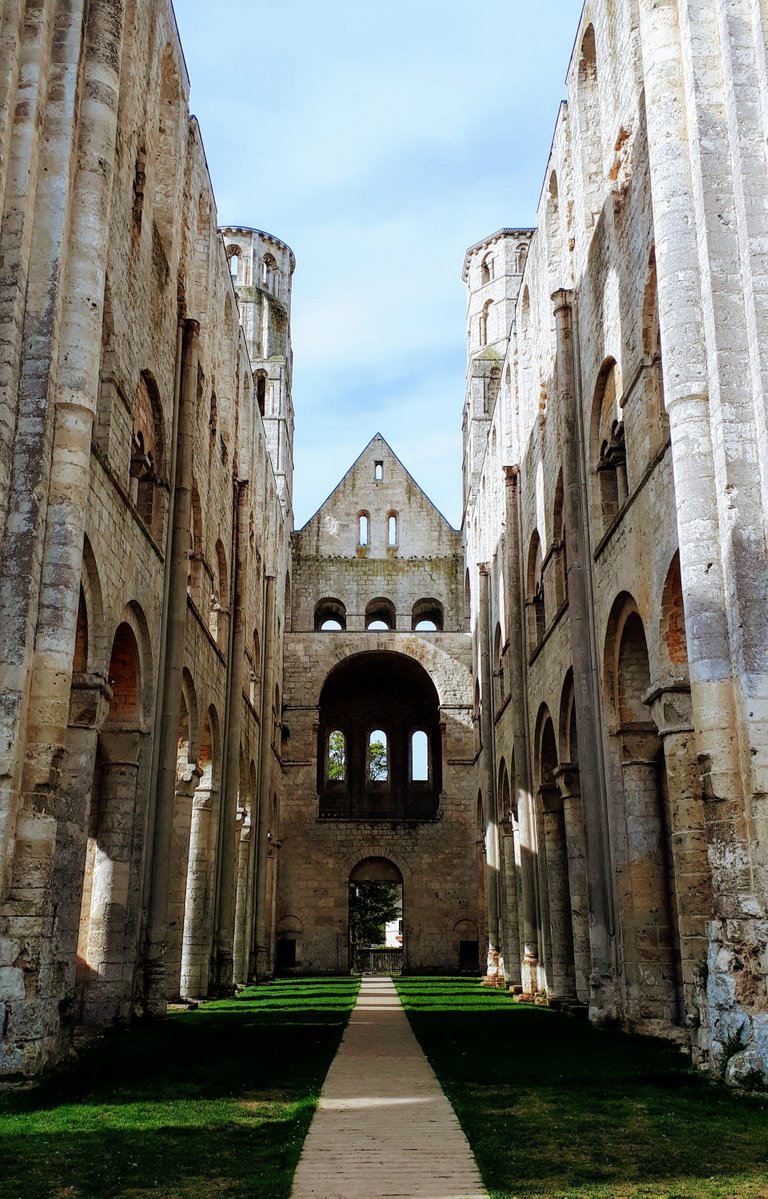 Looking back I also imagine that a large organ would have rested somewhere on the back wall, though again, I cannot be certain about that.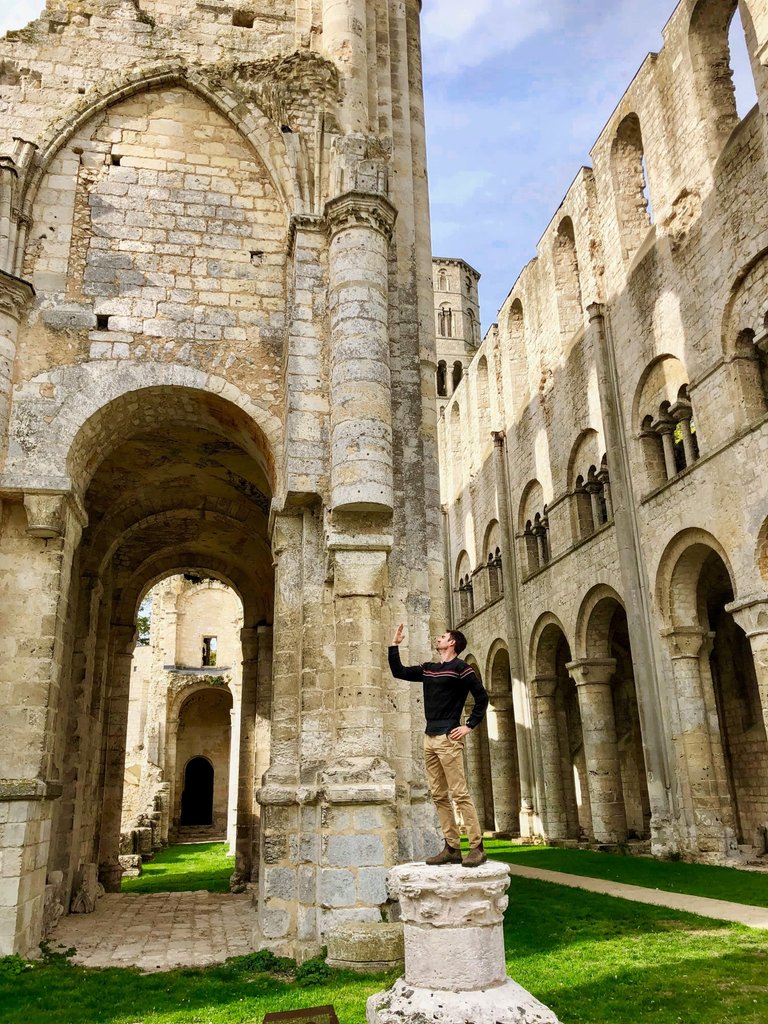 One thing you can be sure of though, if there is an empty pedestal on the property, either myself or my wife will climb onto it and pretend to be a statue. Its basically become our thing to do at any site that we visit. What I actually like about this shot though is that it demonstrates the scale of how large the building actually is.
Also located on the property is an abbital dwelling - the former residence of Jumièges abbots. Today it houses a collection of statues, tombs and effigies.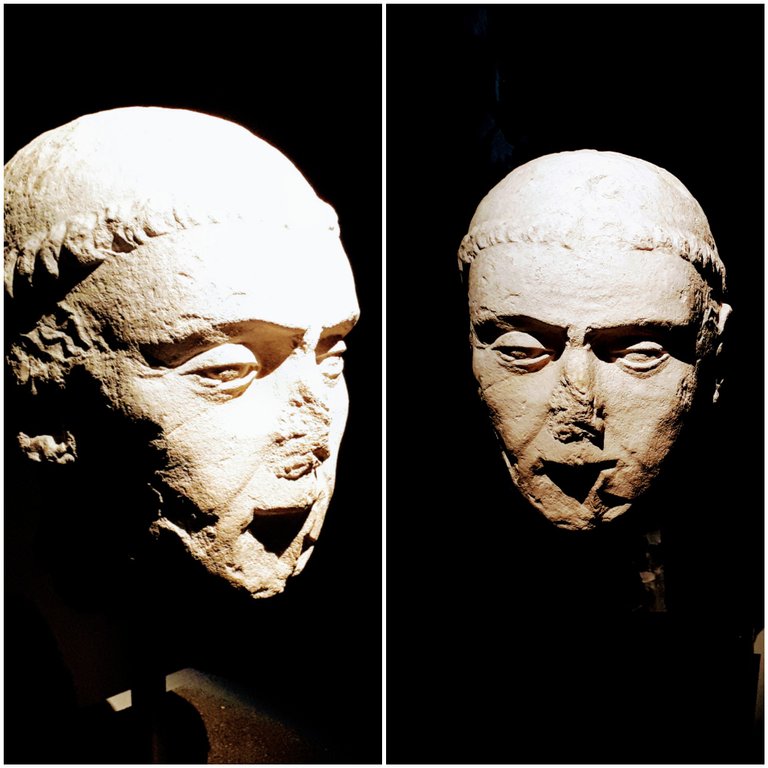 Many of the statues took some damage over time. As you can see this one lost its nose and part of its jaw and chin which gives it a creepy sort of appearance.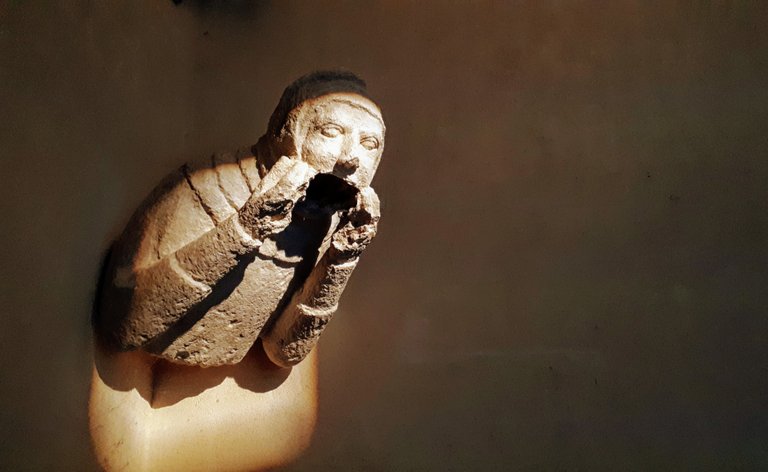 Despite its creepiness this one makes me laugh when I look at it. I imagine it to be a mischievous gargoyle type figure who endlessly interrupts those giving important speeches by incessantly yelling "Boooooooooo" inappropriately.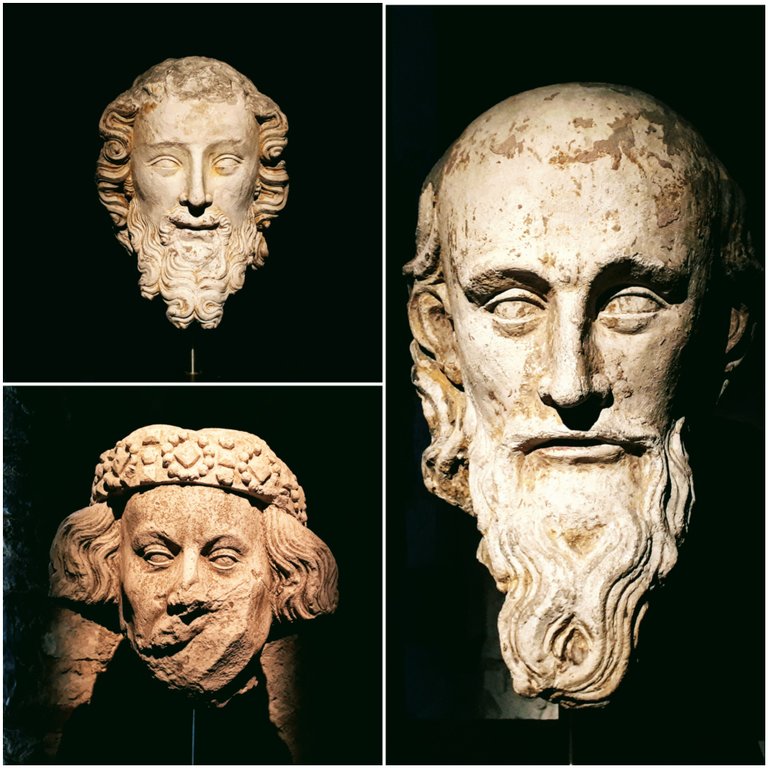 Many of the faces are well preserved but there is something seriously disturbing about the ones that have been deformed over time.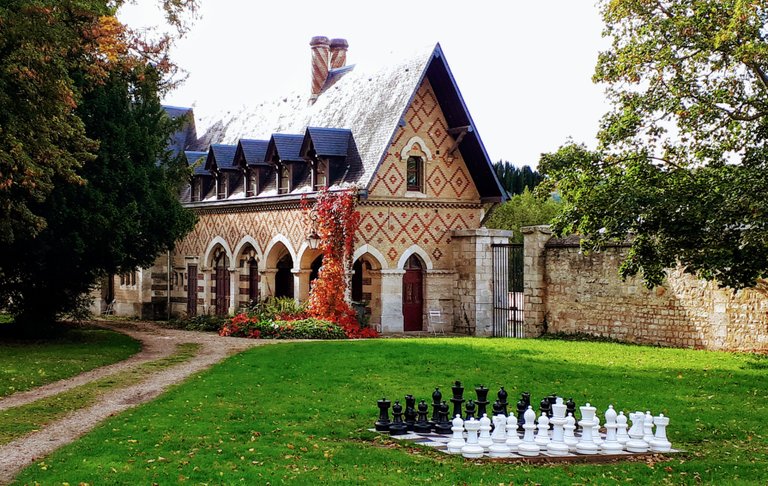 Before leaving the grounds my wife and I stumbled upon a chess board and decided to give it a go.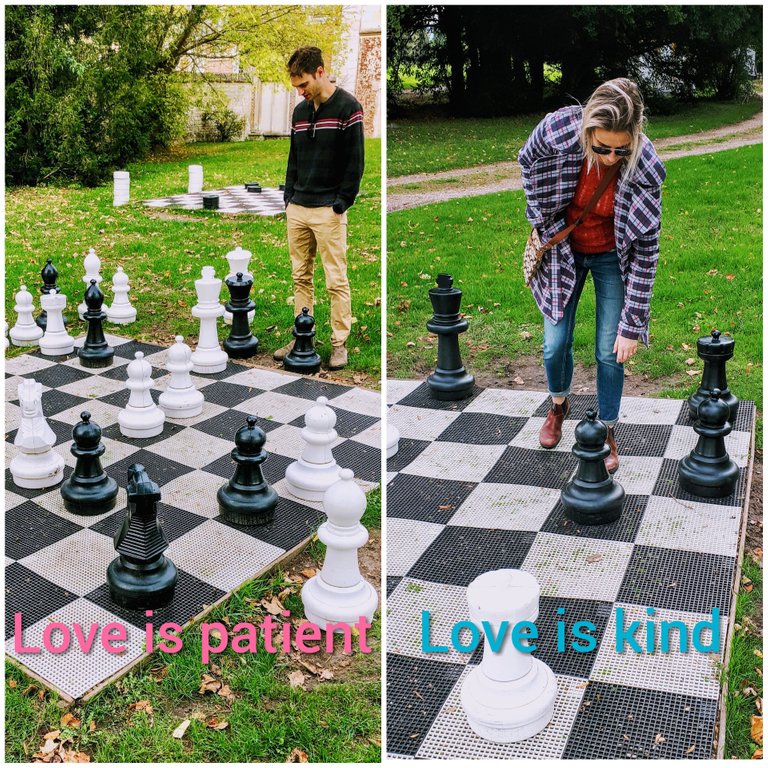 These images are from my wifes Instagram feed. She likes to come up with witty phrases to go along with our pictures. I guess she is the funny one in our relationship. She also tends to make a fuss when I fail to give her credit for her images and humor. Her humor especially is something thats she is quite proud of.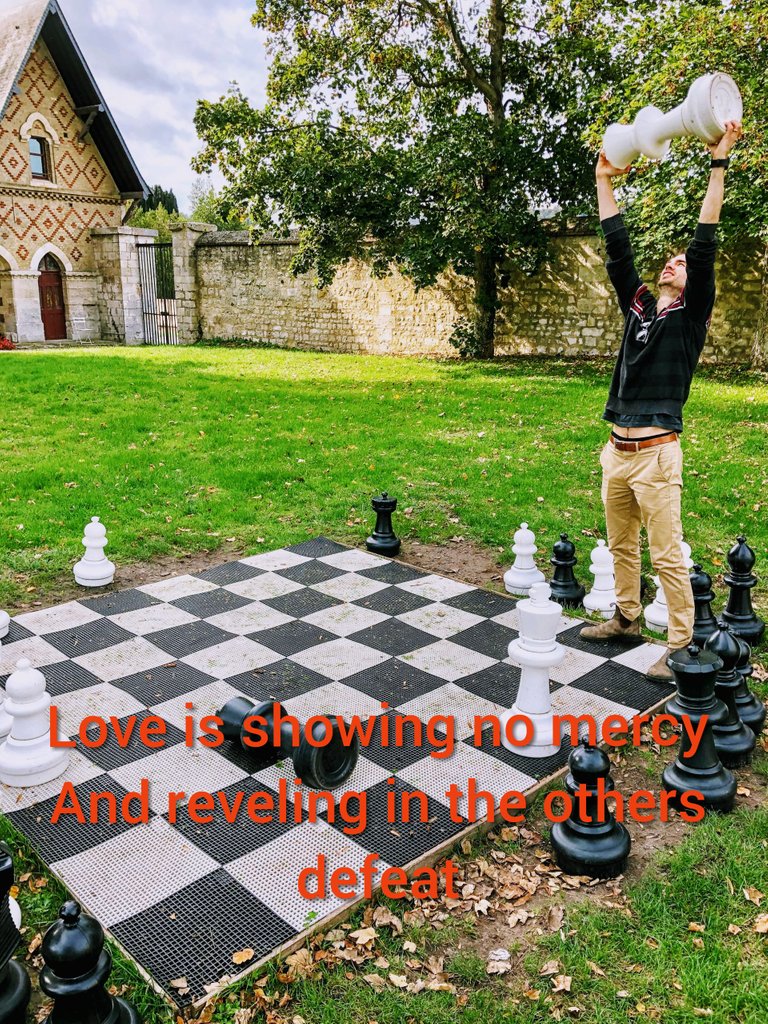 It was one of the few games that I actually beat my wife at. Though in her defense the game was half finished when we stumbled upon the board and since we randomly chose our sides, I will admit that it is possible that I was already ahead when we started.
Well, that is it for me. Thanks for stop...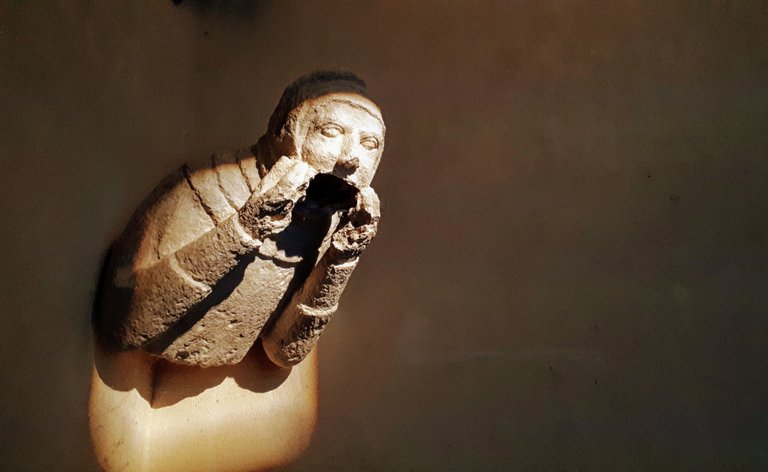 "Boooooooooooooooooo"
Oh nevermind...