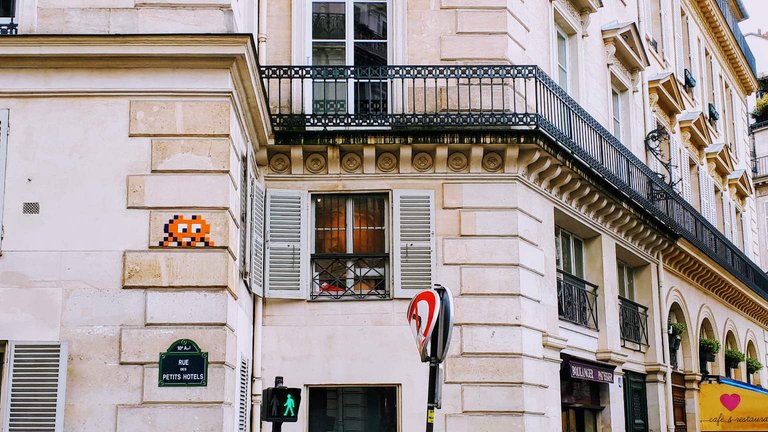 Anytime that I travel to a city where I know Invader has been, I immediately begin searching the streets for his artwork. I know that it is likely to be scattered throughout the city so I often wonder if I'll even be able to spot one along our journey.
For those of you who have no idea who I am referring to, Invader is a street artist out of France who specializes in pixilated artwork based on old 8-bit video games. I have somewhat developed a mild obsessed with his art since moving to France. You can read more on that subject by clicking on the link below, if you feel so inclined.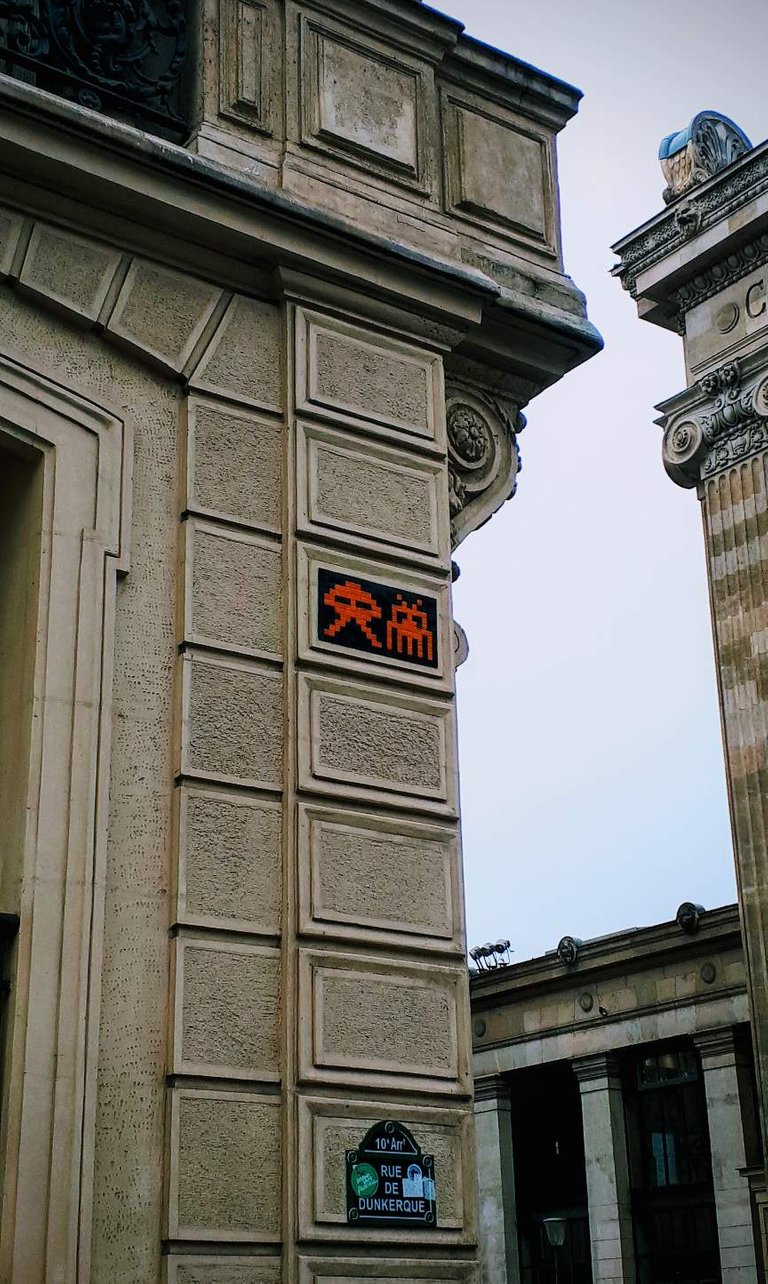 When I first arrive at a location I often think to myself, "I really hope that I'm able to spot at least one invader while I'm here." Funny enough though, I often see one within the first hour or so of arriving at the city.
Such was the case for the piece below which is located just outside of the main train station in Paris. I spotted these little guys within 5 minutes of our arrival.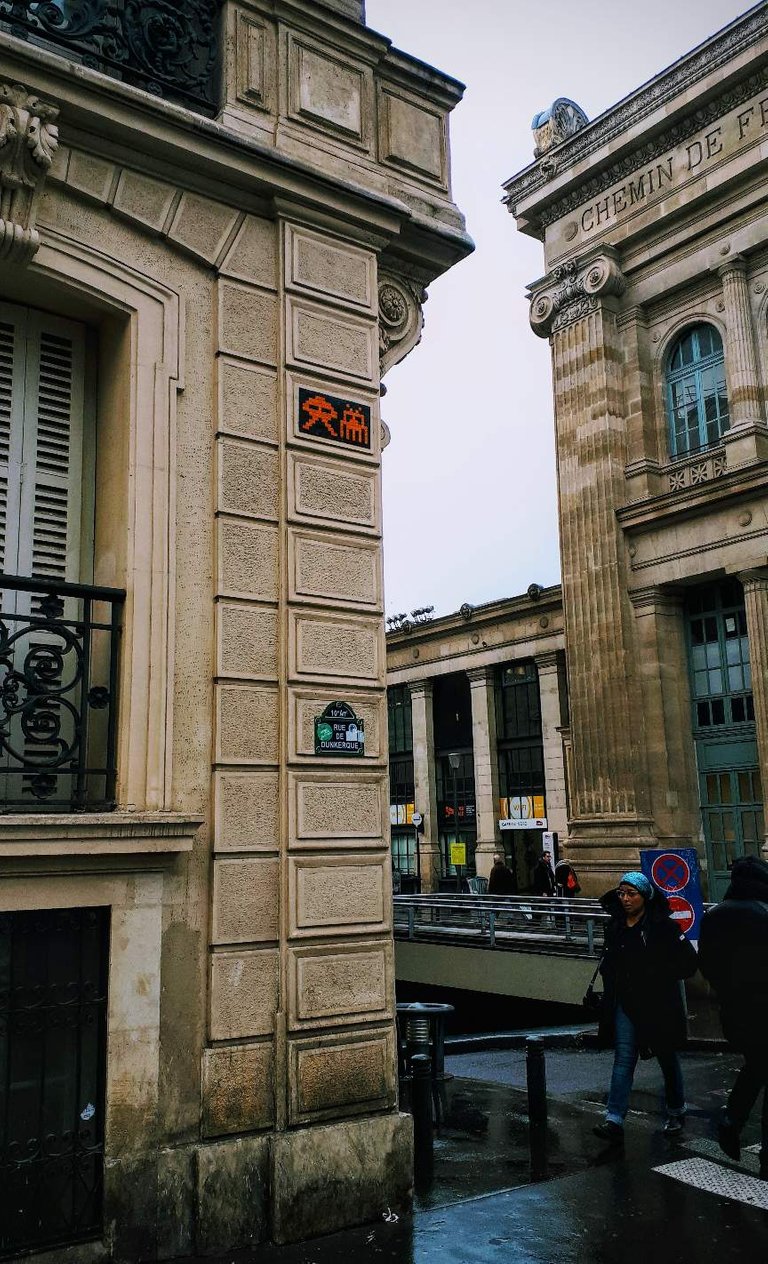 A short time later I stumbled upon the next little alien on a street corner just a few blocks away. This orange alien is actually one of my favorites that I've seen so far. I like the vibrant orange and the blue border and of course its curious little eyes.
For a closer look, see the title image above.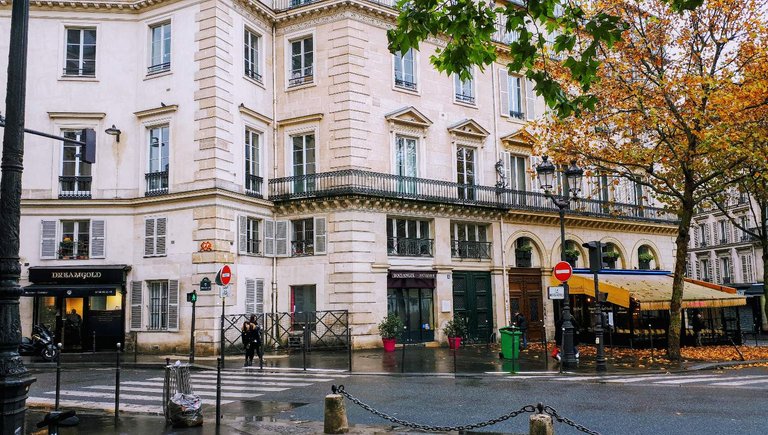 The next piece was located on the end of a bridge that crosses the Siene river. This classic video game reference, which I believe is Zelda finding a key, looks quite old to me.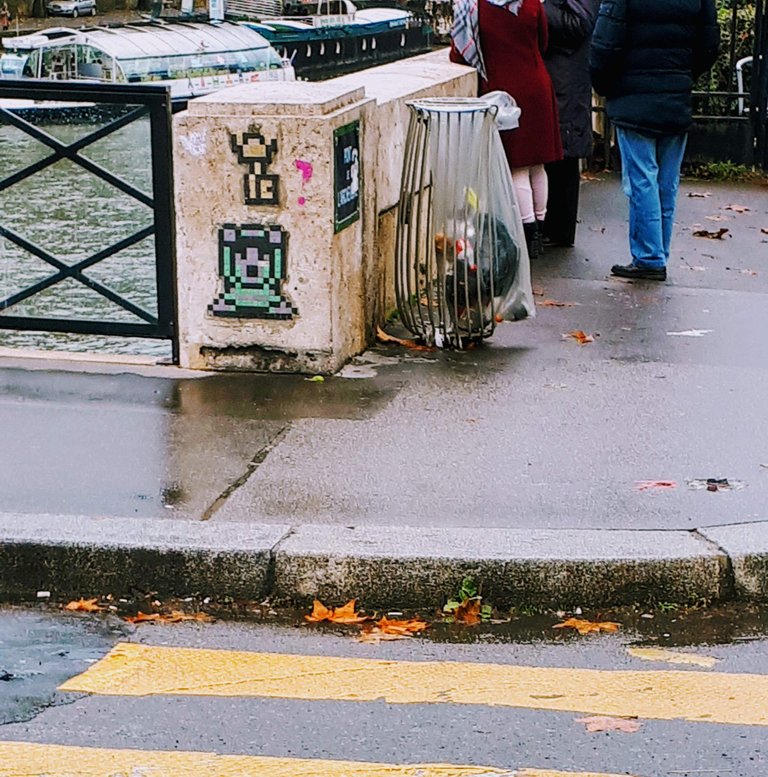 But because Invader creates his art using weather resistant ceramic tiles that have been cemented to the wall, his work tends to survive the test of time. That is as long as another person doesn't come along and try to pry it off or spray paint over it.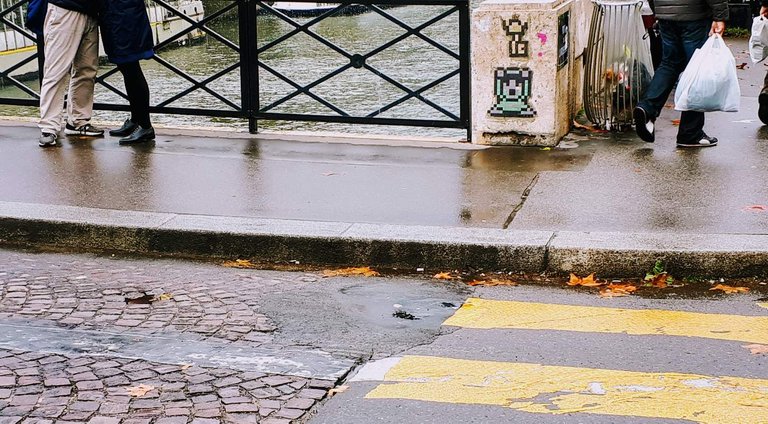 On this particular trip I was with other people so I often wasn't able to get a close up look at the artwork. Many times I would spot a piece from across the street and snap a quick photo before trying to catch back up with the group.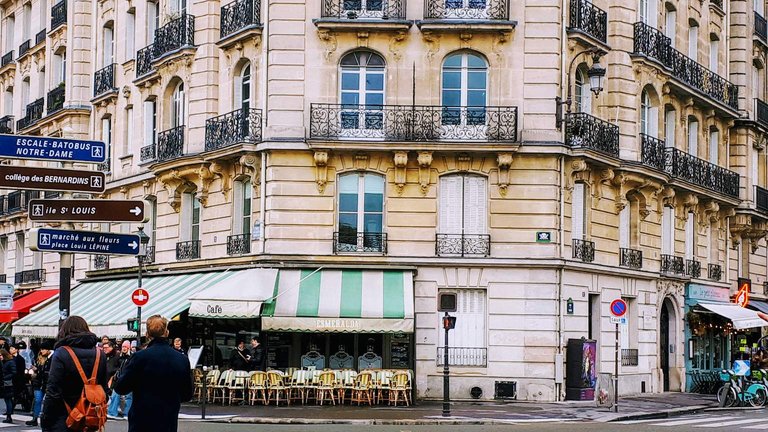 I was able to zoom in a little on this one. As you can see the white space invader is sitting against a blue background and green border. It is meant to mimic a Parisian street sign. This particular alien is trying to camouflage itself into its surroundings. Smart little creature.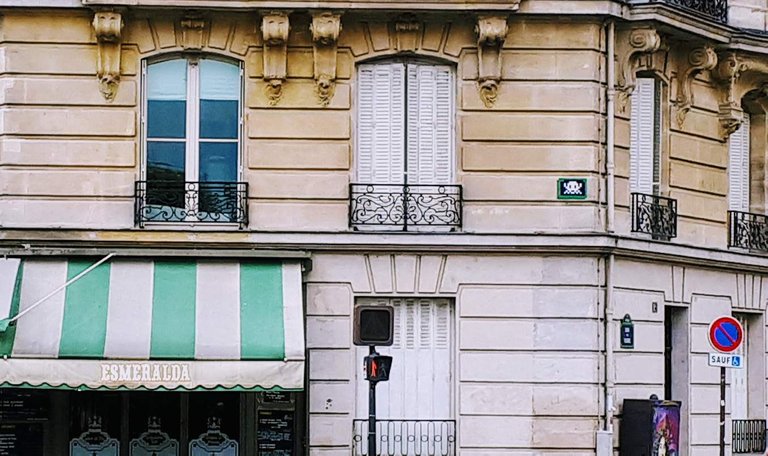 It wasn't easy but I managed to spot the alien in the next image from across the river. The whole experience of searching for Invaders artwork is kind of like a game for me - much like a treasure hunt.
Can you spot the alien in this next image?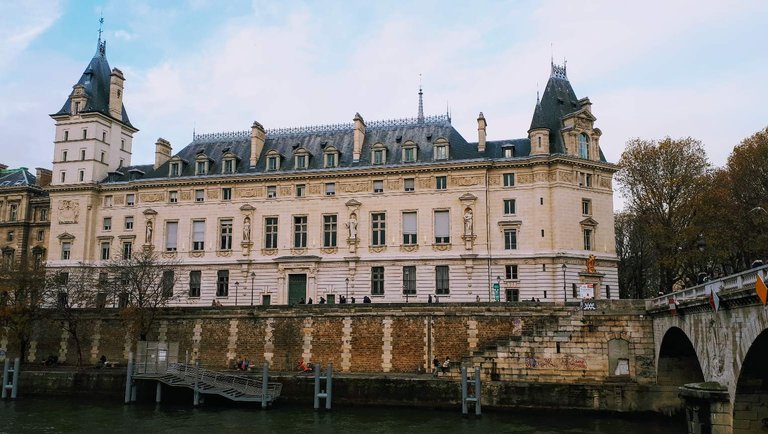 Here is that same piece of artwork but zoomed in. This piece again, looks much older to me.
Even though someone has spray painted over it, it is still quite recognizable as a classic space invader. It is also quite large. To the left of the image is a couple standing on the stairs below which provides a rough scale. The art is a little closer to the camera than the couple but still, you can see that it's quite large.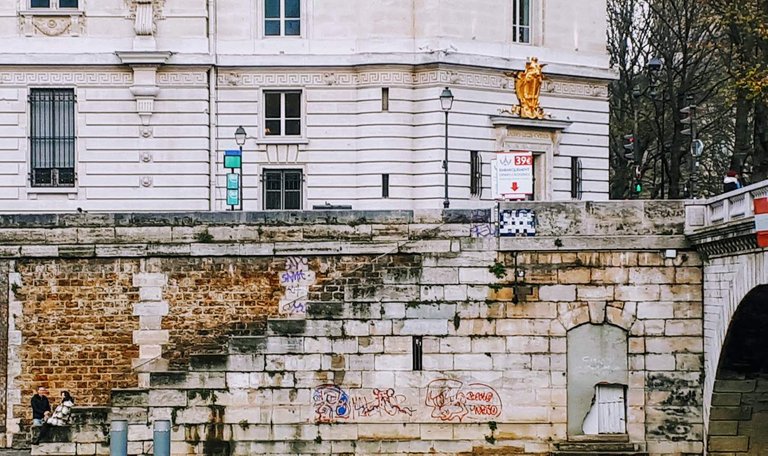 The next image was taken from the same location as the previous one but in the reverse direction.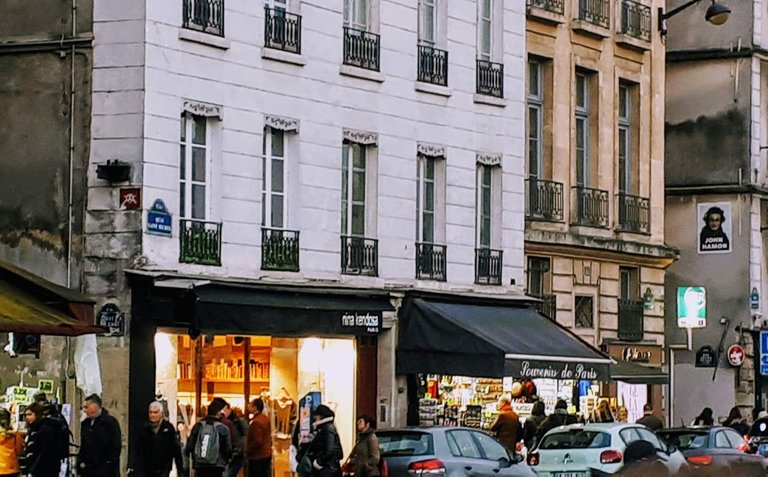 It's another classic space invader that has probably been there for years, maybe even decades?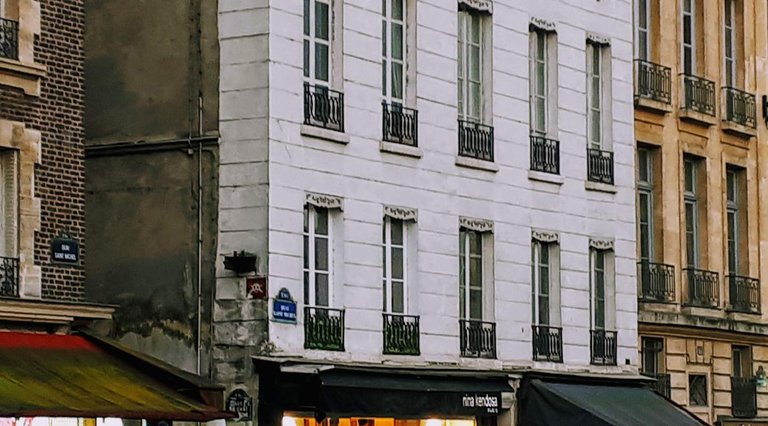 And that's it for my second Invader spotting. All in all I was quite lucky to see several pieces around the city. Thanks for reading.
Posted using Partiko Android