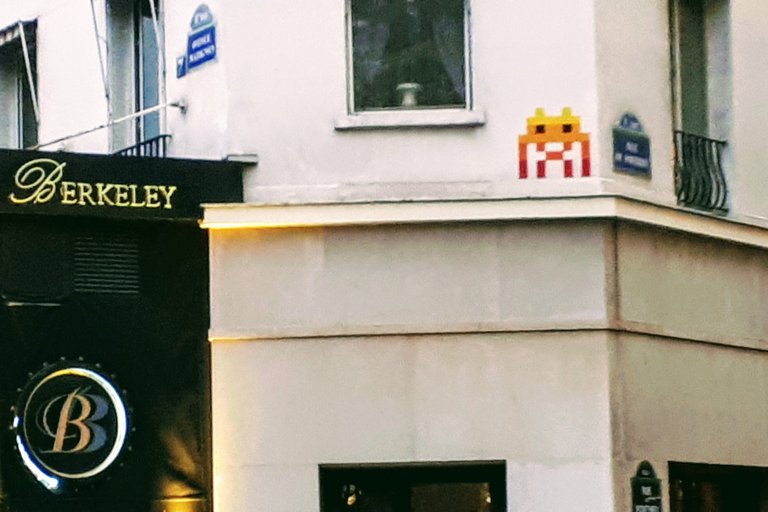 ---
Standing on a sidewalk in Paris, a small orange pixilated alien catches my eye. Its perched beside a large blue street sign on the corner of a building. It sits approximately 12 feet off the ground, placed there by someone with a ladder or maybe with help from a friend who offered them a boost.
I turn to my wife and point out the artwork to her. Its made from ceramic tiles that have been glued or cemented to the outside wall of the fancy restaurant. The small figure sits there quietly staring down at us.
"See that little alien up there?" I say pointing it out. "I'm pretty sure its by a street artist known as 'Invader.' He does pixilated artwork based on old 8-bit video games - mostly the space invaders game. I think he is from France somewhere."
I remembered learning about "Invader" from the street art documentary "Exit through the gift shop"which was produced and directed by the mysterious artist known as Banksy.
The next day I got on my laptop and did some minor investigating. Sure enough, I learned that "Invader" is in fact based out of France and that he does have many art installations within the city of Paris (along other locations).
Artists like invader post most of their artwork illegally, usually under the cover of night and often wearing masks to hide their identity. One thing that is great about many of the established and well known street artists though is that they often authenticate some of their work on their website (link posted below) which makes learning whether or not an artist has been to a specific area pretty easy to determine.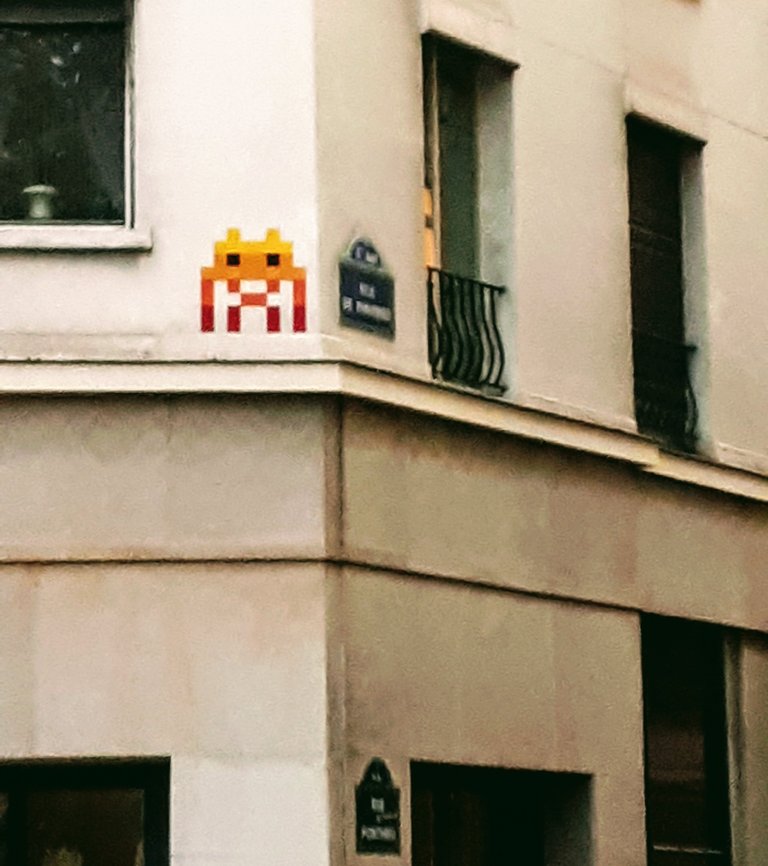 My brief and somewhat minor encounter with Invaders work in Paris has since sparked a growing interest in street art for me, and the more that I learn about the work of Invader himself the more interested in it I become.
For instance, did you know that in 1998 Invader became the first and only living artist to be featured in the world famous Louvre museum? The Louvre Invaded.
How about that Invaders work has actually been to space and that one of his art pieces has even found a permanent home adhered to the outside of the International Space Station? The ISS invaded.
Its information like this that makes Invaders work facinating to me. The artist has invaded over 78 cities across the globe and has installed over 3700 pieces (most of which have long since been removed, I'm sure). And the game isn't over, despite being in his 50's, Invader continues to be active, posting his work around the city even to this day.
Philosophy of Appreciating Street Art
---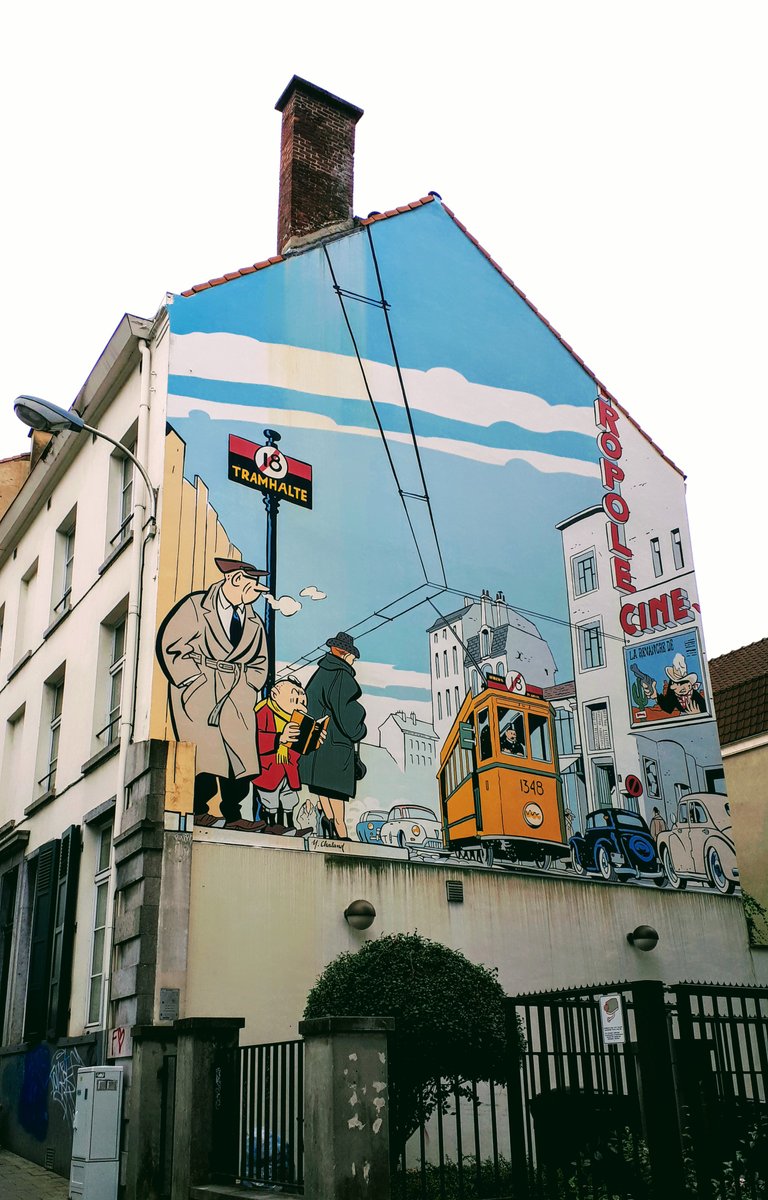 Mural seen in Brussels Belgium. Artist unknown.
When it comes to art, one thing that is certain is that there is an abundance of it in this world. There are millions of artists today practicing a variety of art forms. In fact, each of us probably sees dozens of pieces of artwork everyday of our lives. We see it when we enter homes or office spaces, when we go online or when we go shopping. On rarer occasions we may see artwork in museums or galleries. We also see artwork in the streets, painted or adhered to walls, train cars and fences among other things.
Note. When I refer to "street art" I am referring to the unsanctioned works of art that are typically found outdoors in the streets. Specifically the ones that represent beauty and craft, which are not to be confused with the messy graffiti tags that look like they were put there by a child with a spray can.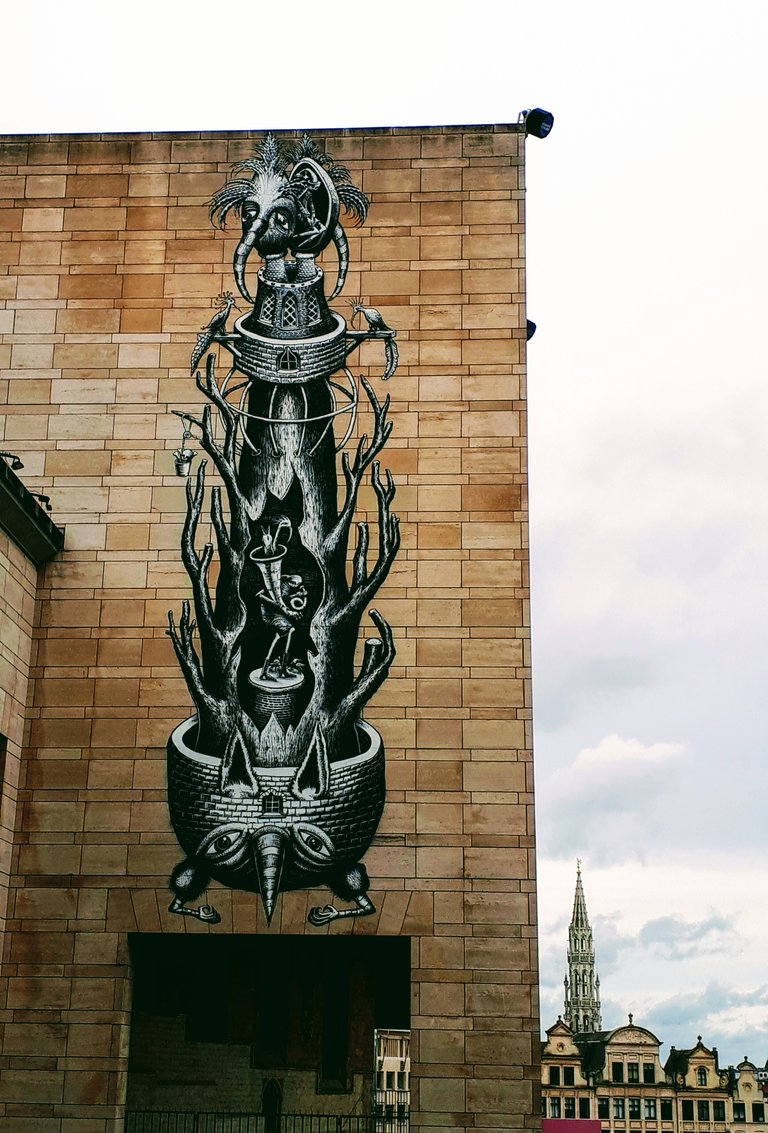 Mural seen in Brussels Belgium. Artist unknown.
When it comes to street art specifically we often don't even notice it and when we do, we likely don't pay it very much attention, even when it is something truely spectacular. But why?
I personally think that our general lack of caring for street art has a lot to do with the natural abundance of artwork in society. There is so much art out there that we dont really have to appreciate it. But maybe we should?
What I have come to realize is that one way to appreciate street art is to follow the work of a specific artist, one that speaks to you in some way. Following an artist makes you appreciate their work much more because you naturally get to know more about who they are as a person, about their philosophy and what their artwork represents to them.
More importantly though, when you follow a specific artist you naturally begin to realize just how scarce their work really is and how challenging it is to experience in its natural setting. In fact it is often easier to experience the work of a famous dead artist like Leonardo da Vinci, Monet, or van Gogh, then it is to experience the work of a specific living street artist. For instance, to see the work of any of the former masters that you particularly admire, all you would have to do is look up where their work is being held at the moment and then travel to that location to view it. After doing so, you can rest assured that the artwork will be there in that exact location when you arrive. On the other hand, seeing the work of a specific street artist has the added challenge of requiring you to just happen to stumble upon it by chance. Even if you do happen to know exactly where a piece is located, you still have to hope to god that it hasn't been removed or vandalized before you get there.
This has to do with the obvious fact that much of the artwork put up by street artists gets taken down almost immediately, especially if the city bylaws prohibit street art in the city or if the artist becomes famous. In the latter case, there is actually a growing trend of people removing artwork by famous street artists in order to sell them.
For instance, imagine trying to see a piece of street art by the famous artist Banksy. Most of his work is removed from it's natural setting by greedy individuals trying to make a profit. For that reason, the time that the work exists on the street is extremely limited. As such, you would probably have better luck trying to find a unicorn in the forest then you would at finding a Banksy on the street where the artist specifically intended it to be seen.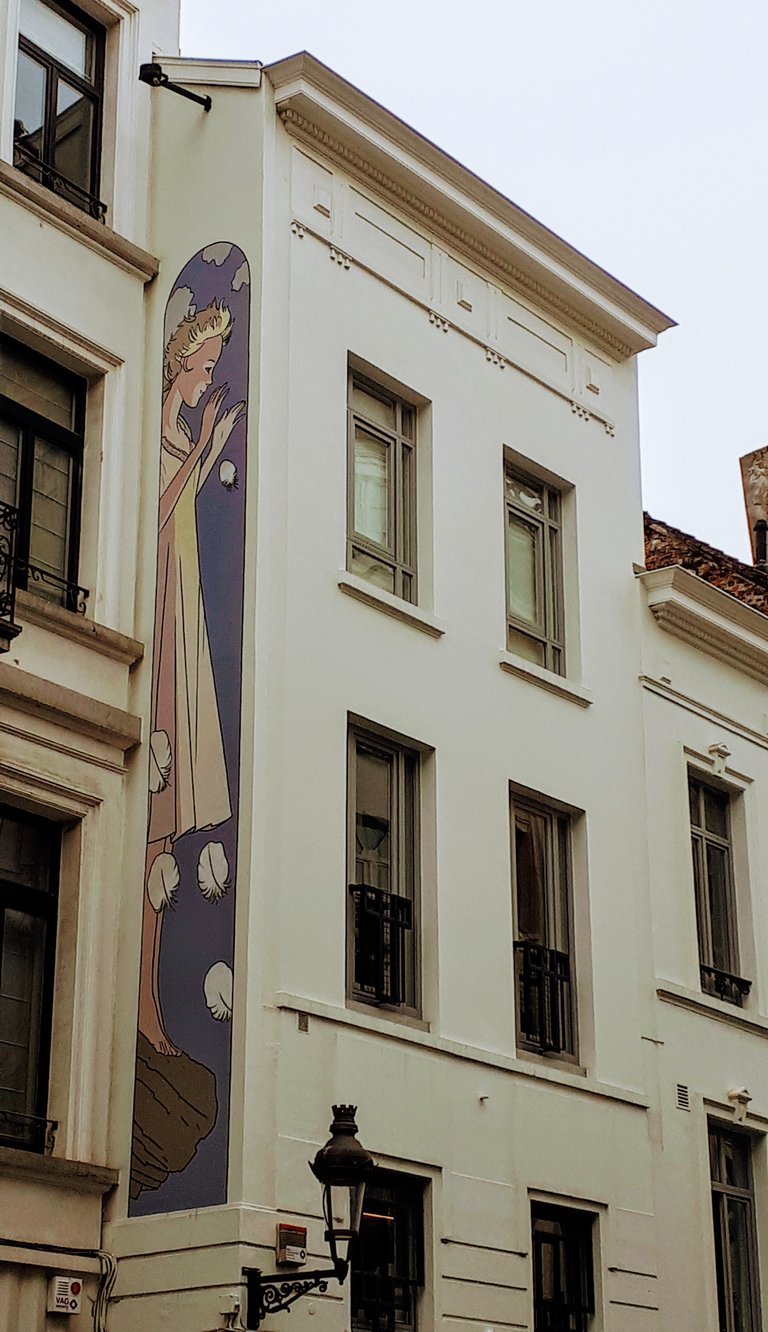 Mural seen in Brussels Belgium. Artist unknown.
Lastly, when you follow a specific artist you also get the thrilling sensation that comes from hunting for it. There is something extremely satisfying about finding something that is relatively scarce that you were purposely looking for. You get that sense of accomplishment at having achieved a particularly challenging task or goal.
Another thing that is neat about Invader is that he takes this idea a step further by actually gamefying the hunt for his artwork. He has created an app that people can use to compete to find his work in the streets. Players take pictures of his invaders using the app and they collect the points that are associated with each piece. It's just another fun way to experience and appreciate the artists work.
Brussels Invaded
---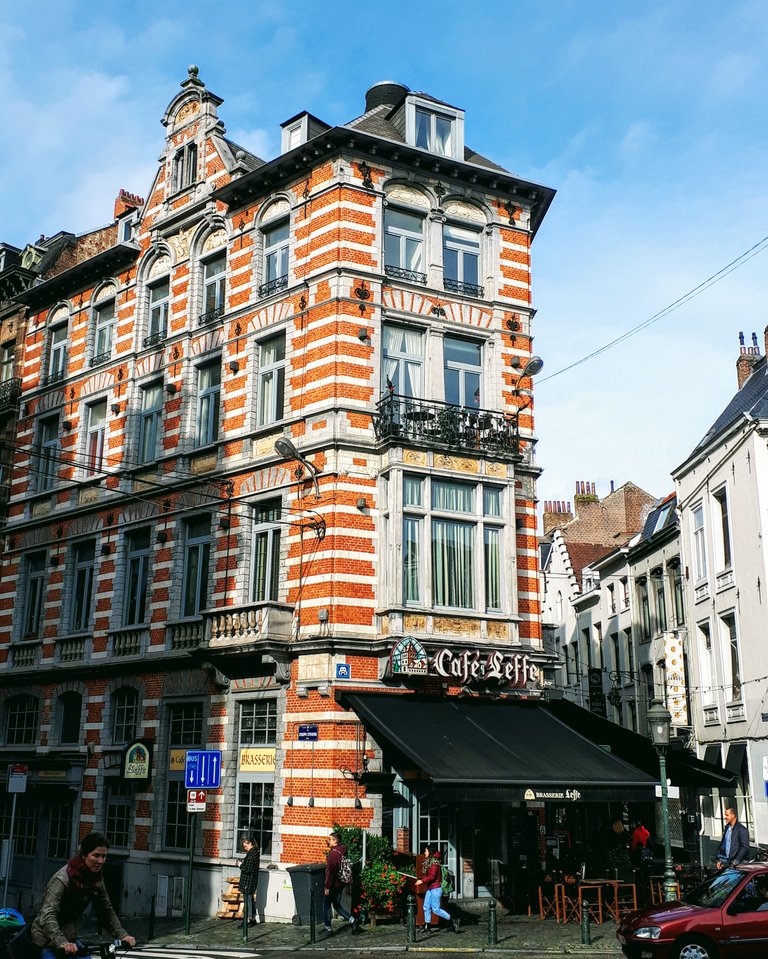 Before heading out on a recent trip to Brussels, I quickly checked Invaders website and saw that he had been to the city on numerous occasions. From what I gathered he had placed 50 pieces of work around the city, so I knew to keep my eye out. I was actually quite lucky enough to come across a few of them.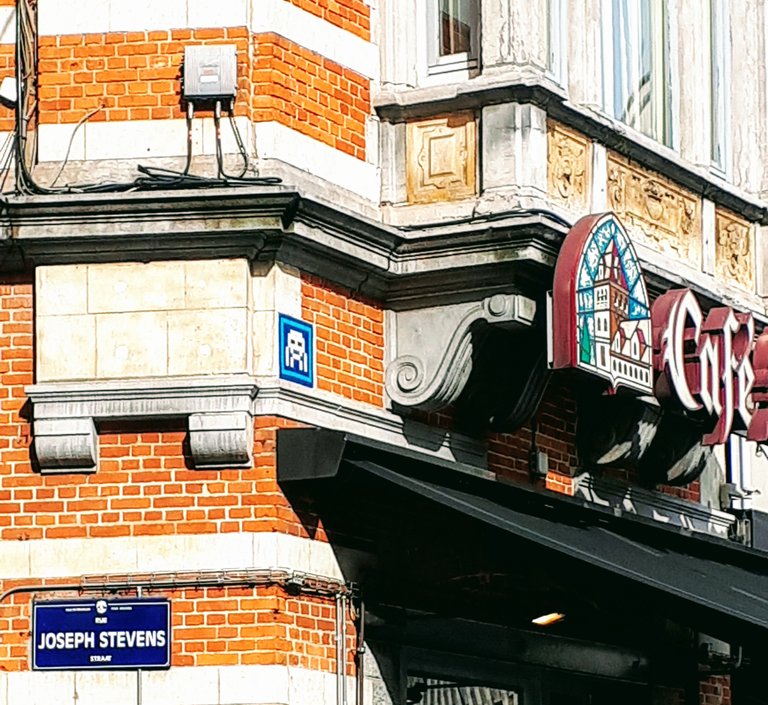 This one sitting above a pub in one of the central squares of the city was actually authenticated on his website. You can check it out for yourself by clicking the link found earlier in the article.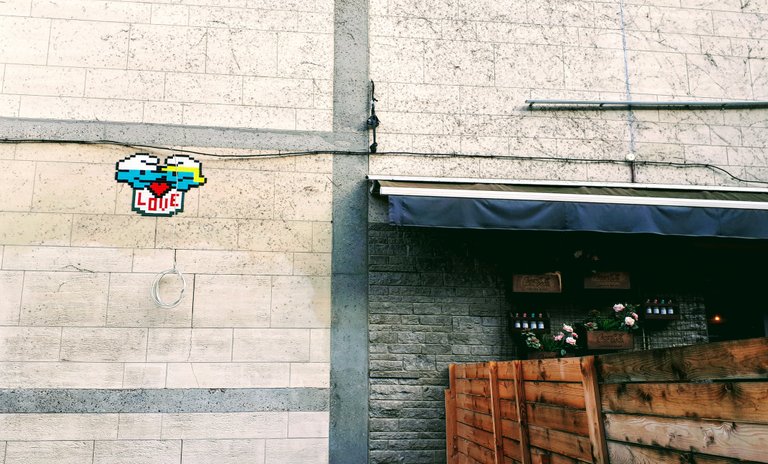 One thing that I've noticed about many street artists is that they often try to incorporate some of the local culture in their work. I personally see it as a sort of appreciation for the area and as a hat tip to the locals.
The Smurfs were created in Belgium, so naturally Invader posted a few images of Smufs around the city.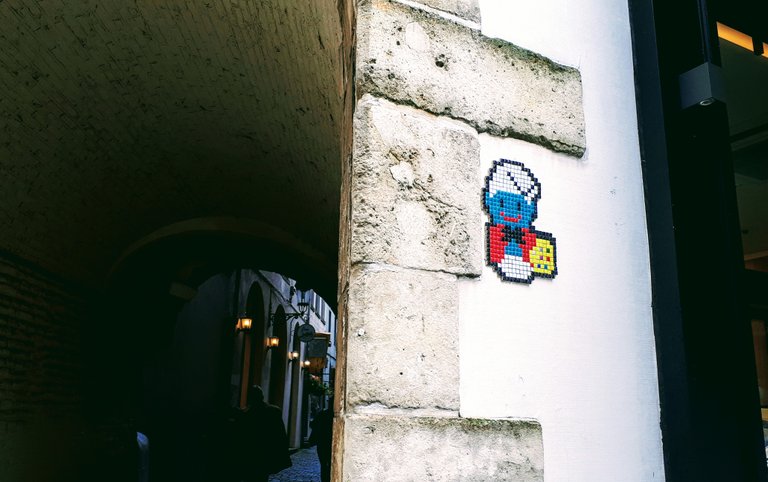 I suspect that this next piece (above) is not actually the work of Invader but rather from a copy cat or perhaps an admirer. For one thing the placement of the piece seems wrong to me. It was placed at head height which means that it was relatively easy for the artist to put it there (no ladder required) and that it could easily be removed by anyone wanting to do so. It is also in too obvious of a location. Its too in your face with not even so much as a hint of subtlety. Most importantly, the image is not pixelated which is Invaders signature style. This image is actually just a mosaic. For those reasons I seriously doubt that this is an Invader.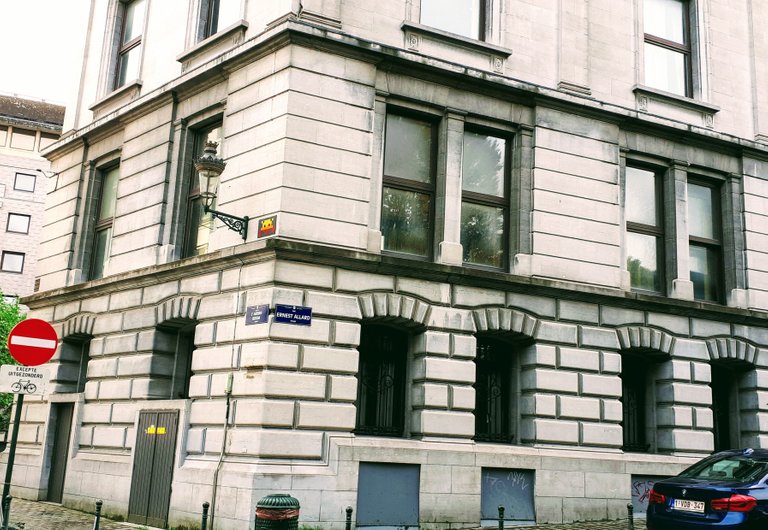 Here is another signature space invader sitting nice and high on the corner of a building. Another silent watcher.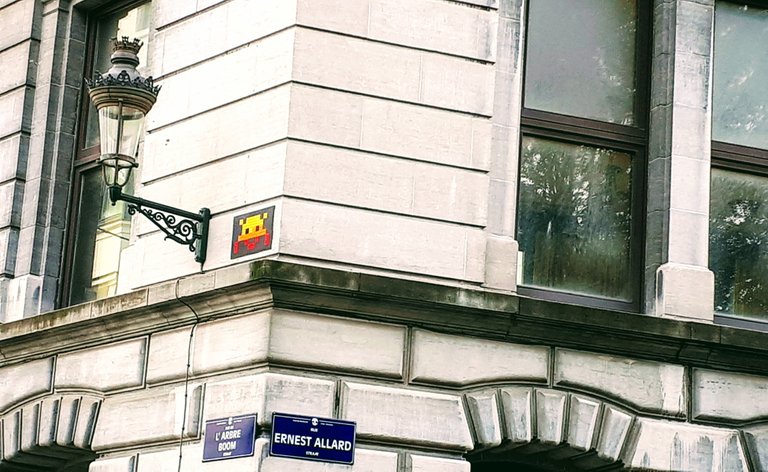 The same image just a little closer.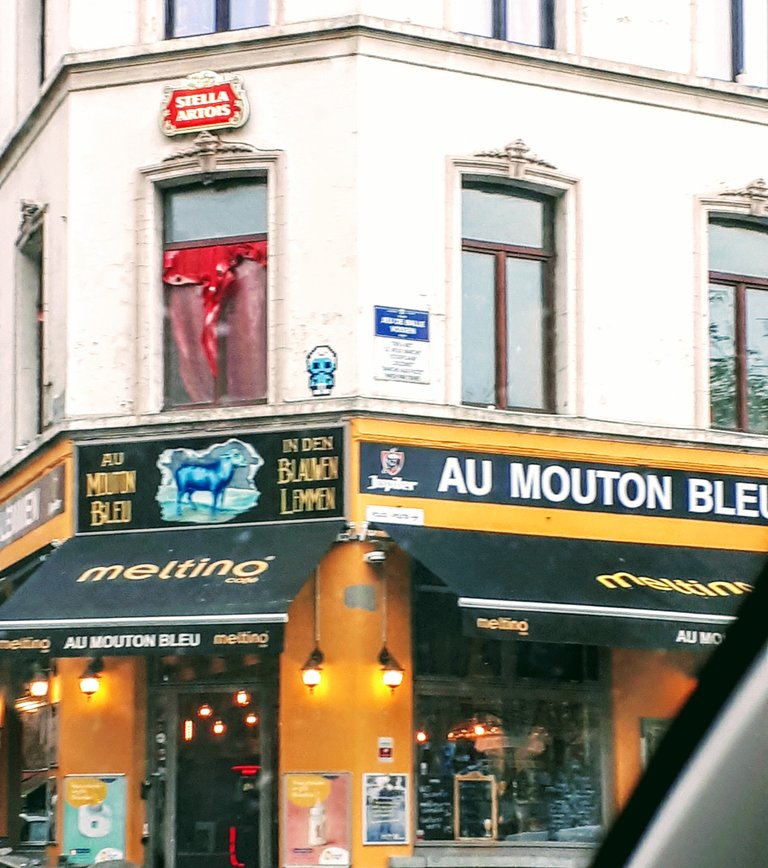 Here is another Smurf that I happened to see while were were driving out of the city. We just happened to stop at a light which gave me just enough time to snap a photo. It's a bit blurry which is unfortunate but still very much recognizable as an Invader.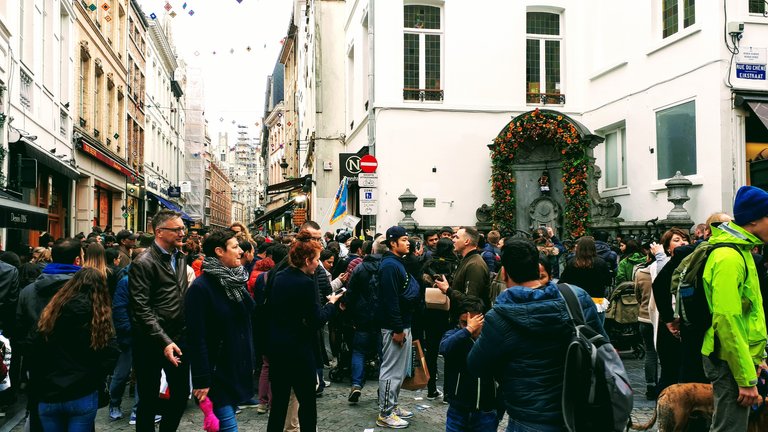 I wasn't originally going to post this image because it doesnt contain an invader. However, this image shows just how difficult it can be to view street art. This location is at Manikin Pis which is a famous fountain of a baby boy peeing. The wall above the crowd, to the left of the window, used to contain a space invader which was also peeing (another hat tip to the local culture). The piece was unfortunately removed by the time I got there. It can still be viewed on Invaders website though.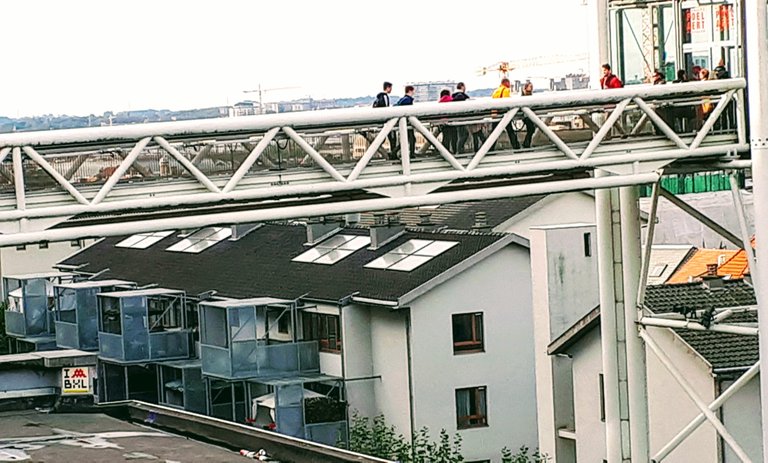 Lastly, this image is another signature of Invaders. It is his message stating "I invaded Brussels." It was in a cool spot overlooking much of the city.
Thanks for Reading