Read "Further deserted beaches on the south Cape coast of Africa once home to Stone age Bushmen tribes " on TravelFeed.io for the best experience
---
Welcome to another edition of The Shape of The Cape with your tour guide Julescape. There are no words to describe the awesome splendor of this remote rocky beach that I've recently discovered. Still I shall try to put into words the magic of this unknown hidden bay on the Garden Route region's rocky African shoreline as it collides with the Indian Ocean way down south.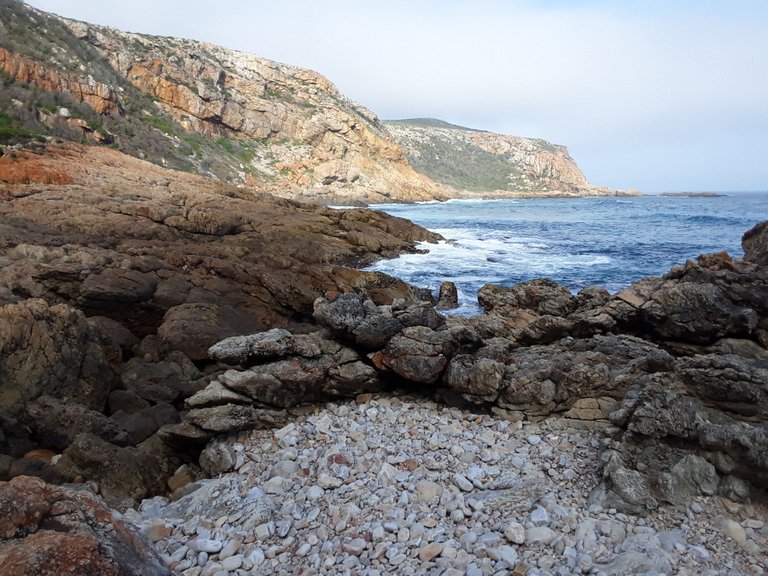 There is just such a vast stretch of wild shoreline, and the vegetation gives it a kind of tropical island feel too. This place could easily nurture a band of humans who might need to survive, if stranded on this uninhabited coastline, perhaps as a shipwrecked sailor from the misty past. Or perhaps as a Khoi Bushman, like those who roamed here along these shores a few hundred years ago when the Dutch arrived to replenish water for their ships as they plied the trade routes to the East. The Dutch East India Company, as it was known, really ruled the waves for a while back around 1652, when they first landed at the Cape of Good Hope, just 550km to the west.
The Dutch were of course preceded by the Portuguese, who first rounded the African southern coastline in the late 15th century already. There was an overland trade route to Asia from Europe, but the trip was arduous and was in fact closed in the 1450s when the Ottoman Empire conquered the last of the Byzantine Empire. Trade was and still is the foundation of growth and expansion for a nation. It was this epic discovery by Diaz of a sea route to Asia that also prompted Columbus to look for his own trade route to the East by going west. He had the right idea but didn't realize that he would sail into America before making it to Asia. It's fascinating to see how events unfolded with one leading sailor's discovery leading to the next in that crucial time of global exploration.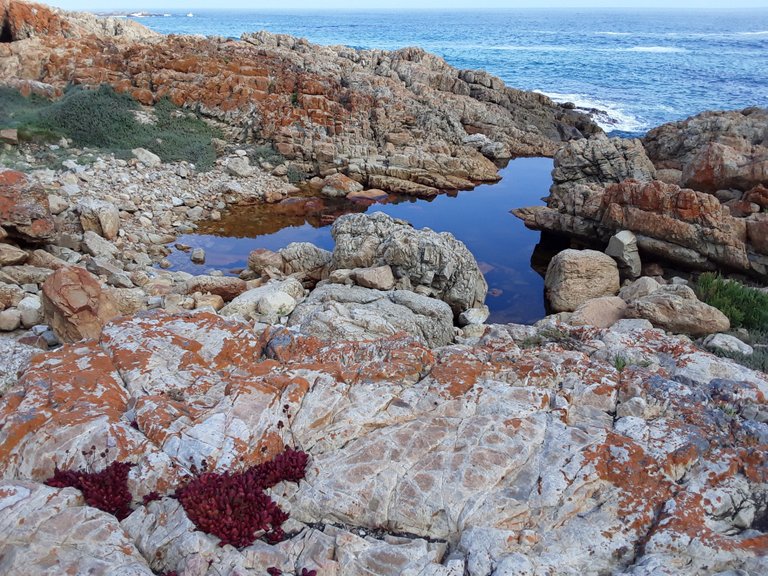 Bartholomew Diaz was the legendary sailor and first European mariner to make it around the Cape, leaving small monuments but also replenishing his ships at this kind of beach, where a fresh water stream flowed all the way to the sea. And this beach that I've accessed today has just such a stream, flowing even now in mid summer as I write this, thanks to an extra abundance of rain this year so far. Curiously Captain Diaz was sponsored by King Joao ll who happened to be passionate about a legendary or mythic character called Prester John from the 12th century, who was supposed to be a leader of a Christian community somewhere in Africa who were reported to have found The Fountain of Youth. Now that would be an interesting find.
Diaz is reported to have battled the storms and gale force winds along these African shores and eventually landed just a few kilometers from where I am today, and he actually also met up with the local indigenous "Khoikhoi" or Bushmen, who threw stones at his passing ship. You can imagine the sight of the one stone age culture in their skins meeting the iron or bronze age culture of Europe, with their massive sailing ships. These waters can be treacherous sometimes and it was Diaz who named this coastline the Cape of Storms.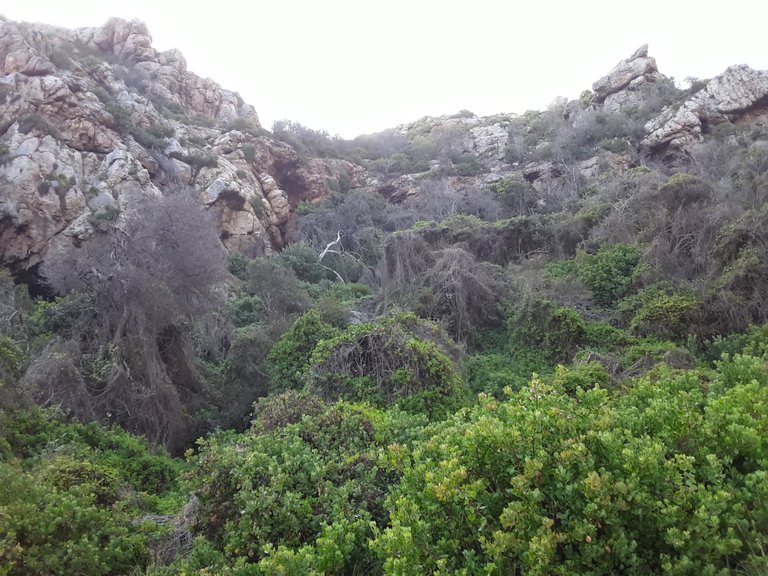 Now the river gorge that I followed to climb down to the shoreline today is old and well established, but the rain cycles have dried up over the past few decades down here on the arid shores of the African south. Yet there was a time when this area was lush with indigenous forest. Amazingly the forest attracted more rain and the rain fed increasingly lush forest. However, most of it has been cut down by now, and perhaps only 3% of it remains. I find it hard to fathom but this region was famous for its timber and wood craft for decades in the previous century. Now the only forest you see all over is pine plantation, and the irony is that it is now owned by the Germans. A big German company owns many kilometers of pine crop all along these shores, having replaced the indigenous forest. You do still get bits of the old forest though, and I can show you some beautiful rich and moist forest walks that take you right to the cliff tops overlooking the ocean way below.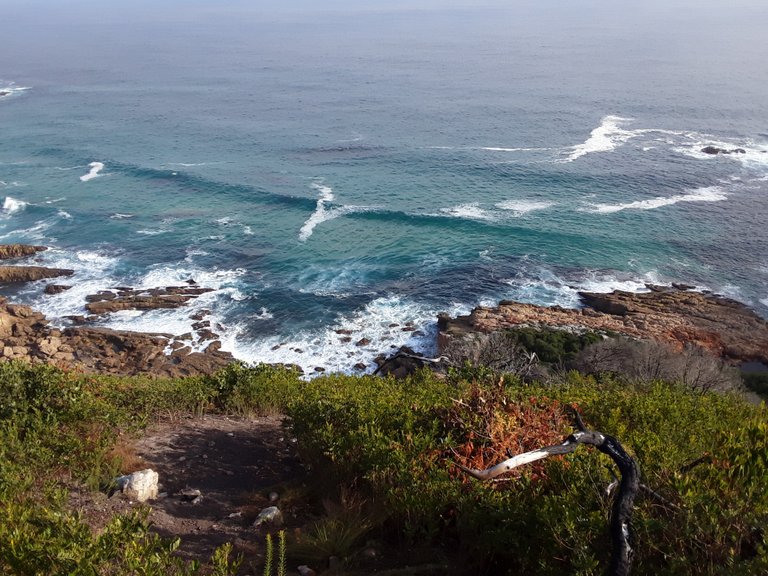 For today I have made it to another desolate and totally untraveled rocky beach location, having climbed down the slopes. It was more of a scramble, not too hard. There are small paths where fishermen might sometimes pass by in groups of three or four once every few days from what I can make out. In time development is creeping in though, in the background and in no time we will have private houses popping up near the very cliff tops that you can see in the video clip today.
Still, for now it is deserted and absolutely intriguing with all the rounded rock pools in this particular little bay. It is a diver's ideal, if you enjoy snorkeling about looking at the marine life, as opposed to hunting it for food. The rocky pools are more prolific at this part of the coastline and I can imagine myself setting up camp here for days or weeks if it were necessary beside the fresh water stream. The suburbs are encroaching though, so this pristine little bay may become more popular in the near future. I just seem to be a rare odd explorer who frequents these hidden places, like an anomaly in the deserted landscape. More will follow in coming months though, so I capture these photos of the pristine and deserted and untouched natural terrain for the moment, before history shifts into the next chapter and changes the dynamics for ever.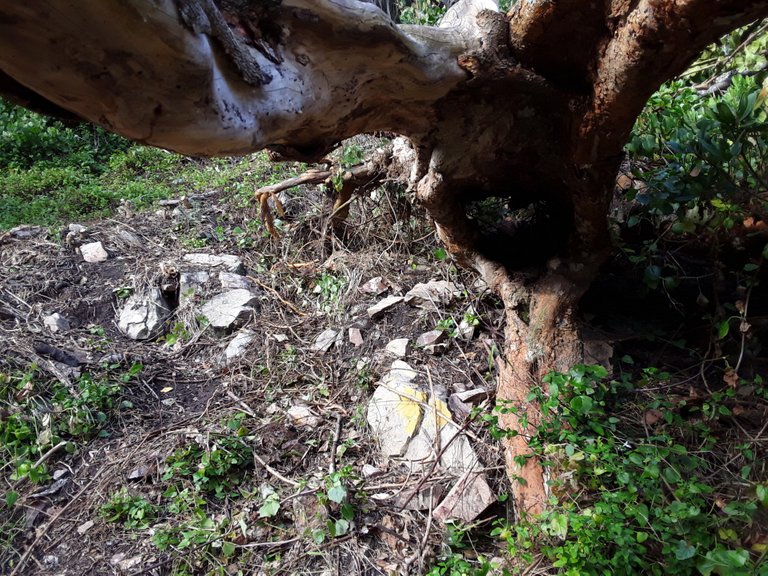 So if you ever get the chance, then come and explore the south Cape coast of Africa to see the very same rocks and cliffs that Diaz saw as the first ever European to sail along these shores, which probably looked much the same over 500 years ago. Little has changed on these cliff and rocky beaches it seems. It's a timeless landscape...for now.
---
View this post on TravelFeed for the best experience.