The best way to experience NOLA, in my opinion, is to just walk around and talk to the people. After doing a tour or two, you get a bit of the history, so a good walk around will get you the feeling of being part of that history by seeing the old houses and architecture and various items in shop windows.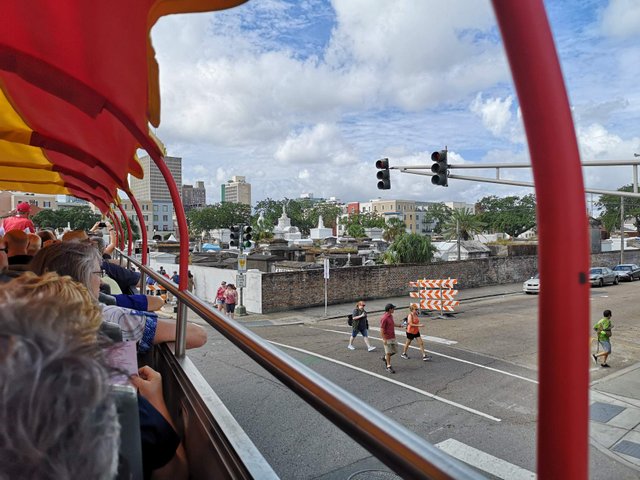 You can also take a tour on the Hop On Hop Off bus if you like. Taking this tour, as we did, you get to quickly see what's around and the places you want to stop at that interests you. Above is a distant picture of the St Louis cemetery. That's the first of three actually. One of them was undergoing renovations, another we were told not to visit for our own personal safety and this one we can visit during the day with a tour guide for $20 usd. More on that in another post.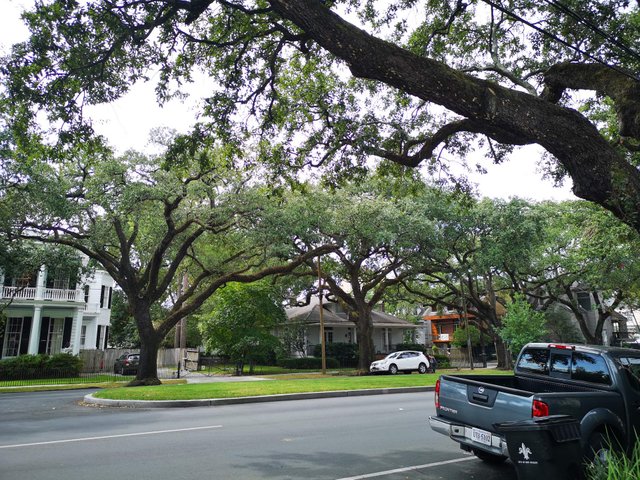 We got off the bus in the garden district, an area more clean and calm. We decided to walk around and enjoy the various architecture. Beautiful homes and oak trees filled the streets, but the reason why I am sharing this picture is to show you the medium. Nothing fancy to those that don't know the history, we see these everywhere and they are placed in other areas in NOLA of course, like Canal street.
Here, in NOLA, they are called neutral grounds, where those who hated each other would meet and not be allowed to fight, like the French and Americans. I thought it was interesting that they kept this part of history with them and really pointed this part out. Canal Street plays a bigger role, such an important street as it divides the French from the rest. All french named streets stop at Canal and even though it still continues through, it starts as a different name on the other side of Canal. At one point it was the Americans that owned this french based town, as did many others. They didn't like that but seeing as to how they had no choice, they said fine, but you stay on the other side.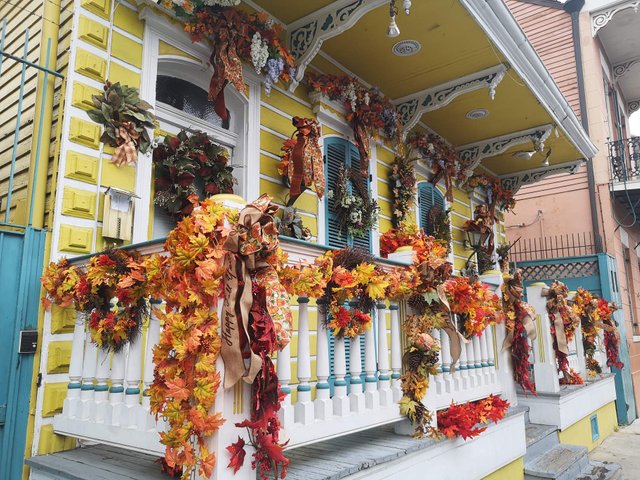 It's not just the difference in street names that we see but also how the buildings were made. You can tell which house is Creole - very colorful houses, which is German, Irish, Spanish etc.
So really take to the streets to experience this part of history.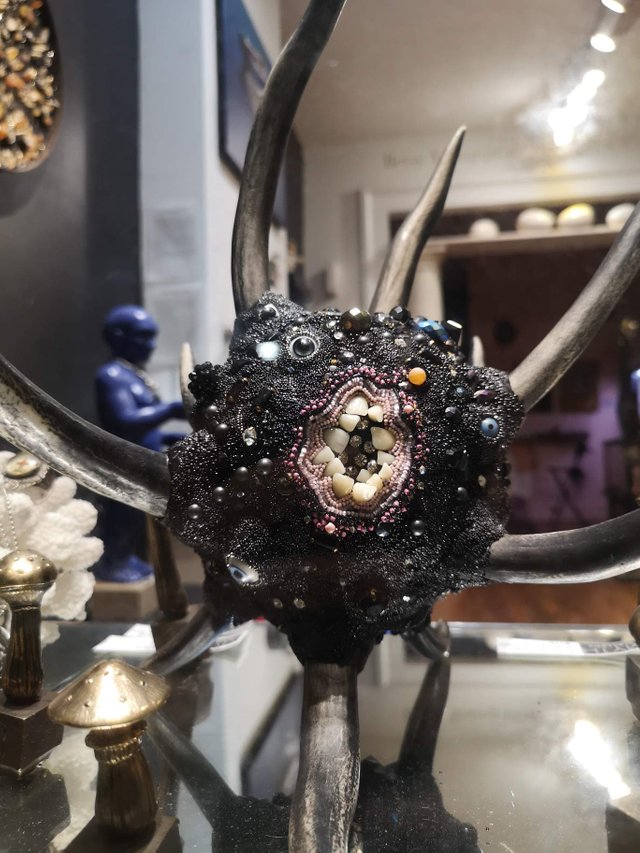 Next, check out the stores. You'll see a variety of souvenirs like alligator heads and venetian masks and other weird things like that thing above.
Here's another one: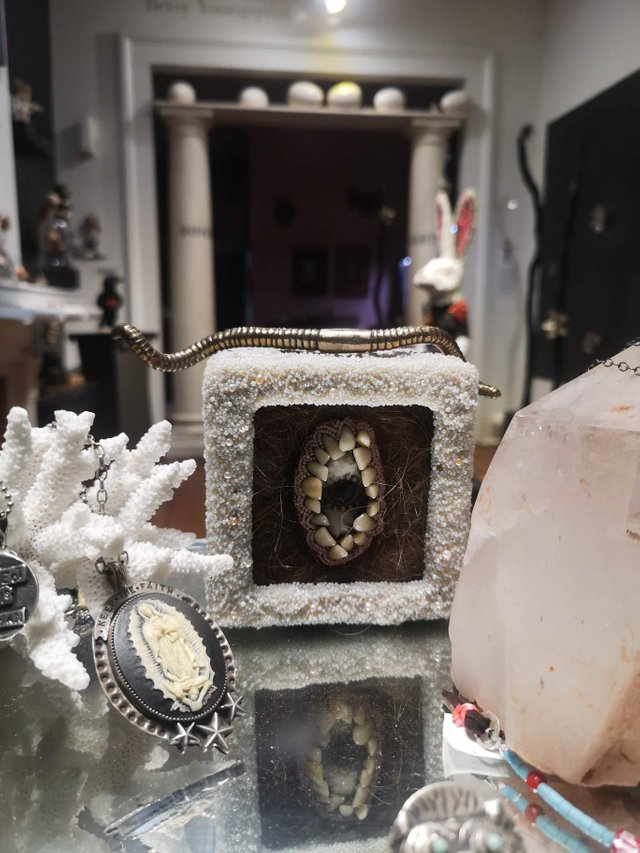 Seriously, I want to know if those teeth are real.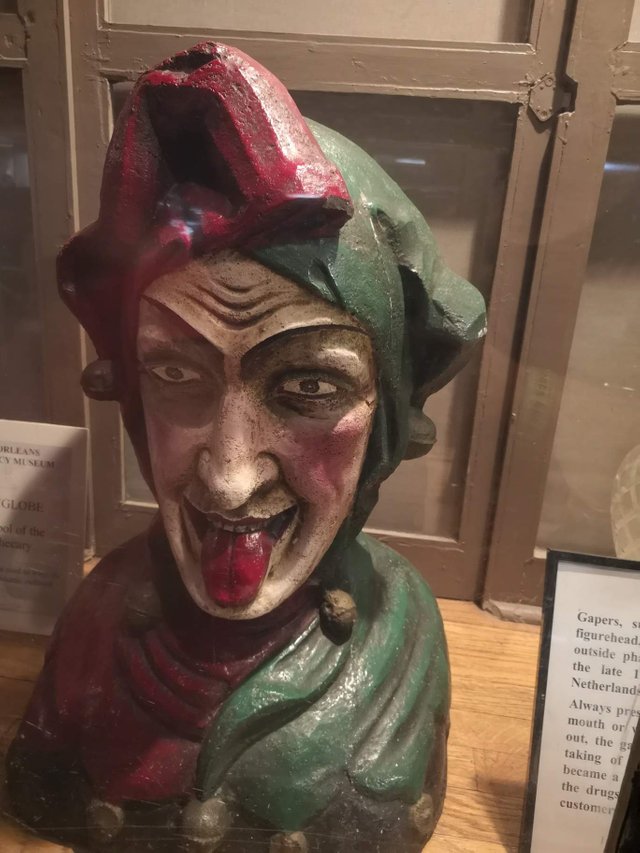 Ok this thing has me laughing. This is called a gaper. As written beside it, it says it was displayed outside of pharmacies in the late 16th century in the Netherlands. Always shown with the mouth open or tongue sticking out like this one, they represented the taking of medicine.
It became recognized as the symbol of drug stores, intended to lure people in.
I was told that the open mouth was meant for pharmacies and the fun part, the rogue sticking out meant for drugs...you know the ones that are not cough syrup lol.
Is it true? I don't know, it's what I was told.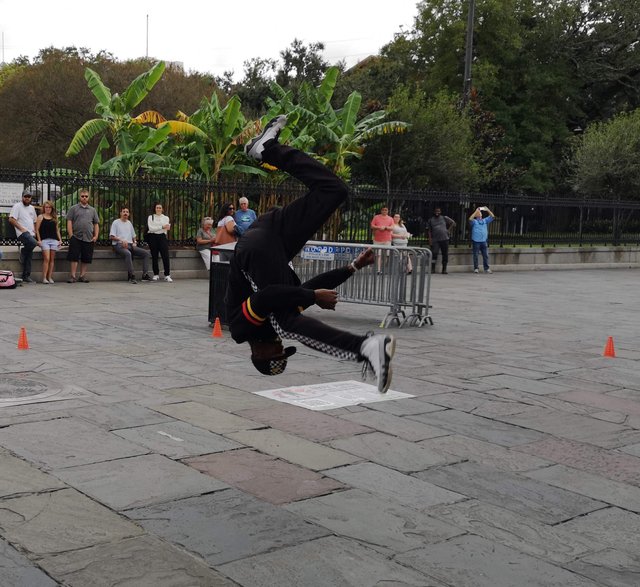 Get bored after walking around so much? Hang out in the French quarter for some street entertainment. There are tons of these people. Artists, dancers, musicians, statue people, poets, singers, you name it.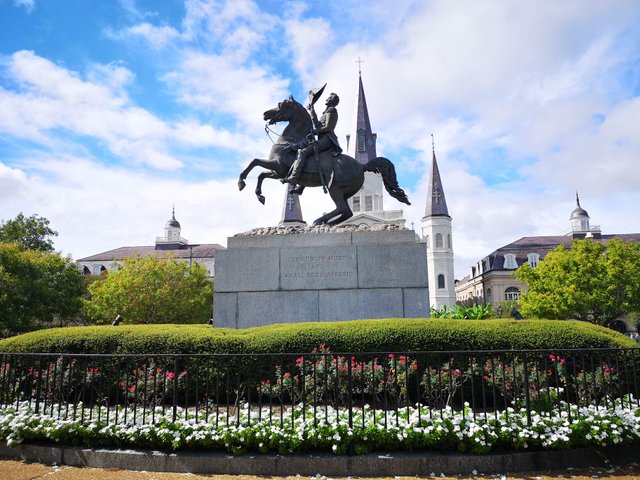 You can relax in a beautiful park, the exact same place where people were hanged for their crimes back in the day.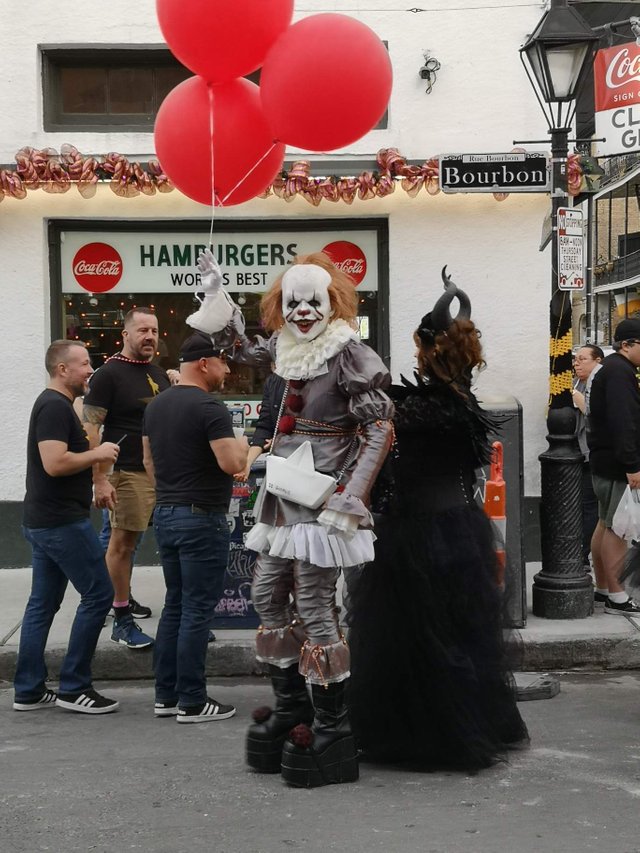 Or you can join the crazies on Bourbon Street!
Oh Bourbon Street, where everyday is a party. Monday to Sunday you name it. The people here are just having fun walking and drinking and doing whatever their hearts desire.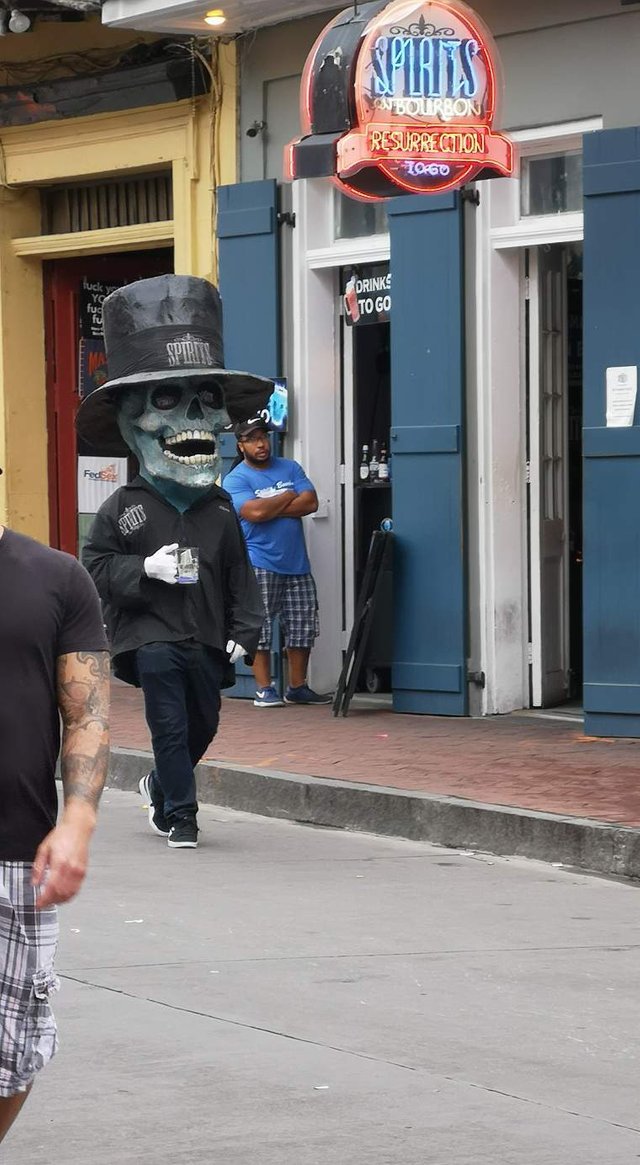 Did I mention you can walk the streets with an alcoholic beverage?
Oh yes, yes you can!
And did I mention how much alcohol is in those beverages? No? Well, let me tell you. If you are someone that can drink easily then this is a treat. If you are some that doesn't drink much and the taste of alcohol bothers you, well you are in for a real treat.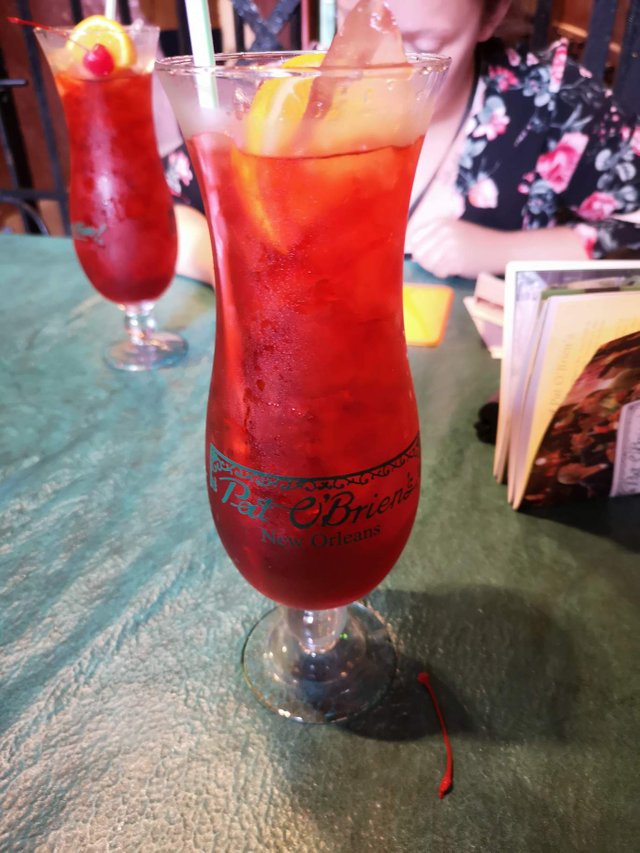 How many ounces do you think is in this drink?
4!!!! 4 shots of alcohol. Who knows maybe more, depends on the bartender, but always a minimum of 4!.
So for someone like me, who doesn't drink so much, this became a hard challenge. Although for my friend, Mandy, wasn't as hard for her to drink. She even ordered a second one.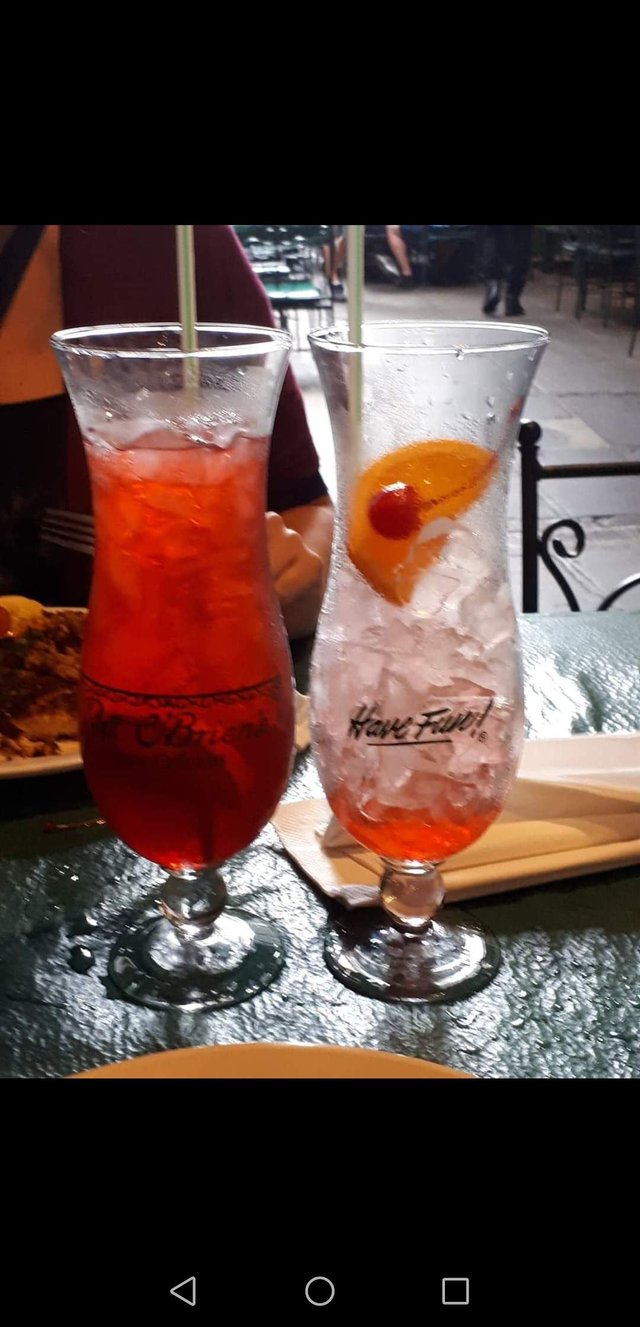 Can you tell which ones mine? Lol
...she was feeling pretty good after the 2nd one though. As for me, the first one did it. I noticed I was no longer able to look up at the houses and walk at the same time...or at least in a straight line.
A warning to you all: DO NOT DRINK ANYTHING OTHER THAN DAQUERIES AND HURRICANES!!!!! Or your usual drink and beer. Anything off that... Omg...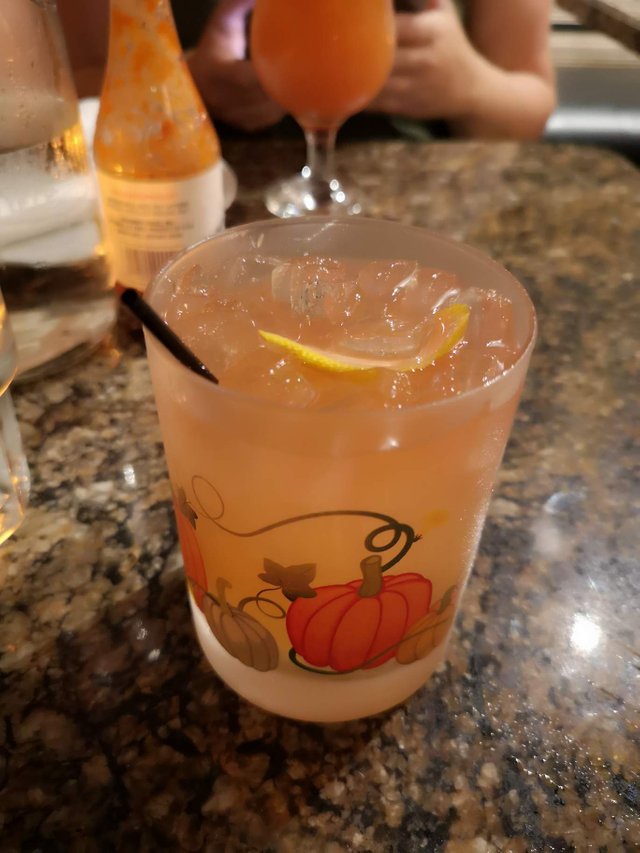 See this thing? This tiny innocent, pumpkin decorated glass? It is anything but innocent.
I was given the drink menu which had Halloween specialty drinks. And if you know me well, I just can't pass up the chance.
The Zombie
Blood and Skull
Corpse Revivor
Necromancy
The Nighttripper
They were out of zombies. The others had ingredients I never heard of before. Give me something easy to drink please.
Ok here's The Nighttripper.
Sweet, Thank you.
I take a sip. Holy hell with a side of shit lava, what the f$&@# is that!!??
Eeerrrr.. ooooooh... I don't think I can drink this.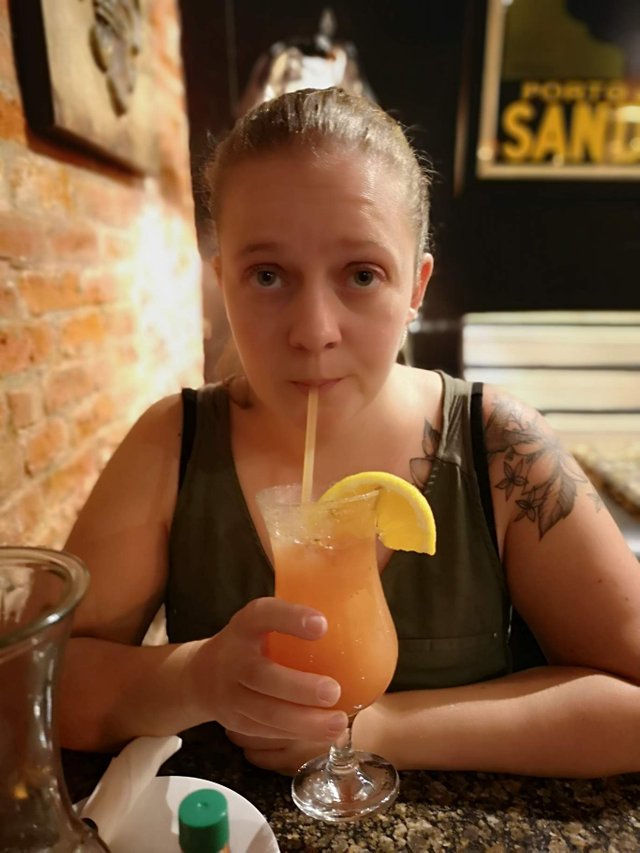 Mandy innocently drinks hers. Mine's good, she says.
I take another sip of mine. I shudder. Aherreeoooooooghh that's bad. Mandy.... I can't.
Just try to sip it. I'm sure it's alright that way, says Mandy.
I'm trying,Sip... One eye shuts as I try to down the tiny bit that swished into my mouth.
Nuh huh.
Burp
Oh man. Oh that was gross. I'm tasting it a second time through the burps. This is a drink one can puke from.
Burp oh god that's horrible.
Mandy I need food with this. I can't do it.
Ok, let me try it.
Oh Julie! That's nasty! That's straight alcohol! Hahaha!
I have to try to drink it, it's a $10 drink.
Sip. Gag
I need water... I mix 3/4 water and 1/4 drink together. Sip. It's like I never diluted at all. It's still horrible.
Gimme food! I can't stand the drink nor the after taste from the burps.
That drink was not consumable.
I ended up having a drink on the roof top of the hotel we were staying at. Bloody hell the damn thing was $13!!! When you can get something 3 times the size with 4 shots of alcohol for $9!!!
Stick with the hurricanes.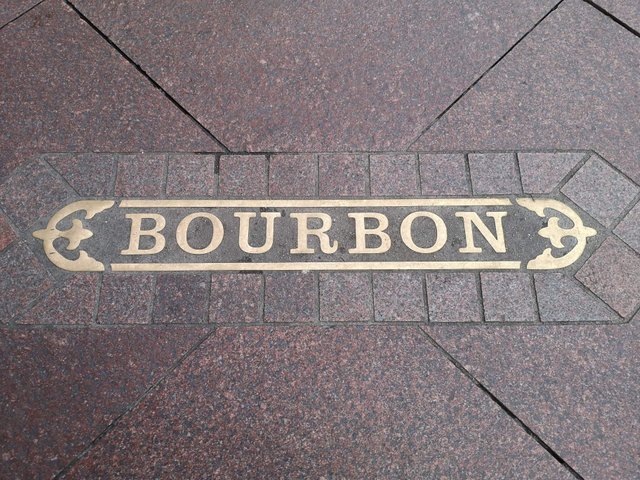 Posted using Partiko Android