Read "Winter trekking in Carpathian mountains, Ukraine" on TravelFeed.io for the best experience
---
This trip happened almost 10 years ago. It was my first experience of winter trekking. All my fears didn't come true - no avalanches, no hypothermia, no death in the middle of snowy nowhere. But, well, it was really hard to exist in this cold weather conditions and to walk a lot of kilometers every day on the loose snow.
The idea of ​​going to the mountains in the winter came a long time ago before it actually happened, but was postponed because me and my friends had no enough clothes and equipment (all that trekking boots, winter sleeping bags, gore-tex jackets costs a lot of money).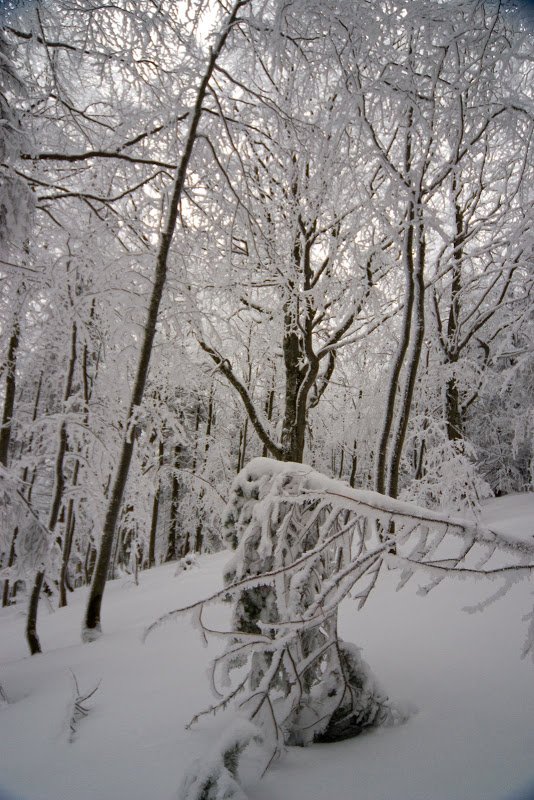 Finally agreed on the route and dates about a month before the hike. It was decided to walk from Tatariv to Yaremche, passing Gorgany peaks Khomyak, Sinyak and Little Gorgan.
Anton, main organizer of our hike, visited those places in the spring when it was still snowing. His group noticed snow carnices and had a difficult descent from Little Gorgan.
So we brought a rope, crampons and ice axes.
We arrived to Ivano-Frankivsk by train from Kyiv. Then hired a minibus - the length of the day in the winter is short, and we have to get up to the valley under Khomyak as early as possible. Already about 11 AM we started to crawl up.
It's soo hot when you are moving! Had to take off fleece sweater. It is best to go in thermal underwear and a winter membrane jacket. This way you can not slow down due to overheating.
There were a lot of snow, enough to fall inside it on each step. Someone passed here before us - we saw the traces. At first everything is ok - the trail climbs up the stream (though, many fallen trees), but then there had to be some inconspicuous turn to get out to the valley under Khomyak, from which tomorrow it would be convenient to climb the mountain. We break through the fallen treas, start to fall into the snow, the slope becomes steeper.. We move much harder and slower.
The day is ending, and we found a flat place to put the tent, between the trees on the slope. We camped here.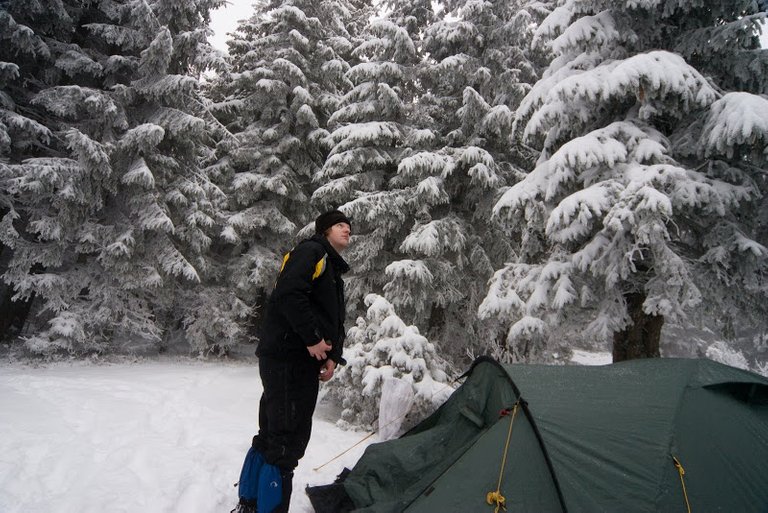 After a near-zero (Celsius) day temperature, it changed noticeable - feels like minus 10. Because there is no water nearby, we melt snow on gas stove for the dinner and tea.
I slept in thermal underwear, at night I have to take off my hat and open my sleeping bag - feeling hot. That's what a good winter sleeping bag is made for :). I bought it before this hike.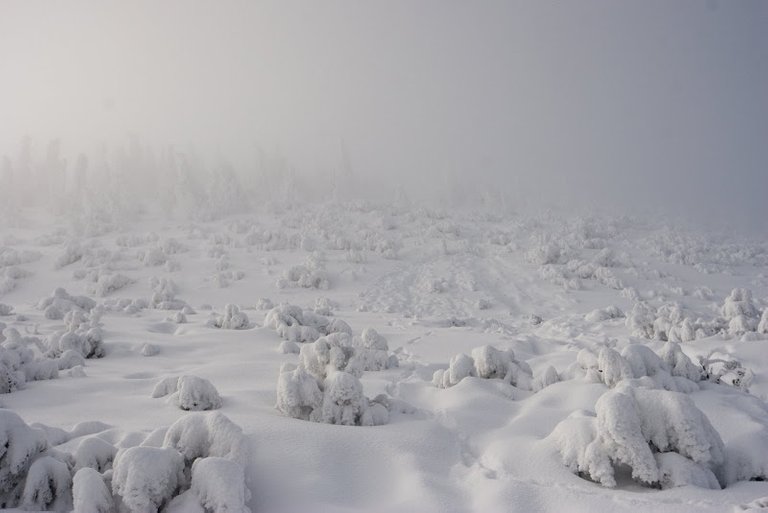 The second day began early, it was still dark, but we ate our breakfast and started to walk. Quickly we reached the valley on which we should spend the next night, after climbing to the top of Khomyak mountain.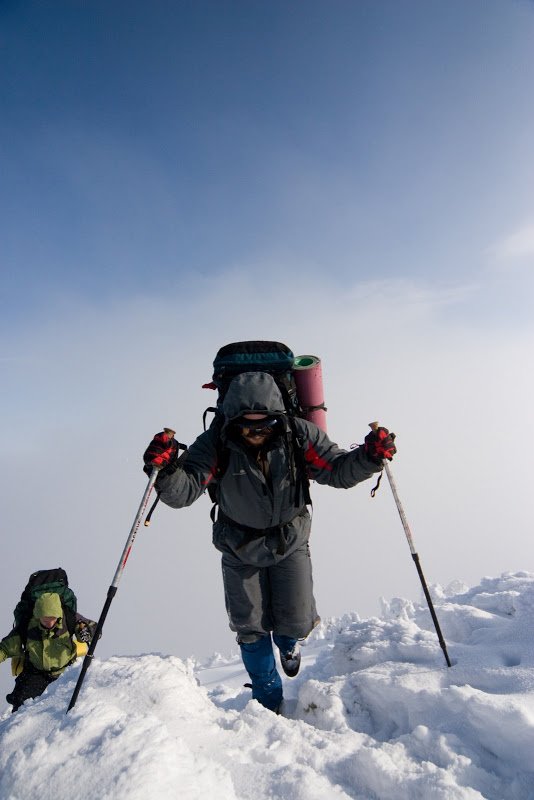 Finally, we made it to the top!
Unreal beauty - the mist and sun that illuminates it.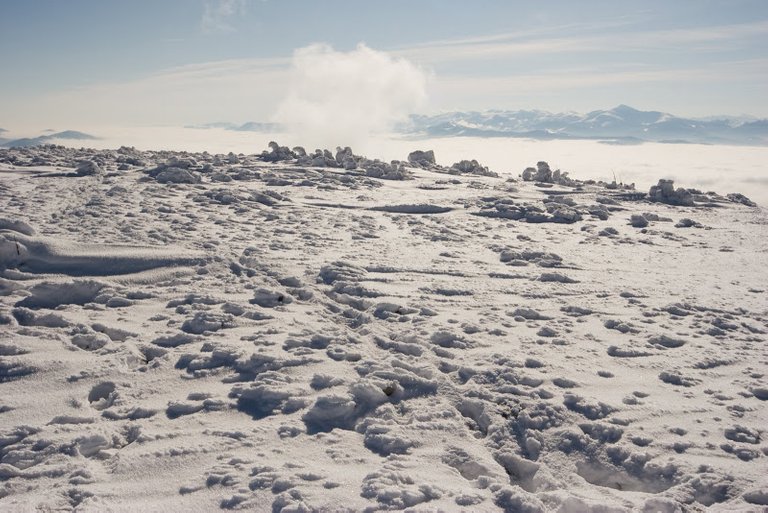 Ghost Mountain. My eyes are tired of such bright light.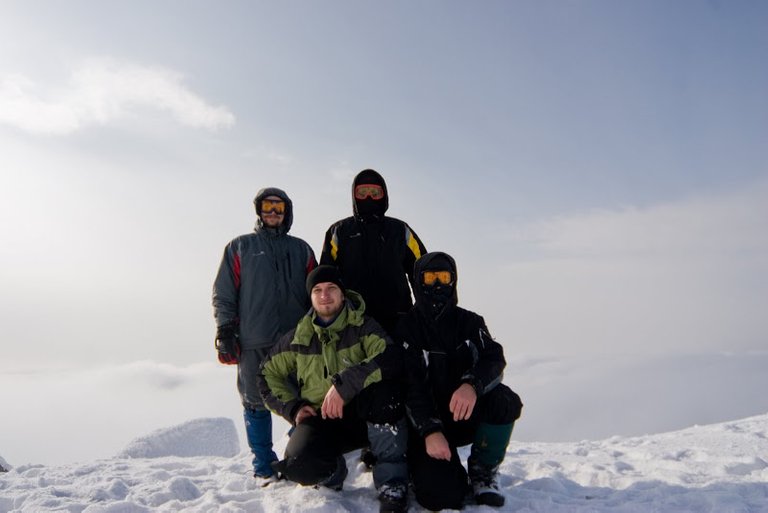 Anton, Pasha, Volodya and me.
The giant statue is the statue of Mary, mother of Jesus. Covered with snow and ice, it transformed into some kind of monster.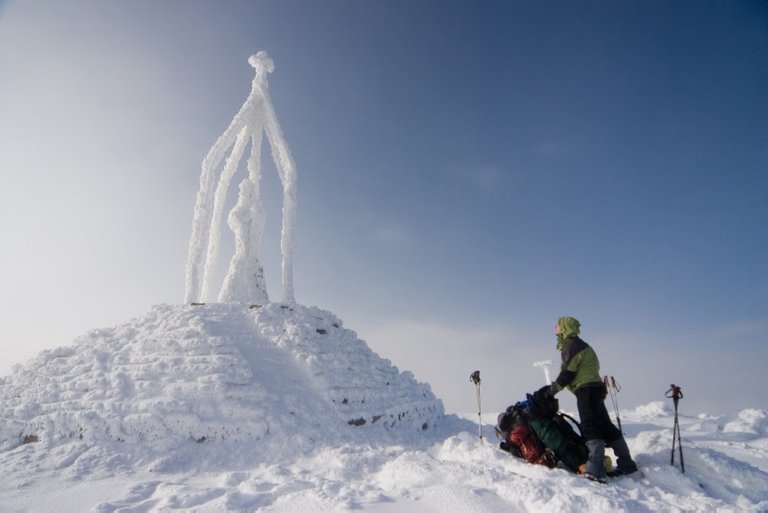 Under the snow, there grows creeping (mugo) pines. When you make your step, your leg goes somewhere deep inside...
The descent is quite unpleasant - steep, though not dangerous. We went down and now heading towards Sinyak, another mountain. During our lunch, the cloud covered us in a misty trap:).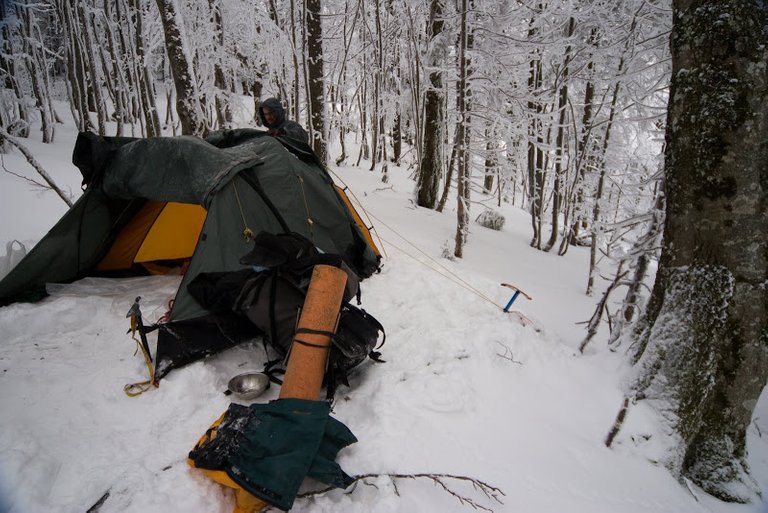 The mountain valley on our way slowly rises. That's how it is - to walk in the winter. In the summer you would still go much more far, but here it is necessary to stop for the night before it's getting dark. We are camping near the beginning of the forest and near our tomorrow's steep climb trail.
This evening we made a fire - to warm up. . At night, my sleeping bag is much less comfortable than last night, which means it's colder. My friends complain in the morning that it was "cool".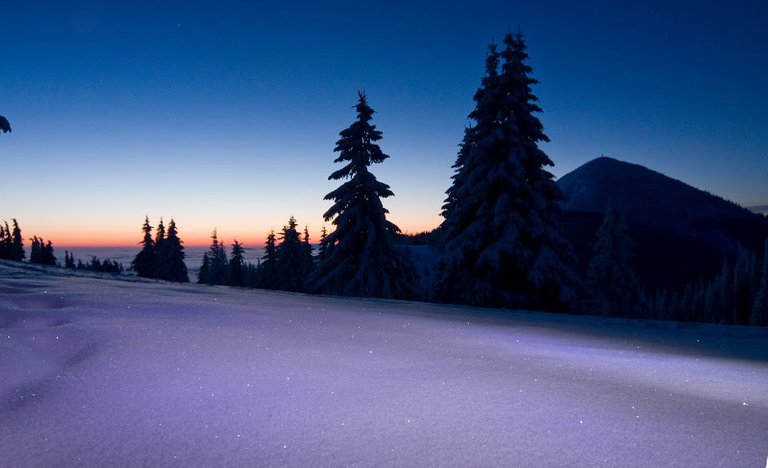 Day 3. When we get out of the tent, we saw a fantastic sunrise.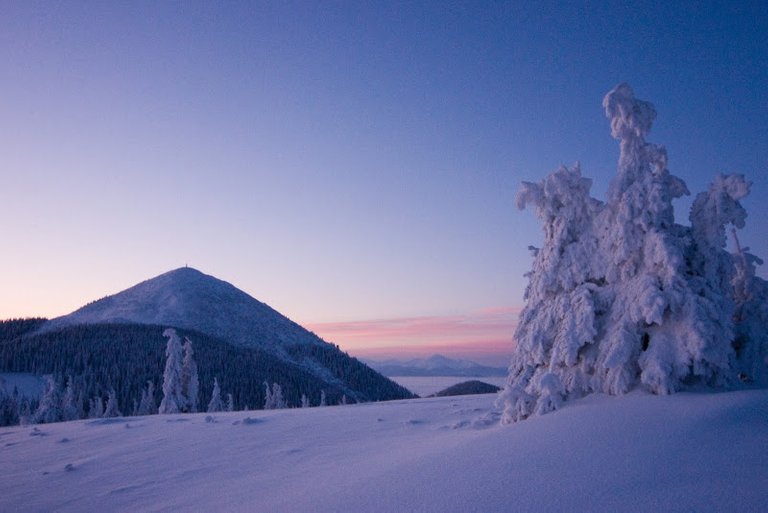 Delicious breakfast - buckwheat, cooked in the evening (we decided to save the time in the morning), frozen at night and heated not carefully so, it's dry and burnt...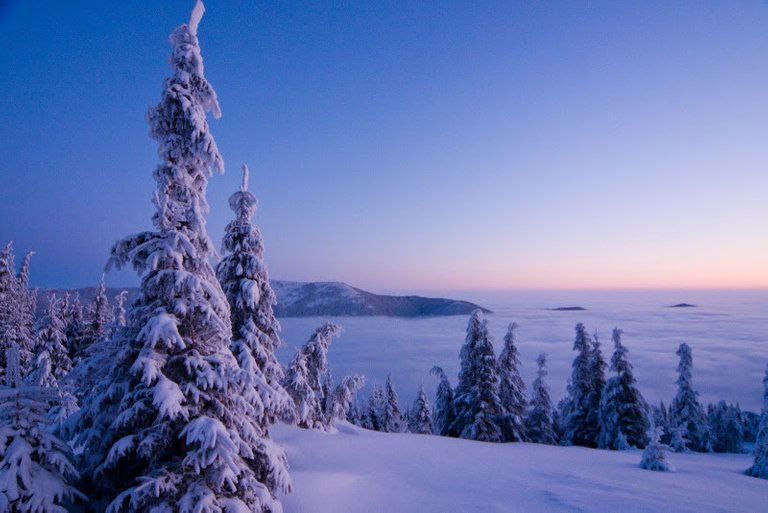 We begin to ascend to Sinyak - the walk is long and slow. Although the sun is already high, the morning scenery has not disappeared.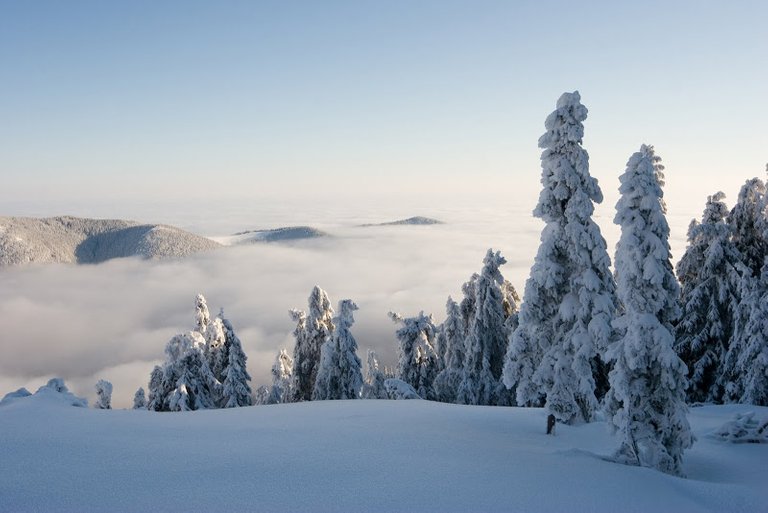 Finally we reach the top. There is almost no wind, you can even sunbathe in the sun for a while while making tea.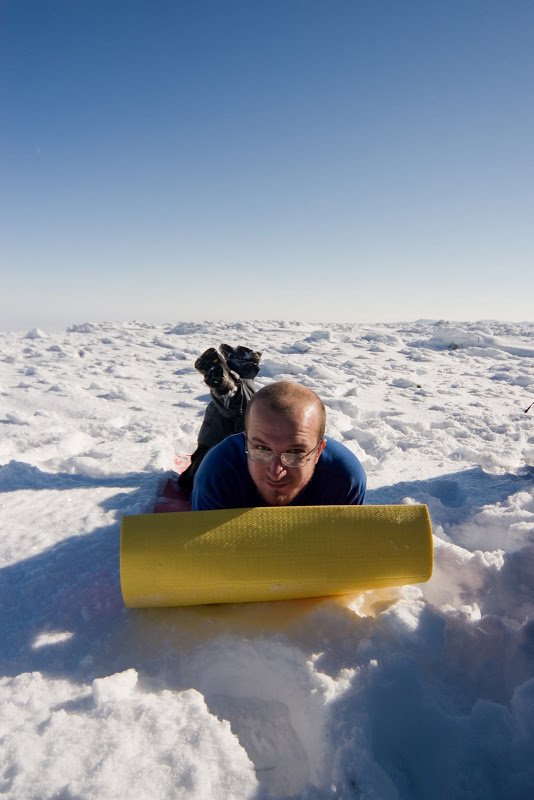 Volodya is sunbathing.
We reach Little Gorgan, on the same mountain ridge, quite quickly.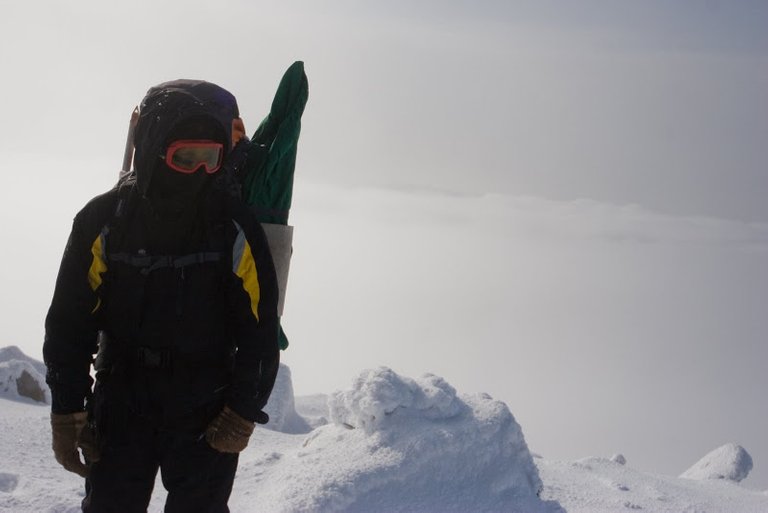 The left slope on which to descend is rocky, steep and slippery. That's where the rope is useful.
We came down to the valley, there was a hut, in which we decided to spend the night. As almost everywhere in Ukraine, the hut is unmaintained, it means admission free. And it's sooo cold inside. That night I slept in a hat and left only a micro-vent in the sleeping bag, hiding my face inside. In the morning Anton promised that he would no longer go to the mountains with his old sleeping bag... My shoes I had put under my feet had fallen out from under my sleeping bag and had frozen - they were wet on the previous day. Hard to walk wearing it :(.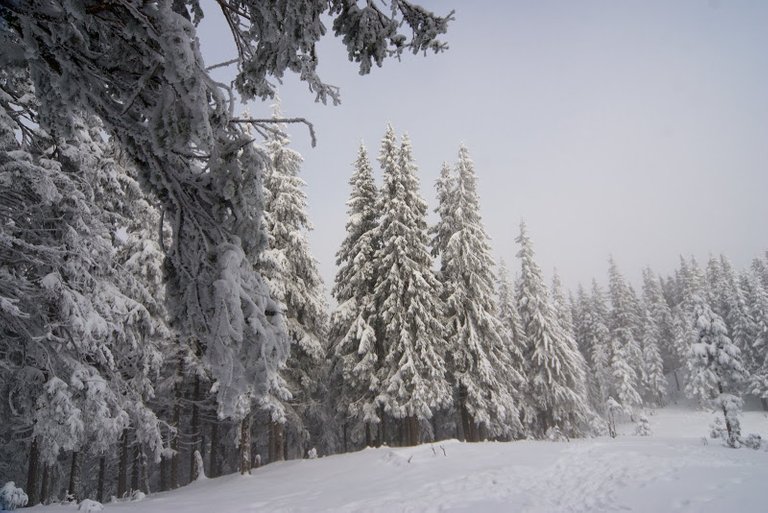 The last day, we bypassed Little Gorgan and the junction to Dovbushanka (epic mountain, one of the hardest in this area), and then had to cross the river. Used long rubber boots - we had 1 pair, when one of us crossed the stream, he throws it through the river, then next one wears it and crosses the stream...
When we got to Yaremche, it was already about 4 PM, and it was good that we catched the bus to Ivano-Frankivsk that arrived an hour before our train departure. So we even had time to order pizza and beer.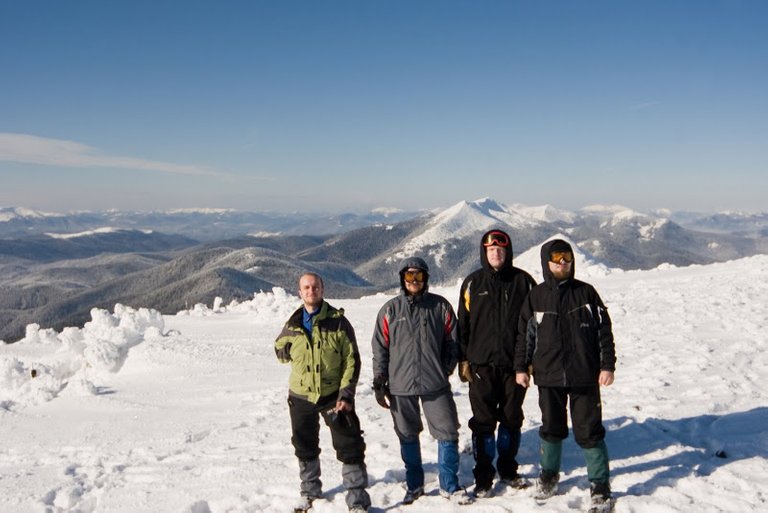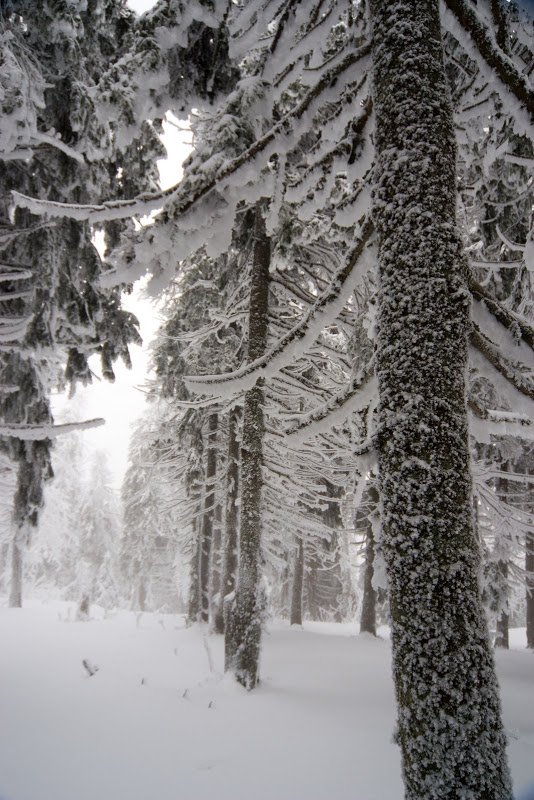 ---
View this post on TravelFeed for the best experience.