Germany Part 1: An awesome day Paragliding in the Alps of Bavaria (Fotos & Videos)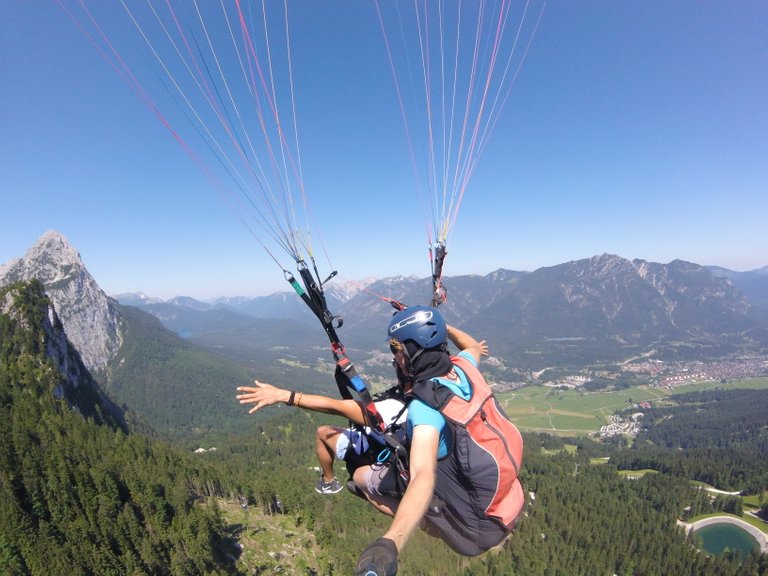 Since I am a little kid, every time I come to Garmisch Partenkirchen, Bavaria, I see people Paragliding and wish I could be up there flying around together with them!!
Back then I didn't have any experience with that. I had never been on a plane, on top of a mountain or flying. - But I already wanted to fly with the birds ;)
So when I was in Columbia I had the chance to try it out for the first time close to Medellin and I loved it!! - The second time I went Paragliding in Guatemala at lake Atitlan -still loved it!
For me it is one of the smoothest and most confortable ways of flying! So easy to do, so safe and just awesome!!
When I came back to Germany I just had to go to the Alps and fly!!! It was my birthday present to myself and I took my girlfriend with me, that never ever before had tried it in her life! - She was pretty scared but loved it as well ;)
So at early morning we drove from Munich to Garmisch Partenkirchen to the meeting point next to the mountain Wank, where we would meet our 2 guides.
Together with them we went to the cable car to get to Osterfelder Station and walk to the starting point to get ready for the jump.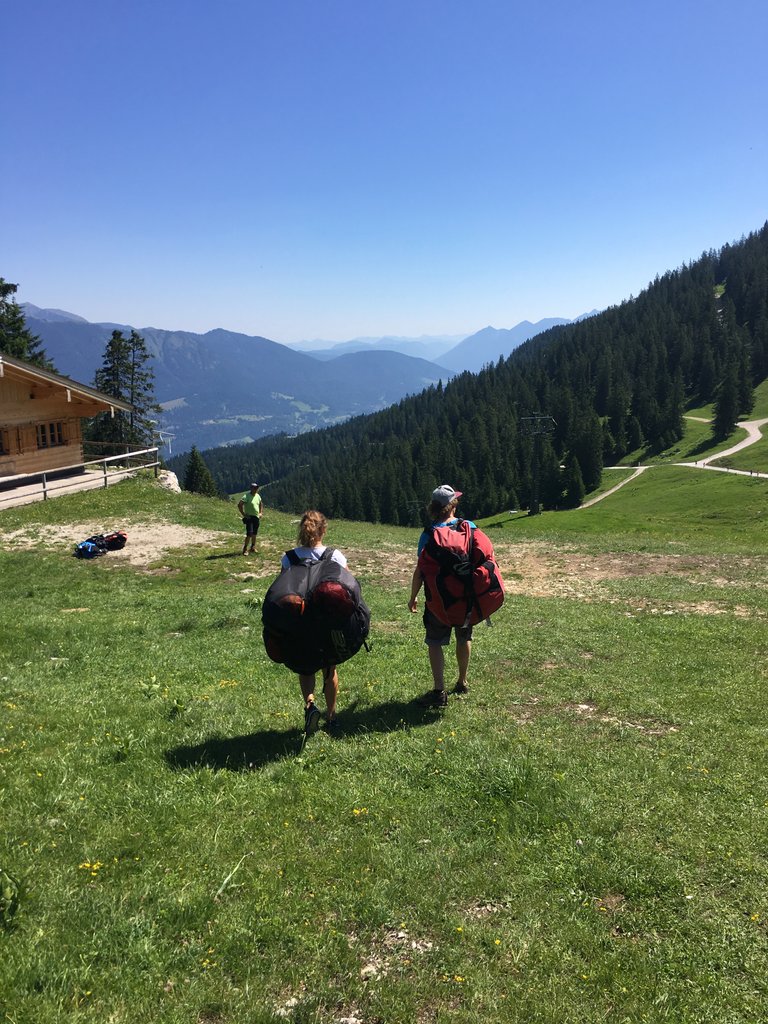 The start
After the paraglider has been laid out and the comfortable harness was put on, our pilot gave us an exact introduction to the starting procedure.
He checked everything again - if the lines are ok, the umbrella is ok, wind is ok, passenger still there, in case we would change our mind and run or hie haha - and we were done.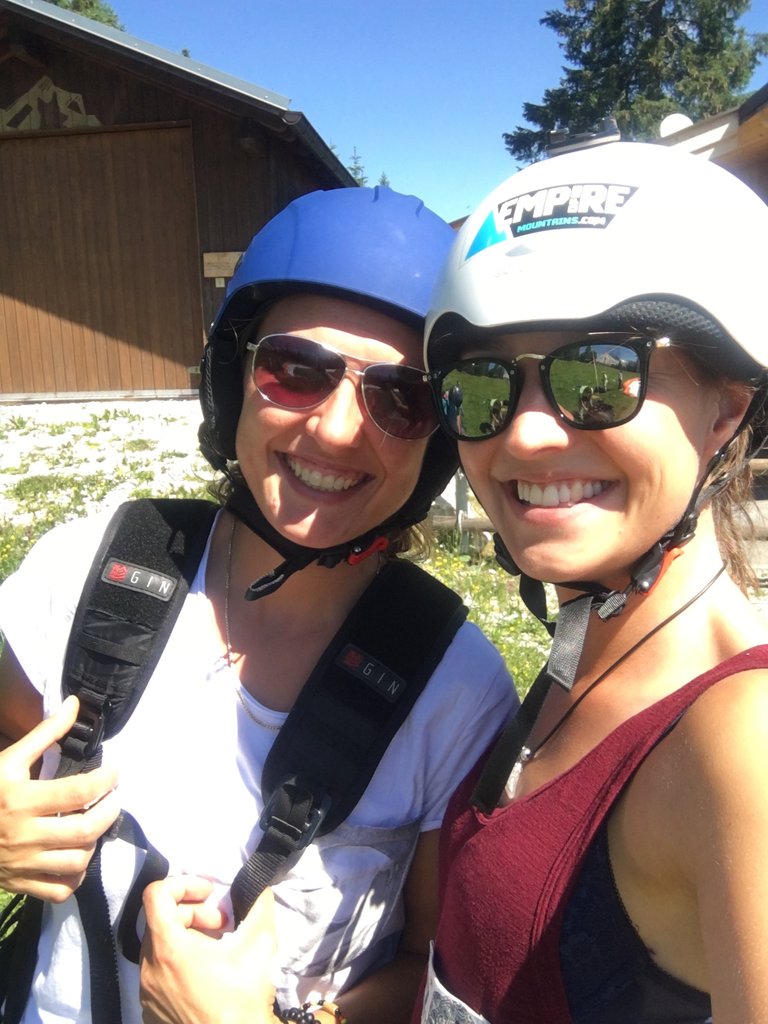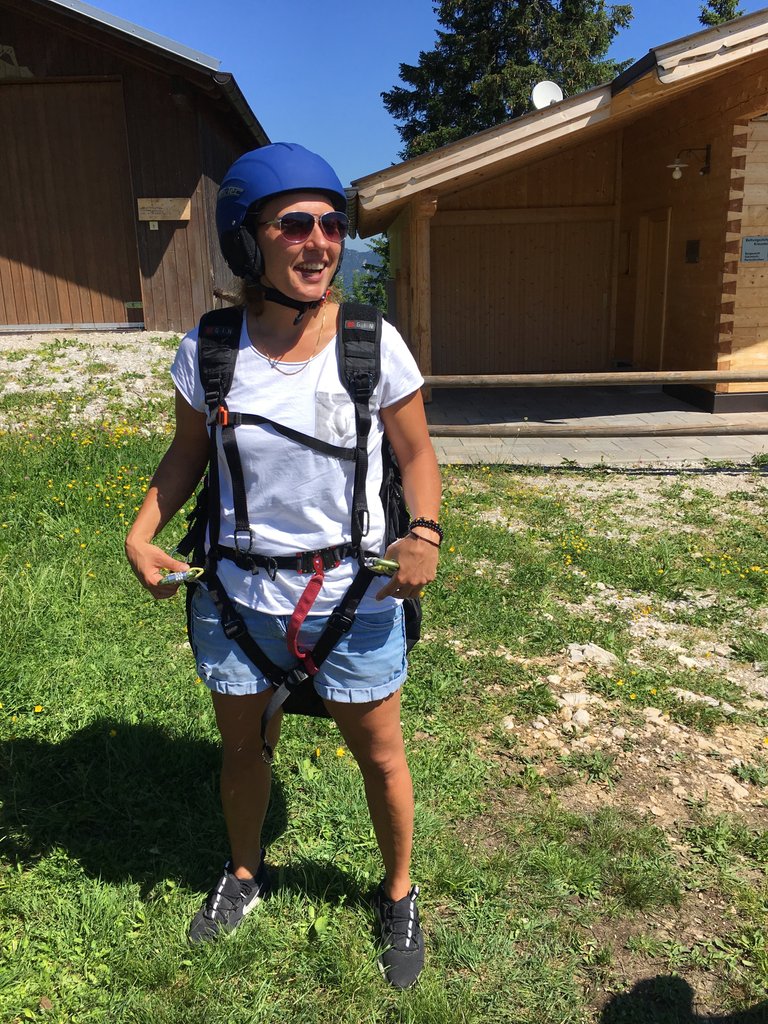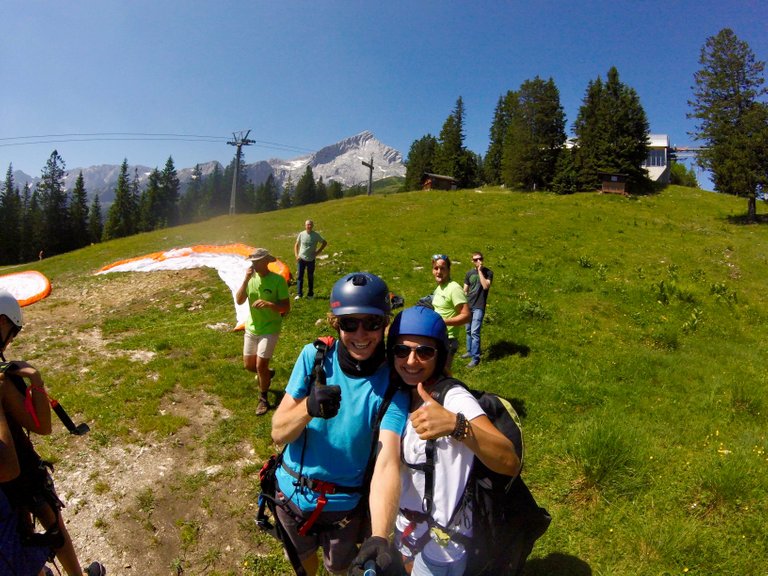 He counted 1, 2, 3, shouted go and without thinking too long we just started to run really fast to get the umbrella up. Totally scared for a second but also excited!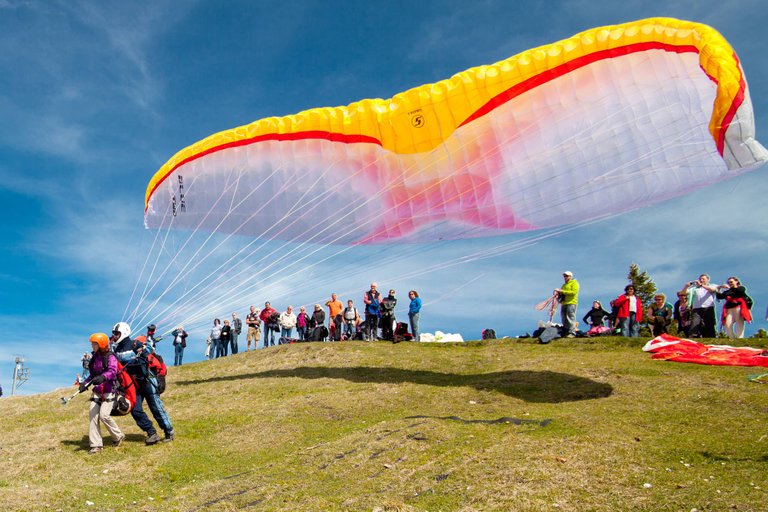 2-3 comfortable steps after, I could feel that the umbrella went up. A few more energetic steps and I started to float, it's always a gentle take off.
No leap to nothing. I am always amazed how easy and fast I am in the air. Just a few seconds later I was sitting really confortable like in the TV armchair at home.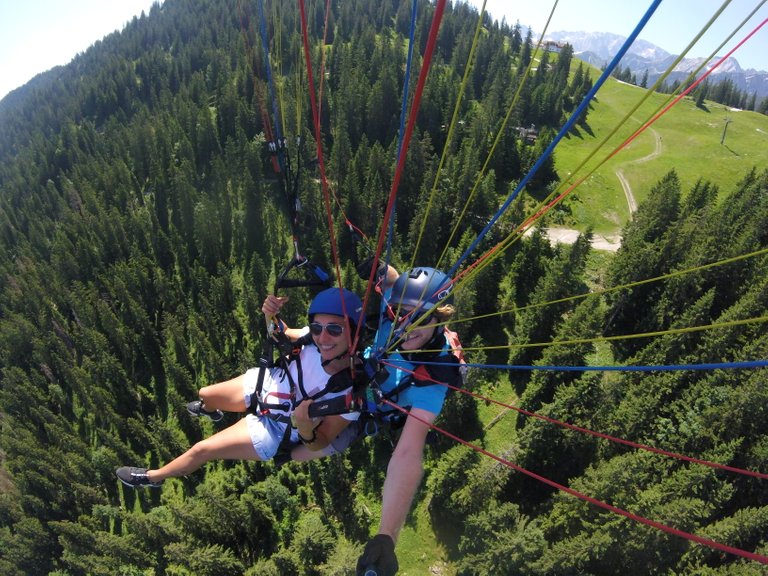 The flight
Seconds after the start, we could relax and enjoy the view..
I was sitting comfortably in front of my pilot who, if I wished, went left or right. Of course he checked the thermal conditions first.
The view was just amazing!! We could see along the Alps until the Zugspitze, and even the Eibsee!!! - As I said, I always had dreamed to do that since I was a little kid! And it was definitely worth the wait!
The flight took about 30 minutes. Enough time to enjoy the view, doing flight maneuvers and even try it out ourselves.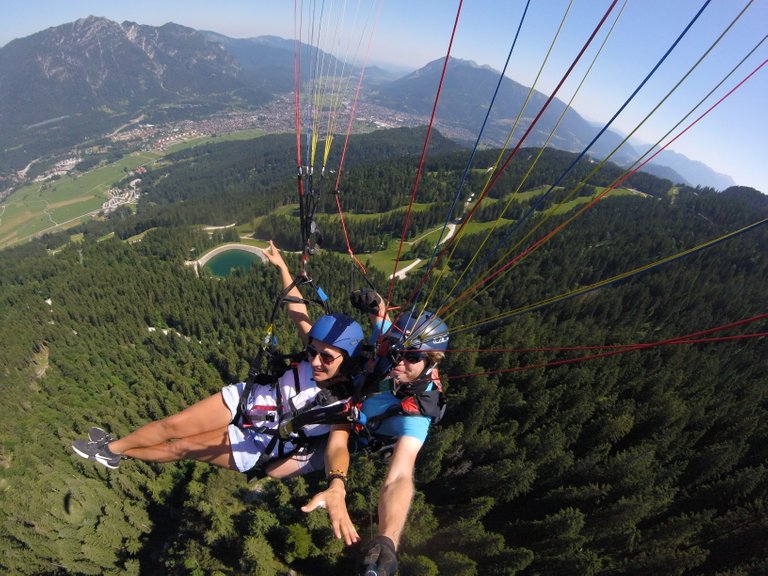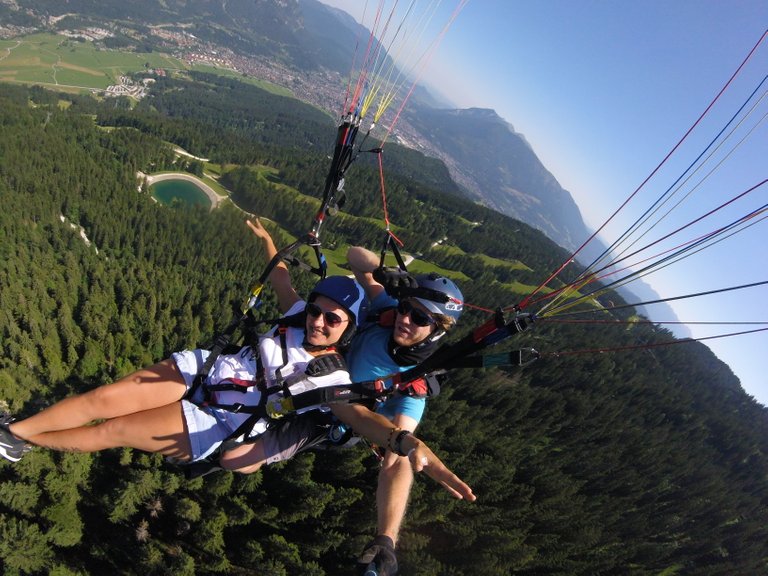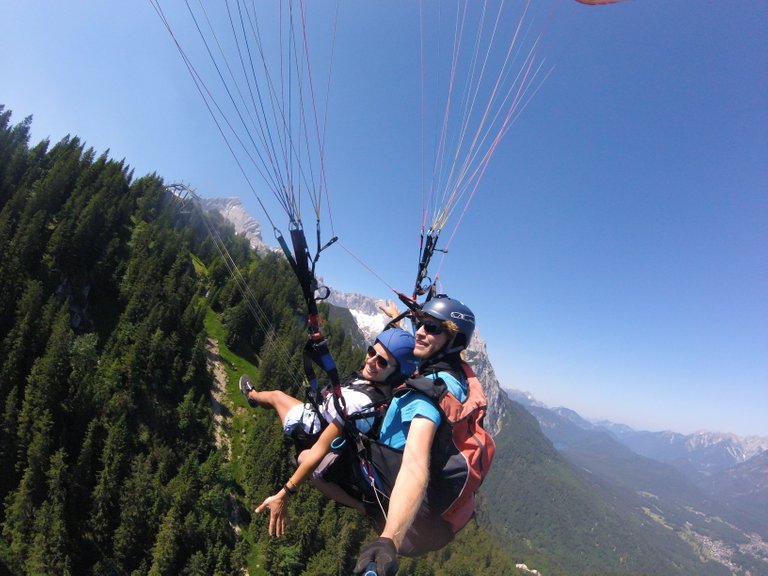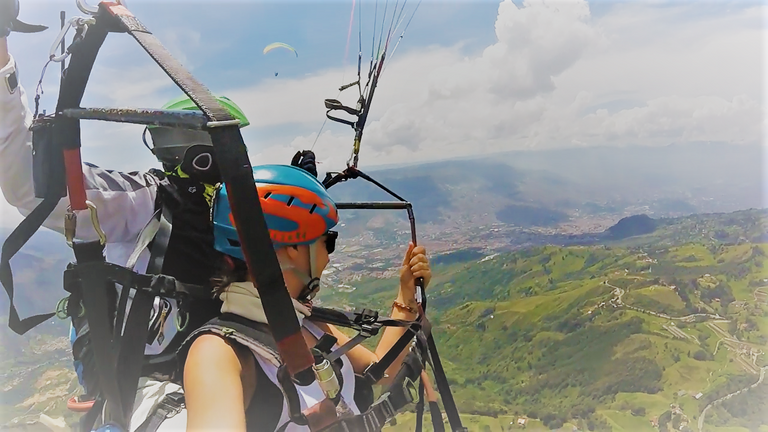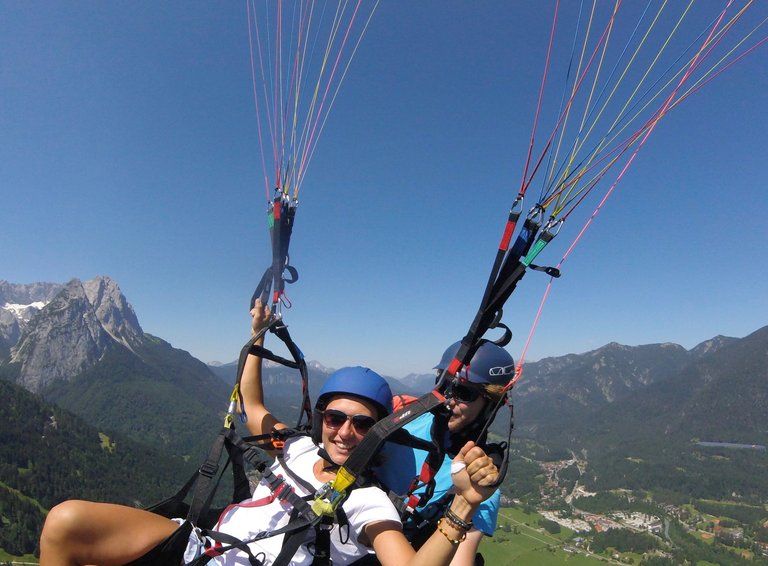 After the time was more or less up our guide gave us a choice of sliding off gently, float over the launch pad with the thermals or go down with an adrenaline rush with a dynamic flying style.
Gladly they captured the unforgettable moments as well as the gigantic mountains and lakes for us on video and photos.
The landing
And again it was very easy.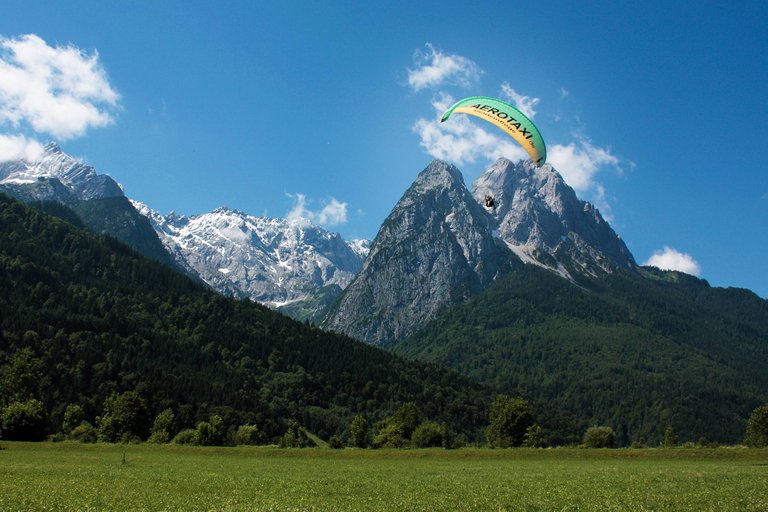 Already during the flight we did receive the landing explination from the pilot: At the height of 10 meters, I had to slightly slide forward and be ready to run, the glider is braked by the pilot, the ground is there, a few meters walk - it is like a "jump" from a chair - and that was it. The earth had us again!
As always I was glad to be safe back on earth, but also a bit sad that the flight was over already. Elena loved her first flight as well. We really had best conditions that day!! So I received her with a big smile back downstairs.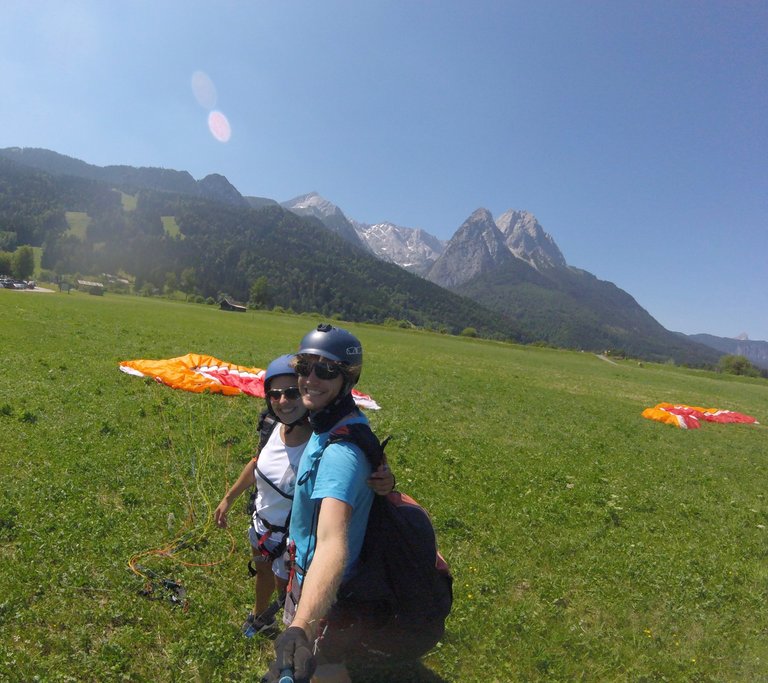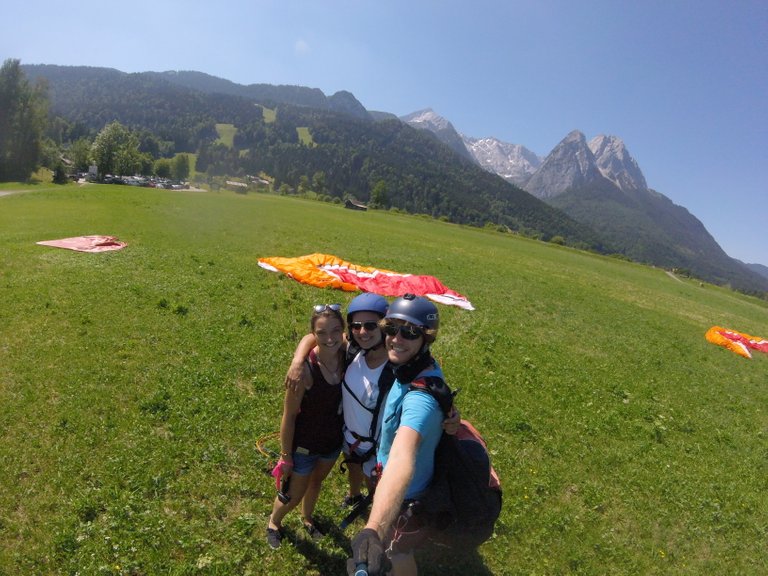 Of course after all of this we deserved an ice cream on our way back and told each other about our experience!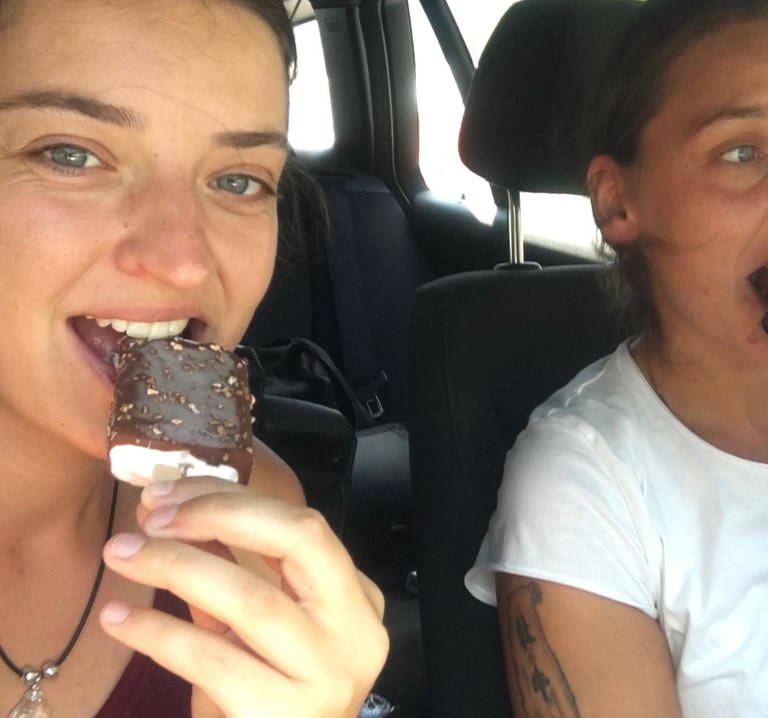 What a great day to do this!! I am really glad we did :) It was legendary!
Cheers,
Liz
---
---