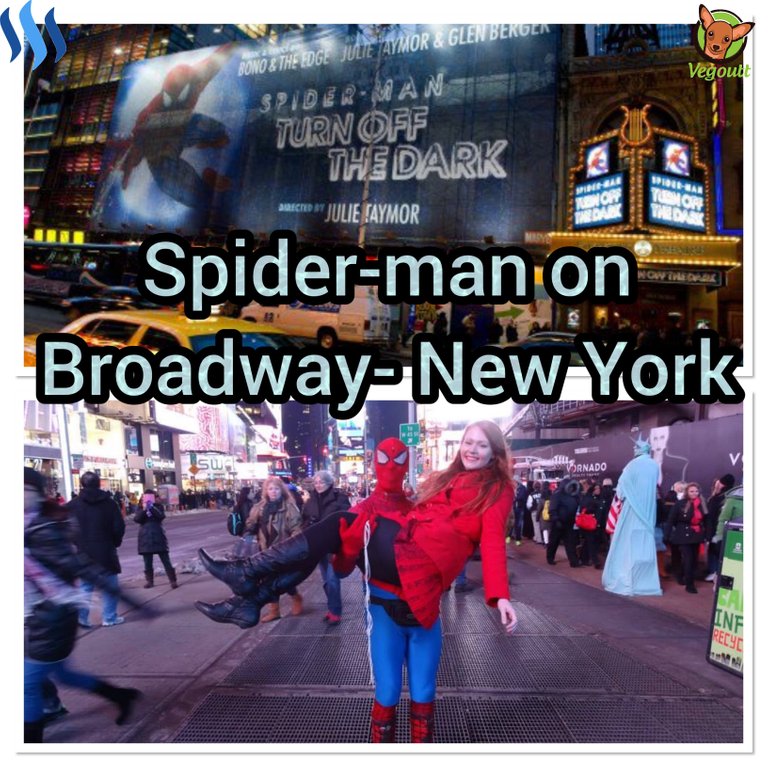 Dear Steemit friends, let me take you into the web-swinging world of Spider-Man on Broadway in New York City. Spider-Man is the world's most well-known superhero. He was created by the late Stan Lee. Spider-Man made his debut in the comic book Amazing Fantasy #15, in August 1962. The bite of an irradiated spider granted unsuspecting high school student Peter Parker super-human powers. Like many superheroes, Spider-Man's origin is steeped in tragedy with the death of his Uncle Ben. Peter used his uncle's death as motivation to evolve into a hero that defends New York City from criminals. He often wears his enemies down with corny jokes and one-liners. Spider-Man has spider like abilities including superhuman strength, incredible agility and flexibility, shoots webs and can cling to most surfaces. He also has amazing reflexes which he calls his spider senses.
I am a huge Marvel fan and with that, a huge Spider-Man fan. I was thrilled to find out there was a Broadway show about Spider-Man. I had to see it and what better place than in his home town of New York City. The show was called Spider-Man: Turn off the dark.
To find me, look for my Chihuahua's face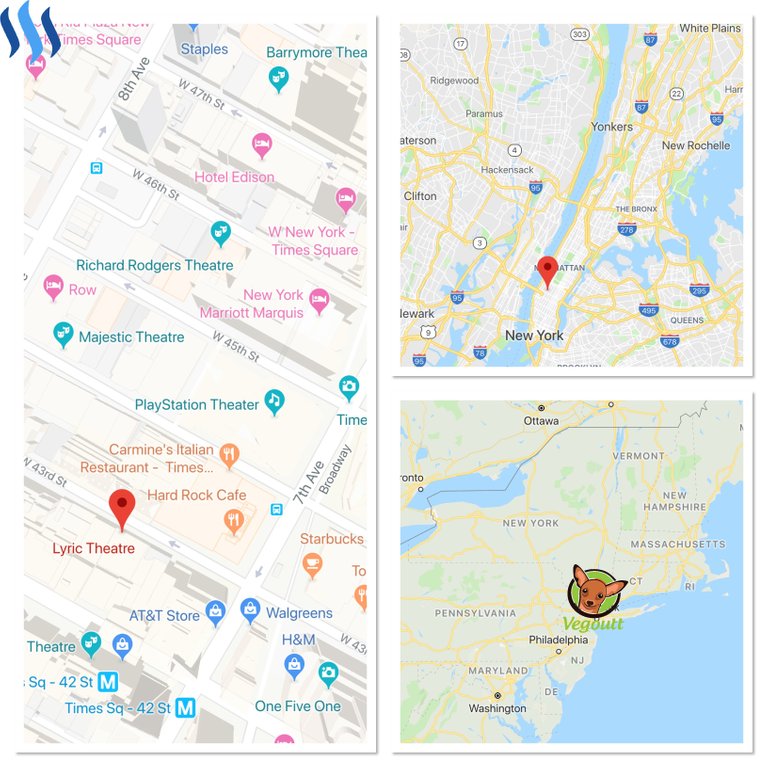 When it comes to theatre productions, two places come to mind, Broadway in New York City and West End in London. This is because they are the pinnacle of success for any stage performer. There are many theatres in New York City, most within walking distance of Times Square on the island of Manhattan. Spider-Man: Turn off the dark was being performed at the Lyric Theatre. The stage adaptation worked perfectly for the story of this web-swinging hero.
Spider-Man swung straight over the audience using his webs. He even had a very cool mid-air fight scene with the main villain, The Green Goblin. The Green Goblin flew over the audience on his glider. The goblin glider is a flying transportation device created by Oscorp. Oscorp is owned by The Green Goblin aka Norman Osborn, father of Harry Osborn, Peter Parker's best-friend.
Lyric Theatre, New York City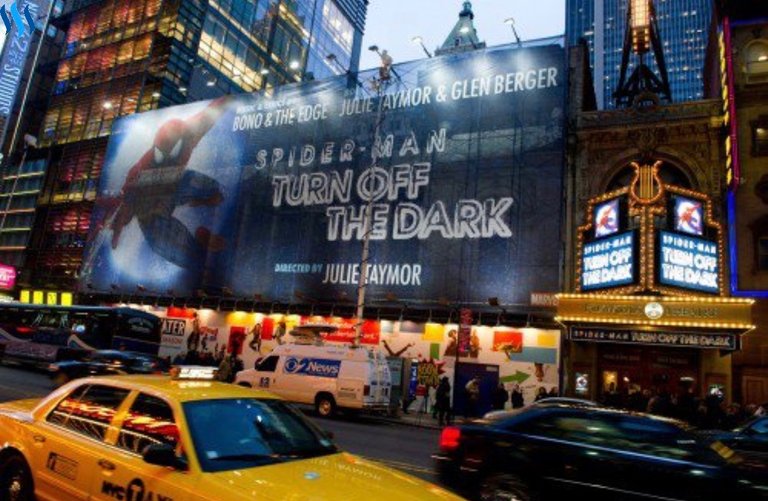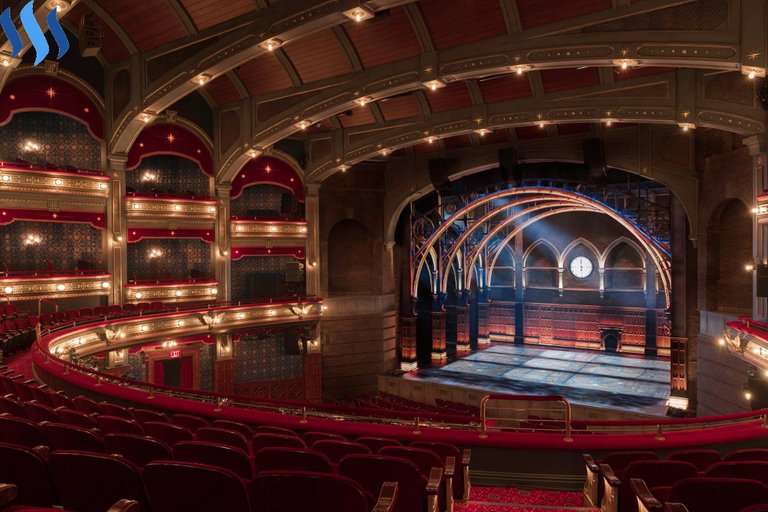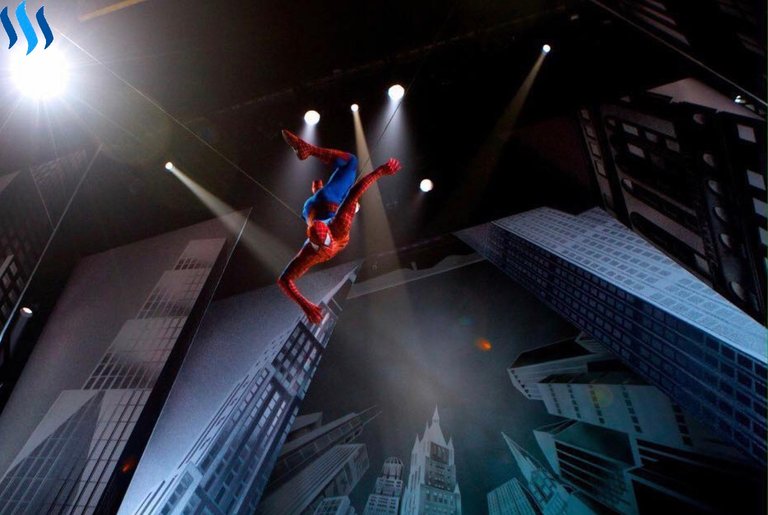 The show ran for about 2 and a half hours with a standard 30-minute interval. I was captivated. It can be very challenging converting any story into a stage production. The producers and directors of this play did an outstanding job. I, personally, loved the fact that this production did not tour around the world. It was kept solely in New York City. They could have very easily toured and made millions like countless other productions. The reason they did not was because creator Stan lee requested that the show be kept in New York City for pure authenticity. It will be interesting to see if they stay true to that now that Stan has passed.
"With great power comes great responsibility" ~ Uncle Ben
Meeting Spider-Man in the streets of New York City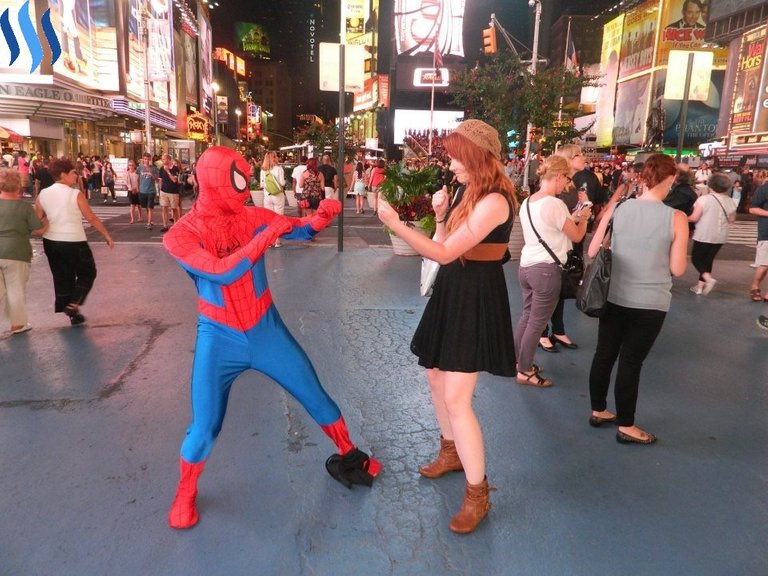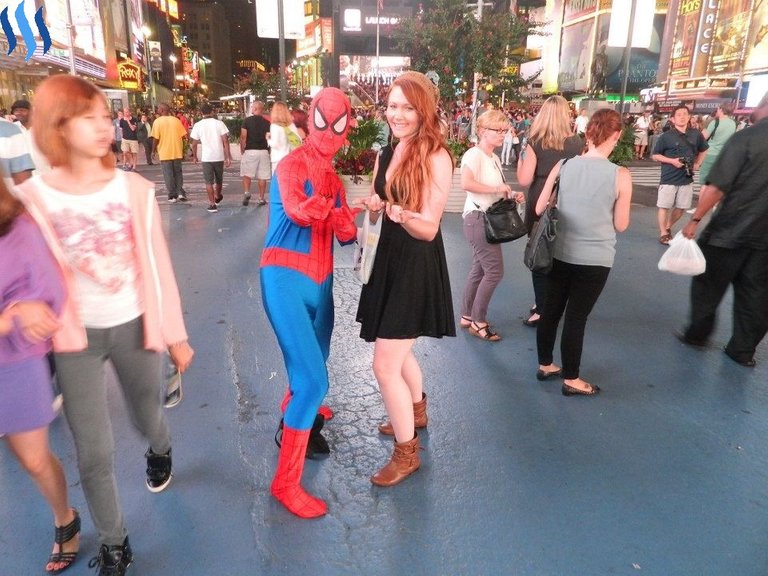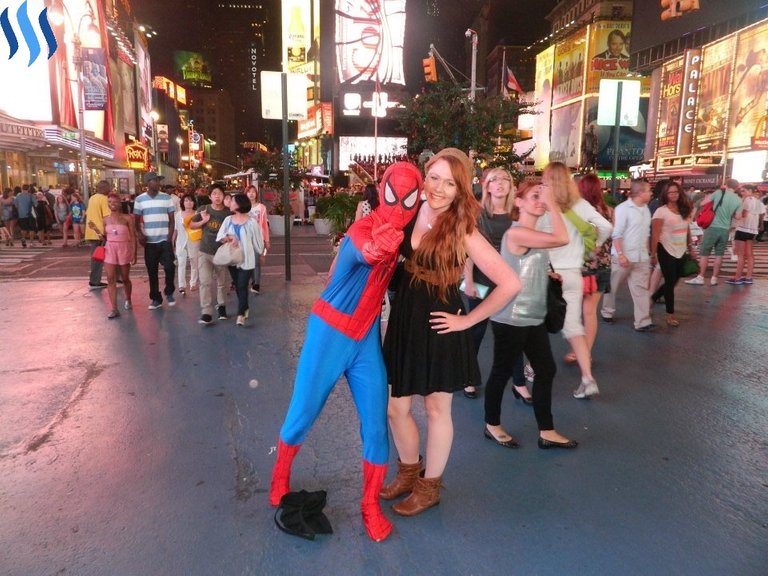 I often get mistaken for the actress kirsten Dunst. I found that especially so while I was in New York. She played Mary-Jane Watson in the first Spider-Man movies. She is Peter Parker's love interest. It is 100% coincidental that I just happen to look like the love interest of one of my favourite characters. In Times Square, there are lots of people dressed up as characters that you can have photographs with. Spider-Man actually approached me for a photo opportunity and we posed together for a few people. There it was, my 15 minutes of fame. The joke runs so deep that my brother Wayne, creator of Spectrum_Economics here on steemit got me a funk pop of Mary-Jane. It just so happened that I had her outfit already in my wardrobe. I guess you may call me MJ.
Mary-Jane Watson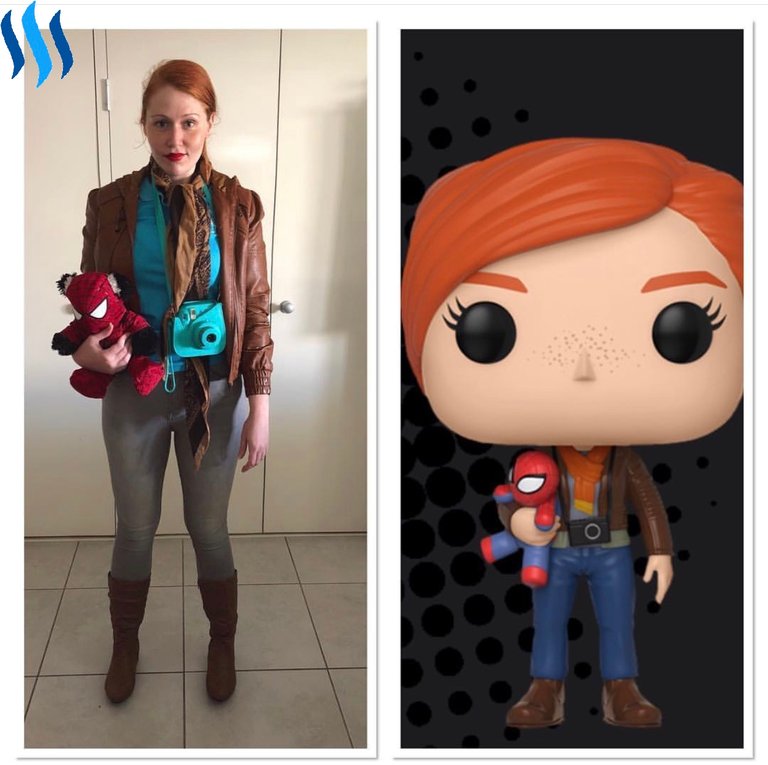 https://steemit.com/@spectrumecons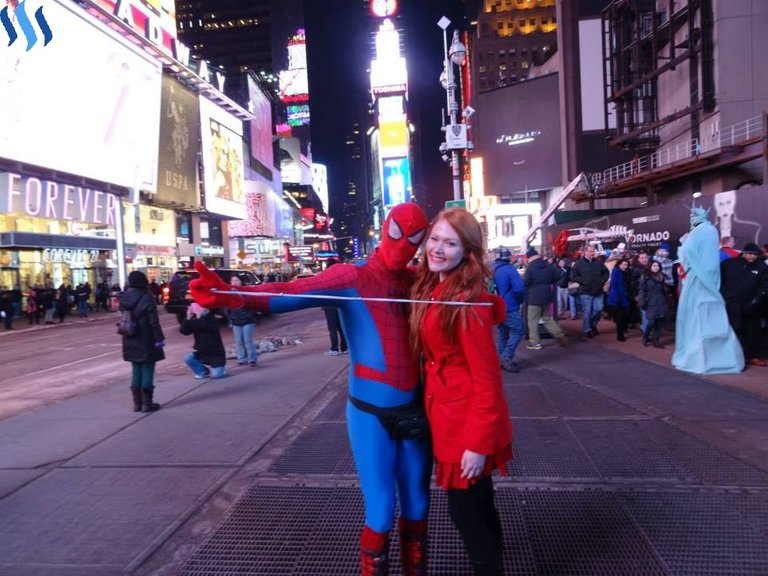 The first time I ran into Spider-Man in the streets of New York was in the middle of Summer and about midnight. The second time I ran into him, it was in winter and he whisked me away, well, tried to. New York City really never sleeps and is an incredible place to visit. Nearly all the stores stay open 24 hours a day. I travelled there alone and stayed in a hotel near Times Square.
Travelling by yourself can be scary but also very empowering. As a young woman, I do have to do my research prior to make sure it is safe. New York may have a bad reputation for being unsafe. However, I can only speak for Manhattan itself, I walked around by myself well after midnight most nights and could not have felt safer. I recommend to always follow your instincts and gut feelings. I feel so lucky to have been able to watch one of my favourite stories come to life live on stage. Dreams really do come true.
"As you travel solo, being totally responsible for yourself, it's inevitable to discover just how capable you are."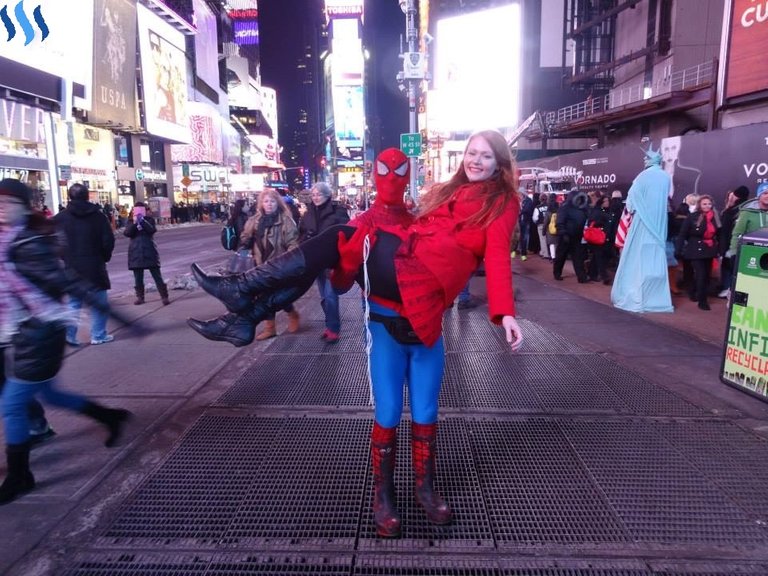 I hope you have enjoyed my blog on Spider-Man on Broadway, New York, thank you for reading and I look forward to sharing more adventures with you, until next time, Vegoutt Everybody!