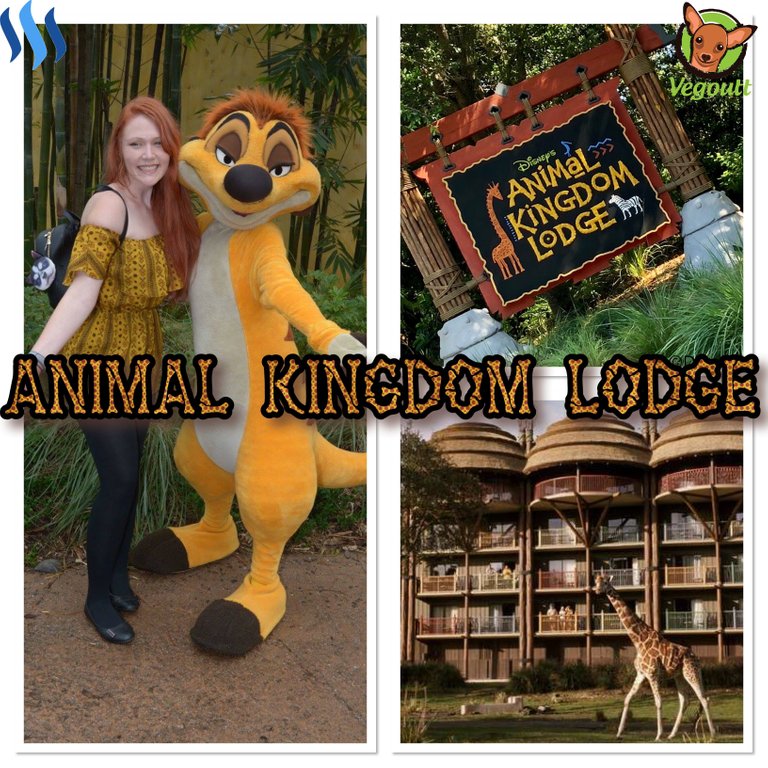 Dear Steemit friends, let me take you to my favourite place to stay, Animal Kingdom Lodge. Animal Kingdom Lodge is an African themed luxury resort hotel in Orlando, Florida. The resort is run by Disney. It is extravagantly decorated with intricate African carvings and traditional pottery. The staff are employed from Africa or have African heritage. The best part about the hotel is that it is set on a huge animal reserve filled with rescued African animals. The hotel is an affordable 5-star hotel that I highly recommend to anyone who loves animals. The resort is set within the grounds of Disney World which means there is free transportation between the hotel, all 6 Disney parks, Disney springs, the airport and the Disney cruise line port. I have been lucky enough to stay at this hotel twice so far and I will certainly keep coming back.
To find me, look for my Chihuahua's face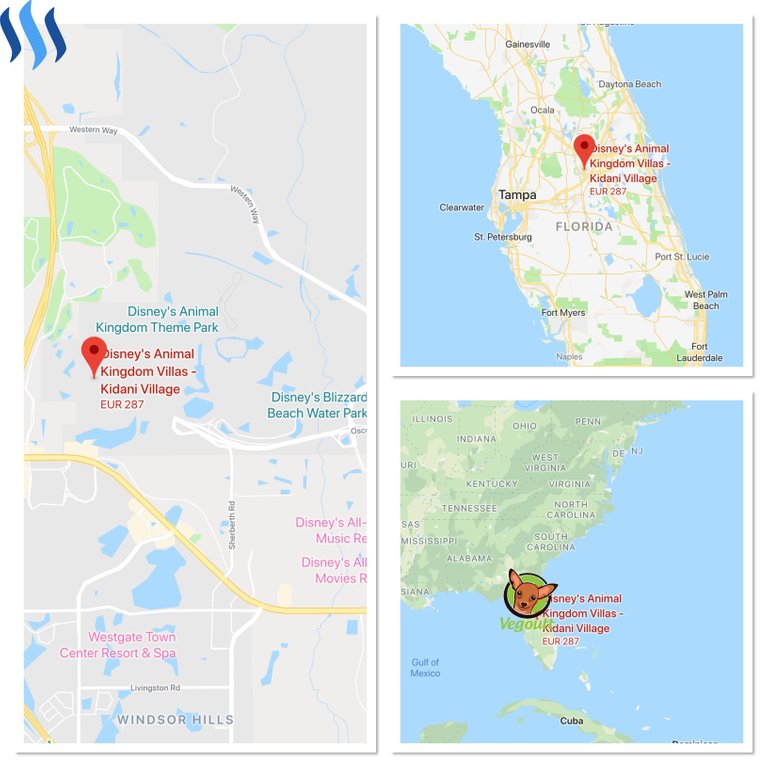 All of the staff speak both English and Swahili which I think really adds to the authentic feel of the whole resort. I even learned some basic Swahili while I was there. I haven't yet made it to Africa on my travels but after this stay, I am planning to go sometime soon. Africa is home to some of the most incredible animals on our planet including my favourite, Elephants. If you cannot make it to Africa, head to Orlando, Florida.
Animal Kingdom lodge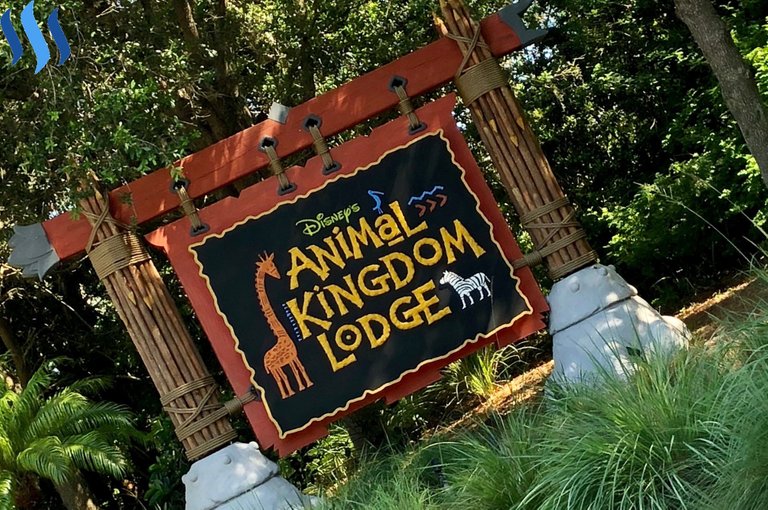 The resort itself is made up of two main lodges, Kidani Village and Jambo House. They both offer incredible views of the reserve. I have only stayed in Kidani Village; however, I have visited Jambo house. There is a complimentary shuttle service between the lodges. Even though there is not much of a difference between the lodges, I highly recommend making the short trip to visit the other lodge. This is purely because of the open landscape of the reserve that allows the animals to freely roam around between lodges. Disney is fantastic at themes and I honestly cannot tell you how incredible this place is. It even features in the Hollywood Blockbuster movie "Blended".
kidani Village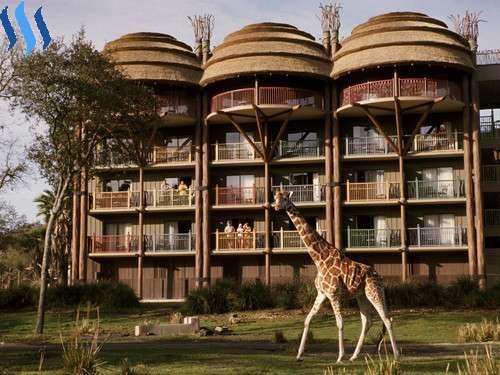 Hotel lobby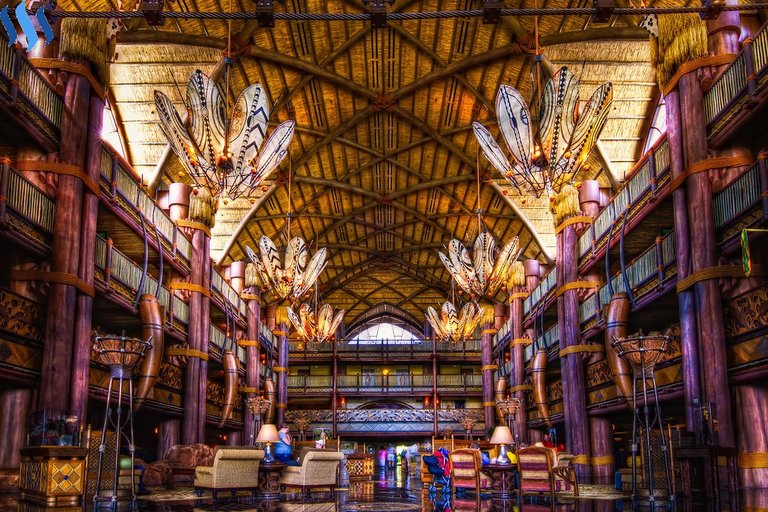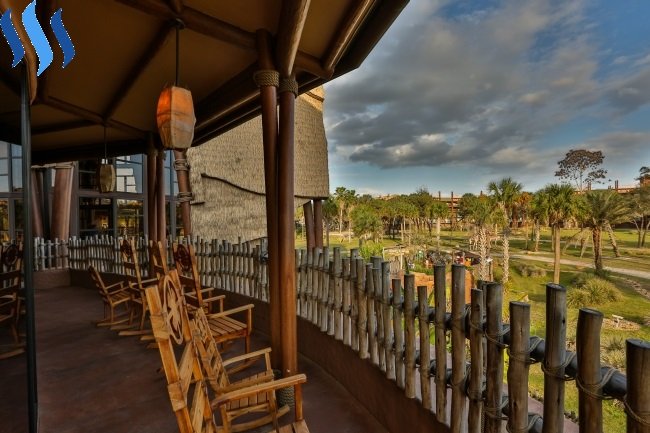 Carved wooden shields on the room doors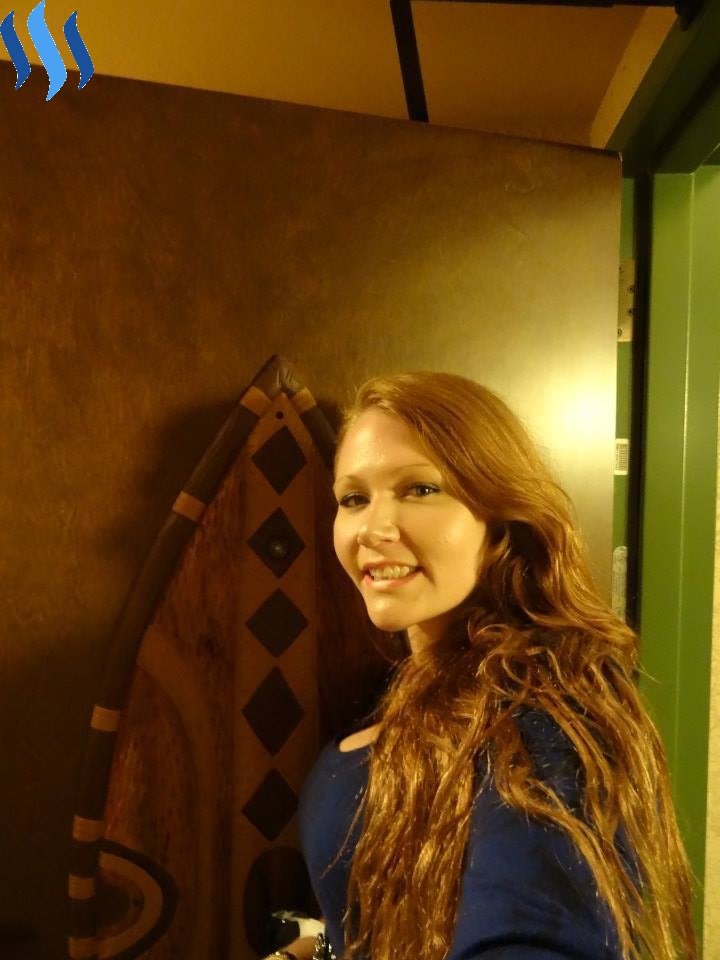 Hotel Room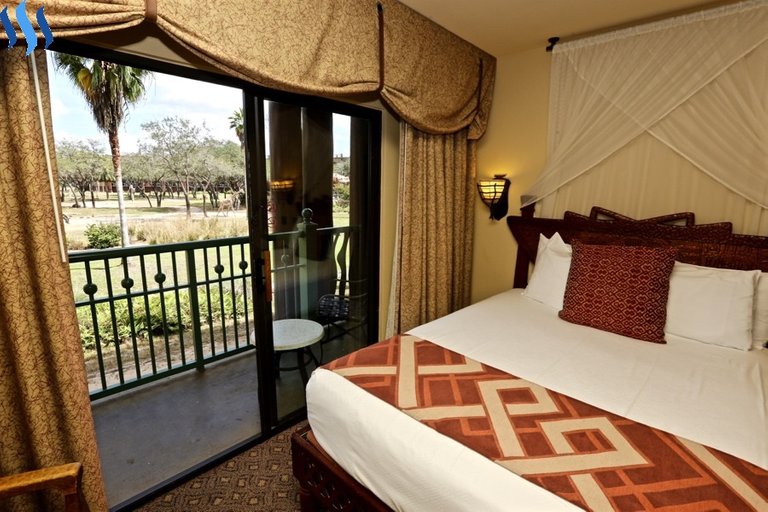 En-suite bathroom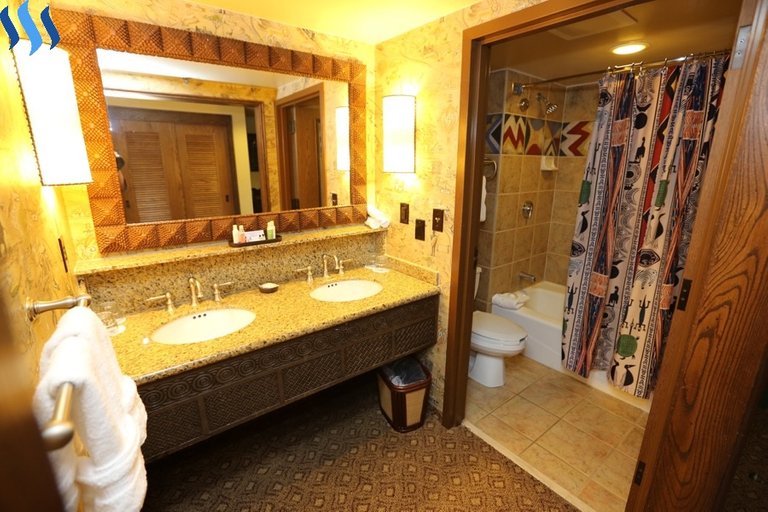 Savannah view from my room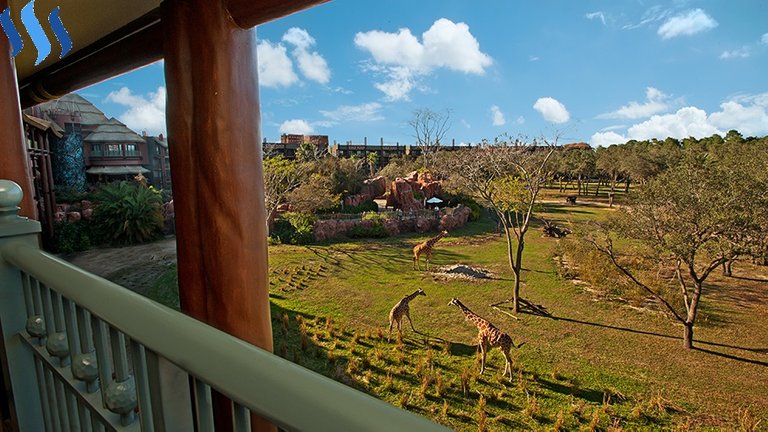 Video from my room- Click link to view
https://www.facebook.com/gemma.winchester/videos/10155815401724133/
This is a slightly different blog than I have posted before as I have included videos for you to enjoy. I feel this captures the essence of the African lodge. Animal Kingdom Lodge is by far one of the most unique resorts on Earth. Home to over 300 rescued African Animals, it also offers traditional culinary experiences, wildlife treks, activities for children in Simba's Clubhouse, art workshops and even an extensive conservation program. The Disney Conservation Fund is what impresses me the most about staying here in Kidani Village. Since the fund's creation in 1995, it has provided over US$86 million in grants to protect the magic of nature together with communities around the world.
Whenever Disney and Africa are mentioned, the first thing that comes to mind is The Lion King. The Lion King is my favourite movie and it breaks my heart to see the devastation to our African wildlife due to poaching. The Disney Conservation Fund started a campaign in 2019 called "The Lion King Protect the Pride campaign"". Disney recently assembled more than 80 of the world's leading lion conservation experts, from 18 countries and representing more than 50 organizations, for the Lion Footprint Forum at Disney World. During the meeting—(the first of its kind in over 20 years)—the participants collaborated to develop strategies to address challenges impacting lion populations and help ensure a future for the species, as well as other wildlife across Africa. Conservation and animal rescue is something I am incredibly passionate about. I am proud to say I am an official Wildlife warrior for the Disney Conservation Fund.
Absolutely cannot get enough of the view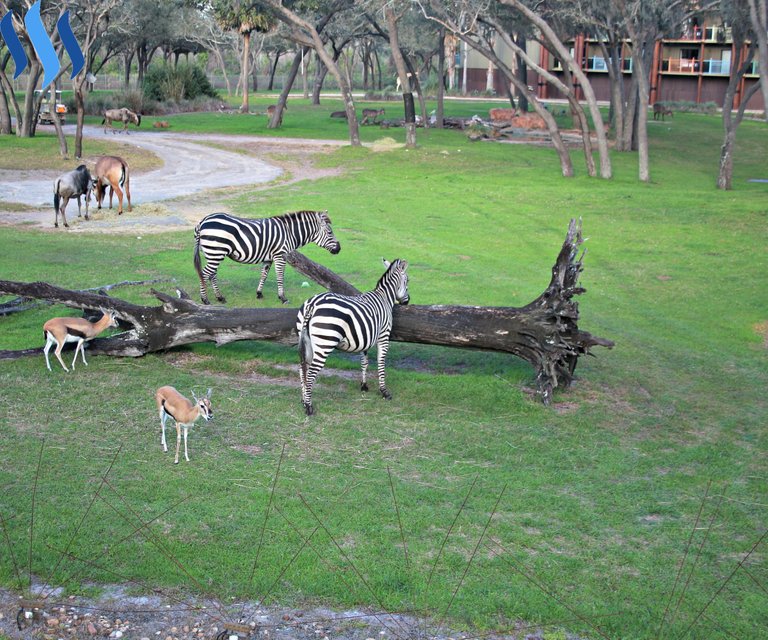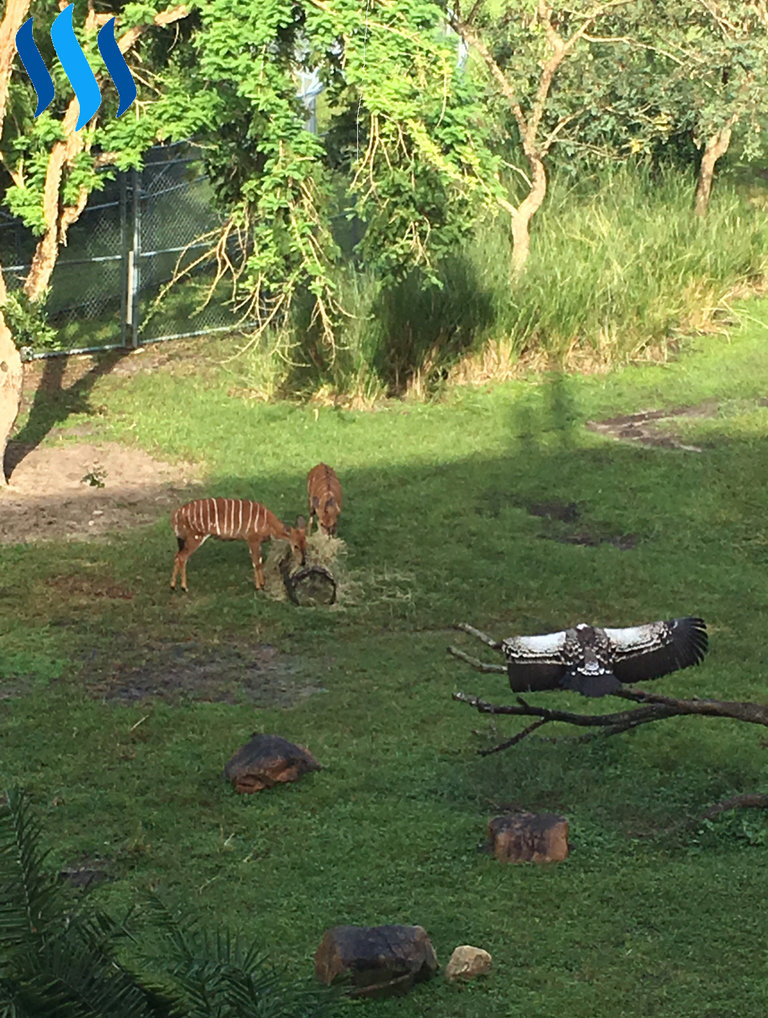 To learn about the extensive conservation efforts, you can book yourself and your family on a safari. You cannot stay at Animal Kingdom Lodge without going on a safari. Guests have two options when it comes to exploring the savannas , a Night Safari or the Wanyama Safari. The Night Safari utilizes night vision goggles to observe the animals in the dark and the Wanyama Safari is a day tour offering a unique vantage point to the animals.
"The most dangerous worldview is the worldview of those who have not viewed the world."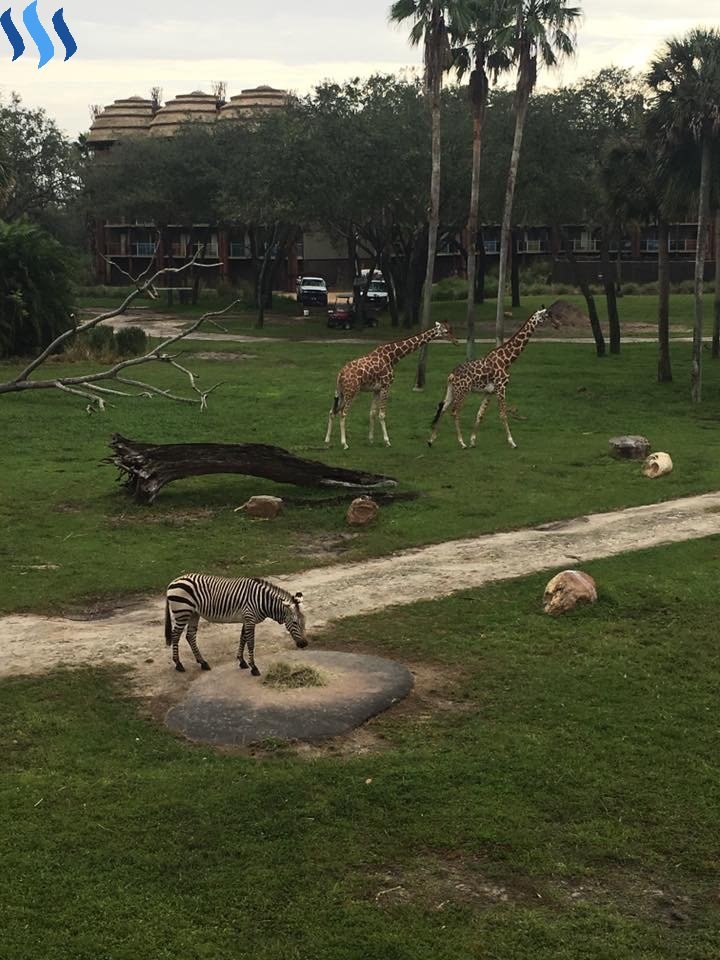 Sanaa restaurant ( Swahili for Art)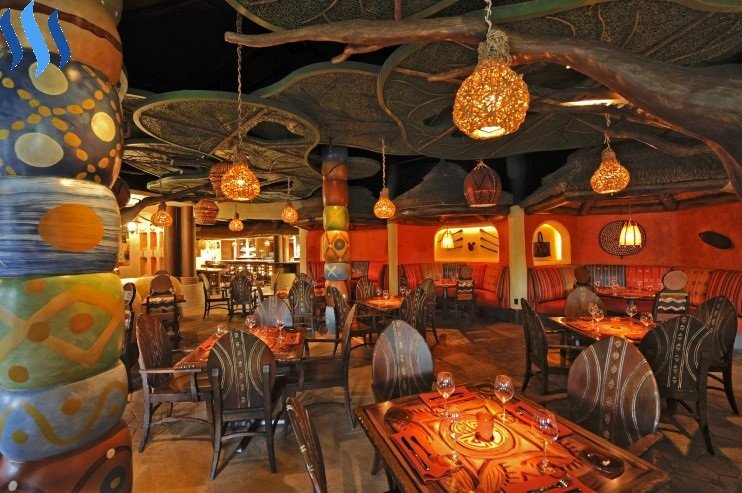 One of my favourite aspects of travelling is getting to experience different cuisines. Even though I am Vegan, I do not find it hard at all to find food options. Traditional Swahili food is mostly vegan anyway which is amazing. Located in Kidani Village and overlooking the savanna, the Sanaa restaurant draws its inspiration from the cuisines along the historical spice route of Africa. It serves food fresh from tandoor ovens as well as slow-cooked specialties, the selections here are filled with aromatic spices. As you dine you will be able to take in the African wildlife just outside your window. I cannot stand bland food and so I absolutely loved every dish I tried.
Traditional Swahili food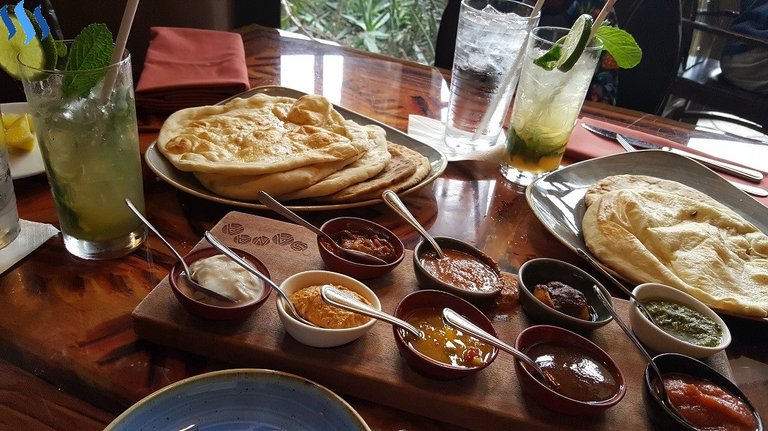 Angelica and I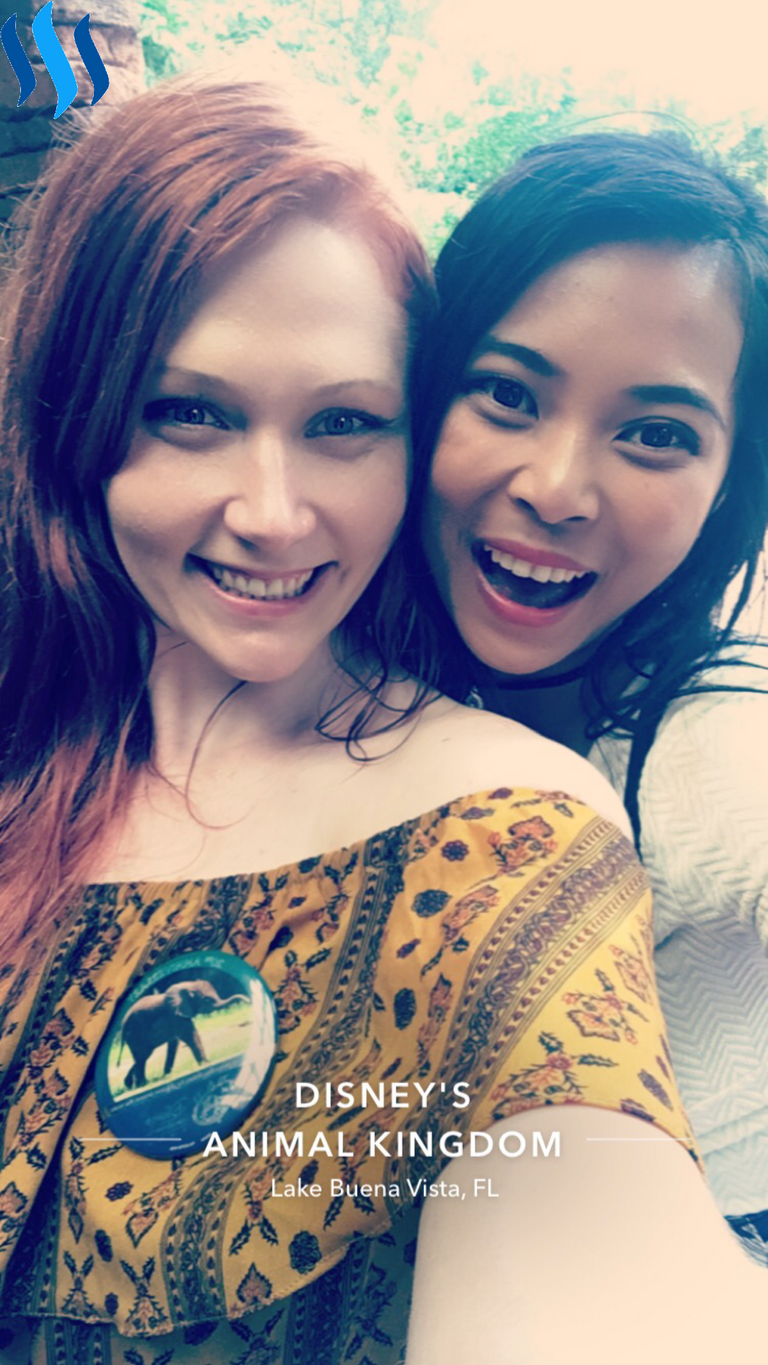 Meeting Timon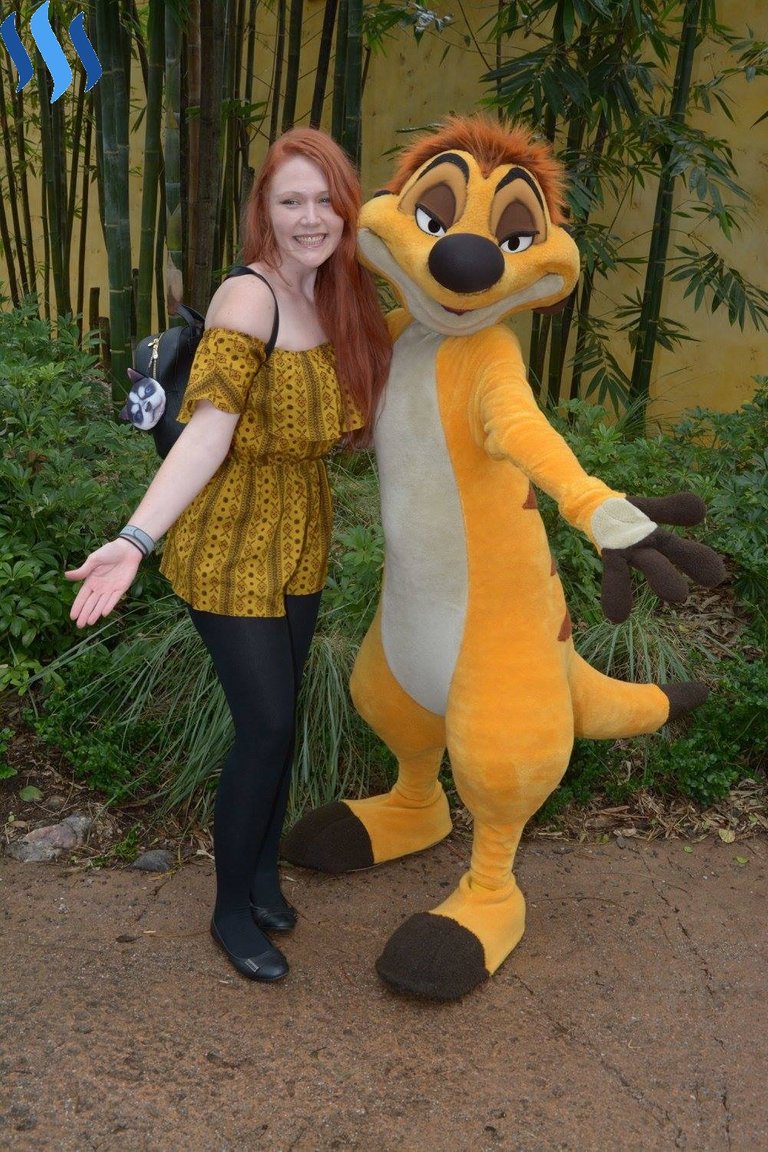 Animal Kingdom Lodge is not just for the adults, although I couldn't recommend a better place to spend your Honeymoon. There are so many fun things for children to experience. Simba's Clubhouse is a children's activities club that offers video games, an endless supply of toys, movies, planned group activities as well as arts and crafts. The camp's youth staff also teach the children the importance of conservation and protecting our planet's wildlife.
I really hope that everyone gets the opportunity as I have to stay here at Animal Kingdom Lodge. It really is spectacular. We live in a beautiful world, lets preserve it and all the creatures that call it home.
Henna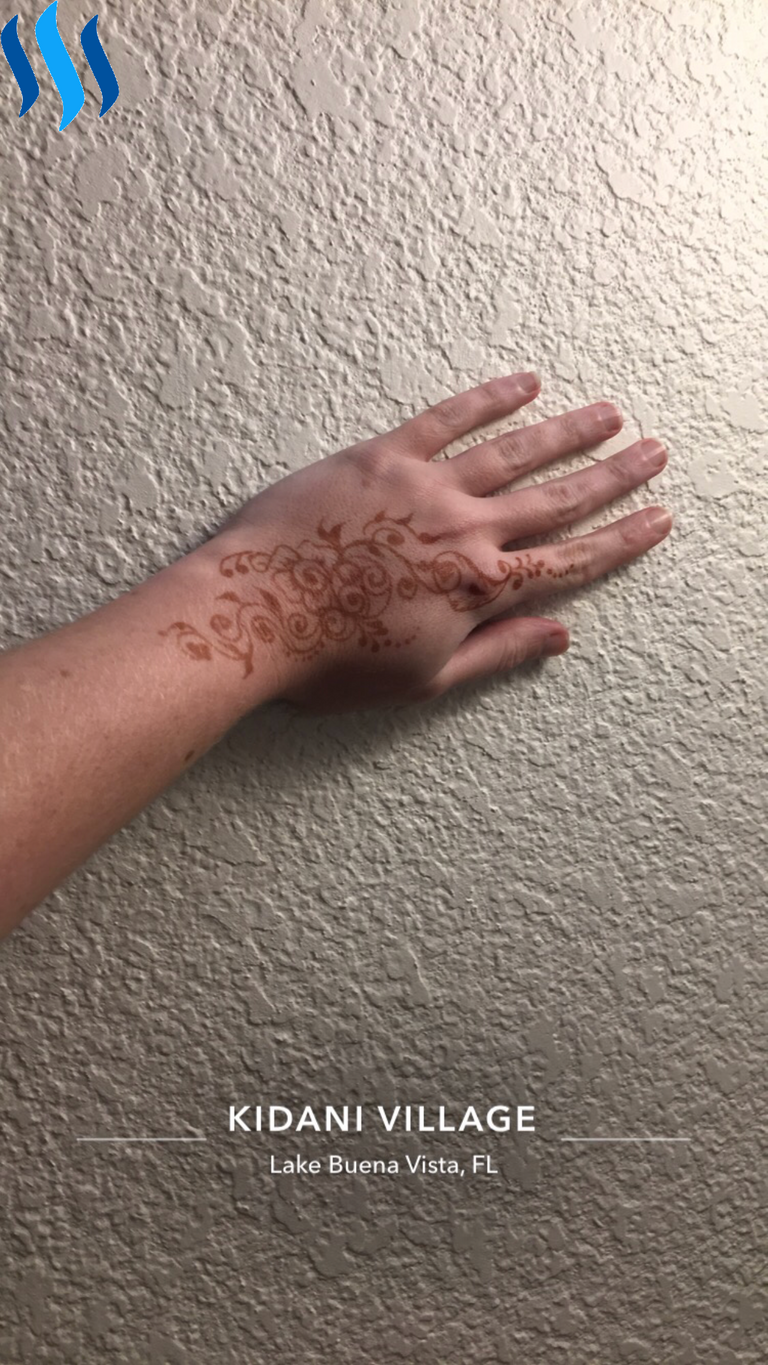 Disney conservation fund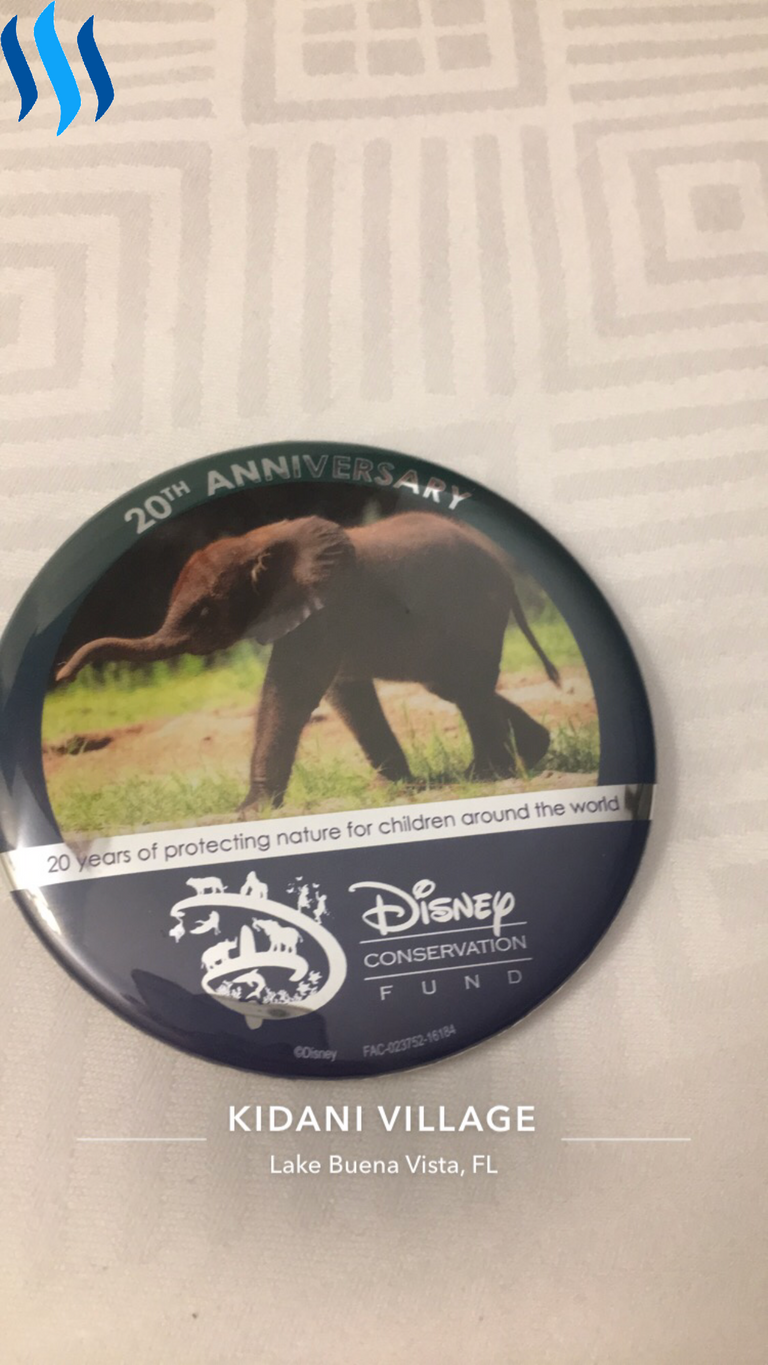 Video of Animal Kingdom Lodge and details about the Conservation Fund "Press play to watch"
"A simple act of kindness and compassion towards a single animal may not mean anything to all creatures, but will mean everything to one."
The view I could never get enough of

I hope you have enjoyed my blog on Animal Kingdom Lodge, thank you for reading and I look forward to sharing more adventures with you, until next time, Vegoutt Everybody!