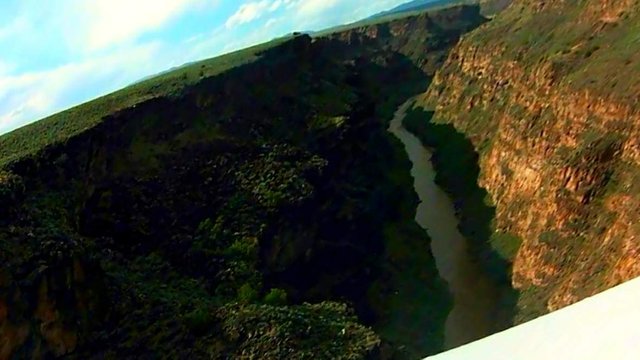 When I first left Michigan 10 years ago I moved to Albuquerque, NM. It was quite a culture shock and pleasantly so. Even though it's located in the high desert, there is so much to do throughout the state.
I didn't stay there very long, because of the hot dry climate, but I use every chance that comes my way to visit. One such chance came when a couple of friends moved there and invited me to visit in 2017. After our Rafting Trip down the Rio Grande River, we visited Taos.
http://imgur.com/tE1LuaR
(Sorry, I couldn't get the gif's to embed)
On the way there to visit the Earthship Visitor Center we crossed the Rio Grande Gorge, which of course we had to stop and check out on foot, camera in hand. To make it easier for you to see I turned the views into Gif's. One of the Westside and another of the East.
Let me tell you a little about the Rio Grande Gorge and the aptly named bridge, which spans this enormous chasm.
The Rio Grande Gorge runs about 50 miles starting from just South of the Colorado border and reaches depths of up to 800 feet. The Rio Grande River has been carving this canyon for millions of years.
The Rio Grande River Gorge Bridge is located about 10 miles Northwest of Taos, NM and is the tenth highest bridge in the U.S. It spans the gorge at around 1280 feet long and sits at a height of about 600 feet above the gorge floor.
I hope you enjoyed the sights and put Taos, NM on your list of 'must sees' in your life. There is not only the Gorge itself, but as I mentioned, the Earthship Visitor Center, beautiful designated scenic drives and hiking galore.
As always, make sure to get outside and be the change.
All images are property of the author
-All Rights Reserved-
Posted using Partiko Android