Mount Rotui On Moorea From Belevedere Lookout – Upcoming Post Teaser
If you have been waiting for my next travel post from French Polynesia, never fear! I have a couple of quite long posts with lots of photography in the works, and one should be ready to post on Monday! Getting all the images from my Canon and my two iPhones organized and edited has been quite a daunting but fun job, because I have relived my experiences with every shot!
In the meantime, so that you know I am still around, I thought you might like to see a version of an image that will be in Monday's post. In keeping with @old-guy-photos tag #sepiasaturday, I decided to post this one in grainy sepia with just a tiny hint of color. I think the process matches the mood of the day, don't you? It was very overcast and pouring rain that day, but it added such a magical feeling to the scene. I would love to see it again on a sunny day, but I feel quite blessed to have seen it in this light too!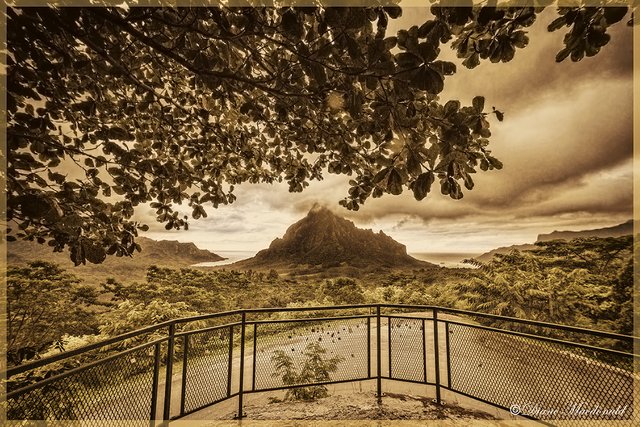 © Diane Macdonald - All Rights Reserved
This is Mount Rotui from Belvedere Lookout on Moorea, French Polynesia. If this scene looks familiar, you may indeed have seen it before. Look for my upcoming post to fill you in on those details, and many more!
Can you see the love locks on the fence? I have to admit that I didn't notice them until I had processed this shot! My focus was on the scene ahead, as well as keeping myself and the camera dry! Silly me left the camera waterproof sleeve back at the resort!
Thanks for checking in.
If you are intrigued by the location, you may want to read my first two longer posts about my trip to French Polynesia often known as simply Tahiti, after the main island in the group.