The village of Sidemen east of the busy town of Ubud is still a secret spot among bali travelers. Some say it is like Ubud was before, as it lays between the rice fields like Ubud did once.
We were driving through that village already a few years back but this time we decided to stay here for at least two days to unwind and do some digital detox.
We decided to go there by scooter instead of using a driver or a taxi. Otherwise it will be hard to get around up there.
Das Dorf Sidemen östlich der geschäftigen Stadt Ubud ist immer noch ein Geheimtipp für Bali-Reisende. Einige sagen, es sei so, wie es Ubud zuvor war, da es zwischen den Reisfeldern lag, wie es Ubud einst tat.
Wir fuhren bereits vor ein paar Jahren durch dieses Dorf, aber dieses Mal entschieden wir uns, mindestens zwei Tage hier zu bleiben, um uns zu entspannen und ein bisschen digital zu entgiften
Wir beschlossen, mit dem Roller dorthin zu fahren, anstatt einen Fahrer oder ein Taxi zu benutzen. Andernfalls wird es schwierig sein, dort oben herumzukommen.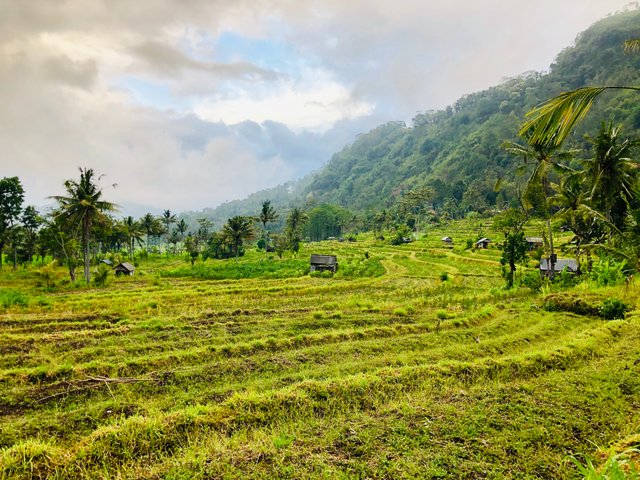 ---
The Journey / Die Reise
But first we had to manage the 1 1/2 hour drive to there, which I thought is going to be easy. I drive a lot of scooter in south east asia but I never drove on a Highway here, but as this was the fastest route, I had to take it.
The ride was really exhausting and already in Keramas we made the first stop. Keramas is known for the best right hand breaking wave on Bali and is one stop of the yearly WSL Tour, the world surfing league.
Since I´ve never been here before it was clear that we had to stop and watch the surfers.
Aber zuerst mussten wir die 1 1/2 stündige Fahrt dorthin schaffen, wwovon ich dachte es wird einfach werden. Ich bin in Südostasien viel mit dem Roller gefahren, aber ich bin nie auf einer Autobahn hierher gefahren, aber da dies die schnellste Route war, musste ich sie nehmen.
Die Fahrt war sehr anstrengend und bereits in Keramas machten wir den ersten Stopp. Keramas ist bekannt für die beste rechtsbrechende Welle auf Bali und ein Stopp der jährlichen WSL Tour, der World Surfing League.
Da ich noch nie hier war, war klar, dass wir anhalten und die Surfer beobachten mussten.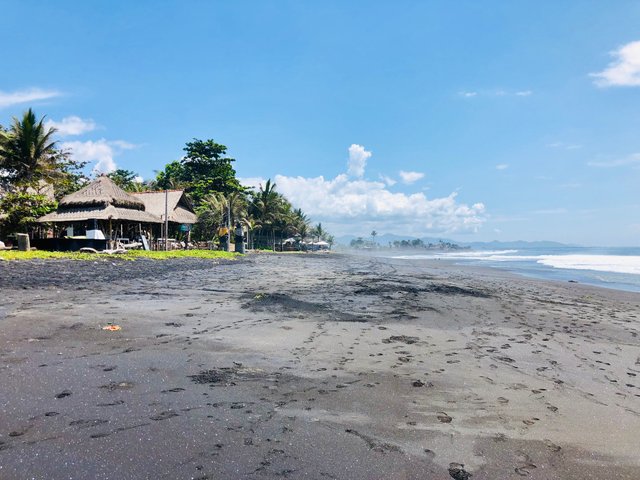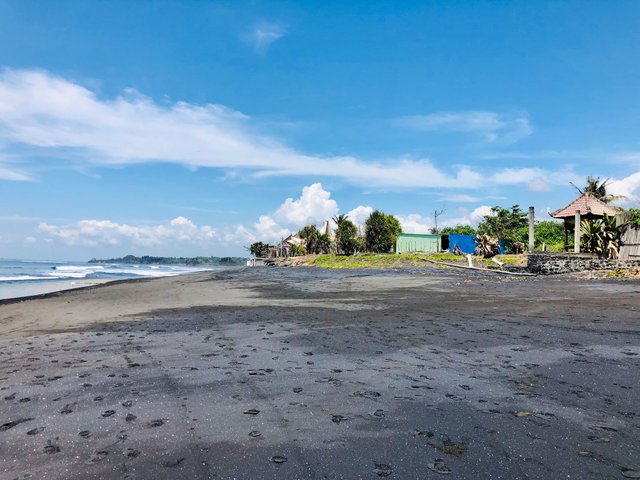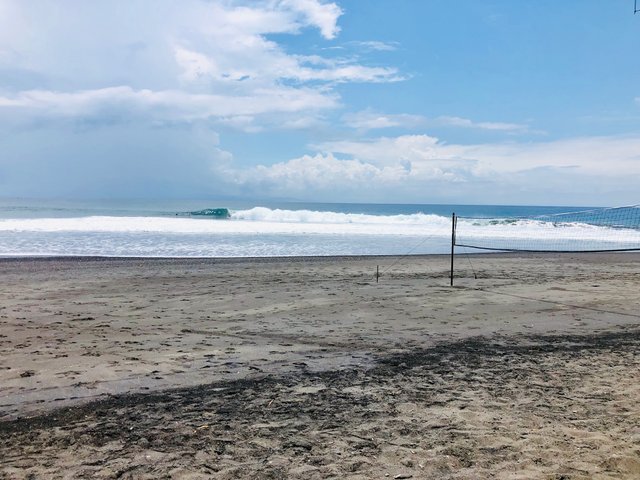 ---
After one hour break and a refreshing drin while we were watching the action in the water, we went back on the road. Another 45min drive was waiting for us, luckily it was only a short ride on the highway before we turnt left and could finally see rice fields.
Nach einer einstündigen Pause und einem erfrischenden Drink, während wir das Geschehen im Wasser beobachteten, machten wir uns wieder auf den Weg. Eine weitere 45-minütige Fahrt wartete auf uns, zum Glück war es nur eine kurze Fahrt auf der Autobahn, bevor wir abfuhren und endlich Reisfelder sehen konnten.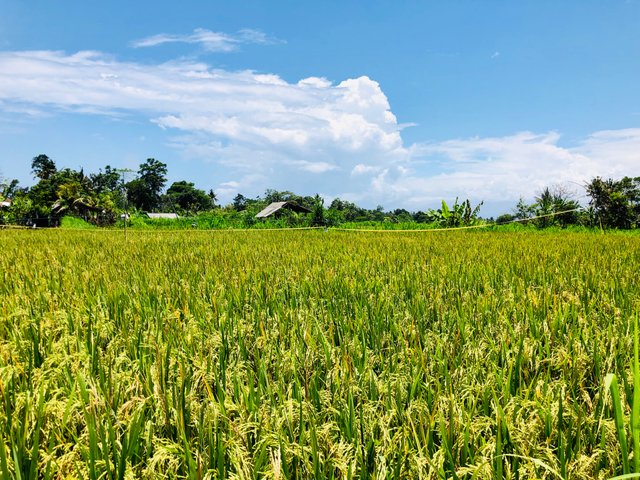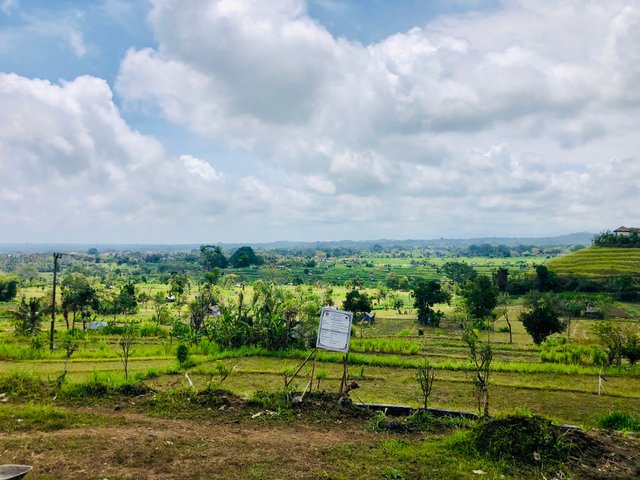 ---
The Hotel / Das Hotel
From then on, the ride became more relaxed and you did not have to cope with constantly raging trucks. And finally, after more than 2 hours drive we arrived in our Hotel the Alamdhari Resort and Spa. The Hotel is outisde of Sidemen and is surrounded by nothing but rice fields.
Von da an wurde die Fahrt entspannter und man musste nicht mit andauernd heran rasenden Lkws klar kommen. Nach mehr als 2 Stunden Fahrt erreichten wir schließlich unser Hotel, das Alamdhari Resort and Spa. Das Hotel liegt außerhalb von Sidemen und ist von nichts als Reisfeldern umgeben.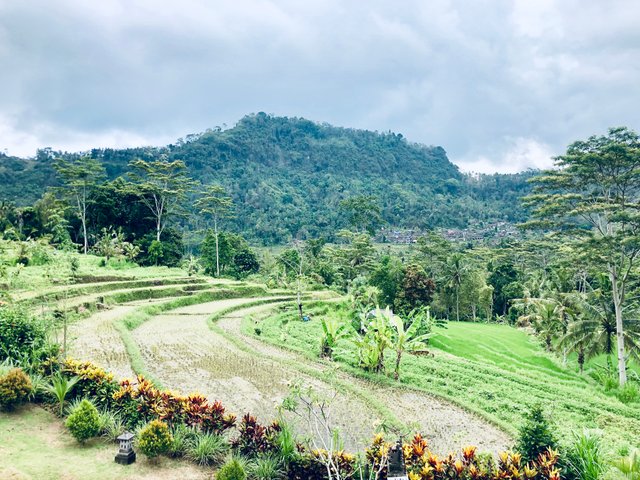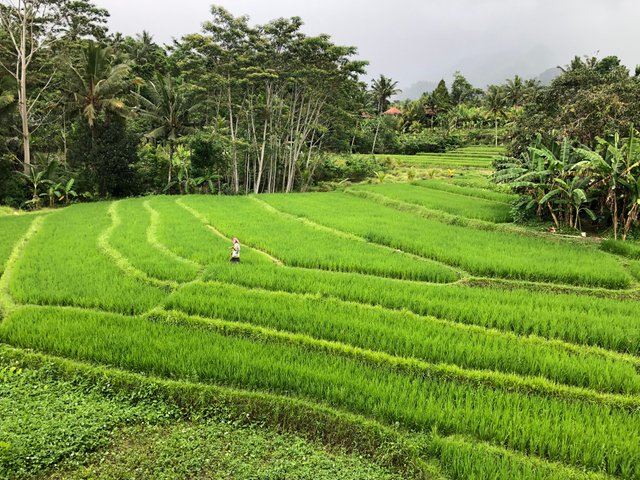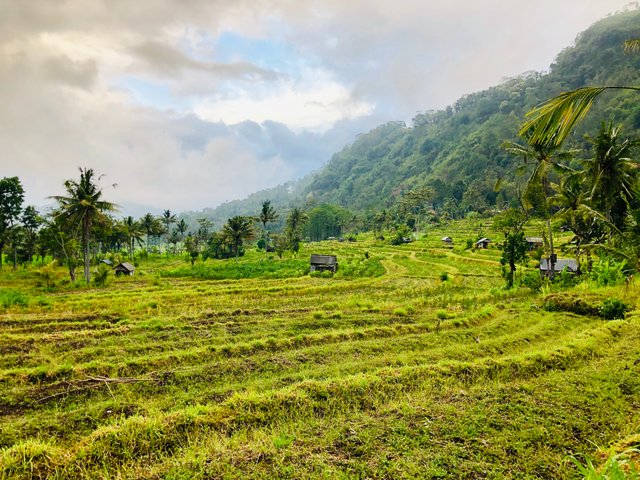 ---
We had a beautiful room on the second floor in the last building on the hotel complex with absolutely stunning view. The pool looked very inviting but due to my infected wound I couldn´t use it. Furthermore the weather wasn´t perfect and it was raining every now and then.
Wir hatten ein wunderschönes Zimmer im zweiten Stock im letzten Gebäude der Hotelanlage mit absolut atemberaubender Aussicht. Der Pool sah sehr einladend aus, aber aufgrund meiner infizierten Wunde konnte ich ihn nicht benutzen. Außerdem war das Wetter nicht perfekt und es regnete ab und zu.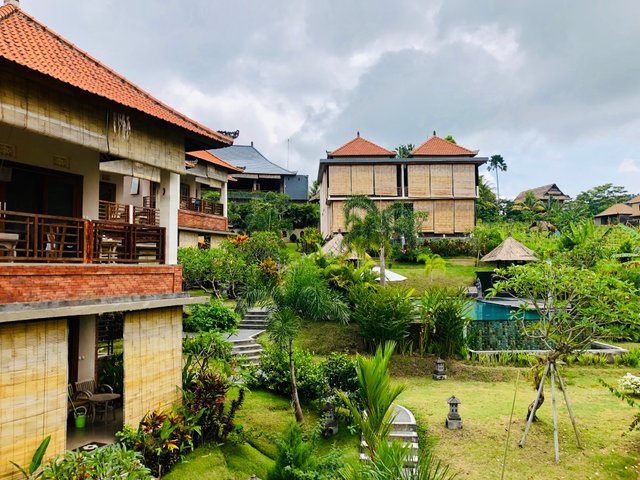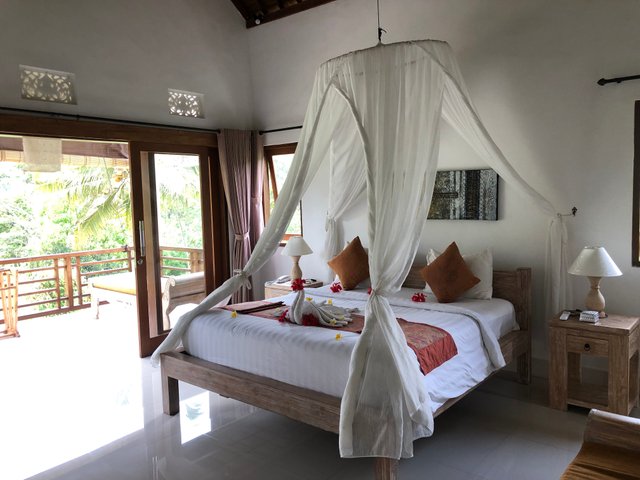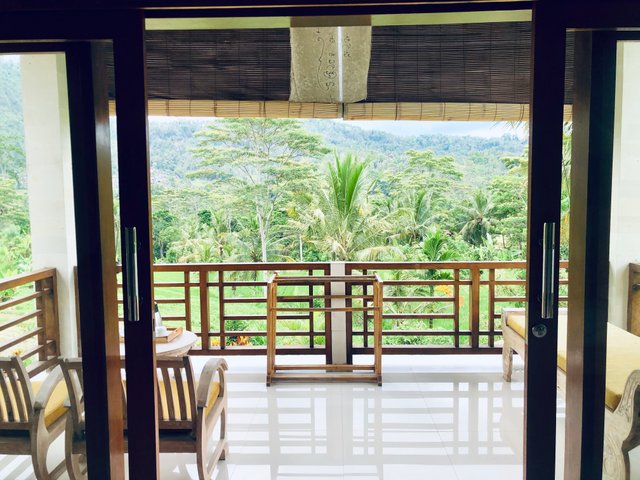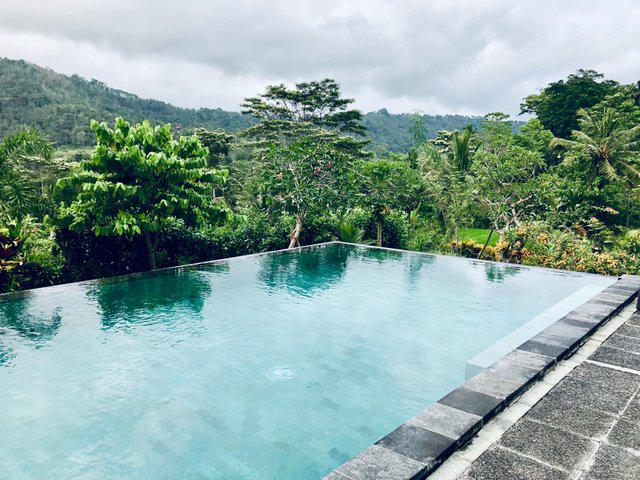 ---
The surroundings / Die Umgebung
As said, there is not much to explore in the nearer surroundings except rice fields. The only thing we did was relaxing on the balcony, enjoying our view and driving around with our scooter to see even more rice fields and some local lifestyle.
All the villages here are very small and there is almost no western influence.
The atmosphere up here and the air you breath are so different to were we stay at the coast. It is always a bit humid and you rarely have a clear view. At least at this time of the year. Actually, from here you have a perfect view of the still active volcano Mount Agung, but unfortunately the view was denied us most of the time. Only on our last morning we had a short view of the mountain.
Wie gesagt, in der näheren Umgebung gibt es außer Reisfeldern nicht viel zu entdecken. Das Einzige, was wir getan haben, war uns auf dem Balkon zu entspannen, unsere Aussicht zu genießen und mit unserem Roller herumzufahren, um noch mehr Reisfelder und ein wenig lokalen Lebensstil zu sehen.
Alle Dörfer hier sind sehr klein und es gibt fast keinen westlichen Einfluss.
Die Atmosphäre hier oben und die Luft, die Sie atmen, sind so anders als an der Küste. Es ist immer etwas feucht und man hat selten eine klare Sicht. Zumindest zu dieser Jahreszeit. Eigentlich hat man von hier eine perfekte Sicht auf den immer noch aktiven Vulkan Mount Agung, nur leider wurde uns die Sicht die meiste Zeit verwehrt. Einzig an unserem letzten Morgen durfte wir einen kurzen Blick auf den Berg haben.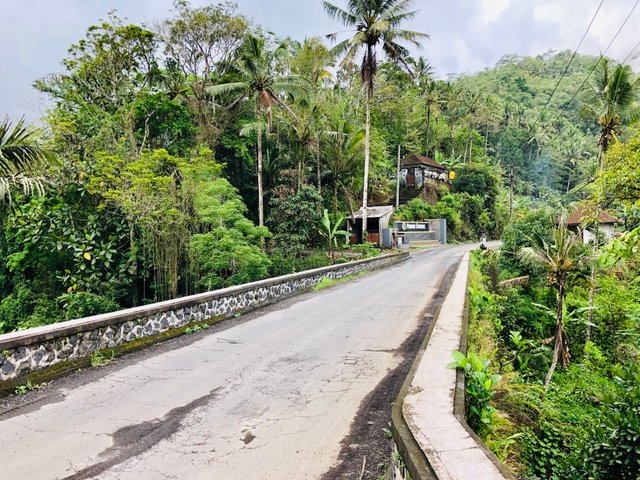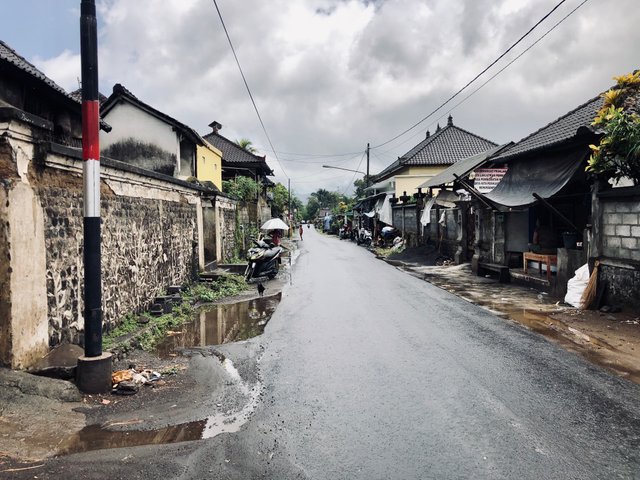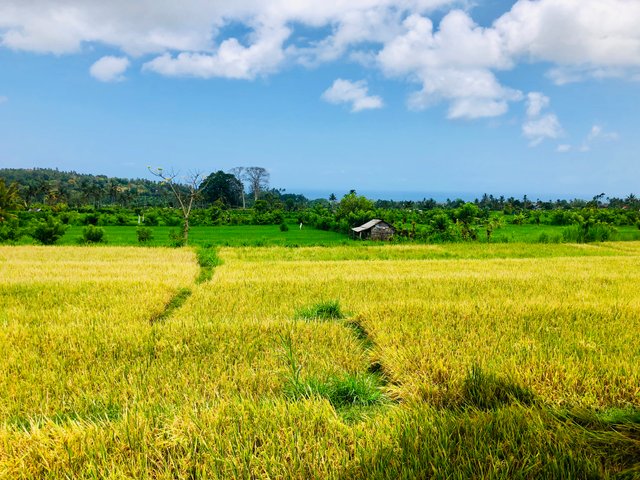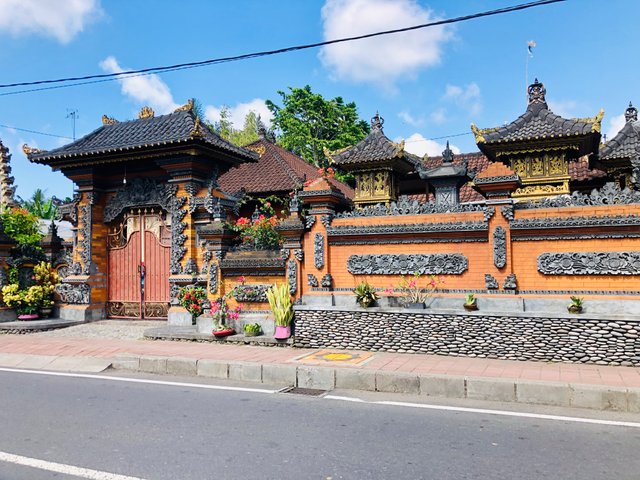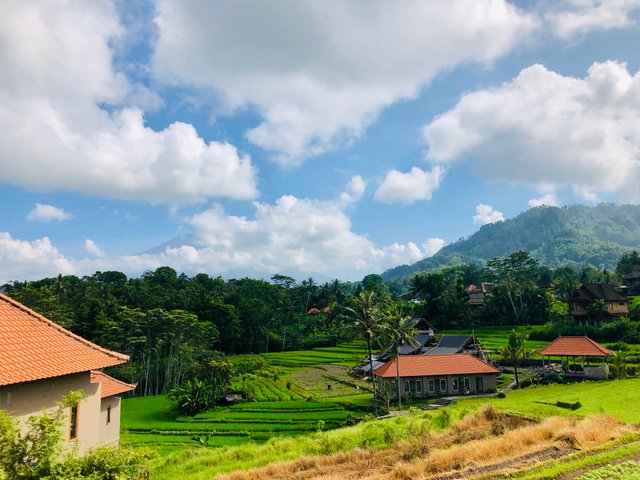 ---


YOU WILL FIND THIS POST ON STEEMITWORLDMAP AS WELL
[//]:# (!steemitworldmap -8.463779 lat 115.436476 long Time-Out in Sidemen d3scr)