Hello, and welcome to my page!
I wanted to write this post to show the finishing of the repair work to the back of my little trailer. This part of the project took longer than I thought it would when I started on it. With all the distractions of gardening and a few other things, plus having to wait for good weather to work on it, finishing the repair to the structural framing and skin of the back of the trailer took me about 4 months, all summer and a bit more.
In order to finish putting the skin back on the trailer, I used silicone sealer in the caulking tubes to seal all the joints and overlaps before I pit the sheet metal roofing screws in to hold the skin in place. These screws have a washer on them with a rubber seal so that the screw holes won't leak.
Let's take a look at the results of the work that I did.
Here is the left side (looking from the back) of the trailer. The drip rail has been installed on the back edge of the side. This holds the side skin down and also holds down the overlap of the back skin that is folded over the edge onto the side. This all has to be sealed with a waterproof sealer, in this case, silicone caulking.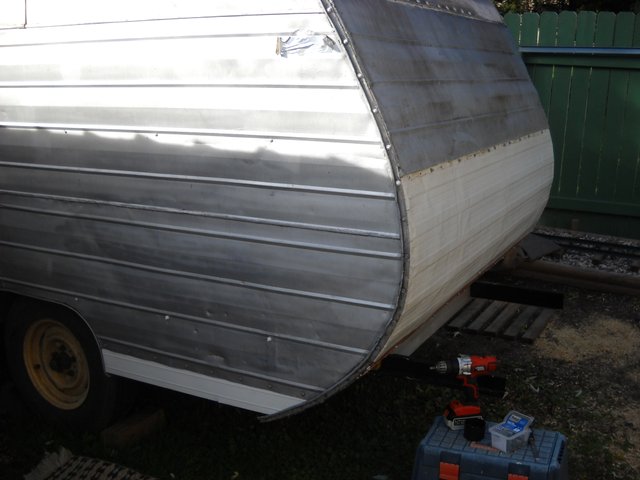 A close up of the finished repair to the bottom side skin. You can see all the roofing screws that I used to hold down the seam, after putting the sealer under the overlap.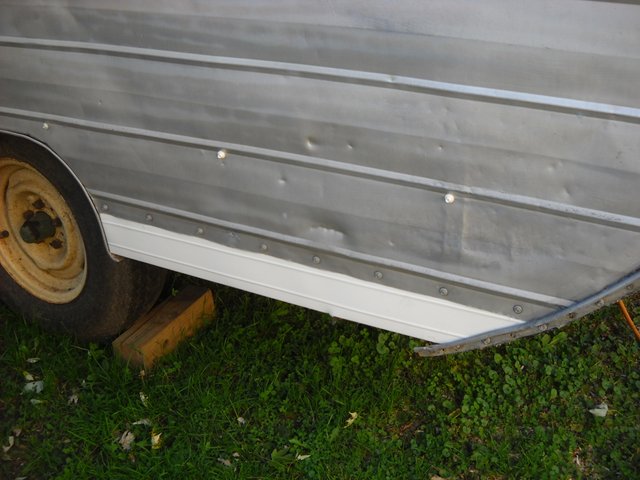 The right hand side was done the same way.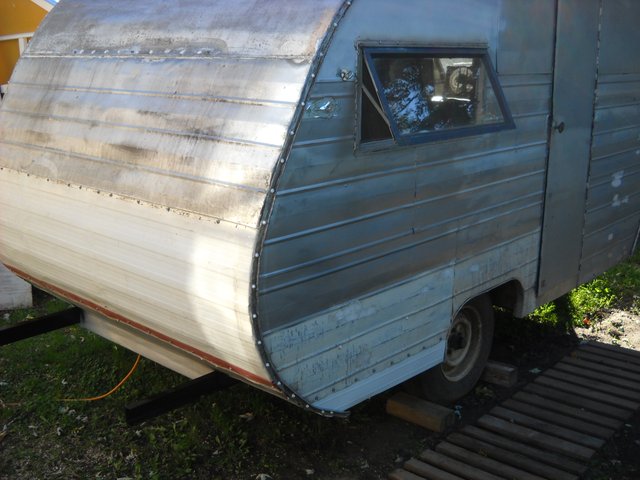 A close up view of the lower RH side.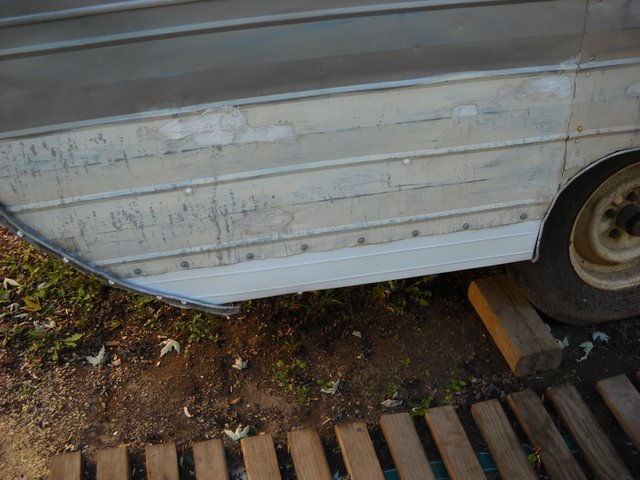 Here's a look at the back end of the trailer. I still have to take care of a few of the screw holes in the back skin that I didn't put screws into. I'll just use a sealer on those holes. I'm going to paint the roof and the back with an elasomeric sealer paint to seal the entire roof and back including any small holes. That won't happen until next year now, it's getting to be too cold during the day to use that kind of coating.

I still have a few things to do in the back such as attaching a bumper to the frames, and putting tail lights on the trailer. I don't need warm weather to do those things so I'm hoping to get that done some time this month. I'm also going to be starting the work on the interior, but I don't know how much progress I'll make on that with winter coming.
That's all I have for this post, thanks for stopping by to check it out!