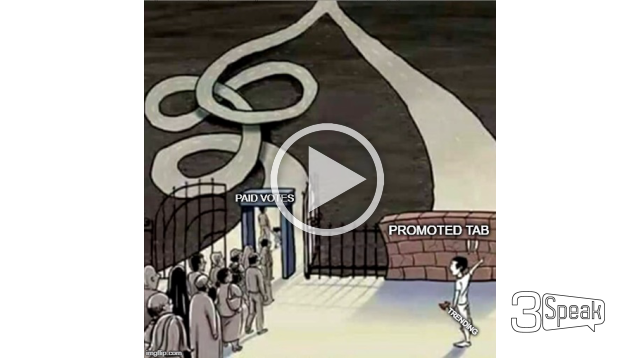 ---
THIS IS NOT FINANCIAL ADVICE; THIS IS MY JOURNEY. YOU ARE RESPONSIBLE FOR YOUR MONEY.
Watch at 1.5x speed for better viewing pleasure!
(I drop more F bombs in this one, just a heads up!)
Big congrats to the job done so far!
We do not see things the way they are; we see things the way we are.
People who buy paid votes, weather intentionally to try and earn ROI or not, don't give a damn about the long-term health of Steem.
To be fair, those who STILL use bid bots have very little SP from my research, easy to light the house on fire and walk out when u have no skin in the game. or these people still buying paid votes are still ignorant to the new changes to Steem.
User is always right; we must fix the parameters. We don't want Steem users feeling bad or being embarrassed for wanting to promote content. We should embrace it and make it both as easy to do as possible, but, and just as important, make sure it benefits all Steem hodlers.
I am a strong believer in people's rights to advertise.
Advertising gives someone a way to be heard, which is fundamental in today's internet.
Can become a huge demand for liquid Steem when things start picking up.
We do need a clearer way for people to promote content, the promotion tab is hardly used. We need to blend the promoted tab with trending in a nonintrusive way, so everyone can easily promote post by burning Steem.
Right now, if you want to promote without getting hit by downvotes, you need to burn author rewards. Not intuitive
People who overly promote, or if trending is overrun with ads (good issue to have, means there is actual $ demand for visibly on trending) - then we can of course use downvotes, or upvote content we like above the paid ad posts.
Chase perfection you'll never catch it. Steem is ready for promotion IMO, despite the apparent flaws.
---
▶️ 3Speak