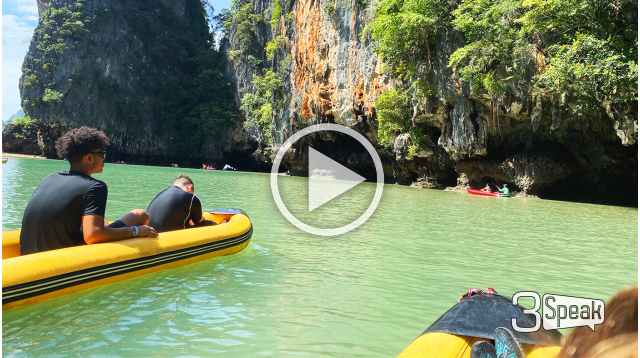 ---
On our tour of the Thailand islands surrounding Phuket, we stopped to jump into canoes. We paddled our way into the Phang Nga Bay, which is a beautiful area accessible only by canoe (or very small boats).
The water is too shallow for larger boats, and there's no way to hike one's way into the area.
What we witnessed were mysterious caves and majestic lagoons. It was simply awe-inspiring. This was definitely one of the more memorable experiences so far!
Our guide explained that you can only canoe into the caves at certain times. The tide can't be too high or too low. If you watch the video, you can see that some of the water passages were narrow once you entered the caves.
The water was an emerald green, and the surrounding rock formations would often have the appearance of animal faces to the mind's eye. To our amusement, one such rock looked like an elephant, and our guide rubbed the sides of the canoe to create what sounded like the trumpet call of an elephant.
My wife pointed out a nearby splash where a sea creature broke the surface of the water. We never actually got to find out what it was.
We floated within a lagoon surrounded by rocks and a ceiling of overhanging trees. Sunlight pierced the top where the branches seemed to form the shape of a heart. We all gazed upward and just stared at what could only be described as magical.
We were there in that spot for maybe 10 to 15 minutes. Just my family, alone and floating gently in that place. Totally secluded. No cars. No planes. No buildings or computers. Just warm water, cool stone, the whisper of the trees, and a delicate glow of light from up above.
Was it worth traveling to the opposite side of the world, even for just this single moment? Absolutely.
After the canoeing, we hit up a fishing village, where we ate on the pier. We also visited James Bond island (nicknamed for its appearance in an early James Bond movie). We finally made a final stop at a gorgeous beach with white sand and welcoming water.
I hope you enjoyed watching this adventure. Be sure to keep an eye out, because I've still got plenty of footage to edit and share!
---
▶️ 3Speak