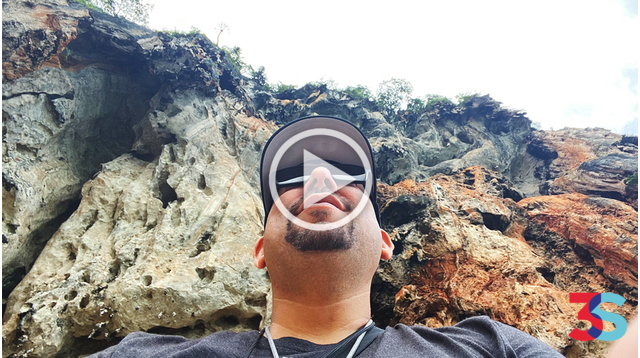 ---
This is from our second day of island hopping.
Technically, this wasn't an island. I believe it's a stretch of land off Phuket. However, it sure feels like an island, since it's so secluded.
Fine, white sand...warm water...and adventure! There was rock climbing and lots to explore. My older kid decided to take some risks that could have ended badly. Thankfully, everything turned out okay. But you can probably tell from the video that I was more than a little nervous, haha.
After watching my kid almost kill himself, I stumbled upon a cave. Completely black. Couldn't see the hand in front of my face. But I was eager to figure out a way to explore its depths. I used my phone's flashlight to fumble my way through what ended up being an amazing experience. Every second I was in there, I was waiting for the glowing eyes or slithery, damp fingers to grab me from behind.
Luckily, I survived.
Afterwards, my younger son joined me in swimming across the water to a small island. While we were there, we claimed the small land for ourselves, naming it Buzz Island (for the subtle buzzing sound we heard in the background...probably mosquitoes getting ready to suck our blood!).
All in all, it was an awesome adventure! We had a lot of fun in this part of Thailand, and I would recommend it to anyone.
In an attempt to get all the footage, I swapped between my iphone 11 and the GoPro.
Next time, I'll try to share what happened after the cave adventure. Get ready for canoeing and a fishing village. Then after that, we finally head back to Bangkok to begin SteemFest! (I know, I know...by now, SteemFest is pretty much over. But it's hard to make time to edit all these videos in between all the activities!
Did I mention that Thailand is awesome? My family and I are so excited to be here. It definitely makes us want to travel more!
I can't wait to see what the next location for SteemFest will be...It will definitely be hard to top this trip.
Wherever it might be, we're looking forward to it!
---
▶️ 3Speak