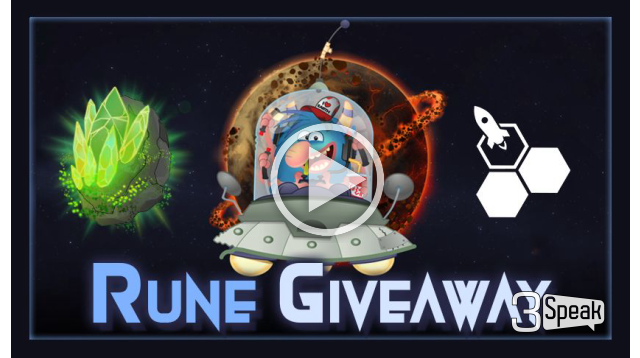 ---
Hear, hear: The galactic council has send their messenger across the galaxy to spread the news of the now improved planetary booster Runes and give away one of each kind to a lucky winner. Here is the message in text, accompanying the video:
"Hello Earthlings,
the galactic @NextColony council has send me, to bring good news from Earths research facilities:
Thanks to improvements to Quantum-Laser technology, all runes will bring 100% higher boosts than at the begin of the great exodus from Earth.
That means that normal Runes bring now 20% booster for your planetary production, Mighty Runes 50% and Holy Runes entire 100% - Holy Moly.
All three types are available for your crystal 3D-Printers on the galactic online shop from NextColony, for an appropriate fee, to reimburse the developers – I mean the researchers from Earth.
Don't hesitate too long: The matter for runes is drawn directly from the dark energy reserves of the universe. The energy condensed in the runes is massive and pulling too much energy from the ether will create space/time anomalies. To protect our reality, the number of total runes is limited and after the supply is depleted, the print designs will be deleted forever from the galactic servers.
But behold: Earth is sponsoring their research results in form of one rune each as a giveaway for some intel. All you have to do, is write a comment under this galactic video broadcast and answer the following questions:
Do you have an Alliance and what is its name?
How can NextColony settlers contact you?
What features for Alliances would you like to see from NextColony?
The giveaway ends 4 days after release of this post and the winners will chosen with the SteemFortune tool. And all comments will be upvoted by @flauwy with his whale power in all the valid Steem Tribe tokens.
So, what are you still waiting for?"
---
▶️ 3Speak