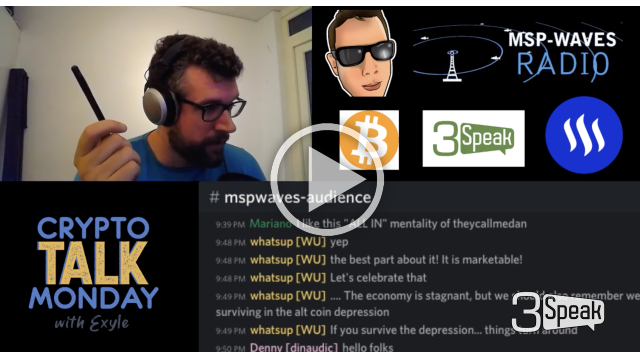 ---
For my live show called 'Crypto Talk Monday' on MSP waves, I interviewed Dan Hensley (@theycallmedan). He's a crypto investor, STEEM whale, top Quora writer, professional poker player and co-founder of 3speak.
In the interview, we talk about how Dan discovered crypto through Poker and his research that ultimately led to him finding Steem and other blockchains.
We talk about value and how technology (in this case blockchain) can leapfrog humans/countries forward. (example: The introduction of the mobile (smart) phone leapfrogged whole continents into the digital age).
We talk about web 3.0 vs web 2.0 and how we are able to retake ownership of our data (money being data too).
A large part of the interview is about Steem. On Steem you own your data compared to Quora and Facebook. It's very powerful.
What makes Steem a good blockchain besides that? Why has Dan invested in over a million STEEM? And we talk about the new Hard Fork that is going to occur on the 27th of August and get his opinion on that.
There is a lot of good stuff here, I hope you will enjoy the interview!
ps.
I did have dinner with Ned, but not on Steemfest 1, that was Steemfest 2.
Throughout the interview, I click my pen about 10 times, it's an old habit, next time I'll go with a clickless pen, I'm still learning.
I have cut out 50 seconds of sound issues at the beginning of the interview.
3speak was my backup topic. We never reached it. (listen to my previous interview with @starkerz if you want to learn all about it).
---
▶️ 3Speak