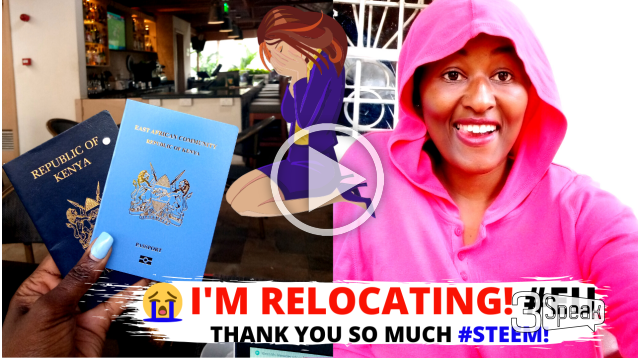 ---
Happy January the 13th STEEM! :)
Such a great day on my side of the world to keep up with what is happening on this wonderful blockchain. Today I come to you with an entry of How Steem Has Impacted My Life courtesy of @theycallmedan , @ocdb , @threespeak.
I was going to do a whole blog post, but I decided to do a video response since that's what I do better. Just Incase you miss it, here are some of my talking points on what an impactful journey being on STEEM has been for me.
1. I Am Relocating!
Even I cannot believeit! Like what? I am still taking some time to internalize. My Visa came out last week and I been staring at it like every day. Did I mention it was STEEM Paid? Yes I did! OMG. You guys, I don't even know what I am currently feeling. I think I will need some time to fully internalize on this before I can share how it came to be, but yeah guys, I am moving next week! All I can say is, I will have a lot more access to meet More Steemians, especially the ones in the EU! So if you are keen on meet-ups, HMU :)
2. Financial Independence!
I know most of you might be like, huh? What Independence? Lol Especially given the current Steem price. But for me, having a source of funds that I have worked hard for is independence enough, it may not be much, but having Steem earn me a passive income means I don't have to ask for funds from family or friends for my miscellaneous expenses. That is such a great feeling, especially because I have been Steeming full-time since January 2018.
3. Global Network/Connections !
Is it just me that feels they probably have a Steem friend in probably every country you can think of? At least I know I have a Steem friend in every continent and it's such a great feeling. It almost feels like I'd have a person who got my back should I ever get stranded in a certain country or continent. If you haven't, then you haven't built your Steem Network wide enough, I encourage you to. Talking of Meet-Ups, Here are my 2 Steem Meet-Ups so far..
4. Self Confidence Boost!
This is a big one. It's just one of those life skills you have to master if you are going to make it anywhere in the world, self-confidence. For me it came greatly when I started doing video content/vlogs. I never could have believed back in 2017 that I would be the kind of girl that made vlogs and actually enjoyed them, but here we are, 2 years later and still going at it. Thank you @steemcafe for the nudge to do video.
5 Entry to Crypto/Blockchain Space !
I think I may have saved the best for last because I cannot imagine my life without being on the blockchain. STEEM was my entry point and it still continues to inform me on what is currently happening on this space. Because of this blockchain I hold so many other cryptos that aren't Steem related but equally have the opportunity for financial freedom. I could talk about this to no end.
Forgive me if I cry on this vlog, I am just super overwhelmed on how amazing this blockchain has been to & for me. If I should get nothing else from STEEM, I will forever be thankful for using it to empower myself in more than one way. But Mostly for the opportunity to live in a foreign country,for however long, and for experiences I'd probably not have had if I wasn't on here... Finally, if there's anything 2019 taught me, it's got to be "You don't have to wait for STEEM to Moon for it to change your life, your circumstances etc. You can still make use of it, as it is now, it just depends on how much you are willing to put in and what your priorities are. Not to break anyone's bubble, but if your priority is Money, you might have to wait a few more years, and you know what, Time Waits for NO Man...
More on this Vlog.
How Has STEEM Impacted Your Life?
---
▶️ 3Speak