---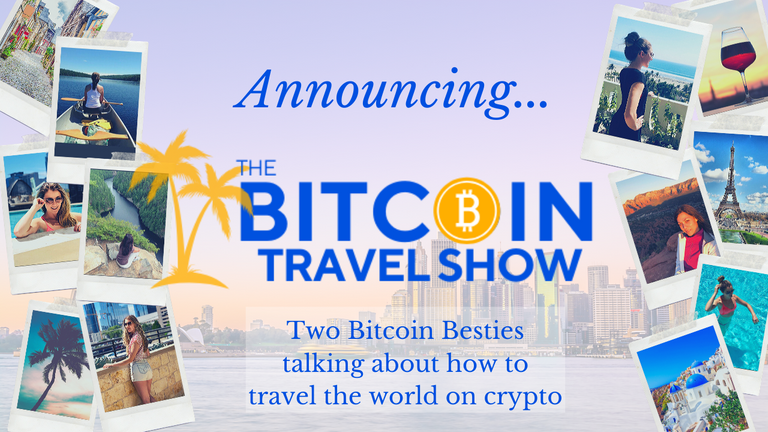 Hi Steem family!
I have a fun announcement for a new show i'm co-hosting! We are two bitcoin besties that will be sharing all of the hacks, tips and insights into how to travel the world on bitcoin - both earning and spending it on the go.
Amina Motala (nomadicsoverign.com) is about to take off on a crypto world tour where she will be not only finding ways to use her bitcoin to pay for travel expenses like flights, hotels and restaurants... but she'll also be getting creative with how she earns crypto on the road as well.
In this show, Amina and I will catch up every few weeks to hear where she's been. We'll be chatting about all sorts of things including:
Travel Hacks she's discovered
How she's been able to earn bitcoin between episodes
What websites, airlines, restaurants and more she's discovered that accept bitcoin
The mishaps and mayhem of what's gone wrong and what she's learned from it
Crypto community building and what meetups, and events she's been attending.
Interesting foods, beverages, and experiences she's had.
For the time being, since she'll be on the ground floor around the world - she'll also be giving a coronavirus update on what things are really like in the various places she visits.
Amina and I wanted to partner up on this show together because she really represents the "digital nomad" perspective of things, where I represent more of the "typical traveler" where I still have a home base, but I travel around a lot as well. Like we said in the intro... we'll just be two bitcoin besties hanging and talking about crypto travel!
Watch for our first episode coming out soon! 🌍✈️
🔗Links to check out:
http://nomadicsovereign.com
https://twitter.com/crowdfluence1
https://twitter.com/girlgone_crypto
https://www.youtube.com/channel/UCKsykltJD6q628dIDqLqb2w
https://YouTube.com/c/GirlGoneCrypto
XO, Lea







Girl Gone Crypto Community
Steem Sister Show Community
FinallyFriday Community

---
▶️ 3Speak