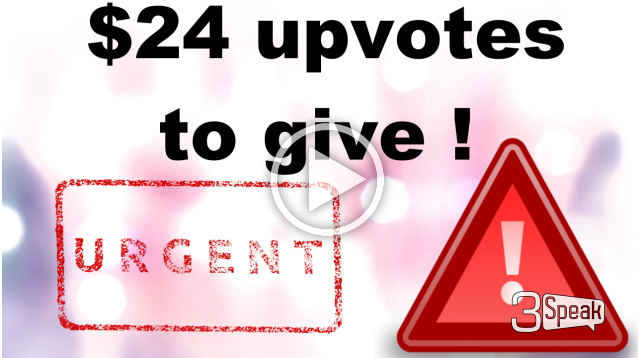 ---
In this video talked about how you can get upto $4 upvote today from @threespeak !
So, the platform has an update and I can upvote comments today again !
---
So, this is what I will do guys :
---
First of all it's better to vote those who I can onboard. So, I will share everywhere I can the news about joining steem today and getting an upvote of $4 for those who will join.

Then in case I will not find those who joined today, I will take a look at those who joined recently and help them with that upvote if they comment me. ( In this case they can write about their first impressions after joining ).

Then I will take a look at those who will help me in these 3 hours I have to reach the goal.
In case you want to help, please resteem this post and share it in all social media you can with providing the proof in the comments. You can share the screenshot and the link.
You can promote in your social media, facebook, twitter and others. You can create about that a video in youtube or any other video hosting platform. You can share that in other social media like instagram, medium, or any other. You can share that in a forum. Just onboard someone to steem and I will reaward you and him at the same time.
*I don't promise to use all that $24 because I used $27 a few days ago, but I will do my best to reward as much people as I can.
Please notice that the goal is to onboard someone or to support a newcomer !
I have $24 and I will give $4 upvote for the newcomer. That means I can reward 6 steemians if you will help me find them. Or I will reward those who will prove that they shared the information everywhere they can.
You can start by retweeting this tweet ! ( I will add that here after creating the tweet )
In case anyone of your friends, or people from social media need an account, let me know about that as well. I can create an instant account with @dcooperation with the recourse credits we have !

You can follow me in all these social media and let me know in the comments, how can I find you to follow :
---
Facebook group , Twitter, Quora, Reddit, Youtube, Instagram, TikTok , Medium
I'm promoting steem in all of them. Let's connect there and promote it together !
I'm also the founder of @dcooperation , the community where we collaborate. You're welcome to join us in our discrod server.
Here is the community in beta.steemit, you can subscribe and post in it : https://beta.steemit.com/trending/hive-177976
Check here what else I do to promote steem : The efforts I do to promote steem !
---
▶️ 3Speak