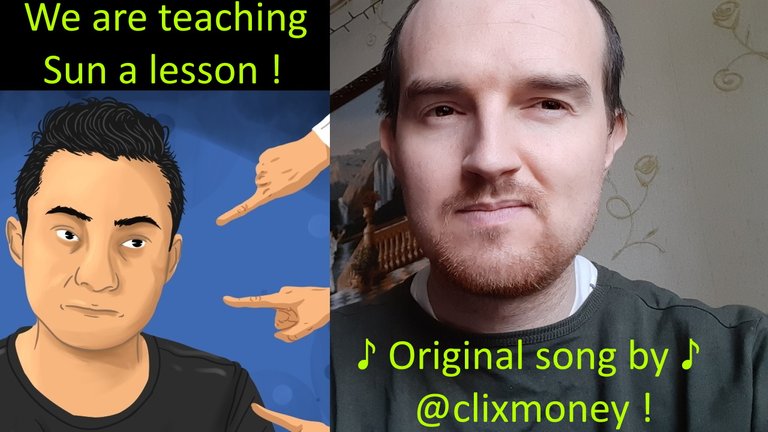 ---
Today I decided to write a song after all the time wasted to fight Justin Sun takeover of steem !
Here is the song :
We are teaching Sun a lesson (2)
We are teaching Justin Sun.
We teached him what's real steem (2)
We teached him that's not steemit.
So steem is not steemit.
We don't want him to centralize us (2)
We will fight the takeover !
And after each hit we will recover (2)
We are showing him the power (2)
of the community of steem.
We are teaching Sun a lesson (2)
We are teaching Justin Sun.
---
I sang the song in the video with emotions. I think we will like it guys.
Sometimes we can express ourself in different form and singing is one of them.
We have so many talented steemians, I think it will be good if we use our talent to spread awareness !
Enjoy watching the video !
---
---

Join our momevent in twitter, we are really doing well and creating big awarness : https://twitter.com/hashtag/steem
---
We are creating awareness about the situation and letting the world know all the truth about what's happening !
Keep voting on witnesses ! Call any steemian you know to do that with us ! Or just set a trusted steemian as a proxy to vote for you ! You can do it here : https://steemitwallet.com/~witnesses or better use @steempeak here : https://steempeak.com/me/witnesses

You can follow me in all these social media and let me know in the comments, how can I find you to follow :
---
Facebook group , Twitter, Quora, Reddit, Youtube, Instagram, TikTok , Medium, lbry , Uptrennd.
I'm promoting steem in all of them. Let's connect there and promote it together !
I'm also the founder of @dcooperation , the community where we collaborate. You're welcome to join us in our discord server.
*Here is the community in beta.steemit, you can subscribe and post in it : https://beta.steemit.com/trending/hive-177976 . We are giving autoupvotes for that !
Check here what else I do to promote steem : The efforts I do to promote steem !
---
▶️ 3Speak